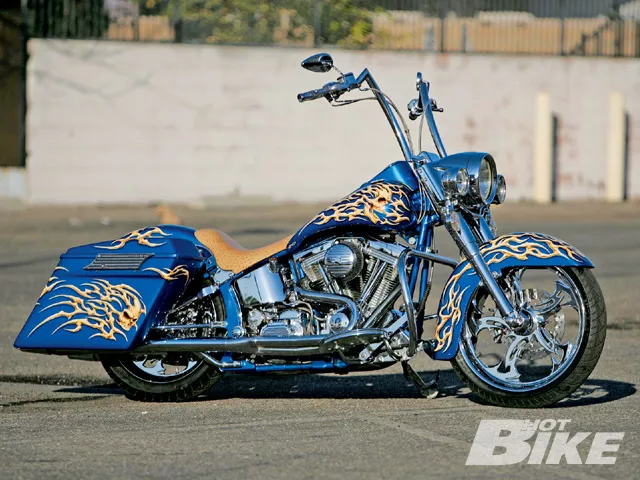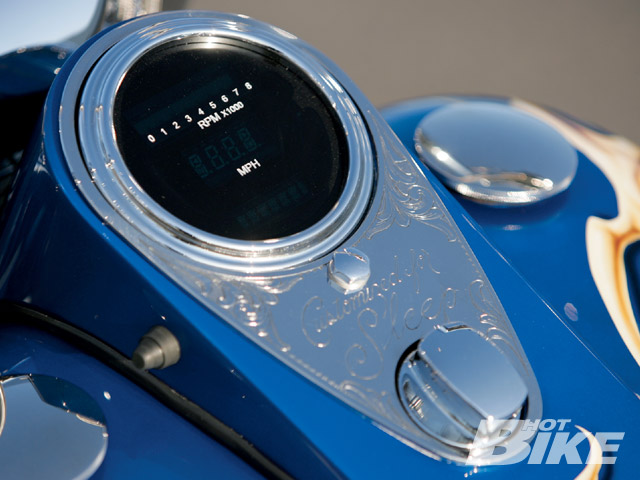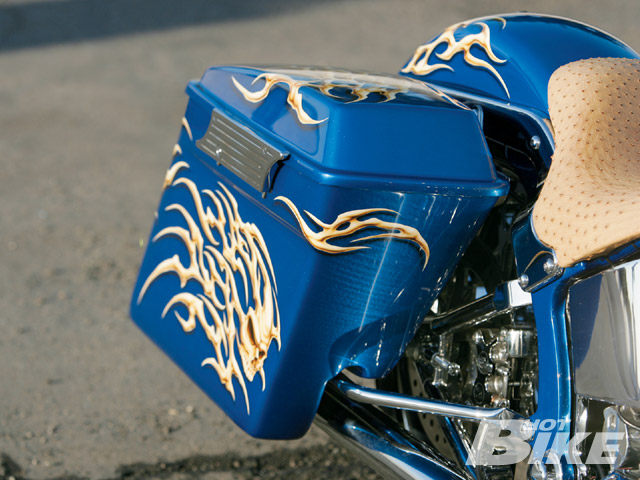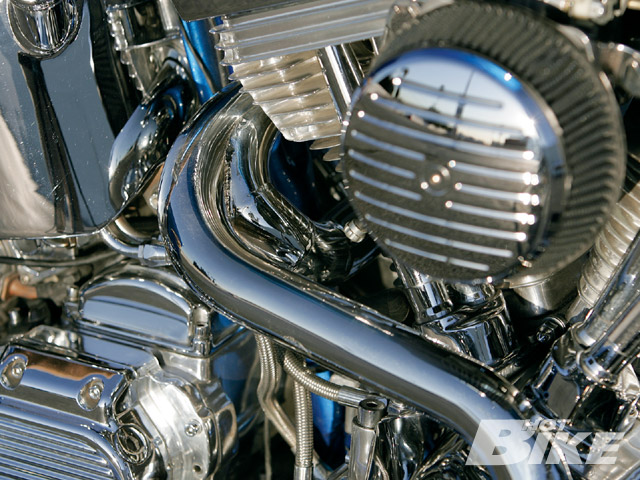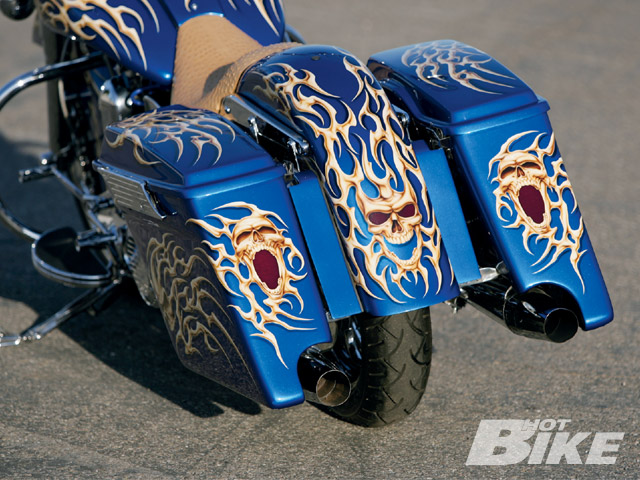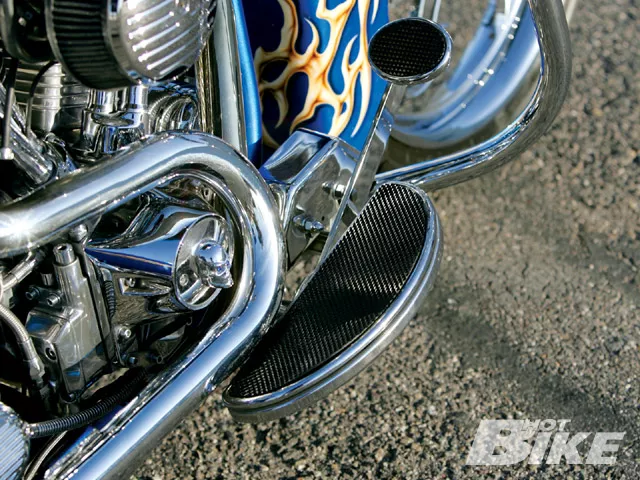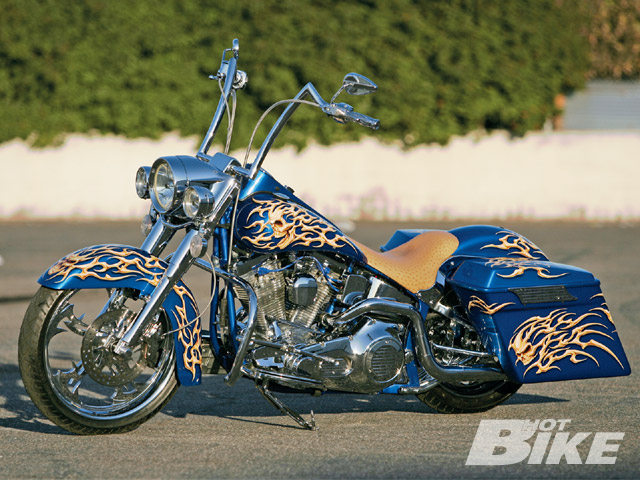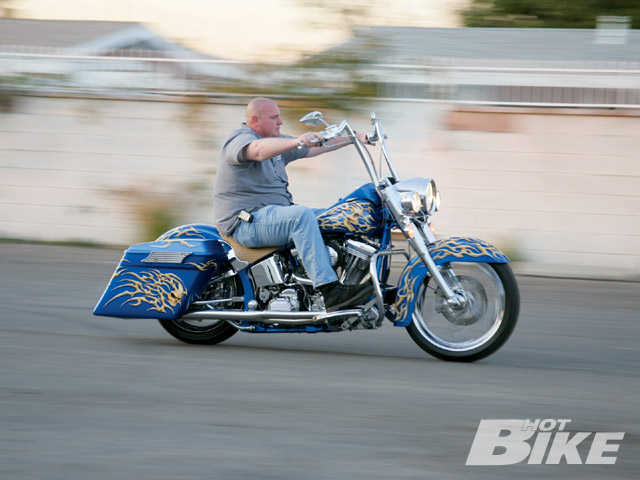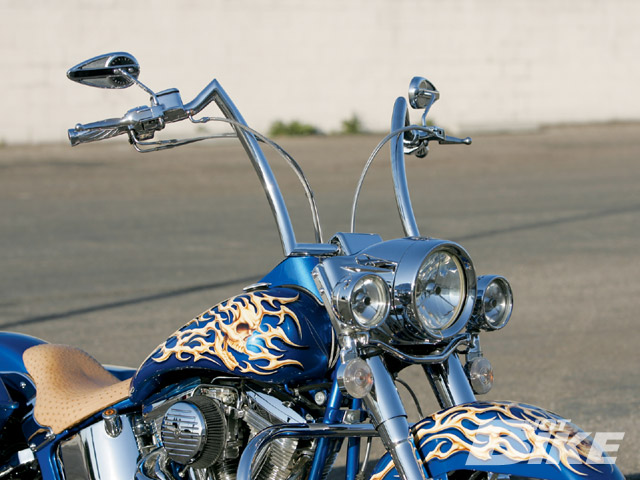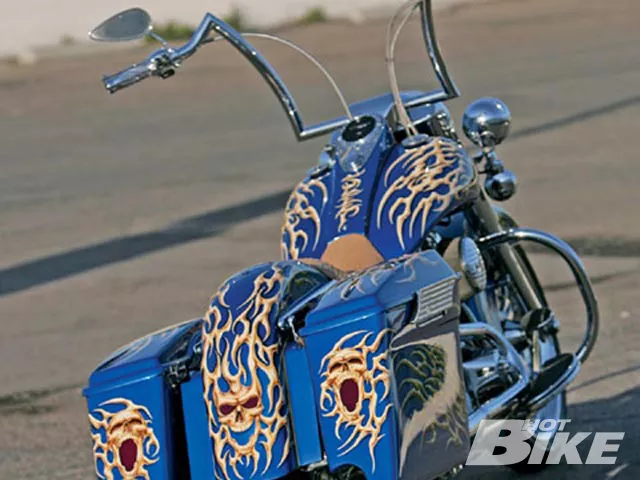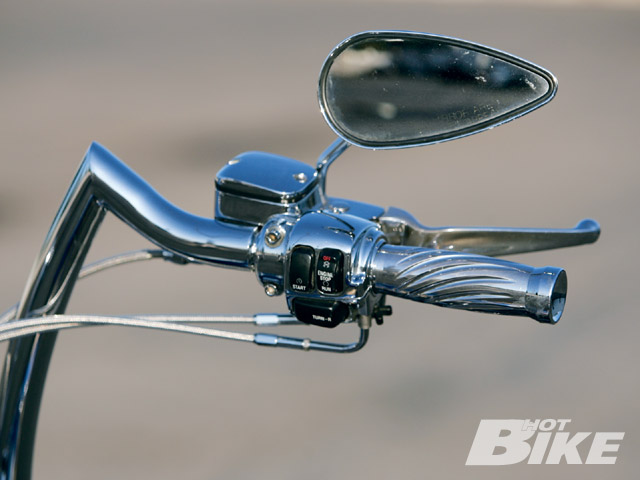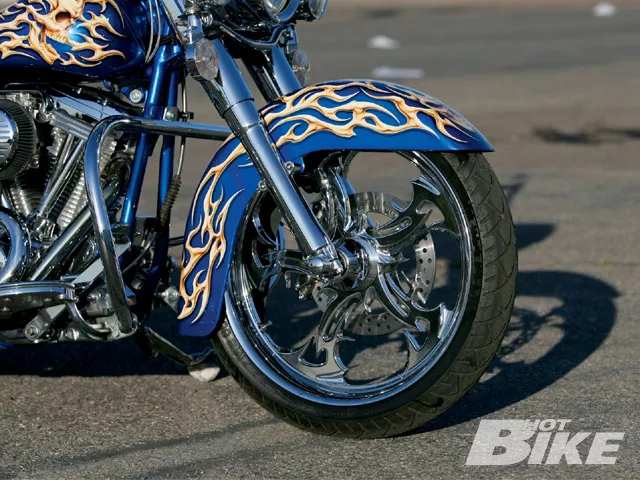 Back in the '70s in South Los Angeles, Big Sleep grew up wanting to be part of this elite crowd where the big boys played with the big toys. Harley-Davidsons were primo during the time and for most folk including Sleep, H-Ds were not affordable. For the few people that had a Harley, they seemed to belong in a class all on their own.
It was easy for Sleep to catch the bike bug at a young age considering he grew up around uncles and neighbors who were part of motorcycle clubs and riding was a way of life for them. Like most , Sleep started off on dirt bikes, and then transitioned onto crotch rockets, since Harleys were out of his price range. In the mid '80s, Sleep reconnected with an old friend and took his first ride on his buddy's shiny, new H-D. "I was hooked," Sleep said, "and I was determined to be a part of that cool crowd that had a Harley."
It wasn't until the '90s when Sleep picked up a stock Softail, unfortunately he went down and was unable to fix all the damage. A few years later and lots of pennies earned, Sleep picked up one of the first rubber-mounted Road Kings and rode the hell out of it. "It was two wheels," Sleep said, "but it rolled and felt like a Cadillac." About that time Sleep started noticing that not only were a lot of his brothers rolling on H-Ds in South Central, they were customizing the tar out of these bikes. Sleep wanted to join the bandwagon, but his time was limited being a bodyguard and constantly being on the road with the band, Korn. "While I was away, the concept for this bike started manifesting in my head," Sleep said. "Being a street cat, I wanted the bike's design to be split, where it had street cred, yet the other half had a rockin' metal theme that I'm used to being around."
Since Sleep didn't want a bike everybody was riding, he decided on a motorcycle comprised of three major H-D parts: a Road King frontend, a Softail frame, and some Screamin' Eagle hard bags. Sleep's friend and bike junkie, Cheese, recommended that Sleep take his pieces and parts and he'd donate some as well to Danny Martinez and Harley-Davidson of Anaheim-Fullerton to have the bike built. They got started with a Softail frame, keeping it stock, and then bolted on the RK frontend.
Both swingarm and forks carry a set of Wicked Image wheels wrapped in Metzeler tires, with a 120/70/21 tire for the 21-inch front wheel and a 140 tire for the 18×3.5-inch wheel at the rear. Matching Renegade rotors with Performance Machine calipers make for a brake system with sharp looks and excellent stopping power. Putting the heartbeat into the bike went to H-D of A-F where an 80-inch Evo motor was installed, which sends enough horses for Sleep to the Harley tranny. A Pro-One air cleaner was ordered and combined with a Mikuni carb to keep the motor well fed of air and fuel. Then to carry the spent gases away from the powerplant they fabricated and secured dual Thunder Header pipes, which Sleep didn't see too often on a Softail.
After the sheetmetal and the tins were finished, everything was turned back over to Danny for a cool paintjob that would make this street cat purr. "I wanted Crip Blue," Sleep said, "and I remember Danny responding, 'where is that on the color chart?'" After creating and applying a rich coating of the custom blue, Danny got started working on Sleep's unique idea for graphics. "I didn't want traditional flames or skulls just sitting on the paint doing nothing," Sleep said. "Danny created the graphics so that the skulls' heads transition into these tribal-like flames." To complement the theme of the bike, additional skulls were placed on the rear fender and the saddlebags, and the skulls' eyes and mouths light up when Sleep puts on the brakes.
The bike was almost ready for the show circuit, but it needed a cool ass pad and slick controls to match the paintwork comprising the sheetmetal. After an ostrich-covered seat from Bitchin Seat Co was made and installed, a set of custom meat hook handlebars were fabricated and secured atop the frontend. Then the bars were given H-D hand controls and the company's mirrors. After bolting on Harley foot controls and Wicked Image pegs, the control package was complete.
After a year in the making between its concept and completion, Sleep finally picked up his dream Harley. "Harley-Davidson of Anaheim-Fullerton and Danny did a hell of a job," Sleep said. "I even took the bike to my buddies, Big Punchy and Baby Slip, over at the Candy Shop, in Los Angeles. When my custom blew them away, that's when I knew I had a bad-ass bike. A special thanks to Colby at H-D of A-F, Danny, and Cheese for accomplishing everything I wanted."
Specs
| | |
| --- | --- |
| BIKE OWNER | Big Sleep |
| SHOP NAME | Harley-Davidson of Anaheim-Fullerton |
| SHOP PHONE | (714) 871-6563 |
| SHOP WEBSITE | www.harleyfullerton.com |
| YEAR/MAKE/MODEL | '96 H-D Custom |
| FABRICATION | Harley-Davidson of Anaheim- |
| | Fullerton /Danny Martinez/Clive Smith |
| ASSEMBLY | Harley-Davidson of Anaheim-Fullerton |
| BUILD TIME | Three months |
| | |
| --- | --- |
| ENGINE | |
| YEAR/MANUFACTURER | '96/H-D |
| TYPE/SIZE | Evolution/80ci |
| BUILDER | H-D |
| CASES | H-D |
| CYLINDERS | H-D |
| HEADS | H-D |
| ROCKER BOXES | H-D |
| CARBURETOR | Mikuni |
| AIR CLEANER | Pro-One |
| EXHAUST | Custom Thunder Header |
| | |
| --- | --- |
| TRANSMISSION | |
| YEAR/MANUFACTURER/TYPE | '96/H-D 5-speed |
| CLUTCH | H-D |
| PRIMARY DRIVE | H-D |
| | |
| --- | --- |
| FRAME | |
| YEAR/MANUFACTURER | '96/H-D |
| RAKE | Stock |
| STRETCH | Stock |
| | |
| --- | --- |
| SUSPENSION | |
| MANUFACTURER FRONT | H-D |
| TRIPLE TREES | Stock |
| MANUFACTURER REAR | H-D |
| SWINGARM | H-D |
| | |
| --- | --- |
| WHEELS, TIRES, AND BRAKES | |
| MANUFACTURER FRONT | Renegade Wicked Image |
| SIZE-HEIGHT/WIDTH | 21×3.25-inch |
| TIRE/SIZE | Metzeler/120/70/21 |
| CALIPER | Performance Machine |
| ROTOR | Renegade |
| MANUFACTURER REAR | Renegade Wicked Image |
| SIZE-HEIGHT/WIDTH | 18×3.5-inch |
| TIRE/SIZE | Metzeler/18×140 |
| CALIPER | Performance Machine |
| ROTOR | Renegade |
| | |
| --- | --- |
| FINISH/PAINT | |
| COLOR | Crip Blue |
| PAINTER | Danny Martinez |
| GRAPHICS | Danny Martinez |
| | |
| --- | --- |
| ACCESSORIES | |
| FRONT FENDER | H-D |
| REAR FENDER | H-D |
| FENDER STRUTS | H-D |
| GAS TANK & CAP | H-D/Landmark |
| OIL TANK | H-D |
| HANDLEBARS | VCC Meat Hooks |
| HAND CONTROLS | H-D |
| FOOT CONTROLS | H-D |
| FOOTPEGS | Image |
| HEADLIGHT | H-D |
| TAILLIGHT | Custom |
| LICENSE MOUNT | Custom |
| SEAT | Bitchin Seat Co |