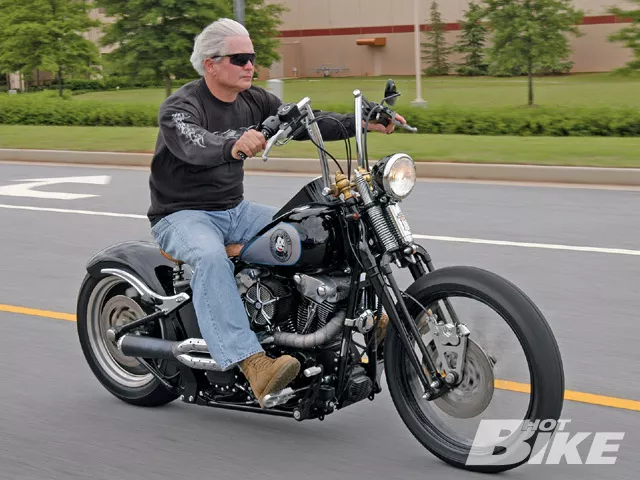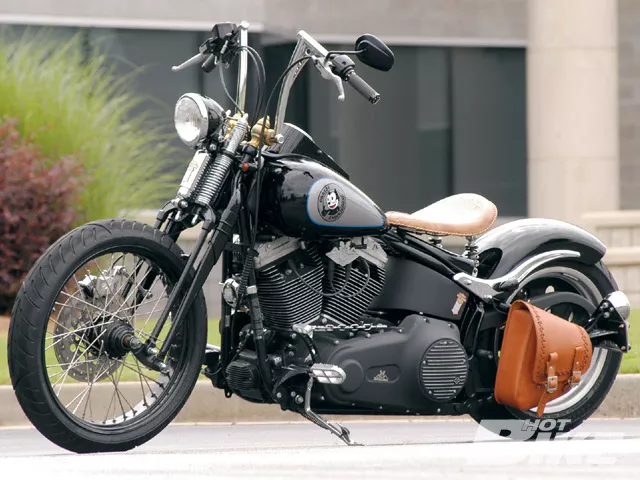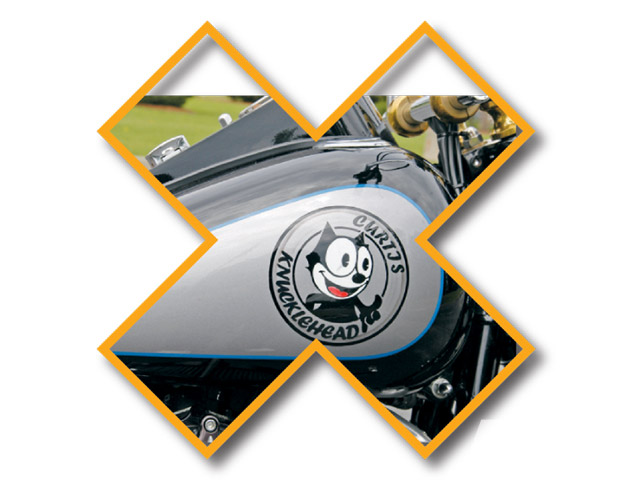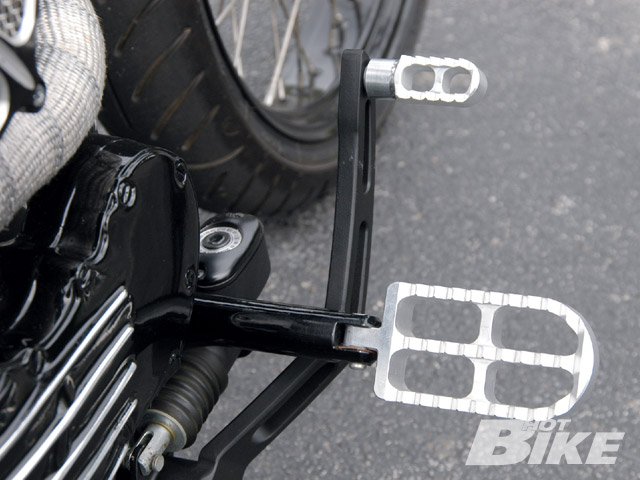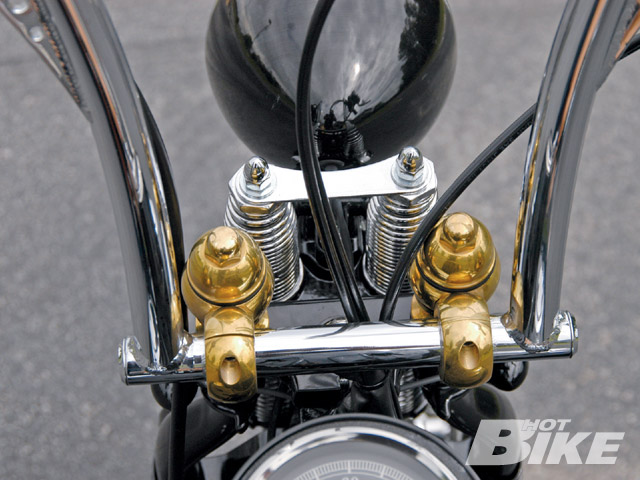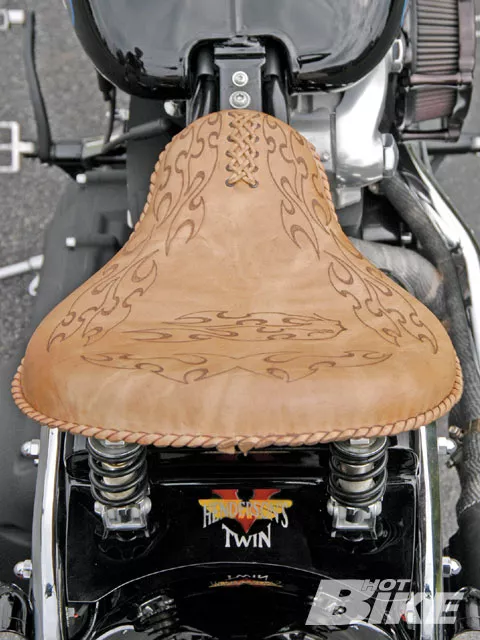 On more than one occasion we've heard the sob story of some poor guy who thought he had finally found true love, only to have it ripped from his heart after a messy divorce. We all know a good bike is hard to find, and it always seems that after putting years of TLC into turning it into your dream ride, the ex always seems to end up with it. Mark Missildine's story is a little different. Instead of losing his pride and joy in a knockdown drag-out divorce, basically Mark lost his ride the day he married his new bride.
With a couple of Klock Werks bikes in the garage, I decided it was time to wrench my own. Since my new wife pretty much confiscated my retro '59 Panhead styled Softail for her own personal enjoyment right after we got married, which brought up the perfect opportunity for me to get myself another bike to ride. This time I decided it to flash back a little further to the Knucklehead era.
I live on the beach out in Georgia and as most Harley owners must know from trips to Daytona, the salt air is a bitch on chrome. So with this bike I wanted to go with minimum chrome, so I could hose it down, blow it off, wipe the shiny parts down and then crack a beer and sit back and watch as the wife spent hours polishing and detailing her bike. I wanted a mostly black bike with a little bit of chrome-just like the knuckleheaded cat, Curtis (black with a little white), that I inherited with the marriage.
Budget is a huge constraint these days and since I wanted to spend most of my time riding and not diagnosing problems, I went with a newer Softail, which was a used '08 Night Train. Since I'm not a full-time wrench, I enlisted the help of the resident wizard, Howard Henderson of Hendersons V-Twin in Brunswick, Georgia, to help with the heavy lifting, grinding, cutting, etc. Howard took me through Harley 101 a few years back, and he's the only guy that touches my scoots if I can't figure it out. I started pulling ideas that I've had or seen in the mags and blending them into my idea for the project.
With the current state of the economy, eBay had tons of retail parts at wholesale prices. I wanted to combine an old '46 or '48 look with some new school retro and RSD had just the look I wanted. The first to go was the stock exhaust and air cleaner which was replaced with an RSD Tracker exhaust and Venturi Air Cleaner. Then we added a Thundermax with Autotune system. Next, we fit the RSD 200 rear fender then we installed the Xzotic Knucklehead rocker boxes. A donor '95 Bad Boy Springer frontend saved countless bucks (thanks Greg!), but it did take some doing to get the springer melded with the '08 FXSTB. Lowering kits for both the front and rear suspensions gave the bike its stance. A 3 1/2 inch spoked front rim with an Avon tire filled in some of the space on either side of the forks. It sucks in the rain, with no fender, but what are ya gonna do? Black Bike provided the right look for the front wheel, but once again, spokes at the beach can be a pain to clean, so I stayed with stock on the rear.
A set of RSD handlebars and grips make for a comfortable riding position. Joker Machine toe and foot pegs (massaged into Harley levers) and a chain shift linkage from Detroit Bros rounds out the list of accessories. The taillight is from Young Choppers and is mounted on a one-off mount. The brake light is in series with some small LED's on the seat mounts, so people will see red and hopefully stop before running up my butt!
There are lots of little details that we worked in, such as tucking the front and rear blinkers in tight to keep it uncluttered (but still legal). We moved the dash back a bit so the brass dog bone risers wouldn't hit the top of the dash. The LaRosa seat and Chopper Shox were another bargain from eBay. Howard also fabricated a lot of one-off parts like a coil cover, taillight tag mount, and a battery cover.
As the springer and various parts went to powdercoat, Tim of Ole School Classics put the paint and graphics on. This includes the cartoon of the damn cat that has plagued me for five years. Trying for a post-WWII era, bomber nose-art theme, Tim painted Felix the cat with a thumbs-up on one side and Felix with the hang loose "shaka, bra" sign on the other (since I've been surfing for 40 years).
I know it's a pseudo Knuckle or even to the purists out there, a fake. But hey, I got a life. Riding is just part of it. I wanted to meld an old bike look with some more aggressive styling. I'm just excited that HOT BIKE liked my version of my bike, rather than a cool custom built for me by someone else. It certainly turns heads and generally draws a crowd. And it's a blast to ride! And that's what it's all about, right?
Specs
| | |
| --- | --- |
| BIKE OWNER | Mark Missildine |
| SHOP NAME | Henderson's V-Twin |
| SHOP PHONE | (912) 265-1711 |
| YEAR/MAKE/MODEL | '08/H-D/FXSTB |
| FABRICATION | Howard Henderson |
| ASSEMBLY | Owner/Howard Henderson |
| BUILD TIME | Three Months |
| | |
| --- | --- |
| ENGINE | |
| YEAR/MANUFACTURER | '08/H-D |
| TYPE/SIZE | TC/96ci |
| BUILDER | H-D |
| CASES | H-D |
| CYLINDERS | H-D |
| HEADS | H-D |
| ROCKER BOXES | Xzotic Knuckle |
| EFI | H-D/Zippers |
| AIR CLEANER | RSD |
| EXHAUST | Vance & Hines/RSD |
| | |
| --- | --- |
| TRANSMISSION | |
| YEAR/MANUFACTURER/TYPE | H-D |
| CASE | H-D |
| CLUTCH | H-D |
| PRIMARY DRIVE | H-D |
| | |
| --- | --- |
| FRAME | |
| YEAR/MANUFACTURER | '08/H-D |
| RAKE | Stock |
| STRETCH | Stock |
| | |
| --- | --- |
| SUSPENSION | |
| MANUFACTURER FRONT | H-D Springer |
| LENGTHS | Lowered 2 inches |
| TRIPLE TREES | H-D |
| MANUFACTURER REAR | H-D |
| SWINGARM | H-D |
| | |
| --- | --- |
| WHEELS, TIRES, AND BRAKES | |
| MANUFACTURER FRONT/TYPE | Black Bike Spoke |
| SIZE-HEIGHT/WIDTH | 21×3.5 |
| TIRE/SIZE | Avon/120/70/21 |
| CALIPER | PM |
| ROTOR | PM |
| MANUFACTURER REAR/TYPE | Stock |
| SIZE-HEIGHT/WIDTH | 17×8.5 |
| TIRE/SIZE | 200mm |
| CALIPER | H-D |
| ROTOR | H-D |
| | |
| --- | --- |
| FINISH/PAINT | |
| COLOR | Black/Silver |
| PAINTER | Tim-Ole School Classics |
| GRAPHICS | Tim-Ole School Classics |
| | |
| --- | --- |
| ACCESSORIES | |
| REAR FENDER | RSD |
| FENDER STRUTS | RSD |
| GAS TANK∩ | Stock |
| OIL TANK | Stock |
| HANDLEBARS | RSD |
| RISERS | Brass |
| HAND CONTROLS | H-D/RSD |
| FOOT CONTROLS | H-D/Joker Machine |
| FOOTPEGS | Joker Machine |
| HEADLIGHT | H-D |
| TAILLIGHT | Young Choppers |
| LICENSE MOUNT | Henderson's V-Twin |
| SEAT | La Rosa |