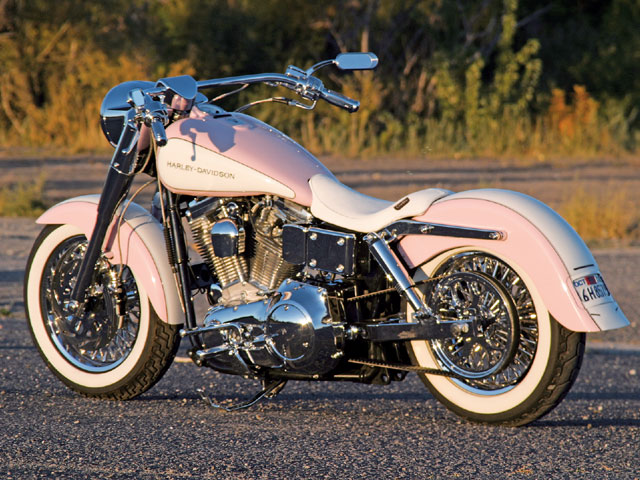 The story behind Cory Morgan's pink Dyna is somewhat like an M. Night Shyamalan movie, without the scary ending. In fact, this story isn't scary at all-it just has a couple of instances that will leave you wondering…was it a coincidence or fate?
Back in 2002, Cory and her fiance Logan got on his ground-up custom bike and made the trip from their Napa Valley, CA, residence to Reno, NV, to attend the annual Street Vibrations event. While walking up and down the casino- and motorcycle-lined strip, Cory and Logan were minding their own business when something stopped Cory in her tracks. Among the thousands of bikes that were at the event that weekend, this little pink and white Dyna rang Cory's bell like hitting the progressive jackpot on one of those Wheel of Fortune slot machines.
"We were on the other side of the street when this bike caught my attention," Cory told us. "I've seen a lot of nice motorcycles in my life; in fact, Logan's is one of my favorites. It's a custom bike built by Ron Simms, and it's been featured in a couple of magazines, but this bike was the cutest thing I'd ever seen. It reminded me of a pink Mary Kay Cadillac-you know, the woman who started a cosmetic empire and now has a sales force cruising around in a fleet of pink Caddys. Anyway, I know motorcycles are supposed to be tough, not cute, but this bike just did it for me."
It's easy to see how Cory could be so enamored with the Dyna. Sure, the pink and white paint scheme makes the bike look as if it should be parked in Barbie's garage, right next to her pink 'Vette. But the smooth, flowing lines and well-thought-out components make this a very clean and simple bike that can easily be appreciated, even by the roughest and toughest of bikers. No, it's not based on some fancy wide-tire aftermarket frame, with a monster triple-digit motor and 10-inch open-belt primary. It's just a very clean-looking Harley that's been given a makeover with a good selection of parts, including a lowered Heritage frontend, Ness front and rear fenders, and chrome shocks.
"While Logan and I checked out the bike, I had the biggest grin on my face the entire time. Even though it wasn't my bike, it still made me happy to look at it," said Cory. "Of course, it was the paint that originally caught my attention, but the more I looked at it, the more things I noticed that I liked. I've always liked the traditional look of spoke wheels, but these were more of a straight-laced wheel, and the spokes were fatter, which really made the wheels stand out. The wide whitewall tires were a nice accent to the paint job as well."
After about 10 minutes Logan was finally able to drag Cory away so they could get a bite to eat and do some gambling. But all through lunch the only thing Cory could talk about was the Dyna. She liked how the mini dash and speedo housing were molded into the top of the tank, and the way the taillights and license frame were frenched into the rear fender. As she continued on, Cory noticed she wasn't alone in her admiration for the bike-Logan mentioned that he liked how the lowered stance, combined with the subtle and classic lines of the sheetmetal, made the bike look like a scaled-down Heritage.
So, rather than chasing after that elusive triple-seven red-white-and-blue jackpot, Cory convinced Logan to go back and take a second and third look at the bike.
"It wasn't until we went back for the third time that Logan noticed the bike was for sale. I had never even considered owning a Harley. I was totally content riding on the back of Logan's bike or cruising around the Napa hills on my vintage Vespa," Cory said. "But as we stood there for a second time, more and more people started walking up. They noticed the bike was for sale as well and began writing the number down. I panicked-I didn't know what I was doing, but I knew I wanted that bike, and the next thing I knew I had my cell phone out and was calling the owner. It took about 20 minutes, but the owner finally arrived, and we started talking about the bike. Her name was Mary Kay, which was a pretty weird coincidence since that's the first name that popped in my head when I saw the bike. Then when she described the paint she called it 'Mary Kay pink.'"
It didn't take much deliberation or haggling. Within 15 minutes a deal had been struck, and Cory was now the proud owner of her first Harley.
"I wanted to ride the bike home, but the foot controls were stretched out too far for me, and it just wasn't safe. So we had the bike trailered home and immediately swapped out the forward controls. I also had a set of white leather saddlebags made, which really gives the bike a vintage look. I was a little nervous at first to ride it because it has so much more power than my Vespa, but now that I'm used to it I love it."
Now, this is where the story gets a little weird. The way we came across this bike was pretty much exactly how Cory found it-walking the streets of Reno while attending the '05 Street Vibrations event. Several of us were walking with our wives when one of us noticed this pink bike parked on the sidewalk. We were all immediately drawn to it, mostly because you rarely see a pink Harley. One of the wives mentioned it looked like a bike Mary Kay, the "Cosmetic Lady," would ride.
We checked out the bike several times, and each time we noticed something else besides the paint that made the bike stand out from the rest of the bikes lined up on the street. Finally, we decided we had to shoot it for the magazine and left a business card tucked into the seat in hopes that we could get a hold of the owner before the weekend was over.
As you can tell, the photo shoot went off without a hitch. However, it was while we were photographing the bike that Cory informed us that the spot where the bike was parked when we saw it turned out to be exactly where it had been several years earlier when she first saw it, and that she too went back several times before making a decision about it. The real kicker came when she then told us she was in the process of opening her own business in Napa and, believe it or not, she's opening a skin-care boutique.
Call it coincidence or call it fate. Either way, if Cory's looking to follow in the footsteps of cosmetics queen Mary Kay, she's blazing through on the right path with her pink and white Dyna. Who knows-maybe in a few years we'll be seeing a fleet of pink and white Harleys with Cory's name on them, giving those pink Caddys a run for their money.
| | |
| --- | --- |
| SPEC SHEET | |
| OWNER | CORY MORGAN |
| SHOP | UNKNOWN |
| YEAR/MAKE/MODEL | '97/H-D/DYNA |
| BUILD TIME | SIX MONTHS |
| | |
| --- | --- |
| ENGINE | |
| YEAR/TYPE/SIZE | '97/H-D/80CI |
| BUILDER | H-D |
| CASES | H-D |
| FLYWHEELS | H-D |
| RODS | H-D |
| PISTONS | H-D |
| CYLINDERS | H-D |
| HEADS | H-D |
| VALVES | H-D |
| ROCKERS | H-D |
| ROCKER BOXES | H-D |
| PUSHRODS | H-D |
| PUSHROD TUBES | H-D |
| CAM | H-D |
| LIFTERS | H-D |
| CARBURETOR | MIKUNI |
| AIR CLEANER | H-D |
| IGNITION | H-D |
| EXHAUST | PYTHON |
| | |
| --- | --- |
| TRANSMISSION | |
| YEAR/TYPE | '97/H-D |
| CASE | H-D |
| GEARS | H-D |
| CLUTCH | H-D |
| PRIMARY DRIVE | H-D |
| | |
| --- | --- |
| FRAME | |
| YEAR/TYPE | '97/DYNA |
| RAKE | STOCK |
| | |
| --- | --- |
| SUSPENSION | |
| FRONT | H-D |
| LENGTH | 1 INCH UNDER |
| TRIPLE-TREES | H-D |
| REAR | |
| SWINGARM | H-D |
| SHOCKS | BELT |
| | |
| --- | --- |
| WHEELS, TIRES, AND BRAKES | |
| FRONT SPOKE | |
| BUILDER/SIZE | DRAG SPECIALTIES/16-INCH |
| TIRE/SIZE | DUNLOP/16-INCH |
| CALIPER | ARLEN NESS |
| ROTOR | ARLEN NESS |
| REAR | |
| BUILDER/SIZE | DRAG SPECIALTIES/16-INCH |
| TIRE/SIZE | DUNLOP/16-INCH |
| CALIPER | ARLEN NESS |
| ROTOR | ARLEN NESS |
| | |
| --- | --- |
| FINISH/PAINT | |
| COLORS | PINK AND WHITE |
| PAINTER | UNKNOWN |
| | |
| --- | --- |
| ACCESSORIES | |
| FRONT FENDER | ARLEN NESS |
| REAR FENDER | ARLEN NESS |
| FENDER STRUTS | ARLEN NESS |
| GAS TANK | CUSTOM |
| OIL TANK | H-D |
| DASH | CUSTOM |
| GAUGES | CUSTOM |
| HANDLEBARS | BEACH BARS |
| RISERS | H-D |
| MIRRORS | H-D |
| HAND CONTROLS | H-D |
| FOOT CONTROLS | H-D |
| FOOTPEGS | H-D |
| HEADLIGHT | H-D |
| TAILLIGHT | ARLEN NESS |
| TURN SIGNALS | ARLEN NESS |
| LICENSE | MOUNT ARLEN NESS |
| SEAT | CORBIN |