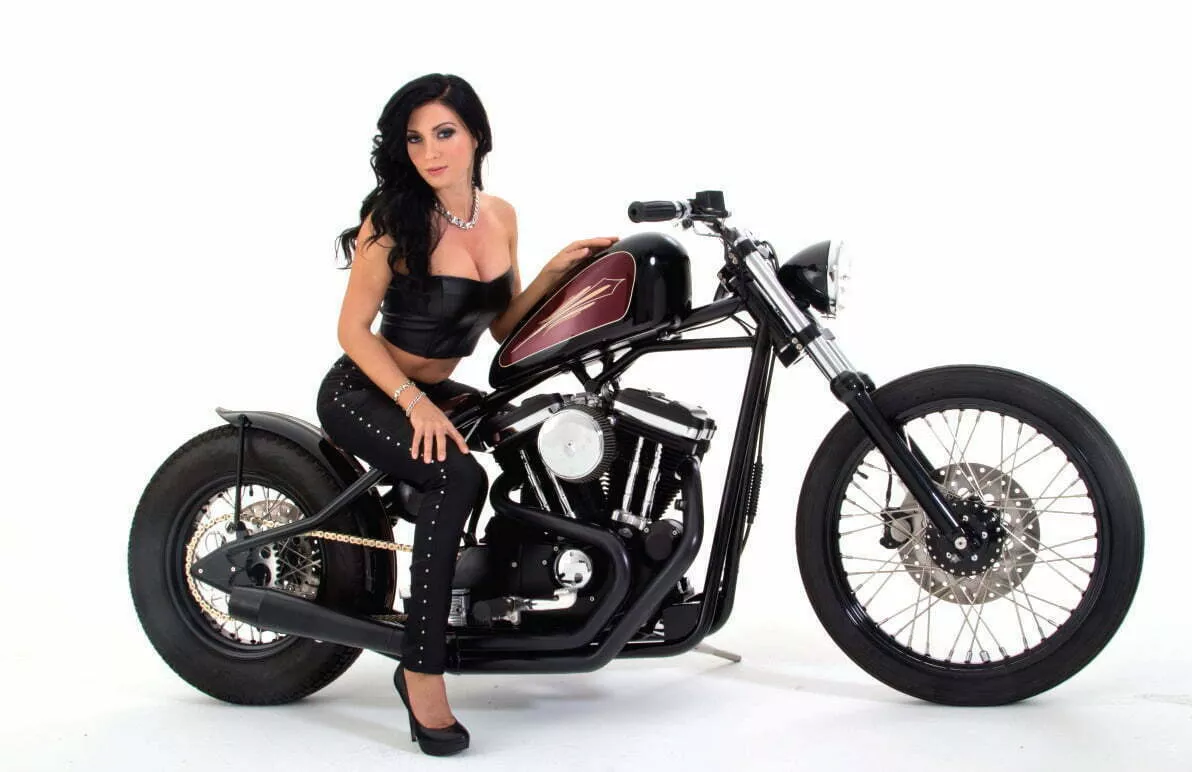 I guess it all started when I was in high school and got my first dirt bike, a 1986 YZ250. I hopped on that bad boy in front of my buddy's house and grabbed a handful of throttle and it stood straight up and almost threw me off the back. I was in love! I grew up around custom cars and after building some of my own, I thought why not have a try at a motorcycle? I knew it had to be light, fast, and able to stop. I started researching and decided that I was going to go with a Sportster. I hit the old man up and told him my plan and asked if he knew of a salvage yard up in Long beach, California. The next day we got there and found about 15 wrecked sporties to choose from. I found a '99 1200 that looked like someone just laid down in the mud. I got it home and the forks were tweaked a little, but not bent. I straightened them out, fired it up, and took it for a quick spin around the block. Everything seemed fine and it ran good. It wasn't as fast as I thought a 1200 would be but I figured we could fix that later. I pulled this whole bike apart in just a couple hours. I put all the junk I didn't need in the corner to sell off or trade.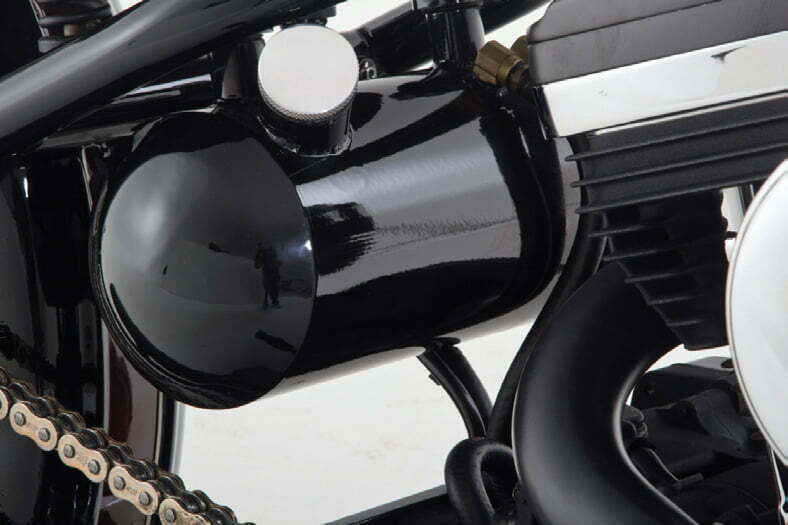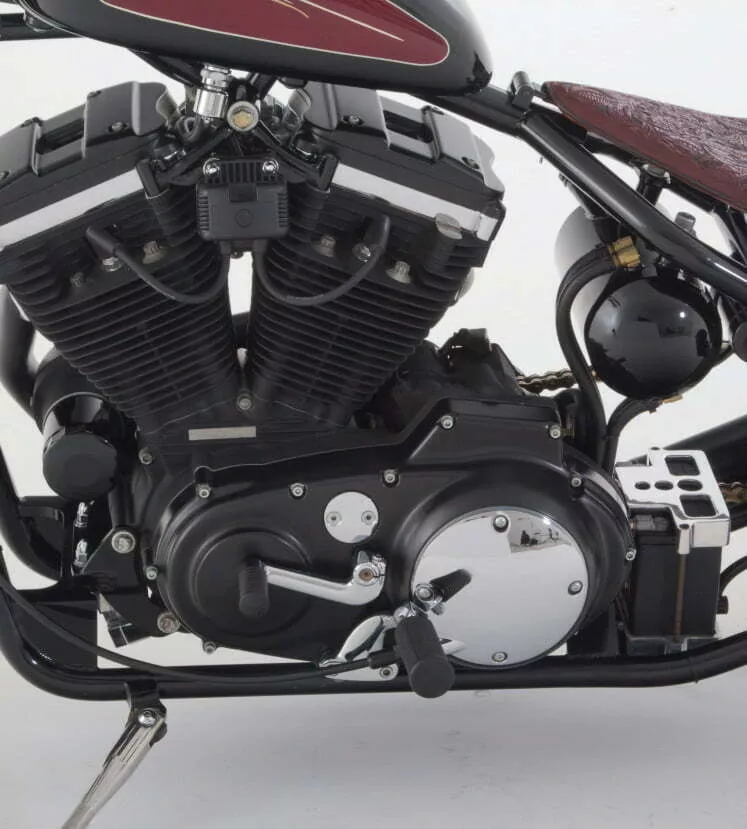 The following Sunday I was off to the So-Cal Cycle Swap meet for all the other parts I would needed. That's where I met up with Anthony from Chassis Design. He had some of his work on display and they all looked like real quality parts. so I had him build me a frame to my specs. It has 33 degrees of rake, 2-up and 3-inch stretch and a slight drop seat so the seat flows into the frame.He also built me the oil bag, battery box, and triple trees. It needed some wheels, so I called up my boys at Ride Wright Wheels and had them build me a 21-inch for the front and 16-inch for the rear. Now I had myself a roller.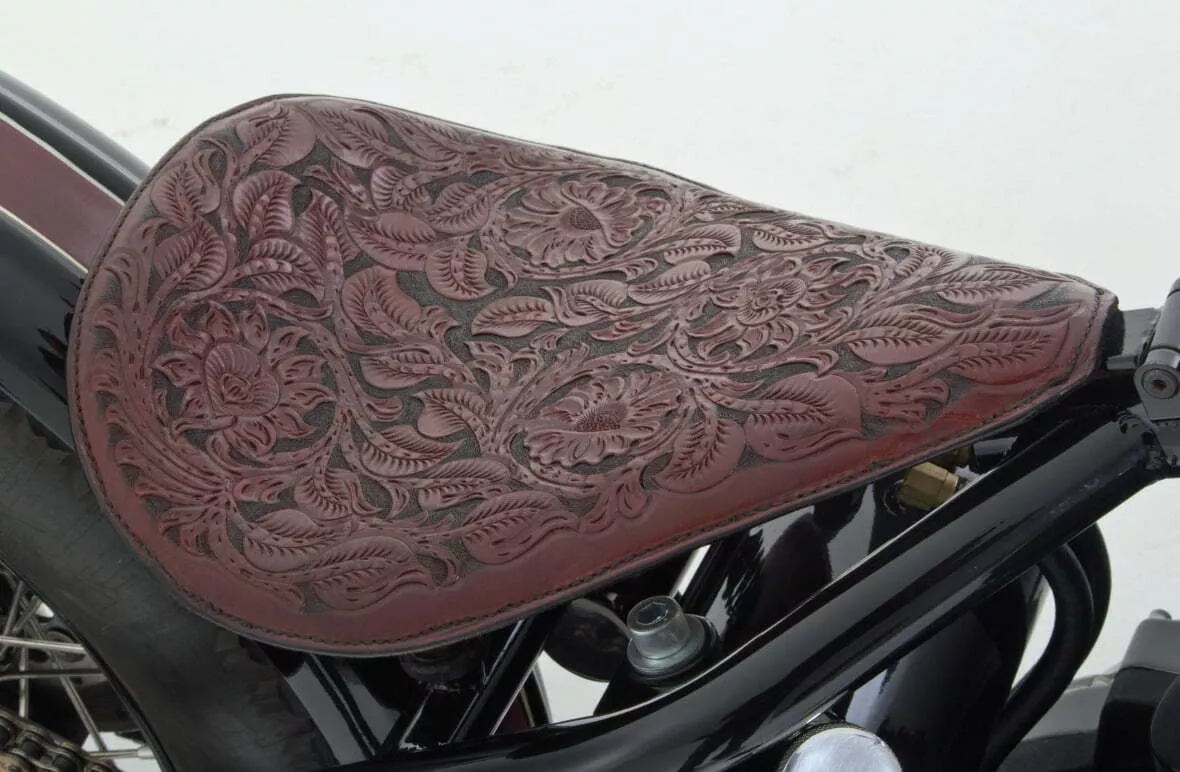 I needed some clean weld and fabrication, so I called up Jeff from Delisle Products and he welded on my tank and fender mounted up the Brembo brakes. We both did some spacing and got everything lined up. Once we got everything mocked up, it was time to pullit apart for powdercoat, paint, and polish. I hit up my boy Jason Langhoff at Deluxe Powder Coating and we spent a late night throwing back booze cans and a lot of powdercoating and polishing. Putting the bike together and watching it take form was like being a kid in a candy store. I shaved the forks and put 2-under springs in to give it that low stance. The tank and fender is a black with candy red over silver metalflake. I met up with this dude from Chilin's Pinstriping that did the striping at a local car show.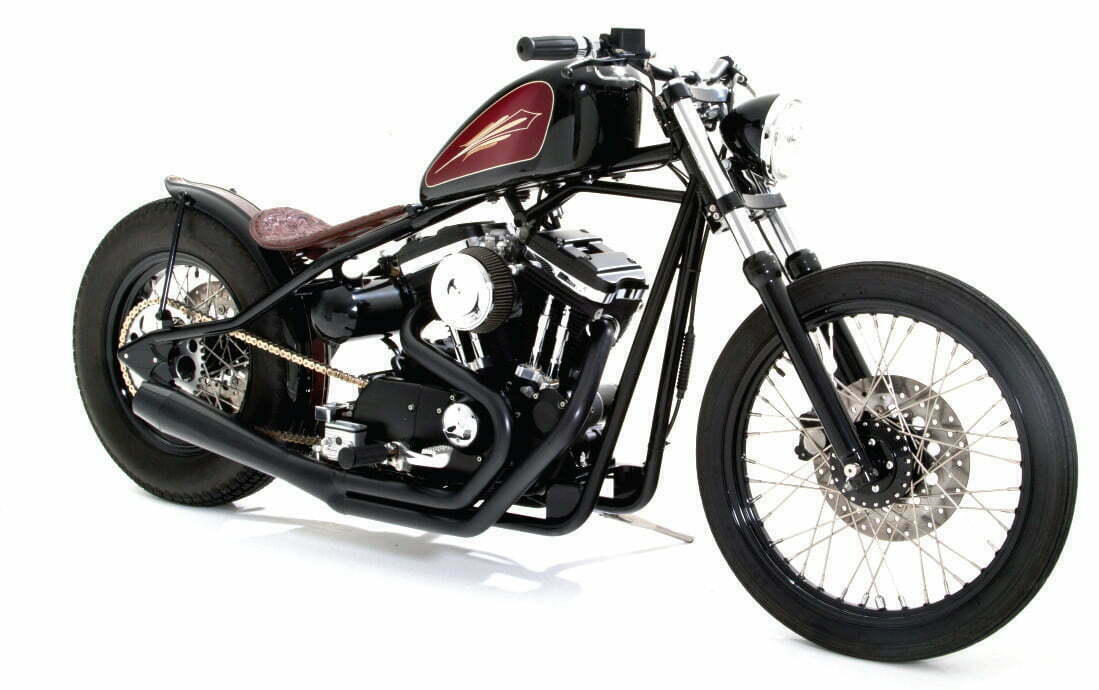 I got the bike all together and I wanted to get some more power out of it so I ordered up some Buell heads, pistons, and cylinders, Andrews n8 cams, a Mikuni carb, and all the other goodies to go with it. I took it all to Cycle Doctor in Costa Mesa, California, to have them build the motor and Steve Kinney really nailed it and got this bike running like a top. I was at the local rodeo and met Mike, from Mike's Custom Leather, and his work was amazing. He told me he had never done a motorcycle seat but he would love to give it a shot. I was really happy how it came out. I have never ridden a hardtail and thought it would ride like a shopping cart, but it actually has a real smooth ride and with all the Buell parts and goodies, runs like a bat out of hell. The best part about riding this bike is it just feels like you're riding something that you should be. It doesn't feel like anything you would buy off the showroom floor.