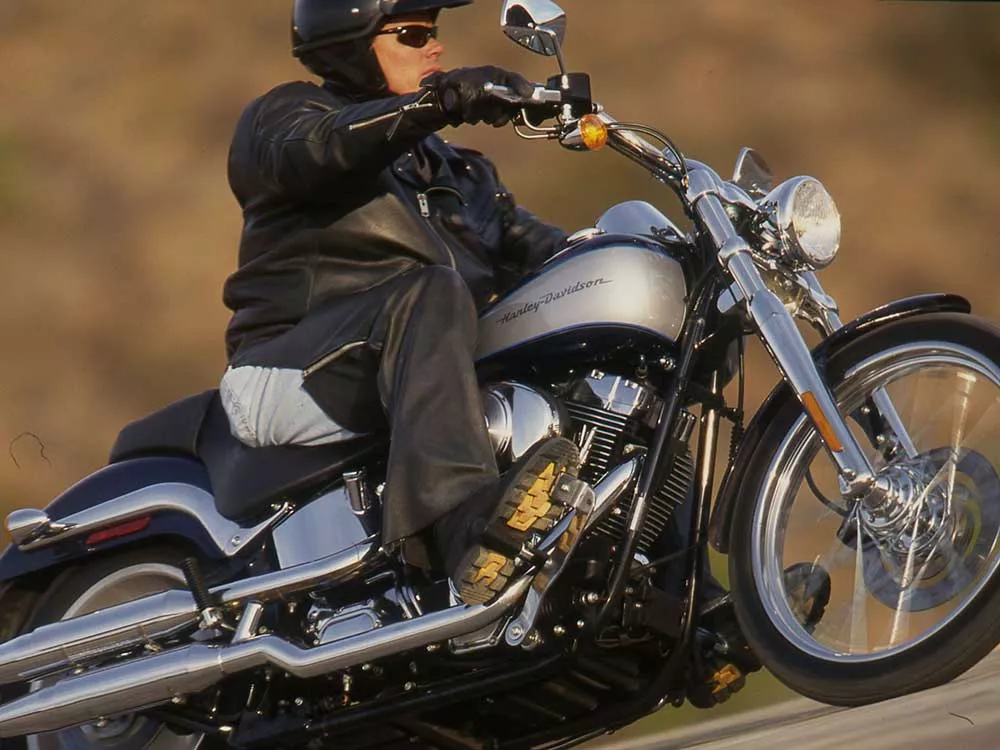 This article was originally published in the February/March issue of Cycle World's Big Twin magazine.
If you believe in so-called "conventional wisdom," then you probably subscribe to the popular belief that custom-styled cruisers don't function very well. The general perception is that low-slung, high-style, stretched-out cruisers with acres of chrome and oodles of charisma can't possibly handle as well as other bikes or be as enjoyable to ride.
Apparently, someone forgot to pass that little nugget of information on to the engineers at Harley-Davidson. The Motor Company has produced a brand-new custom-cruiser model for the year 2000, the FXSTD Softail Deuce, one of the most radically styled production Harleys ever. It has a long, sleek tank, a way-low seat, a bobbed rear fender and some of the slickest custom-bike styling touches ever home-grown in Milwaukee. Yet despite its cool, clean, showbike appearance, the Deuce is one of the most fun, functional models in the entire H-D lineup, with on-the-road performance to match its at-the-curb good looks.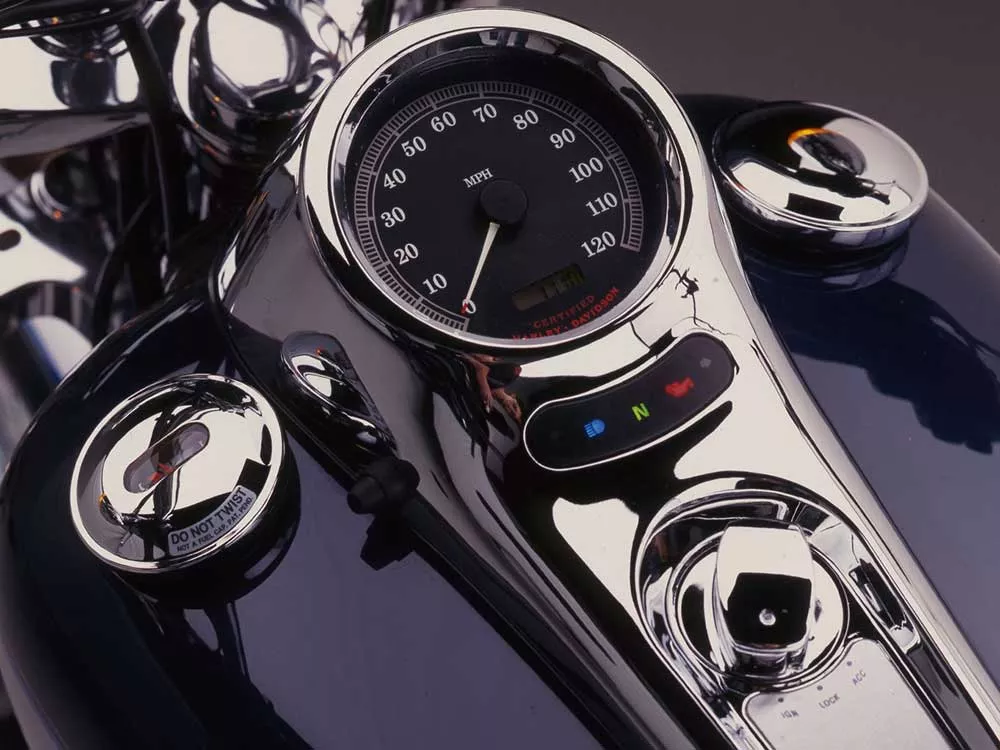 Willie G. Davidson, the company's longtime guru of styling, is particularly proud of the Deuce. "This bike represents a new look for Harley-Davidson," he says, "and I think you'll see that look carried through to other models in the future."
With such trend-setting implications on the line, Willie G. and his right-hand man, Louie Netz, sweated the details on this bike like they have for few others their Styling Department has ever produced. "We worked long and hard to get all the proportions and lines just right," says Netz. "We fussed with some of the littlest things over and over, like the rear-fender braces; we just kept playing with the radius on those pieces until we got them absolutely perfect."
Foundation for the Deuce is the same chassis found beneath the Softail Standard and Night Train, all three of which share a 34-degree head angle. Not exactly a true chopperesque kickout, but it's the most rake available in the entire H-D line. And, of course, it's powered by the same counterbalanced Twin Cam Beta motor—and drives through the same refined, five-speed gearbox—that is exclusive to all Y2K Softails.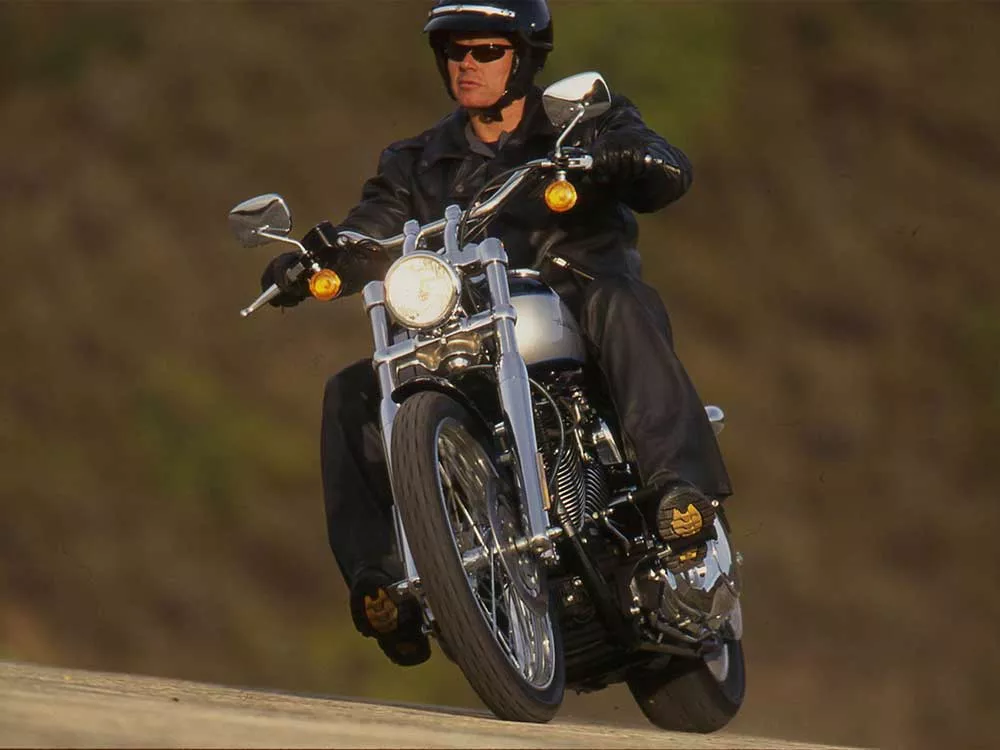 While those big pieces are common to other Softails, just about everything else on the Deuce is indigenous to that bike. The gas tank has a longer, thinner teardrop shape than other H-D tanks, giving it a mildly stretched appearance, and it's a one-piece unit, as well; the dueling gas caps (the left one is a dummy cap that houses the fuel gauge) were retained just for looks. The seat is a deeply scooped saddle that blends smoothly into the rearward slope of the gas tank, and the short rear fender has a straight, horizontal cutoff paralleled by curvaceous, chromed braces that attach to the fender without any visible hardware. No matter where you look—at the tiny, narrow-gauge rear turnsignals, the flush-mount taillight, the stylish, chromed instrument console, the fully chromed front fork—you see ultra-cool hardware that appears on no other Harley.
When you're finished gawking and ready to start riding, you aren't the least bit disappointed. The Deuce's carbureted Twin Cam Beta motor fires up almost instantly at the push of the starter button, and it responds to throttle changes without assistance of the choke after just a few minutes of running. The stacked shotgun exhaust emits a healthy note—considering its need to meet federal noise standards—backed up by good, strong acceleration up through the gears.
Our particular test unit, in fact, seemed noticeably more eager to accelerate than the last couple of Twin-Cammers we've ridden, especially in the low-to-middle rpm ranges. That makes the prospect of passing slower vehicles without a downshift less daunting; and if you're in a real hurry, snicking down from fifth to fourth usually gives all the passing oomph necessary.
And what about vibration, the issue most people want to discuss when the conversation turns to the dual-counterbalanced Beta motor? Well, if we said that the Deuce is completely absent any vibration, we'd be lying; at lower rpm, you can feel the throb of those big, 33/4-inch pistons being slammed through their 4-inch strokes by the explosive force of combustion—power pulses, they're called. It's not vibration, technically, although to the rider, it often can feel like vibration. But rather than being annoying or a hindrance to long stints in the saddle, that V-Twin pulsing has a cadence and a quality that make it quite pleasant and satisfying; were it not present, the Deuce wouldn't be nearly as pleasureable to ride.
At higher revs, a bit of real vibration does sneak its way to the rider through the handgrips and footrests. The good news is that it never reaches the point where the images in the mirrors are blurred or your hands and feet tingle and start to get numb. It's there, you notice it, but you don't mind it at all. Period. End of report.
If you like the way the Deuce's engine runs and feels, you'll love the way its chassis performs. Though it has "slow" steering geometry, a long (66.6-inch) wheelbase, considerable weight (644 pounds dry) and a narrow, 21-inch front wheel, the FXSTD snakes around corners, fast or slow, with amazing agility. You never have to manhandle it to bank over into a turn, the tires stick like glue, and the bike happily arcs through corners of all kinds at pretty severe lean angles.
If you get really aggressive, hard parts on the left side start dragging first, but you have to lean a lot farther to hit anything on the right side. Indeed, Harley's own specs show that when it is banked over to the right, the Deuce has more cornering clearance than any other Big Twin model; only the FXDX and Convertible out-lean it in left-hand turns, and even then, only by about one degree.
Obviously, the Deuce is not and was never intended as a sportbike; nevertheless, a couple of fast runs along some of our favorite backroads raised quite a few eyebrows—ours, as well as those of several genuine sportbike riders we overtook in the twisties. Yes, we're fully aware that the bike wasn't designed to be ridden in this fashion; the point is, it's very comforting to know that this high-style, ultra-cool custom cruiser has such superb handling capabilities—including, we might add, powerful, progressive brakes at both wheels—just in case you ever need to put them to the test.
Even though the Deuce exhibits a surprising willingness to bend around corners, it's reassuringly stable in a straight line. This affords you the luxury of being able to take in the scenery without the constant need to make small steering corrections just to stay on course. As far as handling is concerned, then, the Deuce provides the best of two worlds that often are mutually exclusive—agile cornering and excellent stability.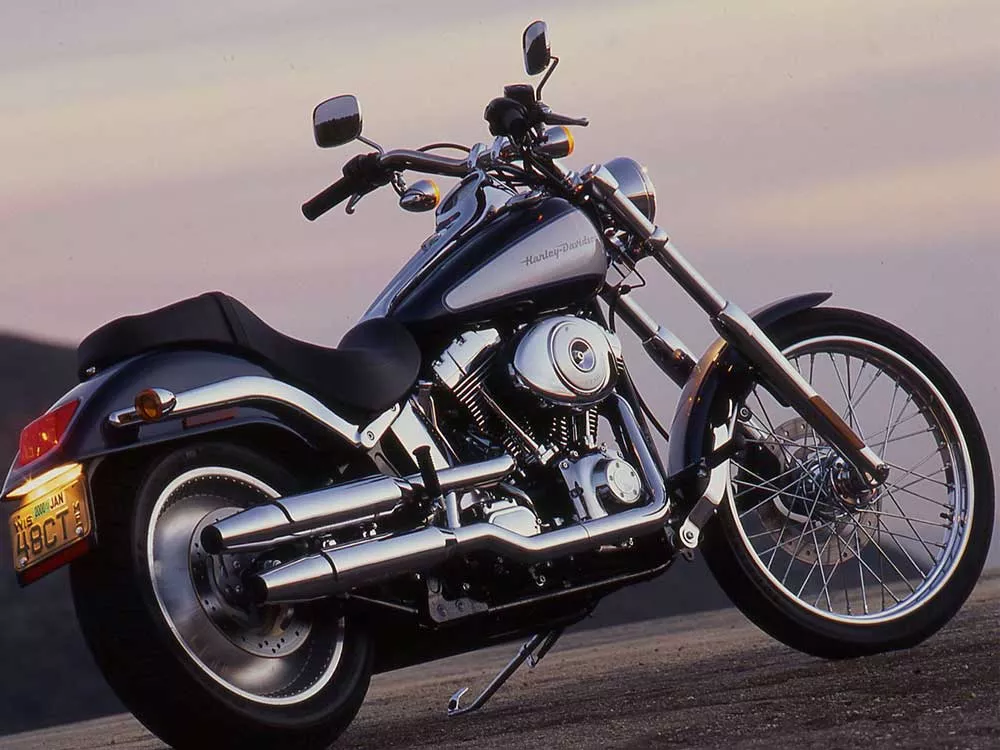 Little else about the Deuce's road demean­or intrudes into rider comfort. The chrome-plated fork not only looks spectacular but it soaks up irregularities in the pavement about as efficiently as any front suspension on the market. As you ride along the highway, you can look down and watch the fork sliders rapidly stroking up-and-down, effectively providing an accurate topographical readout of every imperfection, big or small, on the road surface.
Things aren't quite so cushy at the rear, however. The Deuce is, after all, a Softail, meaning that it doesn't have much rear-wheel travel to work with. Harley claims all Softails have 4 inches of travel back there, but none of them ride like it. What's more, the Deuce's rear wheel is an all-new, solid-disc, 17-inch unit that is heavier than the comparable 16-inch wheels on other Softails. Plus, that wheel is mated with a wide (160/70-17), low-profile high-performance tire that has a shorter, stif­fer sidewall than those 16-inchers.
The end result of that combination—short wheel travel, considerable unsprung weight and less compliancy in the tire—is compromised overall rear-ride quality. The FXSTD is distinctly choppy at the rear, especially over the uneven expansion joints that populate so many concrete-slab highways.
---
---
Fortunately, two other design elements of the Deuce save the day—and make the rear ride tolerable. First, as part of an axle-to-axle upgrade of the Softails for the 2000 model year, Harley's engineers incorporated automotive-style rubber grommets at the front mounting points for the dual, under-engine rear shocks. That slightly mitigates the harsh­ness at the rear, taking just enough edge off the impacts to reduce the severity of the pounding the rider might otherwise receive.
And second is the magnificent seat. Al­though it's dished out like most classic cruiser seats, the Deuce's saddle is exceptionally wide, thoughtfully padded and intelligently contoured. As such, it pampers the rider's bottom like few other seats on any other bike of any kind, anywhere. One of our testers spent an entire day in the saddle, interrupted only by two brief stops for gas and nothing else, and ended the 400-mile ride without even the slightest soreness in his tush. That's very high praise for the seat on a motorcycle that has a less-than-plush rear suspension.
Combine that seating luxury with rational ergonomics and you end up with one comfortable cruiser. The relatively flat handlebar is mounted atop tall, rearward-sweeping risers that locate the grips right about where common sense would dictate. The foot controls are in precisely the same location as those on all other forward-control Softails—though not quite as far forward as on a Dyna Wide Glide—requiring only a moderate bend at the knees for most riders. All in all, the riding position is just as good for day-long rides as it is for short hops to the 7-Eleven.
And when you're on that ride, whether it be half a mile or halfway across the continent, don't be surprised if, along the way, you get a succession of thumbs-up gestures from people in cars, astride other bikes and even on foot. Don't become impatient if you find yourself answering an endless stream of questions at gas stops and restaurant parking lots from passersby who have been charmed by this bike's good looks. Because it's that kind of motorcycle. To the untrained eye, the Deuce looks like something special, a one-of-a-kind showpiece that someone must have personalized at considerable expense. And that kind of admiration is likely to continue until enough Deuces—and any other models that will carry Willie G.'s "new look" out to the masses—are on the streets to make them much more familiar to everyone.
What Harley-Davidson has done here is damned impressive. As an all-around motorcycle, the Deuce is at least as capable as any other model in the Harley line, if not more so. And it accomplishes that feat despite its stylish, custom-cruiser good looks. This, friends, isn't a profiler's bike; this is a rider's bike.
No matter what "conventional wisdom" might say.