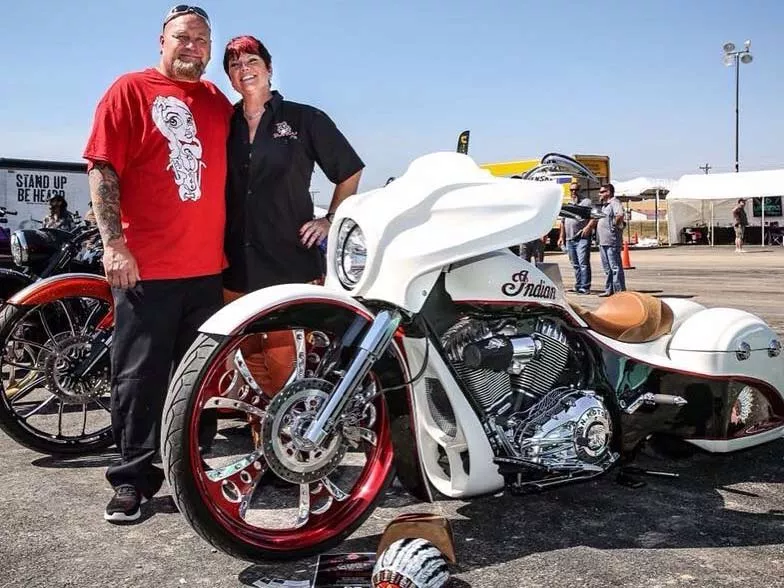 | Name: | Mark Rhoades |
| --- | --- |
| Shop: | Pinup Baggers |
| Location: | 5033 New York Newburgh, IN 47630 |
| Website: | Pinupbaggers.com |
| @Instagram Handle: | @pinupbaggers |
Describe yourself in three words?
Workaholic, Loyal and sometimes an Asshole.
What are you currently building?
26″ Layframe 2015 Street Glide
What was your first bike?
Honda 90
What is your all-time favorite bike?
Can't just pick one
Why did you choose to work in the motorcycle industry?
Still asking myself that!! LOL. But I have always had a love of everything fast, loud, and cool.
What do you think the future of the motorcycle industry is?
Never know it will always be changing
What is your greatest life achievement so far?
Thirty years of marriage
What has been your biggest regret to date?
I try not to regret anything; I just have to play catch up sometimes
What inspires you?
Wife and Kids
Favorite Builders?
Ron Finch, John Shope, Paul Yaffe
Any last words?
I am thankful for my Dad for showing me that you can try anything once. And I am most thankful for my family, friends, and customers that let me live my dream. And special thanks to my employee, Tim Sorenson, for some long nights and frustrating times building this bike. A few more days to go and we have a frame and motor done!