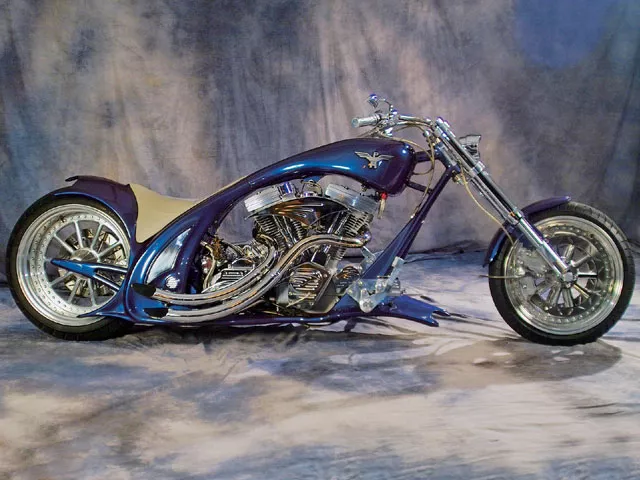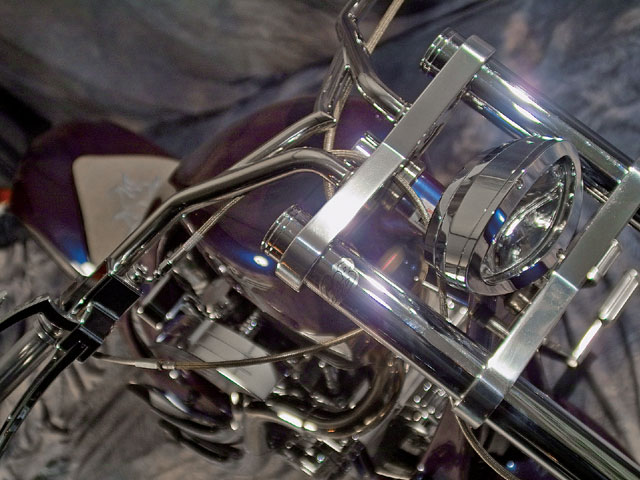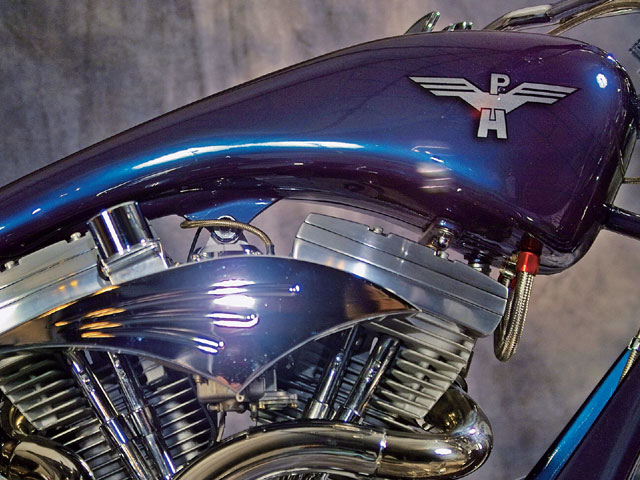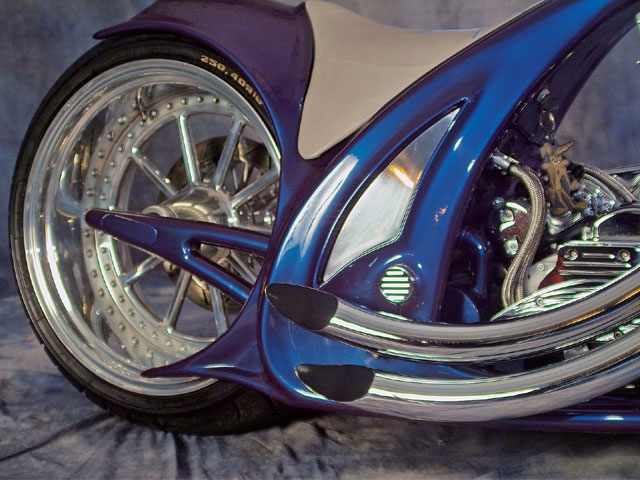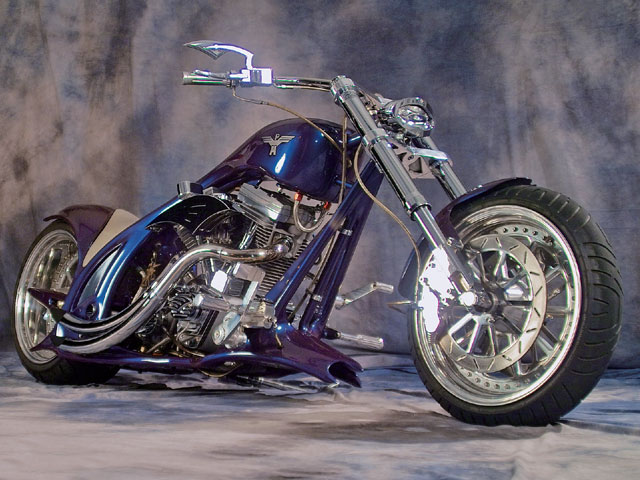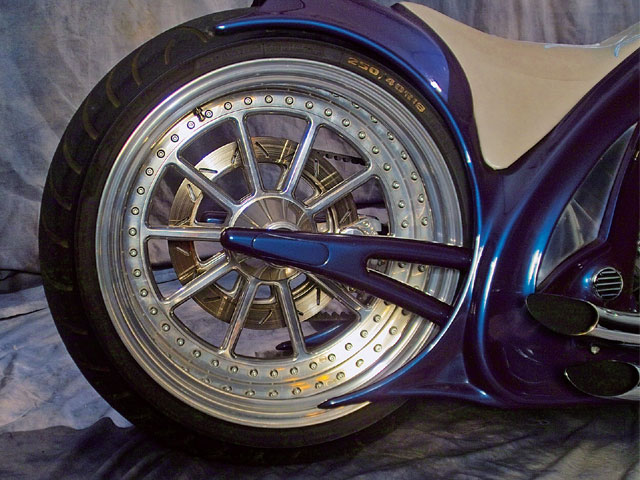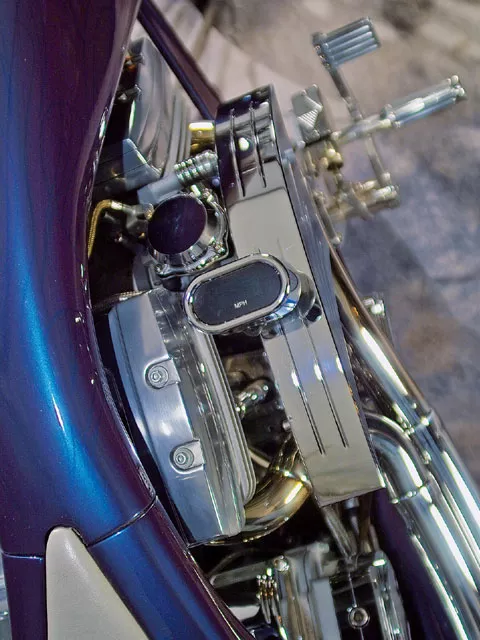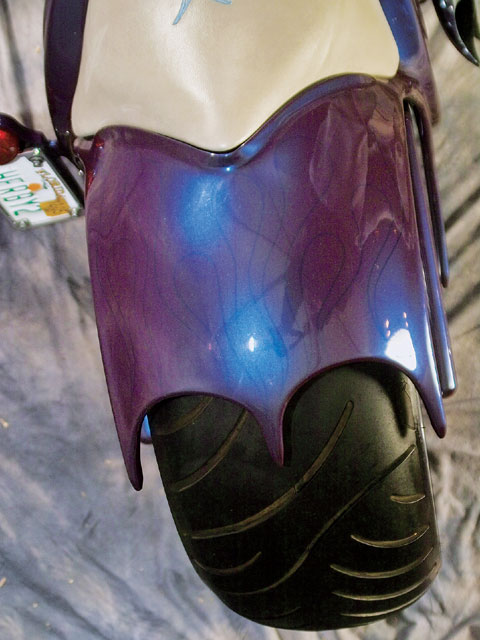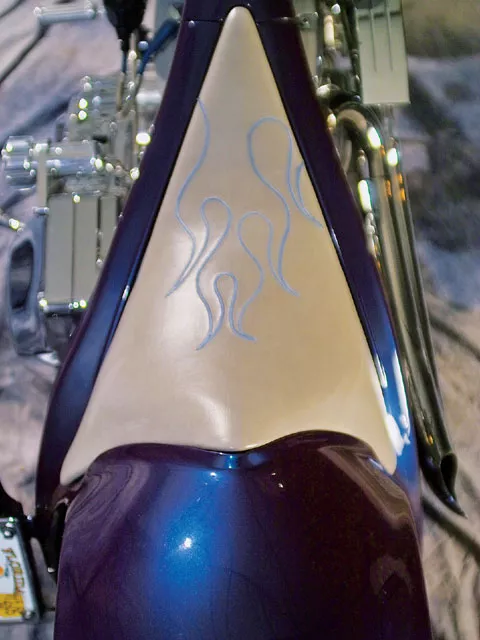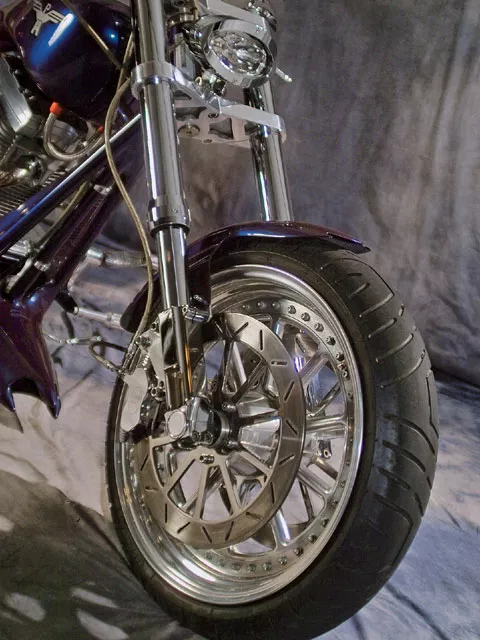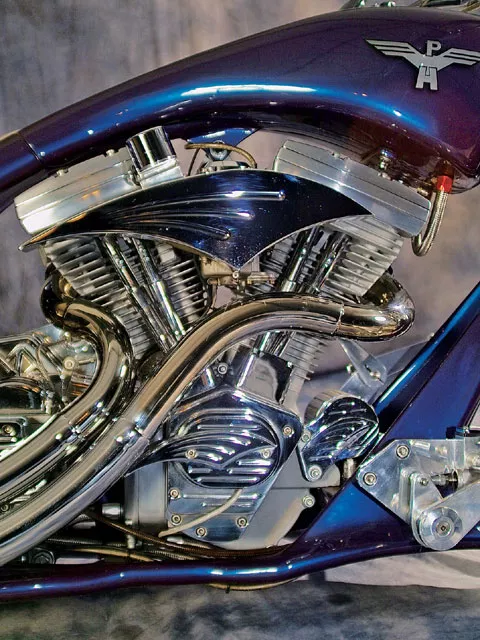 It's not as rare as it used to be to stumble across a bike built from the ground up by someone in a garage; on the other hand, it's a rare occurrence to find a bike that is the owner's second custom motorcycle build, was built in a garage, and was completely hand-fabricated.
This is exactly what Peter "Herby" Herbert has done with "The Purple People Eater." It's a funny name, but give the guy a break-he's from Europe. At 14 Peter started studying under his uncle, a master metal fabricator from Germany, not just doing gas tanks for motorcycles, but fabricating entire fenders and other hard-to-find parts for Porsches and Mercedes.
Peter was fascinated by metal fabrication and mechanics at an early age and pursued a career as an auto mechanic, but he always fed his creative side with various projects. He finished a '68 shovelhead, his first motorcycle project, more than 15 years ago, taking the knowledge he had acquired about metal fabrication and adapting it to motorcycles and motorcycle parts.
He began learning about motorcycle builders and became friends with well-known German builder Fred Kodlin. After seeing some of the custom ground-up motorcycles that were churned out in the late '90s, Peter knew he wanted to do one of his own. He began building The Purple People Eater in early 2000 in Germany.
He knew it would take some time, but over the years he had invested in all the tooling he would need to make the bike. Peter doesn't believe in Bondo or any sort of body filler, so what you see is what you get with this one-of-a-kind machine. The frame was the first piece of business to take care of; he fabricated an adjustable jig and began to make his dream a reality. He knew he wanted a lot of rake and a long, lean look, so he settled for 47 degrees with 6 inches of stretch in the backbone. The metal had to have several intricate bends in order for the motorcycle to handle properly, and, to throw another wrench into the design, Peter decided to make the bike a Softail. He had to make sure his sculpted bike was ridable, so he measured everything several times to ensure proper clearances and quality handling characteristics.
Because mistakes can easily be seen where two pieces of metal join together, several points on the bike required exceptional metalworking ability. Peter looked for components that would match the way he thought a ground-up, sculpted motorcycle should look. He wanted to source as many parts as possible from Germany because he liked the sleek European lines people were coming up with there.
He looked to Rick's Motorcycles for what was then a monstrous 18×9.5-inch rear wheel, as well as the 17×3-inch front. The Purple People Eater was going to be one of the first bikes in Europe to have a 250mm Avon tire. In order to keep the clean lines on the rear wheel, Peter had Rick's and Fred Kodlin help him create an inboard brake system that hides the brake behind the CCI pulley and H-D final beltdrive.
Peter knew he could make almost everything he needed, but he also knew it would require more time, so he opted to use some aftermarket parts such as Yaffe mirrors, Arlen Ness hand controls, a Dakota Digital speedometer mounted on the rocker cover, and a Hella taillight. He was up to the task of machining the pegs and shifters for the foot controls, and incorporated existing parts from a set of HPU components.
To get a beefy frontend matching the stance of this European V-Twin rocket, Peter looked to Ceriani in Italy to provide an inverted front fork to handle the potholes. An H-D Evolution motor, beefed up with an S&S; 88-inch Sidewinder kit, as well as an S&S; carb with a Fred Kodlin air-cleaner cover, provides power for the People Eater. The exhaust is handled by a pair of Martin Bros. pipes, giving this mean machine a sound to match its looks.
As soon as the bike was available for mock-up, Peter started to pound out all the sheetmetal. Because he needed the long fuel tank to follow the arc of the backbone, and the tank would be molded into the frame by only metal, he had to make sure all the seams were perfect. Peter worked the hidden oil bag into the frame and under the seat, incorporating the rear fender, one of the most intricate parts of the build because of the amount of fabrication work and metal molding for the seat. Peter also did a lot of round-rod work on the rear fender to accentuate the tips and to hold the handmade seat pan in place.
"I want to set a trend in the industry with fresh new designs, and I think my next bike will make an even bigger statement," said Peter from his new garage in Port Charlotte, FL. It's hard to look at this bike and comprehend the fact that it was built in a two-car garage. It was obviously a very well-equipped two-car garage, and when Peter was asked about his facility, he told us that they have a full machine shop. He only has to send out powdercoat, chrome, and paint; everything else is done in-house.
It's obvious that Peter has extensive fabrication experience and an understanding of mechanics and engineering, but it is impressive and inspiring to think that this rolling piece of European artwork was created in a 24×28 garage. Be sure to look out for Peter's next build, which is rumored to include a 145-inch motor, a Magna Charger, and lots of hand-fabricated parts.
Spec Sheet
| | |
| --- | --- |
| GENERAL | |
| OWNER | PETER HERBERT |
| SHOP | HERBY'S CUSTOM WERKS, |
|   | LLC (HCW) |
| PHONE | (941) 276-4693 |
| WEBSITE | WWW.HERBYSCUSTOMS.COM |
| YEAR/MAKE/MODEL | '02/HCW/CUSTOM |
| FABRICATION | HCW |
| ASSEMBLY | HCW |
| BUILD TIME | SEVEN WEEKS |
| | |
| --- | --- |
| ENGINE | |
| YEAR/TYPE/SIZE | '02/EVO/88CI |
| BUILDER | H-D |
| CASES | H-D |
| FLYWHEELS | S&S; |
| RODS | S&S; |
| PISTONS | S&S; |
| CYLINDERS | H-D |
| HEADS | H-D |
| VALVES | H-D |
| ROCKERS | CRANE |
| CAM | S&S; |
| LIFTERS | H-D |
| CARBURETOR | S&S; |
| AIR CLEANER | FRED KODLIN |
| IGNITION | DYNA SINGLE FIRE |
| EXHAUST | MARTIN BROS. |
| | |
| --- | --- |
| TRANSMISSION | |
| CASE | H-D |
| CLUTCH | CUSTOM CHROME |
| PRIMARY DRIVE | CCI/FRED KODLIN |
| FINAL DRIVE | H-D |
| GEARS | ANDREWS |
| | |
| --- | --- |
| FRAME | |
| YEAR/TYPE | '02/GLADIATOR |
| RAKE | 47 DEGREES |
| STRETCH | 6 INCHES OVER |
| | |
| --- | --- |
| WHEELS, TIRES, AND BRAKES | |
| FRONT | |
| SIZE/TYPE | 17X3/RICK'S MOTORCYCLES |
| TIRE MAKE/SIZE | AVON/120X17 |
| CALIPERS | RICK'S MOTORCYCLES |
| ROTORS RICK'S MOTORCYCLES | |
| REAR | |
| SIZE/TYPE | 18X9.5 RICK'S MOTORCYCLES |
| TIRE MAKE/SIZE | AVON/250X18 |
| CALIPER | PM |
| ROTOR | PM |
| | |
| --- | --- |
| FINISH/PAINT | |
| COLOR | ROVER PURPLE |
| PAINTER | PAINTED STEEL |
| POLISHING | HCW |
| | |
| --- | --- |
| ACCESSORES | |
| FRONT FENDER | HCW |
| REAR FENDER | HCW |
| GAS TANK & CAP | HCW |
| OIL TANK | HCW |
| HANDLEBARS | HCW |
| MIRRORS | PAUL YAFFE |
| HAND CONTROLS | ARLEN NESS |
| FOOT CONTROLS | HCW |
| FOOTPEGS | HCW |
| TAILLIGHT | HELLA |
| LICENSE MOUNT | HCW |
| SEAT | HCW, HOT ROD SEATS |