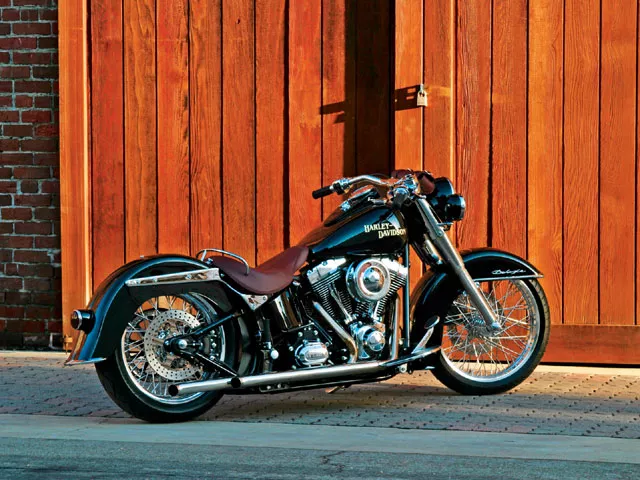 Managing the hard-working team of talented craftsmen in Pete Chapouris' SO-CAL Speed Shop, Ryan Reed is no stranger to understanding the finer details that really make a build great. SO-CAL Speed Shop sets itself apart because they don't just throw stuff together. They build traditional hot rods finished at the highest level: Cars that not only run really well, but are aesthetically perfect works of art. In fact, they've got a show on TLC right now called Hard Shine, which attempts to portray what it's really like building a high-end custom car-that the most important part is a finished product that performs as well as it looks, and sometimes you have to put the B.S. aside and just get the car done.
Ryan's been obsessed with bikes and cars since he was a kid. He grew up around his family's hot rods and bikes, and started building cars for himself even before he got his driver's license. Eventually he built cars for a living, first for Fat Jack, and then eight years ago found his way to SO-CAL Speed Shop. Appreciating anything that is well made, he raws his influence from a number of sources, including hot rods, lowriders, restored cars, and all kinds of bikes, not just V-Twins or his latest project, a custom softail deluxe.
A little while ago his brother, Robert Brunson, had just finished a bare-bones rigid build and let Ryan borrow it for a bit. We all know how that goes-Ryan just had to have one of his own. He was into the rigid thing, but wanted to do something different, something that hadn't been done that much lately. "I didn't want to build something from the ground up; I wanted to customize a Factory Harley into a custom softail deluxe. It seems like in the last five years customizing Harleys has been lost, so that's what I decided to do," said Ryan.
Ryan is a big fan of the classic-looking Heritage Softail, but felt there was too much stuff attached, too many bells and whistles. When Ryan saw an '07 96ci, six-speed Softail Deluxe, he knew he'd found his bike. It had that classic look, something he could work with.
Ryan told one of his buddies he was going to get a Harley and clean it up a little. His buddy told him he was full of shit and if Ryan were to buy one, he would too. So the two went down to the dealership and worked up a deal for two bikes, but wouldn't you know, his buddy backed out at the last minute. But that didn't stop Ryan's with his original plan to clean it up. That's all. Maybe throw on some wheels and lower it, nothing more, but sometimes things don't always work out as planned.
The most important thing to Ryan in everything he builds is a low stance and getting the wheel and tire combination correct. Before he even got the bike, he had Black Bike building a set of wheels and had all the parts ordered to lower it. He wanted the bike to have a really clean and timeless look. At the same time he got the Deluxe, Ryan was also building a '32 Roadster. "Everything I build tends to feed off everything else. I tend to bring elements of one to the other." But he wasn't building anything here, right? He was just cleaning it up a little.
Ryan has a full garage at home, and as he's working on a project he spends a lot of time just looking at it to get a real feel for the bigger picture. "It's important to stand back and just look at a build from a different angle sometimes. When you're up there all close you can lose sight of the whole picture. "My wife Maura is very understanding. She comes into the garage and sees me just staring at these projects and just laughs, accusing me of staring at metal," Ryan said.
When the bike came home he immediately removed all the unnecessary parts and rode it back and forth to work until the wheels arrived. Once he got the wheels on and lowered it, he got hung up on the exhaust. "I couldn't find something I liked that was bolt on, so ordered some stainless tubing and fired up the welder. From there it's the same old story. Maybe I should do this, and if I do that, then, I also need to do something over here. That continued until my new bike was in pieces with everything getting cut up. It's a sickness that all too many guys have with their machines, and it doesn't ever go away."
He ended up lowering the front fender, setting it back a little and filling the rivets. He did the same with the back and shaved the turn signals, adding a taillight from a '37 Ford. The fog lamp bar was brought in an inch and a half to tighten up the front of the bike. The dash is totally custom. He filled the center seam and handformed sheetmetal for the dash. The gauges were kept stock. To keep the retro look, Ryan threw on a couple Ford style pedal pads and repositioned the brake pedals. Gabe Lopez did both the leather seat and tool bag.
When it came time for paint, Ryan called up his long-time friend and paint rep, Scott Smith at PPG. Scott hooked him up with a nice Black, which he asked SO-CAL Speed Shop painter Mick Jenkins to apply, after Paco Castel had finished block sanding the sheet metal. It came out flawless. Ryan called on another friend, master pinstriper Jay Stemska from Troy Lee Designs, to do the pin striping and lettering.
The finished product is nothing short of a beautiful, timeless masterpiece of a custom bike, demonstrating Ryan's discriminating taste and remarkable talent.
| | |
| --- | --- |
| SPEC SHEET | |
| GENERAL | |
| OWNER | Ryan Reed |
| SHOP | SO-CAL Speed Shop |
| PHONE | (909) 469-6171 |
| WEBSITE | |
| YEAR/MAKE/MODEL | '07/Harley-Davidson |
| | Deluxe |
| FABRICATION | Ryan Reed |
| ASSEMBLY | Ryan Reed |
| BUILD TIME | Four months |
| | |
| --- | --- |
| ENGINE | |
| YEAR/ TYPE/SIZE | '07/H-D/96ci |
| BUILDER | H-D |
| CASES | H-D |
| FLYWHEELS | H-D |
| RODS | H-D |
| PISTONS | H-D |
| CYLINDERS | H-D |
| HEADS | H-D |
| ROCKER BOXES | H-D |
| PUSHROD TUBES | H-D |
| LIFTERS | H-D |
| EFI | H-D |
| AIR CLEANER | H-D Screamin' {{{Eagle}}} |
| EXHAUST | Stainless Steel/Ryan Reed |
| | |
| --- | --- |
| TRANSMISSION | |
| YEAR/TYPE | H-D/Six-speed |
| CASE | H-D |
| GEARS | H-D |
| CLUTCH | H-D |
| PRIMARY DRIVE | H-D |
| | |
| --- | --- |
| FRAME | |
| YEAR/TYPE | '07/ Deluxe stock |
| RAKE | Stock |
| STRETCH | Stock |
| | |
| --- | --- |
| SUSPENSION | |
| FRONT | H-D |
| LENGTH | Lowered |
| TRIPLE TREES | Stock |
| REAR: | |
| SWINGARM | Stock |
| SHOCKS | White Bros Lowering Kit |
| | |
| --- | --- |
| WHEELS, TIRES, AND BRAKES | |
| FRONT: | |
| BUILDER/SIZE | Black Bike/19×2.75 |
| TIRE/SIZE | Metzeler ME 880 120/70 ZR 19 |
| CALIPER | H-D |
| ROTOR | Ferodo |
| REAR: | |
| BUILDER/SIZE | Black Bike/18×4.5 |
| TIRE/SIZE | Metzeler ME 880 160/60 R 18 |
| CALIPER | Stock |
| ROTOR | Ferodo |
| | |
| --- | --- |
| FINISH/PAINT | |
| COLOR | Black |
| PAINTER | Mick Jenkins |
| GRAPHICS | Jay Stemska 18k Goldleaf |
| | and Pin Striping |
| PLATING/POLISHING | G and A Metal Polishing |
| POWDER COATING | Embee |
| | |
| --- | --- |
| ACCESSORIES | |
| FRONT FENDER | Ryan Reed |
| REAR FENDER | Ryan Reed |
| FENDER STRUTS | Stock |
| GAS TANK∩ | Ryan Reed |
| OIL TANK | Stock |
| DASH | Ryan Reed |
| GAUGES | Stock |
| HANDLEBARS | Chubby knuckle bars |
| RISERS | Chubby |
| HAND CONTROLS | H-D |
| FOOT CONTROLS | {{{Ford}}}-style pedal pad |
| FOOTPEGS | Early style H-D footboards |
| HEADLIGHT | Stock |
| TAILLIGHT | '37 Ford |
| TURN SIGNALS | Ryan Reed |
| LICENSE MOUNT | Side-mount |
| SEAT | Gabe Lopez |