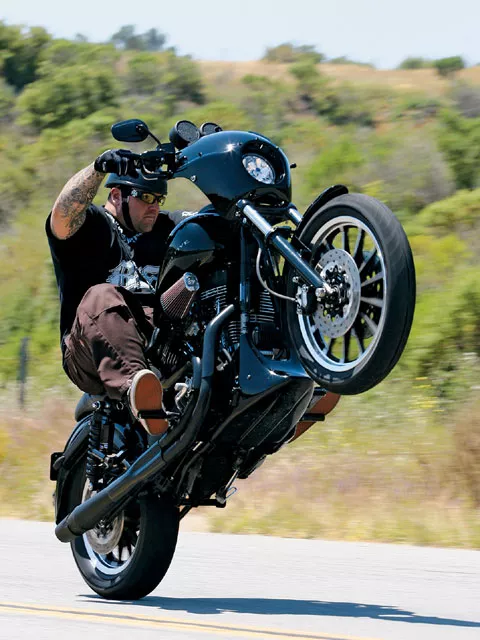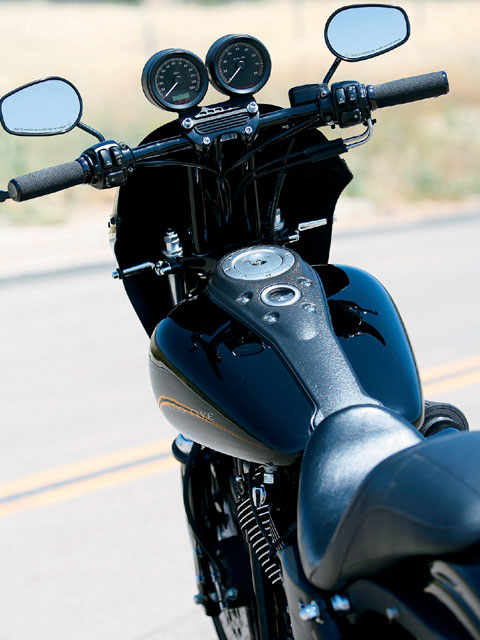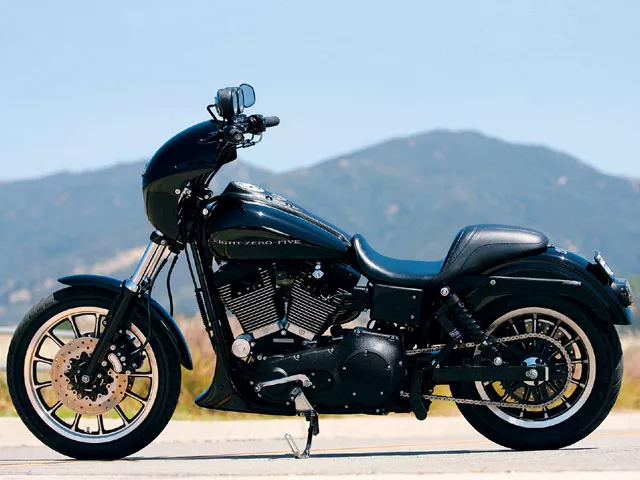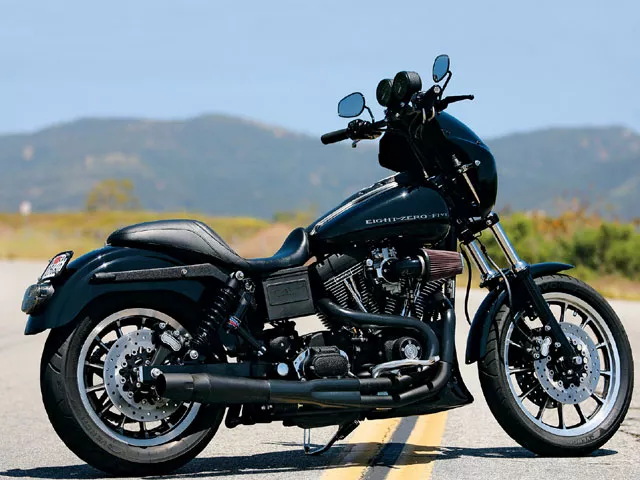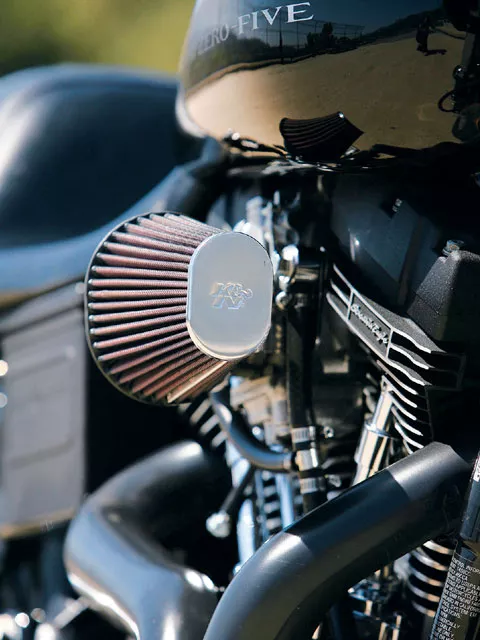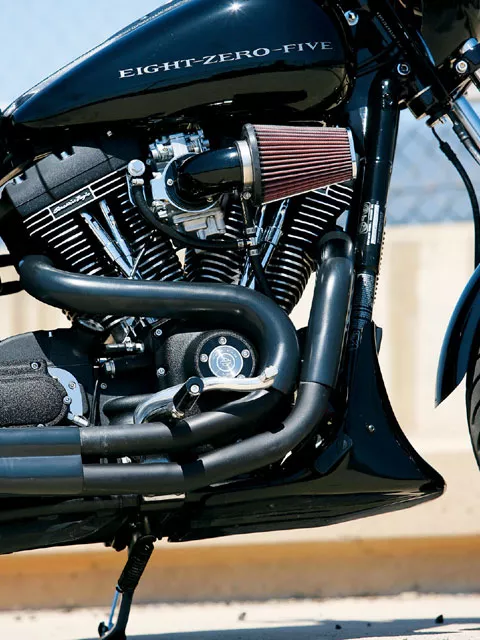 Here at Hot Bike, we get a lot of rides-Harleys, hogs, whatever you want to call them-submitted by our readers. Pick of the Pen is an opportunity to dedicate a few pages to our favorite readers-submitted bike each month.
The idea for this bike started when I was 19 and working at a local nightclub in downtown Santa Barbara, California. My good friend David Cordero rode with a local club and had a custom Panhead with drag bars, 8-inch risers, and a suicide shifter. I always thought it looked like Dennis Hopper's bike in Easy Rider. One night while I was working, Dave came ripping up to the club on a new '00 Harley FXDX with a Thunderheader exhaust and an Arlen Ness fairing. I was blown away! I had never seen anything like it at that time. Dave and I have the same taste: old school, slammed, and dragged. Now he was rolling up on a new Harley? WTF? Dave said he was done getting beat up on long rides and that this bike handled way better than any Harley he had ridden.
Years later, I was riding an '06 Softail slammed with apes. One day I was on the freeway and getting passed around a corner by some rice rocket. I got on the gas, but he passed me as if I was standing still! Damn thing had no guts and couldn't handle a good corner without the classic Harley wobbles. I went home and started looking through the bike trader and there it was: the FXDX I had been eyeing for three months. I called the guy and jumped in the truck with my friend Nick. Two hours later, I scored an '04 FXDX with 2,500 miles on it for a great price.
I rode it home and immediately started the teardown. I pulled off the suspension, tank, and fenders and ordered up a Thunderheader, Arlen Ness fairing, and K&N; air filter. I also sent a bunch of stuff off to the powdercoaters.
I took the front forks to Gene at Motoloco (a local motorcycle shop) and explained that I'm a 275-pound guy who rides his bike like a race bike, so I'd need it to handle. He got on the phone with Works Suspension and figured out what I needed. I took the tank, fenders, and Arlen Ness fairing to a local painter, Tom D., who takes care of all of us around here. I wanted to replace the stock Harley lettering with the name of my clothing company (805 Clothing) in the same font on the side of the tank. Gabe, my business partner, hooked me up.
I got everything back, slapped it together, and the bike cornered like a champ! A few weeks later my buzz was cut short by one of those damn pesky rice rockets blowing me away at the line. That was it…the hunt for the ultimate drivetrain was on! I did a bunch of research and talked to people who had big-inch crate motors. With so many mixed reviews and BS opinions, I couldn't figure out what I wanted. You see, I'm a gearhead. I didn't want to get a mass-produced "custom" motor that most yuppie bike builders slap into everyone's bagger.
One day I was talking to a friend who rides with another local club, and he told me about this guy Tron at T&T; Performance in Ventura, California. The word was that Tron knew how to make a really pissed-off Twin Cam motor. After a couple calls, I was on my way down to meet him.
After discussing the different motor-size combos (96ci and 103ci), he showed me his 117-incher. He fired it up (it was already warm) and twisted the throttle. The tachometer hit 4 grand just with a quick little twist! We discussed his drag times, and he showed me footage of what his Dyna was doing. I was sold. Go big or stay home.
Tron started putting together a monster 117ci Twin Cam. Its base is an S&S; engine case with a Dave Mackie 117 Mega-Sphere kit, Screamin' Eagle 103 heads ported and polished by DME with manual compression release valves, DME 630 cams, Mikuni's HSR48 carb, a Crane HI-4E multi-spark ignition, a coil kit, and a six-speed Baker transmission. When I picked the bike up from Tron, I was blown away. This bike was everything and more. Our goal was to build a functional bike, not something with a big motor that could only go straight for a couple miles. I wanted a bike with big horsepower and torque that could hug heavy corners at high speeds for hundreds of miles on long trips. I still see those damn pesky rice rockets, but only in my rearview!
| | |
| --- | --- |
| SPEC SHEET | |
| OWNER | Anthony Arria |
| HOMETOWN | Santa Barbara, CA |
| YEAR/MODEL | '04/H-D Dyna FXDX |
| BUILDER | Anthony Arria/Tron Elliott |
| ENGINE | '08 117 Twin Cam DaveMackie Mega-Sphere kit with S&S; case by Tron Elliott |
| EXHAUST | Thunderheader |
| TRANSMISSION | Six-speed Baker |
| GAS TANK | Sheetmetal Stock |
| FRONT FENDER | Stock |
| REAR FENDER | Stock |
| FRONT SUSPENSION | Full-adjustable Works dual-rate front springs with gold series valves, custom 39mm billet fork brace |
| REAR SUSPENSION | Works Pro Seriesadjustable rear shocks |
| WHEELS | Stock |
| TIRES | Avon Venom |
| PAINTER | Tom D. |
| SEAT | Corbin, custom cut |