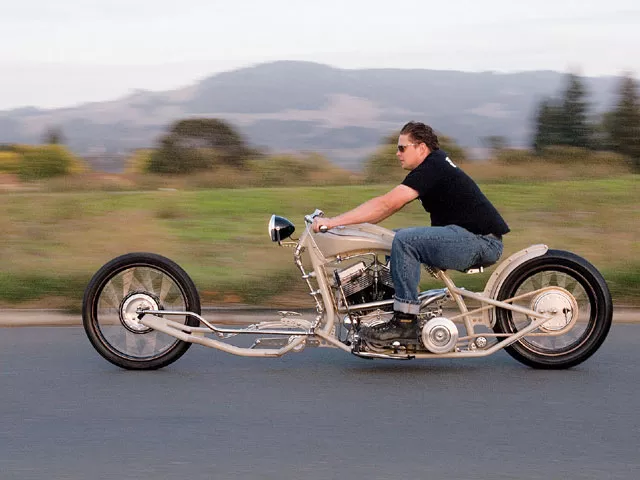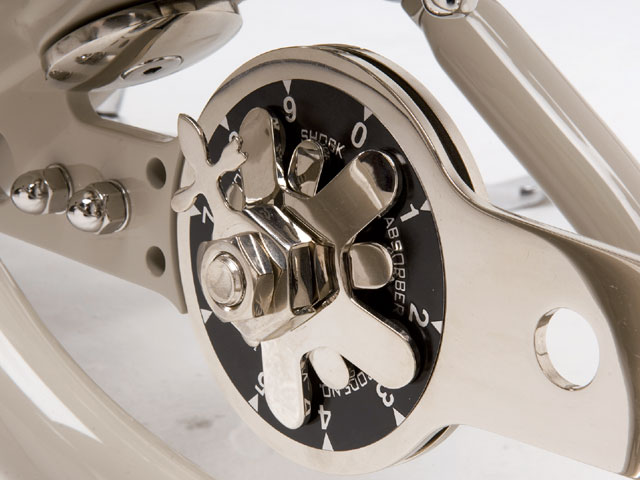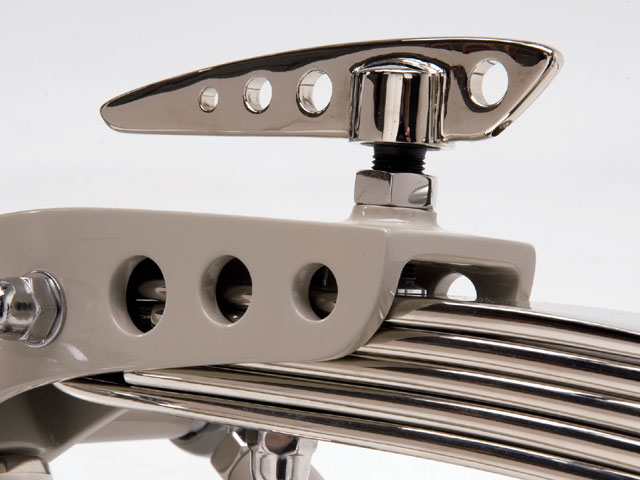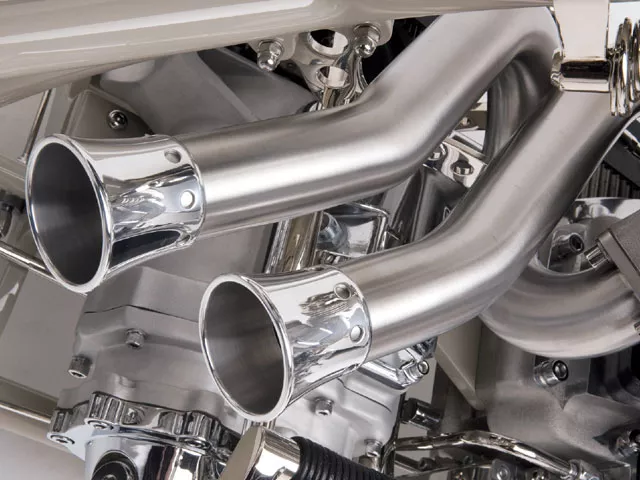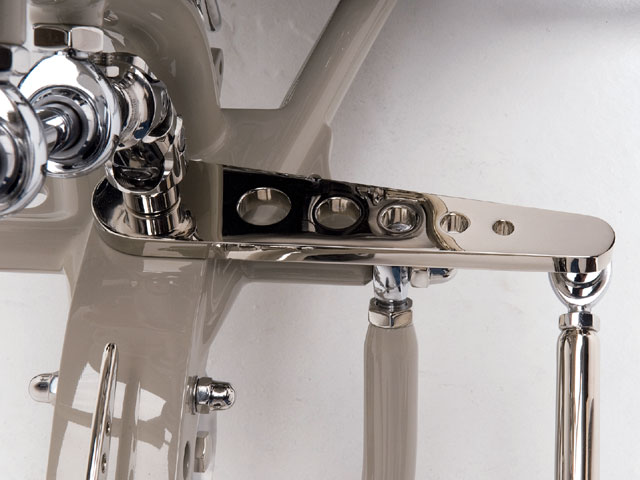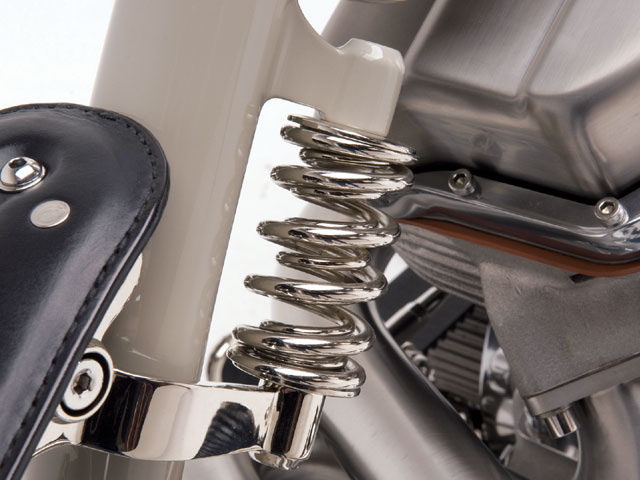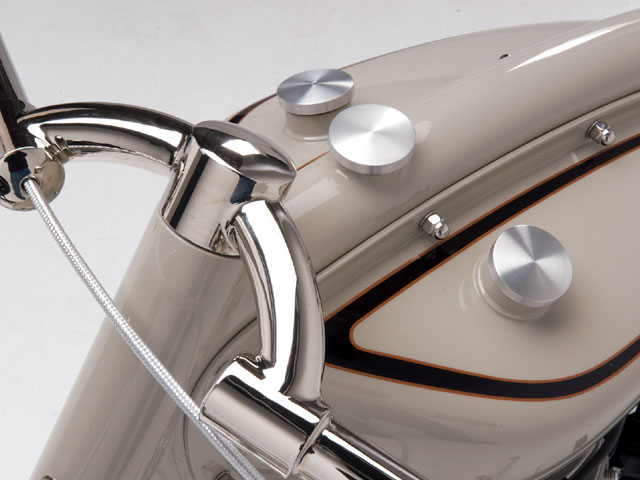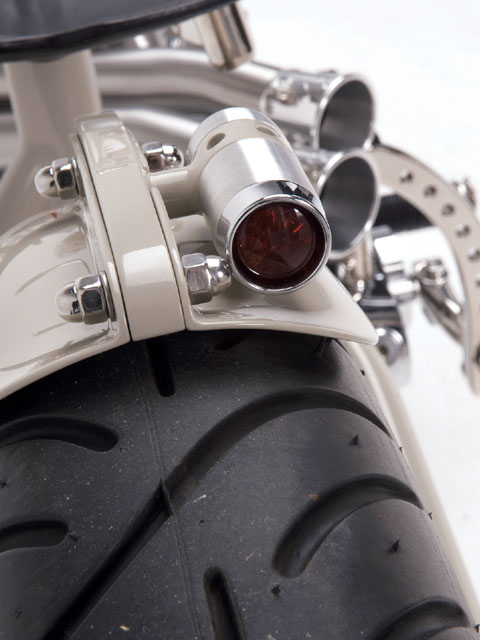 The first time we saw this bike, we thought, "What the hell is that?!" We're serious; we thought it was under construction. After my initial reaction, though, I began to look at the complexity and detail of every component. After looking around the show for a couple of hours, we kept coming back to this one bike. We can look at stock Harleys for hours, but customs are completely different. We get so involved with details that we almost become intoxicated with how this or that was done that we can lose track of time.
A motorcycle is a basic, simple piece of machinery, right? Originally designed as an affordable mode of travel with better durability than a bicycle, the landscape we know as motorcycle design has been explored, stretched, blended, and reincarnated as "old is new." Lately, most of the bikes seen at shows have been gravitating away from the lean choppers with beach-ball rear tires into shorter, compact bikes with the "less is more" approach. Well, this is true except for the masses that have gained a little girth in the middle, losing some of the padding in the rear, causing the back pain that helps them justify the need for their baggers. But overall, a lot of the bikes coming out lately are re-pops of bikes we have seen in the past. Rarely do we see a bike that makes us stop in our tracks and say, "What the crap?!" Here is a bike that made us do just that.
Christian Dotson created this bike as his very first ground-up custom build. After entering it in a couple of local shows, he had to start making room on his mantle for trophies, as well as getting used to answering the phone constantly. You see, Christian's bike has caused such a stir in the motorcycle industry that it won the honor of being named "America's Most Beautiful Motorcycle" at the Grand National Roadster Show, as well as taking the top prize at the San Francisco Rod, Custom, and Motorcycle Show in 2007. Christian's motivation for building the bike was to showcase his engineering and design talents as well as challenge himself to build something absolutely different from everyone else. Shows be damned, he wanted to build what he knew would be cool.
"For the longest time, it was virtually impossible to find a hot rod/motorcycle shop that really understood proportion, lines, and consistent themes. It was almost equally hard to find designers that could personally fabricate their own vision without any compromise," Christian said. Right away, he exudes a supreme confidence in his abilities to not only design a killer bike, but to build it as well.
After seeing the bike, we had to ask him, "What were you thinking when you designed this bike, and where in the world did you start?" Looking at the bike from any angle inspires awe because of the design, concept, and style of something so radical. To most of us, it looks extraordinary, but for Christian, it was a matter of starting with a base and design and building from there. He started out with a sketch on a napkin. Let me tell you, I've written plenty of stuff on napkins, yet nothing has garnered national acclaim for me…well, nothing legal. After transferring the conceptual sketch from a napkin to drafting paper, Christian started making the frame jig. Thanks to his experience as a former concept designer with General Motors, Christian understands what is necessary to take a project from the conceptual to actual. Once he decided on the forkless design, he began engineering the suspension and locating the components he wanted to use. During the design process, he decided on a vintage theme and chose to use only vintage technology throughout the bike. That is why he chose to use the quarter-elliptic leaf spring, friction shock, and early Ford steering. The steering spindle is cleverly located inside the H-D Sportster drum brake hub, with the wheel bearings offset into the aluminum bullet on the side of the hub. One of the main features of this suspension design is that it has a 30-degree rake, which is much more nimble and responsive than a bike of this length would normally have. At least, that's the way Christian describes it.
The frame was built with the idea of incorporating the engine oil and electrical wiring within the frame. Because of the complexity of the idea, all of this had to be planned out before any fabrication began. To look at the overall length, one would assume it has the steering of a boat. Contrary to appearance, the bike actually tracks exceptionally well in the corners. Never to be confused with a knee-grinding sport bike, Christian swears the bike takes to the curves better than the long-forked chopper it obscurely resembles when sitting in front of a funhouse mirror.
This bike obviously isn't some catalog-supplied credit card build. Almost all of the components were hand-fabricated by Christian himself. The handlebars, foot controls, fuel tanks, seat, shifter, linkages, exhaust, etc, were all carefully planned and fabricated. The entire bike was plumbed with stainless steel hard lines. The fender began as a stamped blank, and was split and reshaped, to match the fuel tanks. The fender also incorporates a custom taillight with hidden wiring.
The seat's suspension is a custom steel pan on a cantilevered suspension system utilizing dual Chevy valve springs. The seat springs aren't the only item borrowed from Chevy engineering. A spring-loaded Chevy belt tensioner was modified and used as the final chain drive tensioner and a BDL 2 primary was incorporated, with a custom CNC-machined clutch cover.
As for the brakes, well, that's simple, because there's only one. The rear brake is a stock reproduction with custom front and rear CNC covers. While the brake situation may not make the bike the best decision for beginners, it makes the frontend especially clean and clutter-free.
Christian thought the bike's name, Swingshot, made sense because the bike looks like a slingshot with a swingarm up front. While he knew the bike would turn some heads, Christian never dreamed it would be such a success at the shows. After we spoke about Swingshot, Christian told us to keep a lookout for his next build. He plans on building a bike similar to this except this time he will use all the tools and technology available today. The bikes will be similar, but they will display the differences 60 years of technology can make. We don't know about you, but we can hardly wait!
Spec Sheet
| | |
| --- | --- |
| GENERAL | |
| OWNER | Christian Dotson |
| SHOP | Dotson Design |
| PHONE | (707) 318-5891 |
| WEBSITE | www.dotsondesign.com |
| YEAR/MAKE/MODEL | '07/Dotson Design/ Swingshot |
| FABRICATION | Dotson Design |
| ASSEMBLY | Dotson Design |
| BUILD TIME | 14 months |
| | |
| --- | --- |
| ENGINE | |
| YEAR/TYPE/SIZE | '06/Panhead 93 |
| BUILDER | Accurate Engineering |
| CASES | S&S; |
| FLYWHEELS | S&S; |
| RODS | S&S; |
| PISTONS | S&S; |
| CYLINDERS | Accurate Engineering |
| HEADS | STD |
| VALVES | S&S; |
| ROCKERS | Accurate Engineering |
| ROCKER BOXES | Brushed Stainless Steel |
| PUSHRODS | Accurate Engineering |
| PUSHROD TUBES | Accurate Engineering |
| CAM | S&S; |
| LIFTERS | S&S; |
| CARBURETOR | S&S; |
| AIR CLEANER | Dotson Design |
| IGNITION | Morris Magneto |
| EXHAUST | Brushed stainless steel by Dotson Design |
| | |
| --- | --- |
| TRANSMISSION | |
| YEAR/TYPE | '06/RevTech/5-into-4 kick-only |
| CASE | 4-speed |
| GEARS | 5 |
| CLUTCH | BDL / cover by Dotson Design |
| PRIMARY DRIVE | BDL 2 |
| | |
| --- | --- |
| FRAME | |
| YEAR/TYPE | '07/Dotson Design |
| RAKE | 30 degrees |
| STRETCH | A lot |
| | |
| --- | --- |
| SUSPENSION | |
| FRONT | Dotson Design designed and engineered |
| REAR | Just the seat, also designed by Dotson Design |
| SHOCKS | Vintage friction shock |
| | |
| --- | --- |
| WHEELS, TIRES, AND BRAKES | |
| FRONTBUILDER/SIZE | 21 Spoke |
| TIRE/SIZE | Avon/{{{80}}}/{{{90}}} |
| HUB/SPOKES | Sportster drum/ Stainless Steel Spokes |
| REARBUILDER/SIZE | 19/Spoke |
| TIRE/SIZE | Avon/110 |
| HUB/SPOKES | Star reproduction |
| CALIPER | Hydraulic drum by Dotson Design |
| | |
| --- | --- |
| FINISH/PAINT | |
| COLOR(S) | {{{Honda}}} (Blashphemy!) Cargo Khaki |
| PAINTER | Creative Concepts |
| GRAPHICS | Eric Sedletzky |
| MOLDING | Dotson Design/ Creative Concepts |
| PLATING/POLISHING | Sherm's Custom Plating |
| | |
| --- | --- |
| ACCESSORIES | |
| FRONT FENDER | Invisible |
| REAR FENDER | Stamped blank modified by Dotson Design |
| GAS TANK & CAP | Dotson Design |
| OIL TANK | Integrated inside the frame |
| HANDLEBARS | Dotson Design |
| FOOT CONTROLS | Dotson Design |
| FOOTPEGS | Dotson Design |
| HEADLIGHT | Headwinds |
| TAILLIGHT | Dotson Design |
| SEAT | Pan Dotson design, Leather Duane Ballard Leather |
| ELECTRICAL | Dotson Design battery-less |
| STARTER | Your right foot! |