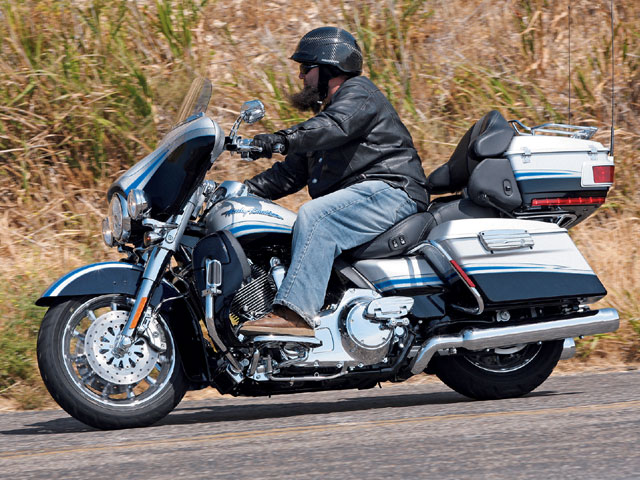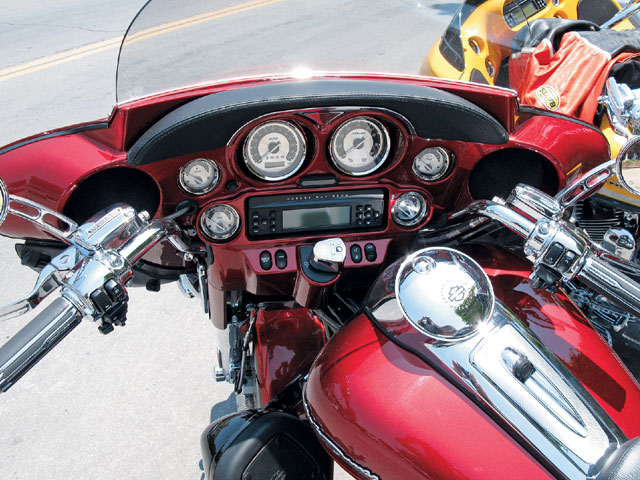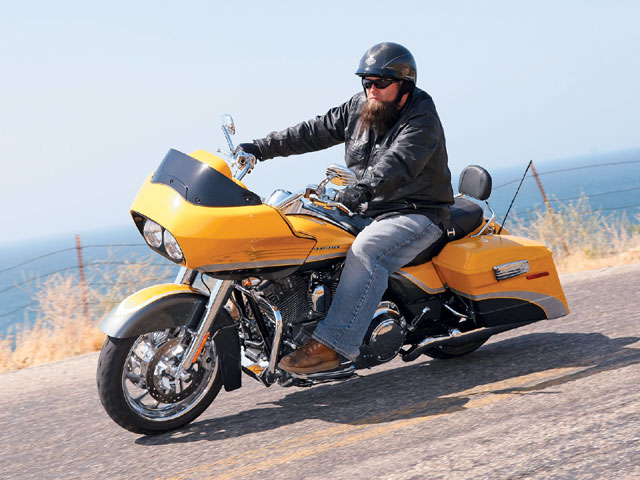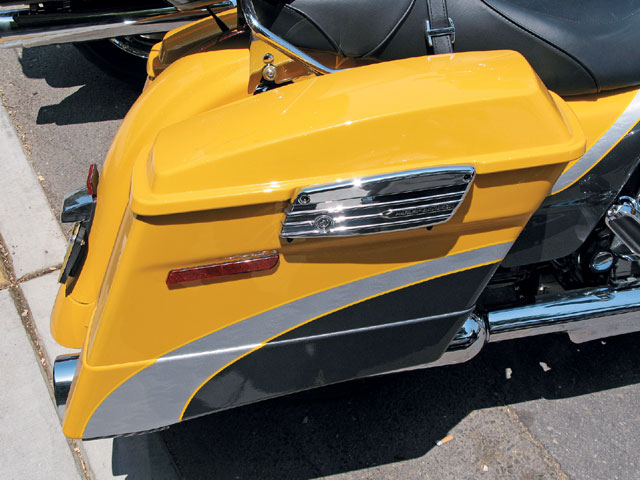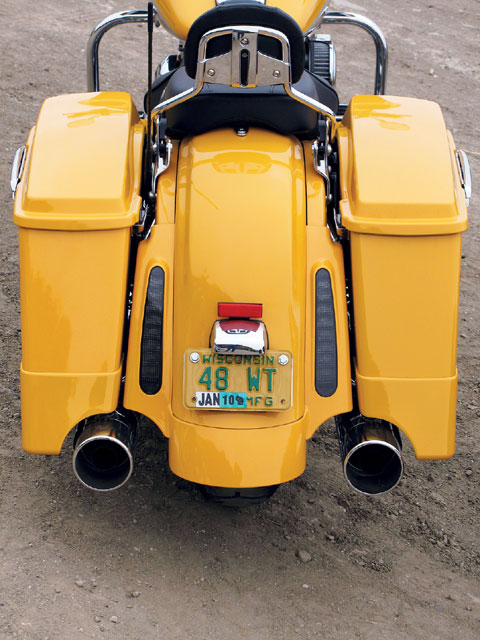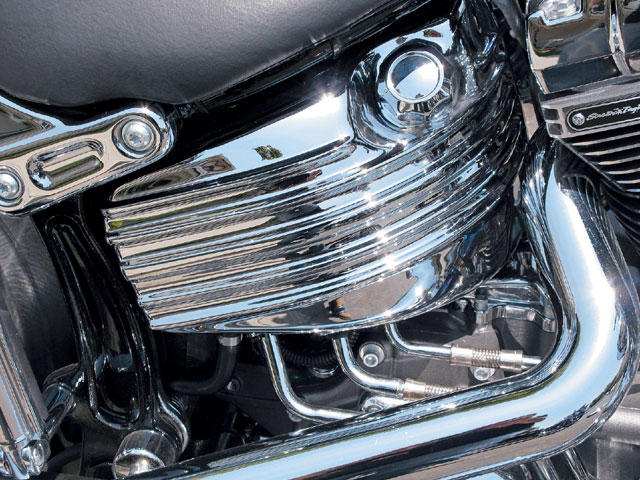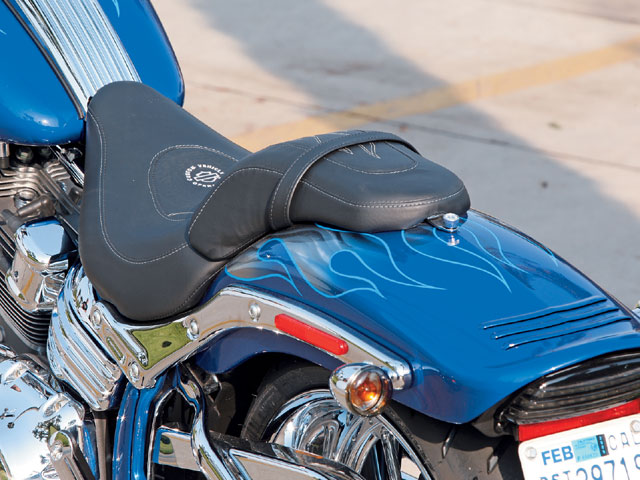 Across the board for all the touring models (CVO and OE bikes), Harley has some major changes, such as a redesigned frame/swingarm and motor mount system, 180mm rear tire with Multi-Tread design, retuned suspension system, and new exhaust routing. The new frame features 50-percent fewer parts and an increased carrying capacity, and the swingarm is wider and longer. The biggest things we noticed from the overall changes to the frame and swingarm were the bikes were agile yet tracked in line from front to rear with very little feedback from the rear section. We'll have more info on this when we report on the OE '09 lineup in an upcoming issue.
This past June, we had the opportunity to head up the California coast to the beautiful town of Santa Barbara to check out Harley-Davidson's '09 Custom Vehicle Operations (CVO) models. If you're not familiar with the CVO line, it's basically the best of the best of what Harley has to offer. Rolling off the showroom floor with a CVO bike is like driving off the lot with a fully loaded Corvette; there isn't much more you can do to "upgrade." The bikes come chromed fender to fender, drenched in custom paint schemes, and packed with hopped-up motors.
Some of the benefits of owning a CVO bike are exclusivity (only a limited number of each model is produced), the bikes are outfitted with H-D's latest technology and innovations, and in some cases these models are used to launch new P&A; collections. So what does that mean to the consumer? Unlike owning a black Road King, you will very rarely come across another person who has a bike like yours, and most likely your bike will sport parts and accessories that your friends won't be able to get for their bikes for several months.
For '09 the CVO program has four models available from three families: a Dyna, a Softail, and two touring bikes. While each model has its own unique appearance and characteristics, there are a couple commonalities between all the models. All the CVO bikes feature a Screamin' Eagle 110ci Twin Cam engine with granite powdercoat and SE badging, a six-speed Cruise Drive transmission, and a heavy-duty self-adjusting hydraulic clutch.
The only thing better than getting to attend a press launch in Santa Barbara is getting to ride bikes along the glimmering coastline and rolling country hills. So let's start with the biggest news from the launch. HB
**2009 H-D
CVO Ultra Classic Electra Glide
Limited to 4,200 units,
U.S. MSRP $35,399**
Some of the highlights of the CVO Ultra Classic Electra Glide include a color-matched inner fairing, 17×3-inch front and 16×5-inch rear Roulette wheels, suspended dual-heated seat with shark-print leather inserts, matching adjustable rider and passenger backrests, backlit 2-inch gauges, custom oil cooler with a chrome cover, and a chrome Rumble Collection accessory package. It also features a chrome push-button fuel door with CVO logo, Smooth Air Cleaner Cover with SE 110 insert, and an Air Wing Tour-Pak luggage rack.
The redesigned 2-1-2 exhaust system for all the touring models features a rear pipe that runs underneath the frame and exits the left side of the bike for that dual exhaust look. Under the frame the exhaust is tapered to provide extra clearance. The new design also redirects heat away from the rider and passenger and cleans up the area behind the rear cylinder/under the seat.
**2009 H-D
CVO Road Glide
Limited to 3,000 units, U.S. MSRP $30,999**
We were very happy to see the Road Glide in this year's CVO lineup. After logging many miles on our '05 RG we know this bike like the back of our hand. However, once again the new frame, wide rear tire, and new tire composition really turn this bike into a whole new and improved animal. The short time we spent on this bike was amazing! If the OE version handles anything like this, then it may be time to upgrade. Some of the key components for this bike include chromed 18-inch forged aluminum Blade wheels, a slammed front fender, color-matched inner fairing, custom oil cooler with a chrome cover, and a low-profile seat with buffalo inserts.
**2009 H-D
CVO Dyna
Limited to 2,450 units, U.S. MSRP $25,999**
After its debut in the OE lineup last year, the Dyna Fat Bob was tapped to stop into the CVO Dept. for a slew of new paint, chrome, and P&A.; The first thing you notice about the CVO Dyna are the paint schemes, which are a mix between matte and gloss finishes, but even more noticeable is the leopard-print-like treatment added to the gas tank and fenders. In the chrome category the bike received front axle covers, wheel spacers, headlight mount, tank emblems, shock stud covers, and clutch and brake line clamps. With the beefed-up motor package, lowered chrome front forks, and retuned rear shocks, this bike really tears into the street, and with its chunky 130mm front and 180mm rear tires, this thing is ready to mow over anything in its path.
**2009 H-D
CVO Softail Springer
Limited to 2,500 units, U.S. MSRP $26,999**
Once again, Harley has decided to give the CVO treatment to a Softail Springer. The biggest change, however, for this year's Springer is the addition of a meaty 240mm rear tire and new rear fender with louvered accents. The wider rear wheel/tire combination is definitely a departure from the 200mm found on last year's model, which we were completely happy with. The new Springer rides nicely and has decent handling, but our initial response was we preferred the look and feel of the 200. With this 240mm rear, H-D is on the tail end of a hot trend from several years ago.