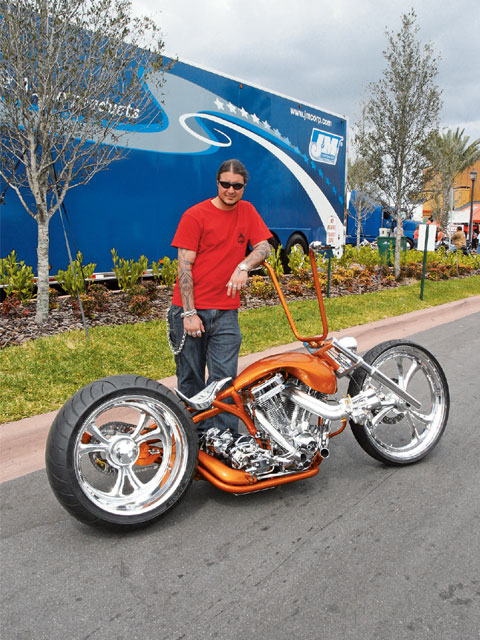 Charges Into DaytonaPicking up right where they left off at the end of 2005, the crew at the Seminole Hard Rock Roadhouse got things cranked up big-time as they kicked off the riding season in style at this year's Daytona Bike Week.
Moving to a new location at Destination Daytona, the Roadhouse played host to a nonstop party that included the Roadhouse's centerpiece-the 2006 Roadhouse bikes built by four of the country's hottest builders, not to mention great music, beautiful women, and tons of food and drink.
Last year the Seminole Hard Rock Roadhouse team came up with one of the coolest deals anywhere in the V-Twin arena. They chose four custom builders and let them have their way, building whatever it was that tickled their fancy. The bikes and the builders then traveled around the country, setting up shop at different bike rallies over the course of the year. At each event visitors were encouraged to register to win a chance to take home the bike of their choice from the four custom bikes built for the event.
Earlier this year, the tradition continued as the Seminole Hard Rock Roadhouse announced the 2006 crop of talented builders. In no particular order, they are Aaron Greene of Paramount Custom Cycles of Reno, NV; Paul Cox and Keino from Indian Larry Legacy, located in Brooklyn, NY; Eric Gorges from Voodoo Choppers in Detroit, MI; and Gard Hollinger of LA Choprods, headquarted in Marina Del Rey, CA. Once again, visitors will have a chance to take home one of these beautiful machines. Here's how it works: Set up at each event is a computer kiosk surrounded by the bikes where visitors 21 years of age and older input information in 12 different fields. If you are unable to attend the event, you can log on at www.hrroadhouse.com and register there. Once the registration period is over (the deadline is November 1, 2006), a group of five finalists will be selected. These finalists will then travel to the Seminole Hard Rock Roadhouse (travel expenses paid for by the Seminole Hard Rock Road House) in Hollywood, FL, where the final drawing takes place. The lucky winner has his or her choice of one of the four bikes built by the Hard Rock builders. That's right-someone will get to take home one of these beautiful customs come December.
If you haven't had a chance to check out the Roadhouse, you owe it to yourself to do so at one of the upcoming events (see list). Once you're done drooling over the custom bikes, you will have a chance to relax as you experience the sights and sounds of everything the roadhouse has to offer.
Laconia Bike Rally, June 14-17, 2006* Biketoberfest, October 19-21, 2006* Ft. Lauderdale Bike Rally, December 8-9, 2006