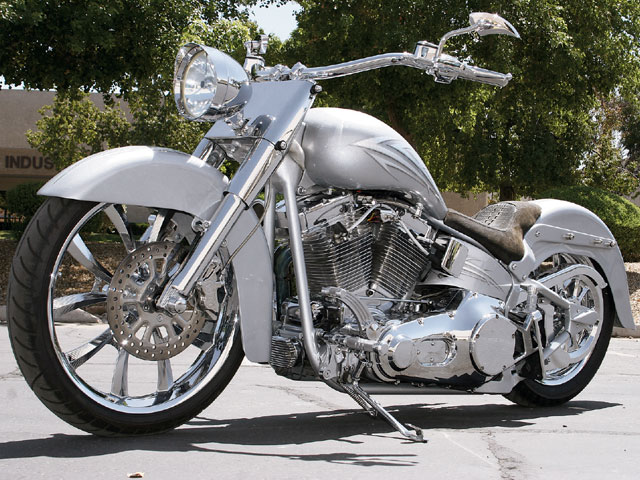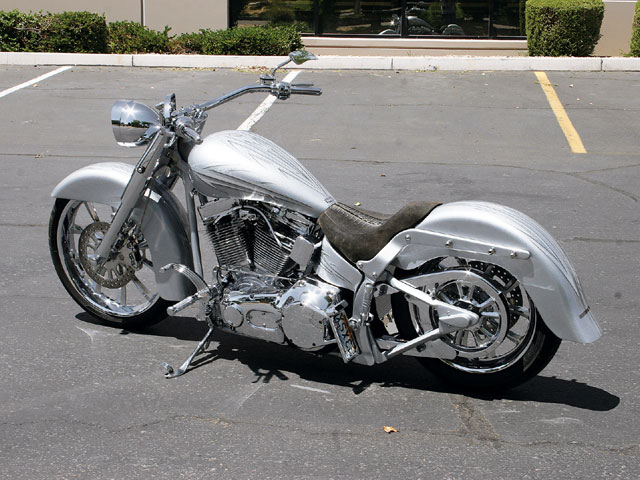 Matt Risley of Matt Risley Innovation (MRI) in Phoenix, Arizona, is one of those guys who will set his mind to something and just get it done. He was introduced to bikes at an early age on family vacations. It seemed like every time the family took a trip, they ended up at some major motorcycle rally that happened to be going on.
Matt hit Daytona and Sturgis a number of times. His first time at Sturgis was when he was five years old. His family didn't have a lot of money, so they always took to the highway. And it's not like they planned on hitting motorcycle rallies; it was simply circumstance. His dad would get time off in August and would take his family to the Badlands. It just so happened there were 500,000 or so bikers there at the same time. What really got Matt into bikes were those moments in the family car on some lonely stretch of Nebraska highway, when all of the sudden a hundred bikes would roar past-it made quite an impression on him.
When Matt was 17 he graduated high school and went off to college the next fall. He wasn't too interested in what he was learning and longed to pursue a dream he had harbored since he was young-to work on Harley-Davidsons. So as soon as he'd taken his final exams at the end of the first year, he enrolled at the Motorcycle Mechanics Institute (MMI) in Phoenix, and 13 months later he graduated, taking a job at a dealership in another city. Eventually he wound up back in Phoenix at another dealership, and made a decision to further develop his technical skills, setting his sights on the Master of Technology title, which he received in late 2003.
It wasn't a surprise he wound up opening MRI, and brought with him a customer from the dealership. Fully trusting his abilities, pretty soon Jim Stuart asked Matt to build him a bike. His only criteria was that it had to have beach bars and be silver. "He is one of the best customers I've ever had in the sense that he trusts me to do what I do best, and leaves the decision making up to me," Matt said. "This really allows me to get the creative juices flowing and work straight out of my head."
Matt knew from the get-go that the bike had to be classy. He decided on using an '04 Heritage Softail for the basis of the build. He started by stripping the bike to the frame and tearing down the motor and transmission, and then sandblasting the frame so it was easier to work with. Matt wanted to use as many stock Harley parts as he could, but wanted to really clean up the bike.
After the frame came back he began molding the neck area and the rear of the frame, where frame inserts are typically used. He wanted to try something different with the swingarm and decided to weld angle iron on the tubing and accent it with some one-off axle nut covers. Afterwards, Matt used a mock-up motor to build the fuel tank. The tank has 5 inches of stretch but still uses the original mounts. He liked the looks of the stock fenders, but got rid of the rivets and lengthened the front a little and shaved the rivets, taillight, and turn signal mounts. The bars were internally wired, and Matt made and formed the hydraulic and throttle lines himself, placing them inside the bars as well. For suspension he went with Legends Air Ride in the rear with modified stops to get it really low. The frontend was then dropped two inches.
The final touches on the bike were made while Matt had Guy's Upholstery making the seat. The seat had to be different, not over the top, but not just a seat. After looking at a bunch of different hides, Matt went with grey alligator and hippo. They complemented each other just right.
Once the engine was polished and installed on the bike, Matt realized that it was too underpowered, so he called up his buddy Brian Nallin at Revolution Performance to discuss motor kits. They decided on the 114ci kit and sent the pieces out for polish. When all the parts came back they built the motor, then wanted to find out the power it produced. After dyno'ing the bike, it made 125 lb-ft of torque and 115 horsepower. Happy with the gains, they moved forward to get this bike finished.
Matt had some help along the way to get this bike built. "I couldn't have done it without all the hard work from Ron Dewey. He's been with me since the beginning and still helps daily with fabrication and innovation," Matt said. Keeping busy with other custom builds and a parts line, Matt also has two more bikes in the works for Jim Stuart. The coolest part about building for Jim is that he lets Matt ride his bike around and take it to shows whenever he wants. Talk about a great customer!
| | |
| --- | --- |
| SPEC SHEET | |
| GENERAL | |
| BIKE OWNER | Jim Stuart |
| SHOP NAME | Matt Risley Innovation |
| PHONE | (623) 434-8884 |
| WEBSITE | www.MattRisleyInnovation.com |
| YEAR/MAKE/MODEL | '04/H-D/Heritage Softail |
| FABRICATION | MRI |
| ASSEMBLY | MRI |
| BUILD TIME | Six months |
| | |
| --- | --- |
| ENGINE | |
| YEAR/ MANUFACTURER | '04/H-D |
| TYPE/SIZE | Revolution/114ci |
| BUILDER | Matt Risley |
| CASES | H-D |
| CYLINDERS | Revolution |
| HEADS | Revolution |
| ROCKER BOXES | H-D |
| CARBURETOR | Mikuni polished HSR 48 |
| AIR CLEANER | Wimmer |
| EXHAUST | Vance & Hines |
| | |
| --- | --- |
| TRANSMISSION | |
| YEAR/MANUFACTURER/TYPE | '04/H-D |
| CASE | H-D |
| CLUTCH | Primo |
| PRIMARY DRIVE | H-D |
| | |
| --- | --- |
| FRAME | |
| YEAR/MANUFACTURER | H-D/Matt Risley |
| RAKE | Stock |
| STRETCH | Stock |
| | |
| --- | --- |
| SUSPENSION | |
| MANUFACTURER FRONT | H-D |
| LENGTH | N/A |
| TRIPLE TREES | H-D |
| REAR | Legends Air Ride |
| | |
| --- | --- |
| WHEELS, TIRES, AND BRAKES | |
| MANUFACTURER FRONT | Weld Racing |
| SIZE-WIDTH/HEIGHT | 21X3.5 |
| TIRE/SIZE | Avon/120/21 |
| CALIPER | Performance Machine |
| ROTOR | Weld |
| MANUFACTURER REAR | Weld Racing |
| TIRE/SIZE | Avon/150/18 |
| CALIPER | Performance Machine |
| ROTOR | Weld Racing |
| | |
| --- | --- |
| FINISH/PAINT | |
| COLOR | Orion Silver/Silver Leaf |
| PAINTER | Eric Carr-Steel {{{Vision}}} Custom Paint Design |
| GRAPHICS | Eric Carr/Hal Lou |
| PLATING/POLISHING | LA Specialties |
| POWDERCOATING | N/A |
| | |
| --- | --- |
| ACCESSORIES | |
| FRONT FENDER | MRI |
| REAR FENDER | MRI |
| FENDER STRUTS | H-D |
| GAS TANK & CAP | MRI/Ron |
| OIL TANK | H-D/MRI/Ron |
| DASH | N/A |
| GAUGES | In Mirrors/Maximum/Badlands Products |
| HANDLEBARS | H-D |
| RISERS | H-D |
| MIRRORS | Badlands/Maximum Products |
| HAND CONTROLS | H-D |
| FOOT CONTROLS | Accutronix |
| FOOTPEGS | Accutronix |
| HEADLIGHT | Headwinds |
| TAILLIGHT | Hitech Products-flush mount |
| TURN SIGNALS | In mirrors and rear fender |
| LICENSE MOUNT | Joker Machine |
| SEAT | Guy Timin/Guy's Upholstery |
| ELECTRICAL | MRI |