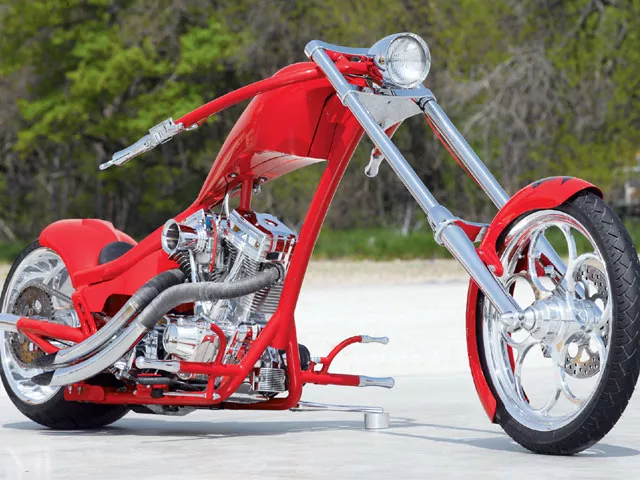 When Jerrod and Jake Walter aren't busy working on their farm near Springfield, IL, you can find them nose to the grindstone at their other business: running Walter Brothers Bikes. They tend to do a lot of their custom building during the winter and summer, when farmwork demands are lighter than in the spring and fall.
This bike is a great example of their craftsmanship. The idea for this long, crimson eye-catcher of a chopper came about because there weren't too many of its ilk among local riders, and the brothers wanted something that would stand out.
They set the stage with a Thunder Cycle Softail frame featuring 45 degrees of rake and 8 inches of stretch up and out. That gave them the foundation for a huge chopper; a set of 18-over front forks completed the basis for the initial profile. That handled, they used Weld Racing Wheels with Metzeler tires to finish out the rolling chassis.
Next up was the motor. Since Jerrod and Jake were going big, they wanted power to match, and a 137-inch powerplant from H&L; found itself mounted inside the frame, along with a Baker six-speed. It inhales the explosive mixture via an S&S; Super G carb and a Thunder Cycle velocity stack.
Going beyond the frame and powerplant, the siblings wanted sheetmetal and controls that would do justice to the chopper's mammoth proportions. The front tire is hidden by a long Fat Katz fender, and Walter Brothers made its rear counterpart. But the star of the sheetmetal show is the smooth Walter Brothers gas tank that forms an extremely clean line between the underslung handlebars and the sunken Bitchin' Seat Co. seat. Cleanliness also came into play with the controls: All of the cables are hidden.
And then there's the paint. Jerrod and Jake turned the frame, tanks, and fenders over to Eric Rubul of Extreme Powdercoat and Paint, who laid down an attention-grabbing Porsche-red paint job, followed by black graphics on the gas tank and front fender.
Once it was all back together, Jerrod put the bike to good use, riding it all over the place so it could do its job: turn heads and get noticed. And as big and hot as it is, it's hard to imagine the chopper not standing out in a crowd.
| | |
| --- | --- |
| SPEC SHEET | |
| OWNER | Jerrod Walter |
| SHOP | Walter Brothers Bikes |
| PHONE | (217) 971-3708 |
| YEAR/MAKE/MODEL | ,'04/Walter Brothers/Chopper |
| FABRICATION | Walter Brothers |
| ASSEMBLY | Walter Brothers |
| BUILD TIME | {{{Eight}}} months |
| | |
| --- | --- |
| ENGINE | |
| YEAR/TYPE/SIZE | ,'04/H&L;/131ci |
| BUILDER | H&L; |
| CASES | H&L; |
| FLYWHEELS | H&L; |
| RODS | H&L; |
| PISTONS | H&L; |
| CYLINDERS | H&L; |
| HEADS | H&L; |
| VALVES | H&L; |
| ROCKERS | H&L; |
| ROCKER BOXES | H&L; |
| PUSHRODS | H&L; |
| PUSHROD TUBES | H&L; |
| CAM | H&L; |
| LIFTERS | H&L; |
| CARBURETOR | S&S; |
| AIR CLEANER | Thunder Cycle design |
| IGNITION Crane | HI-4 |
| EXHAUST | Martin Brothers |
| | |
| --- | --- |
| TRANSMISSION | |
| YEAR/TYPE | ,'04/Baker six-speed |
| CASE | Baker |
| GEARS | Baker |
| CLUTCH | Primo |
| PRIMARY DRIVE | Primo |
| | |
| --- | --- |
| FRAME | |
| YEAR/TYPE | ,'04/Thunder Cycle Design |
| RAKE | 45 degrees |
| STRETCH | 8 inches up, 8 inches out |
| | |
| --- | --- |
| SUSPENSION | |
| FRONT | |
| LENGTH | 18 inches over |
| TRIPLE-TREES | Hawg Halters (7 degrees) |
| REAR | |
| SWINGARM | Pro Fab |
| SHOCKS | {{{Legend}}} Air |
| | |
| --- | --- |
| WHEELS, TIRES, AND BRAKES | |
| FRONT | |
| BUILDER/SIZE | Weld Racing/21-inch |
| TIRE/SIZE | Metzeler {{{90}}}/90-21 |
| CALIPER | PM/Exile |
| ROTOR | Weld Racing |
| REAR | |
| BUILDER/SIZE | Weld Racing/18×10-inch |
| TIRE/SIZE | Metzeler/280 |
| CALIPER | Exile |
| ROTOR | Weld Racing |
| | |
| --- | --- |
| FINISH/PAINT | |
| COLOR | {{{Porsche}}} Red |
| PAINTER | Eric Rubul/Extreme Powdercoat and Paint |
| GRAPHICS | Eric Rubul |
| MOLDING | Walter Brothers |
| | |
| --- | --- |
| ACCESSORIES | |
| FRONT FENDER | Fat Katz |
| REAR FENDER | Walter Brothers |
| GAS TANK | Walter Brothers |
| OIL TANK | TCD |
| HANDLEBARS | Walter Brothers |
| HAND CONTROLS | PM |
| FOOT CONTROLS | Walter Brothers |
| FOOTPEGS | Walter Brothers |
| HEADLIGHT | Headwinds |
| TAILLIGHT | Walter Brothers |
| LICENSE MOUNT | Pro Fab Metalwerks |
| SEAT | Bitchin,' Seat Co. |