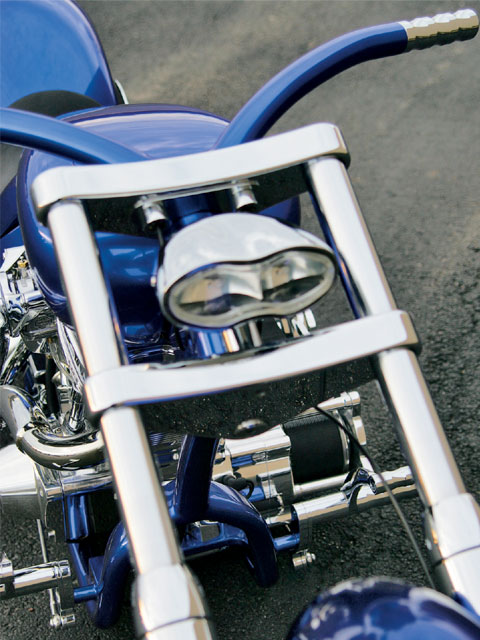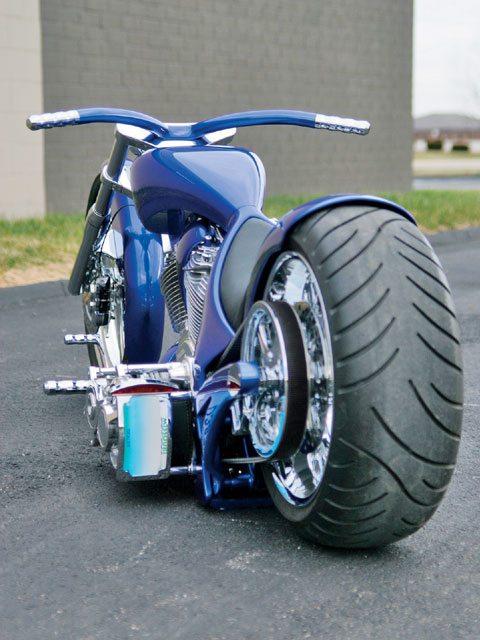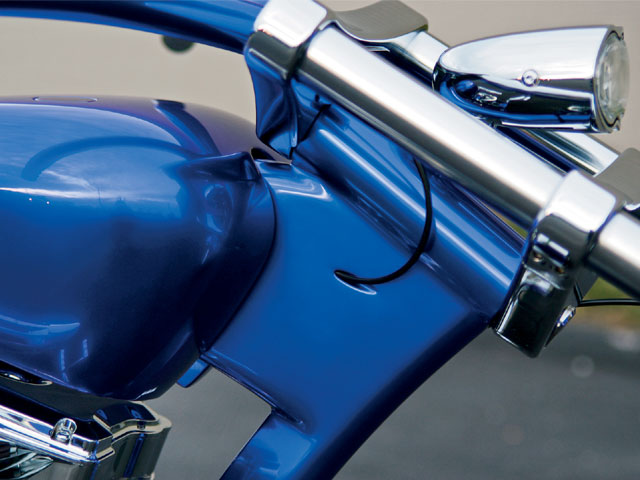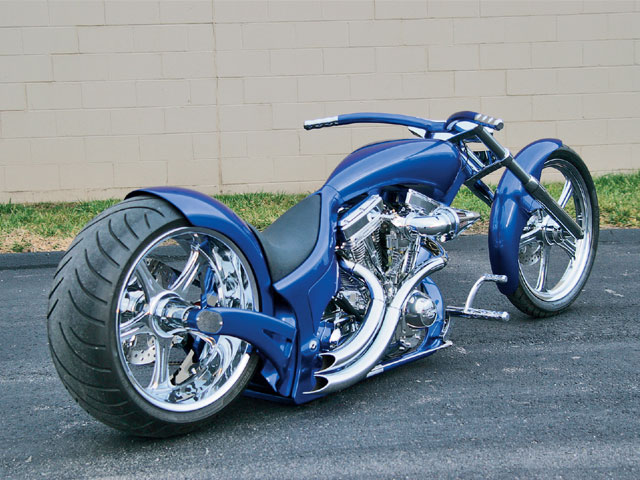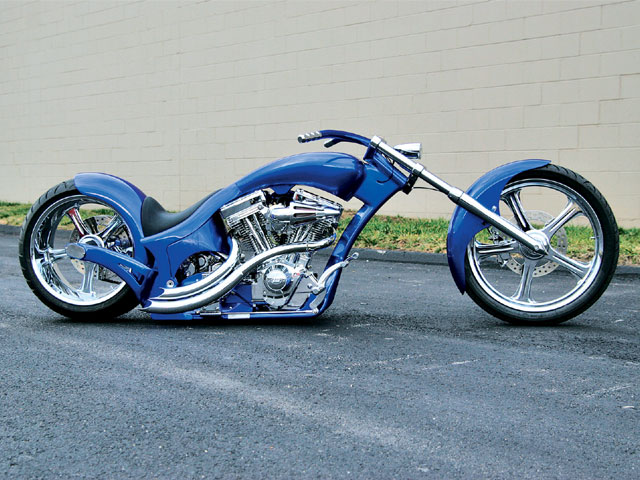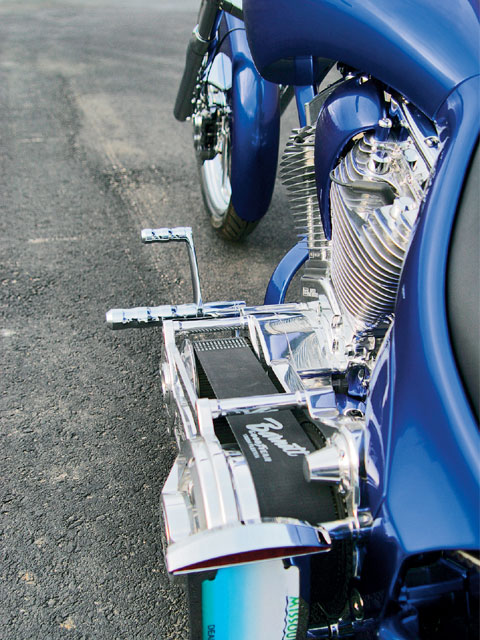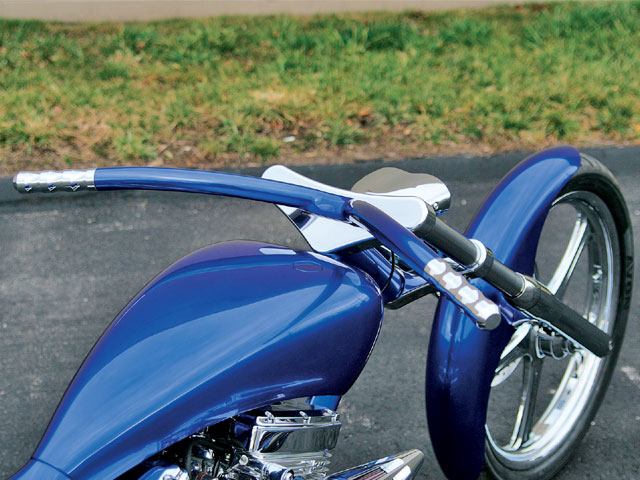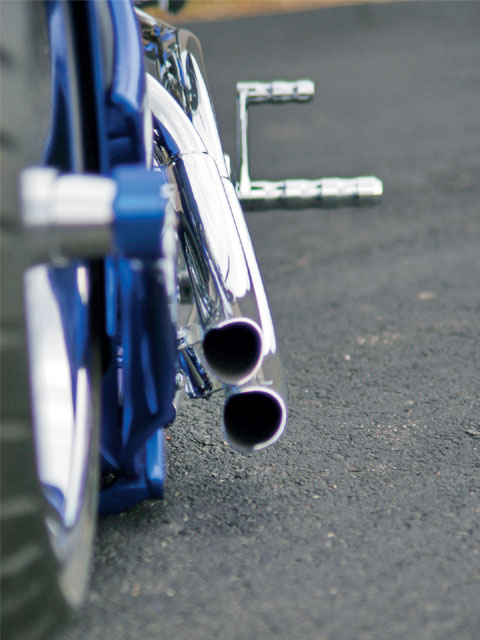 Most great artists have a signature style, whether it's Van Gogh's impressionism or Bruce Lee's kung fu. It's like marking your territory without getting hit on the nose with a newspaper.
For bike builders, a unique style comes from signature parts. Mark Siddle at Cutting Edge Cycles in St. Charles, Missouri, understands this real well. He's made custom cars and motorcycles for years, during which he's learned what he likes and how to create it.
That's oversimplifying a very complex process, though. Mark likes his machines super clean, as evidenced by this blue dream he built for Kevin Post.
Kevin came to Mark with three rules for building his bike: It had to be a blue, ground-hugging pro-street. Other than that, Mark was free to do as he liked.
Apparently smooth curves float his boat, because this baby flows pretty seamlessly from stem to stern. It's based around a War Eagle Extreme Softail frame raked out to 57 degrees and set with Fat Katz sheetmetal. Mark reworked the raw steel for hours to get that perfect flow, and while he did a wonderful job, that's not what makes the Blue One unique.
They say the devil's in the details, and that's what really makes this machine stand apart. Cutting Edge hid almost everything you can on a bike, whether it's the internal wiring or the electric fuel pump. No, you read it right. Kevin's ride sports an electric fuel pump. It's not real easy to see, though, since Mark's shop did a bang-up job of cloaking it. It all came down to the gas tank. They made the tunnel first, with a pick-up tube that runs through the top of the tunnel and through the backbone to the motor mount. That's where the hook-ups are. The pump itself sits under the backbone.
This meticulous attention to detail is what Mark's all about, and he put just as much effort into hiding the cables and lines. A lot of builders run bars with internal wiring, but Mark gets rid of the front brake control altogether. Yes, we know this bike has a front rotor and caliper; it runs off of the foot control like the rear tire stopper does.
Cutting Edge offers bars like these as part of their parts line, but the Blue One lead them to another signature move: The shift linkage. Mark's version routes under the primary-that's how much he hates clutter.
With his love of all things sanitary, Mark's not a fan of big, flashy graphics on his bikes. That's not to say he's got anything against imaginative paint jobs; you just won't find any skulls or daggers on most of his work. In fact, he took a pretty out-of-the-box approach to shooting pigment on Kevin's ride. The two of them hemmed and hawed over what to put on it. Kevin wanted a 300/350Z car blue, but Mark didn't think that'd do the bike justice. Finally, Kevin brought in a can of Busch beer one day and told him, "That's it. That's the blue I want." You'd think that was the end of it-lay down some metallic blue, let it cure, and collect the check, right? Not so much. Mark hunted around for a suitable paint mix, but in the end he came up with his own blend: mirror chrome paint with a blue candy overlay. People have tried making paint-on chrome before, but he came across a new version with 90 percent of the reflectivity of actual chrome. "This bike reflects like a Christmas ornament," he told us. He prepped the metalwork, laid down some clear coat, sanded it, buffed it, and waited a week before zapping it all with the mirror chrome. Twenty-four hours later, he followed with three coats of the candy blue concentrate and clear coated it all.
It took six months of hard work to bring the Blue One together. The signature style that defines it, however, took years to master.
| | |
| --- | --- |
| SPEC SHEET | |
| GENERAL | |
| BIKE OWNER | Kevin Post |
| SHOP NAME | Cutting {{{Edge}}} Cycles (CEC) |
| SHOP PHONE | (636) 946-2328 |
| SHOP WEBSITE | www.cuttingedgecyclesinc.com |
| YEAR/MAKE/MODEL | '05/CEC/Special Construction |
| FABRICATION | CEC |
| ASSEMBLY | CEC |
| BUILD TIME | 6 months |
| | |
| --- | --- |
| ENGINE | |
| YEAR/MANUFACTURER | '05/S&S; |
| SIZE | 124ci |
| CASES | S&S; |
| CYLINDERS | S&S; |
| HEADS | S&S; |
| ROCKER BOXES | S&S; |
| CARBURETOR | S&S; |
| AIR CLEANER | D}} |
| EXHAUST | Martin Bros. |
| | |
| --- | --- |
| TRANSMISSION | |
| YEAR/MANUFACTURER/TYPE | '05/Baker/Six-speed |
| CASE | Baker |
| CLUTCH | Barnett |
| PRIMARY DRIVE | Hi-Tech |
| | |
| --- | --- |
| FRAME | |
| YEAR/TYPE | '05/War {{{Eagle}}} Extreme |
| RAKE | {{{57}}} degrees |
| STRETCH | 5 inches out |
| | |
| --- | --- |
| SUSPENSION | |
| MANUFACTURER FRONT | Mean Street |
| LENGTH | 2 inches under |
| TRIPLE TREES | Mean Street |
| SWINGARM | War Eagle |
| SHOCKS | Air FX |
| | |
| --- | --- |
| WHEELS, TIRES, AND BRAKES | |
| MANUFACTURER FRONT | Weld 21-inch |
| TIRE/SIZE | Avon {{{90}}}/90/21 |
| CALIPER | Hawg Halters |
| ROTOR | Weld |
| MANUFACTURER REAR | Weld 18-inch |
| TIRE/SIZE | Avon 250/40/18 |
| CALIPER | Hawg Halters |
| ROTOR | Weld |
| | |
| --- | --- |
| FINISH/PAINT | |
| COLOR(S) | Blue Chrome |
| PAINTER | CEC |
| GRAPHICS | CEC |
| MOLDING | CEC |
| | |
| --- | --- |
| ACCESSORIES | |
| FRONT FENDER | Fat Katz/CEC |
| REAR FENDER | Fat Katz/CEC |
| GAS TANK | CEC |
| OIL TANK | War Eagle/CEC |
| HANDLEBARS | CEC |
| FOOT CONTROLS | CEC |
| FOOTPEGS | CEC |
| HEADLIGHT | Mid-USA |
| TAILLIGHT | Mid-USA |
| LICENSE MOUNT | CEC |
| SEAT | CEC |