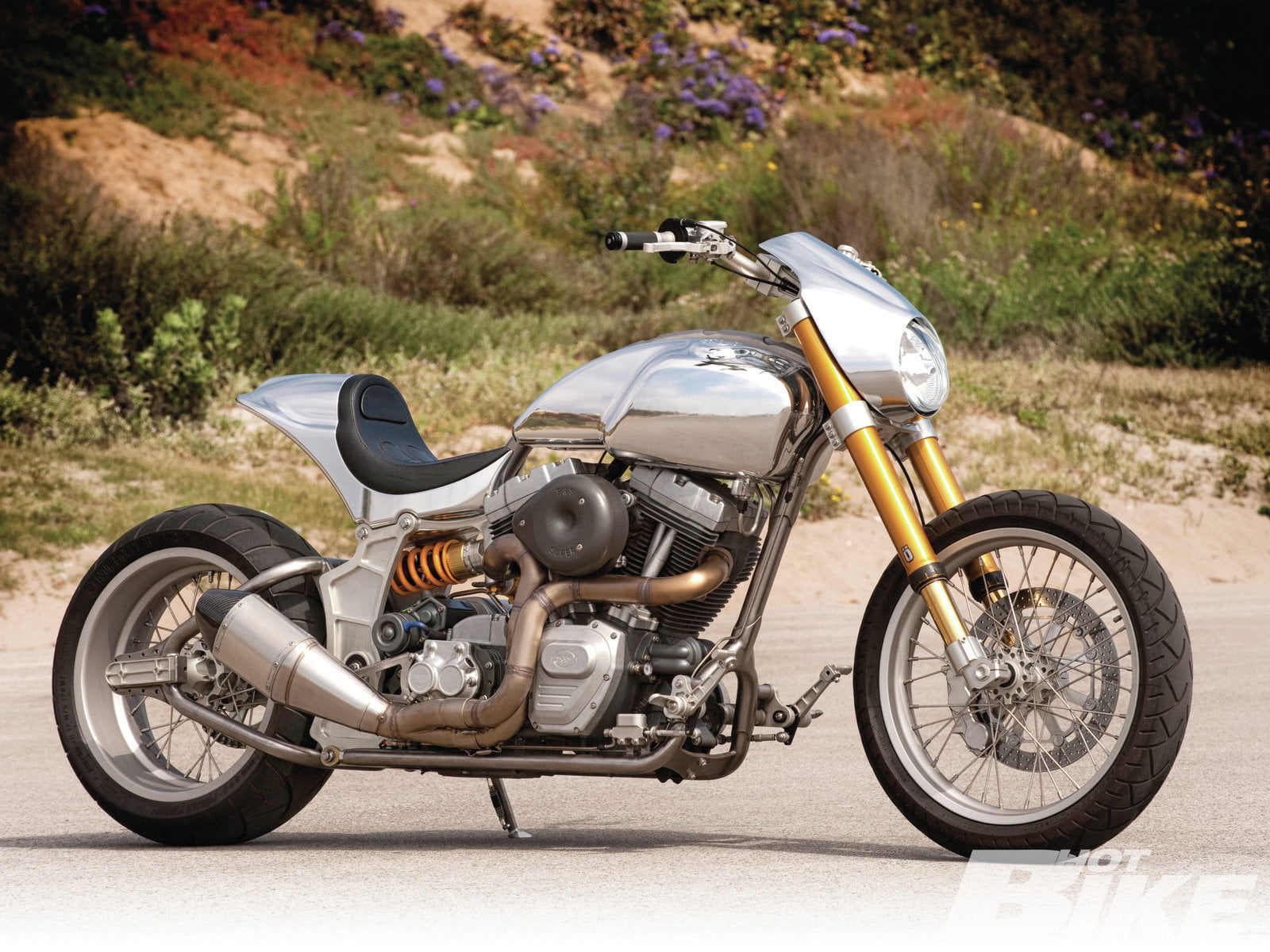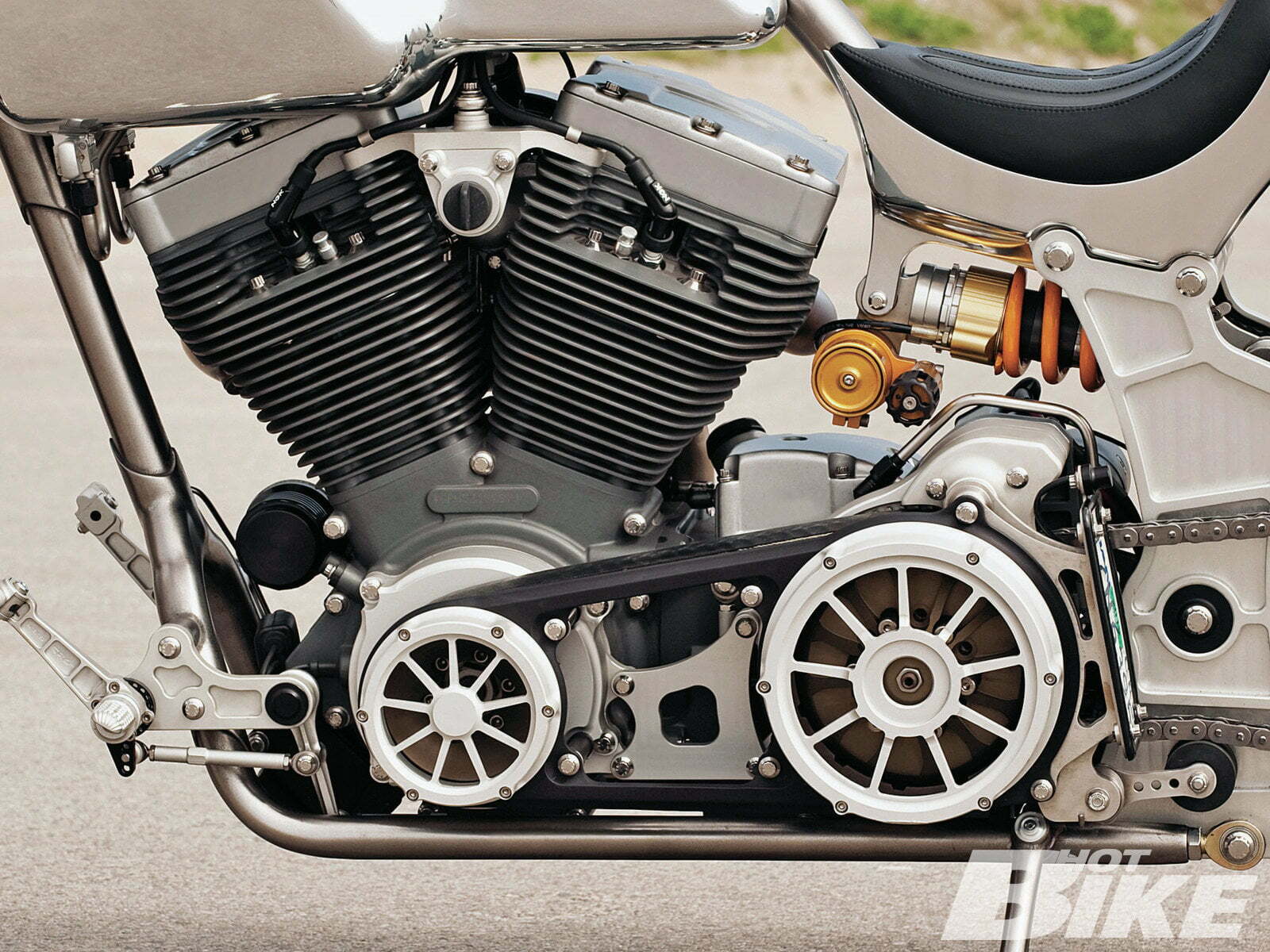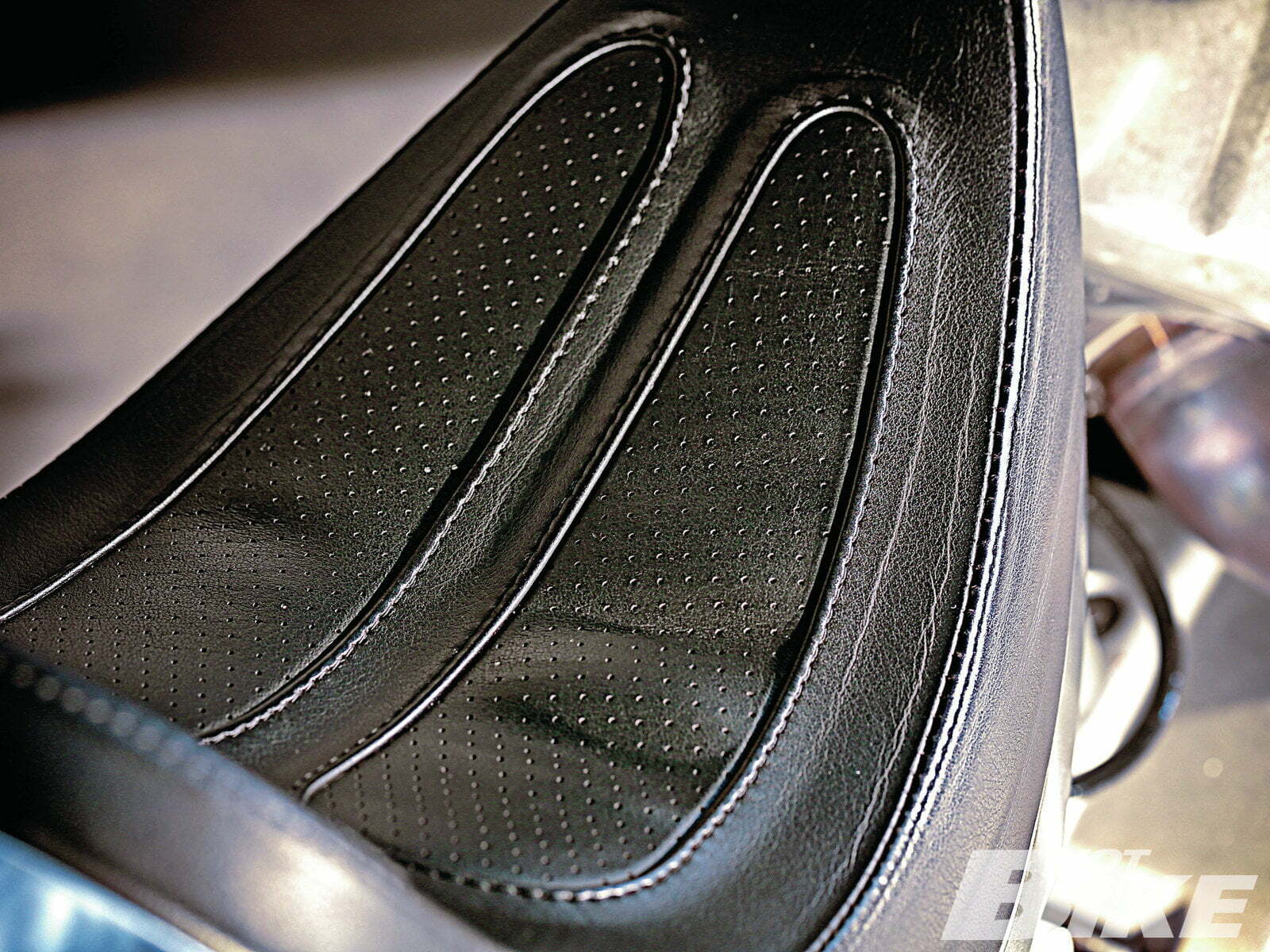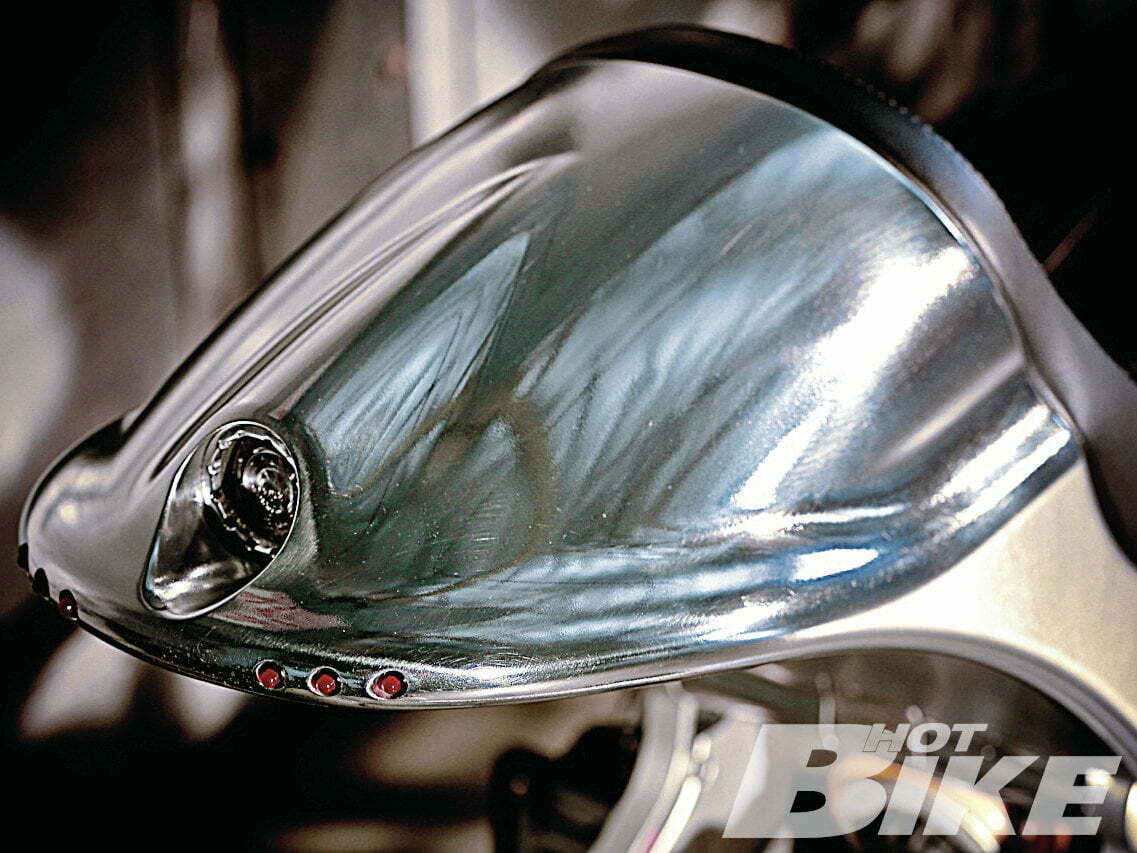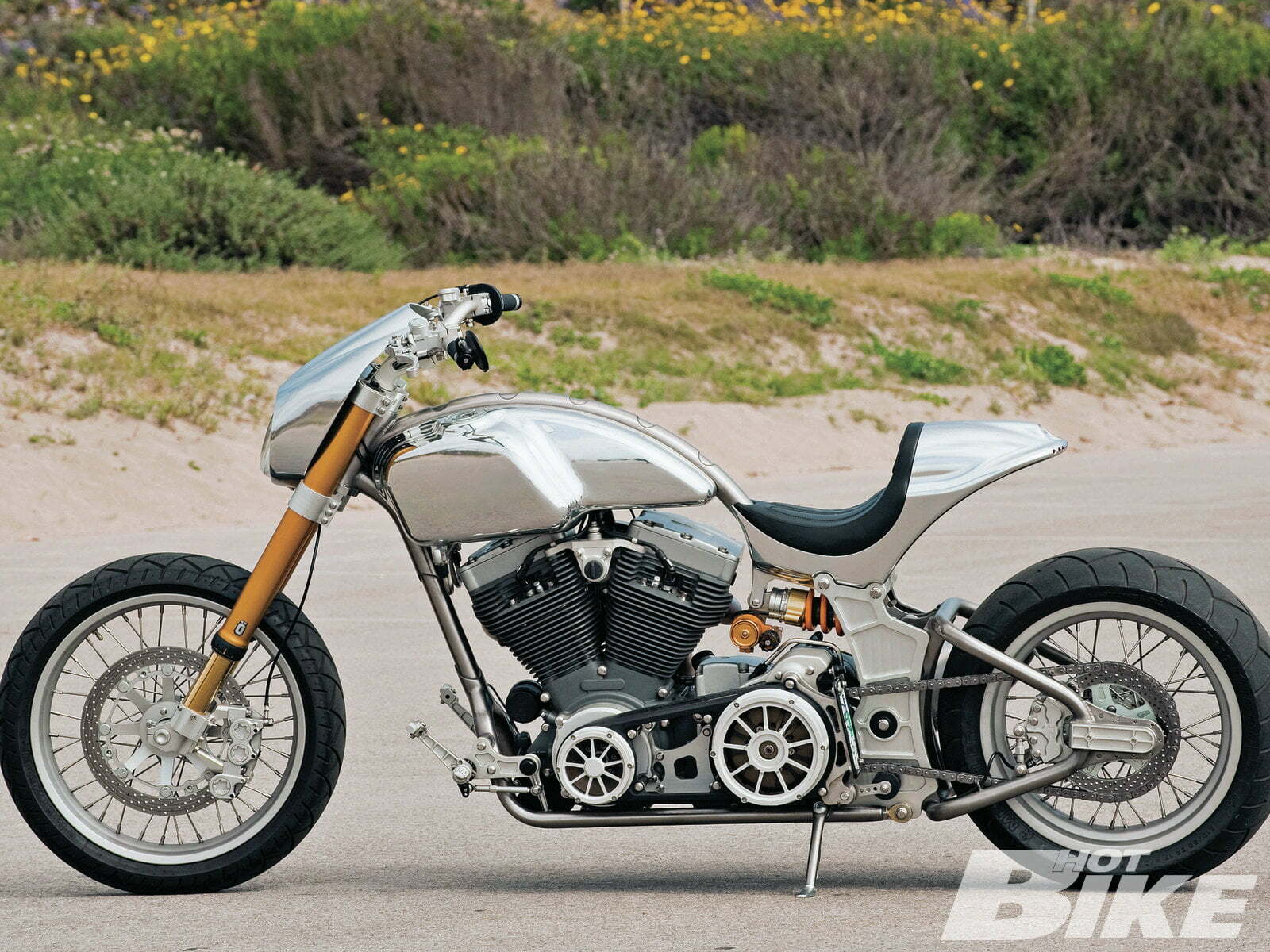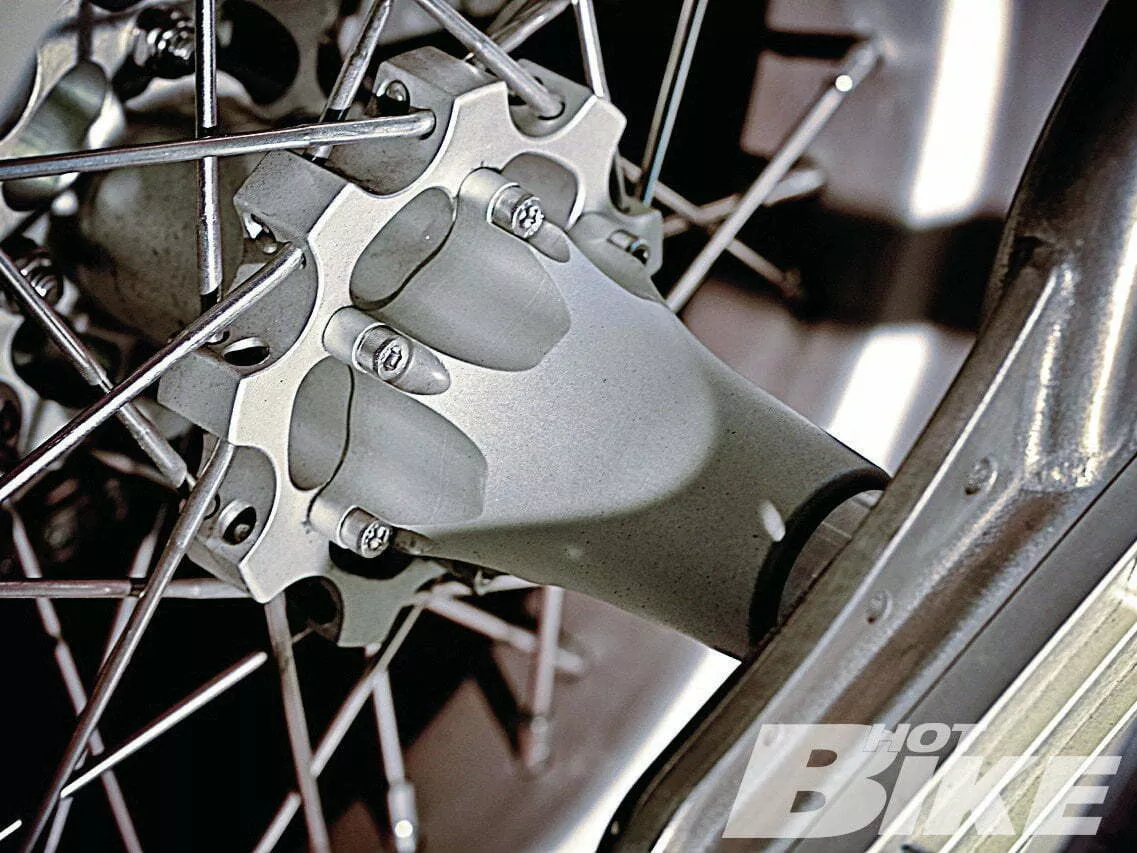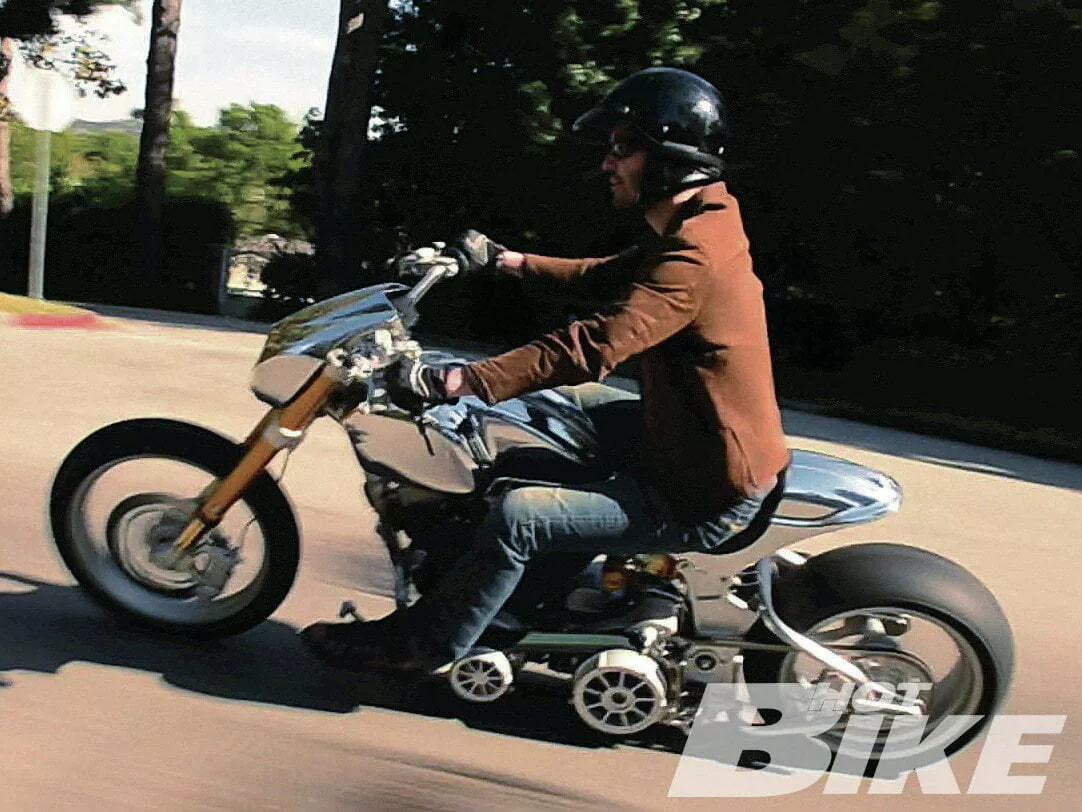 Its pretty common for riders to walk into shops looking for one thing and end up buying more than they had planned. In extreme cases, they end up with an entire custom ride built from the ground up. Teaming up with the shop owner to launch a new line of production bikes was a new one to me, though. Yet, thats pretty much what happened when Keanu Reeves (yes, the actor) came to Gard Hollingers LA County Choprods on the prowl for a sissy bar for his 2005 Dyna. What started out as a rider looking for a simple add-on to his Harley evolved into the muscled-up, stripped-down KR GT-1 Prototype seen here and about as far a cry from an 05 Dyna as you can get.
Back in 2007, on Keith Olivers recommendation, Keanu Reeves stopped by LA Choprods to see owner Gard Hollinger about a sissy bar. Turns out Keanu is a dedicated bike enthusiast and after lengthy talks he found himself drawn deeper into custom scoots and what they had to offer. Interest bred ideas, ideas coalesced into ambition, and ambition led to the creative collaboration from which the two mens joint venture, Arch Motorcycle Company, was born.
Early in that discussion, it became clear that these two, despite coming from vastly different backgrounds, held in common many fundamental values and beliefs about performance, design, and the importance of a life on two wheels. The overall goal was realizing Gard and Keanus concept of the ideal riding machine. It needed steady yet agile handling, smooth and impressive power, to be comfortable to ride for long stints, and still posses artful clean looks. In an industry as diverse as ours though, the everyman bike is a purple unicornnot everyone fits every bike, rides for the same reasons, or likes the same look. However, chances are if you build something you love, someone else will love it too.
Obviously, turning a Harley into a stripped-down street fighter is a long, arduous road (Just ask Eric Buell). Often these celebrity rides are a one-sided deal where the shop gets a check and does its thing, but not in this case. Keanu Reeves had tons of input on both style and design, often chiming in from as far as the south of France. Thats where he sat down with Mark Duckman van der Kwaaks CAD studio to get the gas tank and numerous other parts designs just right before having them machined.
Meanwhile back in LA, Gard performed major surgery on the bones. Under his torch the frame was transformed from the usual side-mounted dual shocks to a sweet, hidden Ohlins monoshock. It was matched up front equally by an Ohlins front suspension setup.
This was very quickly shaping up into a respectable street rod but it wouldnt have any street cred without more power. A Twin Cam 88 is great for weekend runs to Starbucks and all, but if you want something really aggressive, you need to go bigger. In this case, to the tune of 106 cubes courtesy of Bennetts Performance. Its motor work gave Keanus hog the grunt it needed to pair with its sleeker, sexier lines. Moreover, LA Choprods went the extra mile with the exhaust. Yoshimura makes some of the finest sport and off-road pipe sets anywhere, but youll be hard pressed to find an H-D part number. Thats not a problem for a veteran builder like Gard Hollinger though. He modified a Yoshimura pipe to the V-twin for even more power gains.
As Duckmans designs grew into full-fledged parts, Gard and Keanu got the idea that what they were building would make a great production bike. Once the bike was finished and Keanu got to ride it, he had the overwhelming feeling that it was a bike that should be available for purchase. Arch was conceived thereafter and this bike is the basis for the pre-production prototypes that are now in process. Years ago Buell showed the world that there was market niche for Harley-powered performance street machines. The KR GT-1 definitely fits the bill if sleek, aggressive street fighters are your poison.
Specifications
General
Owner Keanu Reeves
Shop LA County Choprods/Arch Motorcycle Company
Website archmotorcycle.com
Year/Make/Model 2005 Harley-Davidson Dyna/KR GT-1
Fabrication LA County Choprods/ Arch Motorcycle Company
Build Time Five years
Engine
Year/Type/Size 05 H-D Twin Cam 106 ci
Builder Bennetts Performance
Heads H-D/Branch-OKeefe
Cams Dave Mackie Engineering
Throttle Body S&S; Cycle Super G
Exhaust Yoshimura / LA County Choprods
Air Cleaner S&S; Cycle
Transmission
Year/Type 11 Baker Drivetrain DD6
Clutch Evil Engineering
Primary Drive Evil Engineering / LA County Choprods
Frame
Year/Type 05 H-D Dyna/LA County Choprods
Rake/Stretch 32 degree rake
Suspension
Shock Absorbers Ohlins
Frontend Ohlins
Wheels, Tires, and Brakes
Front
Builder/Size Black Bike Wheels 19×3.25-inch
Tire/Size Metzeler ME880 120/70ZR19
Calipers ISR 6 Piston Radial
Rotors ISR 320 mm
Rear
Builder/Size Black Bike Wheels 17×7-inch
Tire/Size Metzeler ME880 210/50ZR17
Caliper ISR 6 Piston
Rotor ISR 6 Piston
Pulley ISR 6 Piston
Finish/Paint
Plating/Polishing Clear and Black Anodize (Custom Metal Finishing), Stainless Steel Arc Metal Spray (California Metal Spray)
Powdercoating 2 Step Satin Grey (Engine), Clear Ceramic (Polished Body Work) by Specialized Coatings
Accessories
Gas Tank LA County Choprods/ Arch Motorcycle Company
Gauges MotoGadget Motoscope Pro
Handlebars LSL Taper
Grips Rizoma
Mirrors Constructors Racing Group
Hand Controls ISR / LA County Choprods
Foot Controls Constructors Racing Group / LA County Choprods
Headlight HD V-Rod
Taillight Arch Motorcycle Company LED
Turn Signals Arch Motorcycle Company LED
License Mount LA County Choprods/Arch Motorcycle Company
Seat Azteka Customs / LA County Choprods
On Gard
Gard Hollinger fell in love with motorcycles at eight years of age when he encountered a Purple Taco minibike. That lead to motocross racing and eventually, bike building. A self-taught designer, engineer, and fabricator, Gards creations often draw on his other experiences as a motocross rider for inspiration. His work has been featured in magazines and on television shows worldwide including Speed TVs Build or Bust, Discoverys Great Biker Build Off, ESPNs Chopper Nation, and the UK Series All The Gear, No Idea.
Keanu Reeves
Most of us dont know that Keanu Reeves has logged more than 25 years on two wheels and owns a variety of Norton Commandos. He rides daily, rain or shine. There have even been long periods of time when he has not owned a car, instead relying on two-wheels as his only mode of transportation. His first motorcycle was a Kawasaki 600 Enduro, which he purchased after taking his first-ever ride in 1986 while working on a film in Germany. He then got in the habit of purchasing a motorcycle whenever he was away from home on extended assignments. Hed ride it while he was there, then sell it when his work was done. Hes owned a Suzuki GS1100E, a Suzuki GSX-R750, a Kawasaki 900, an 84 Harley-Davidson Shovelhead, and a Moto Guzzi, among others, along with an 05 Harley-Davidson Dyna Wide Glide, which later became the basis for the Arch KR GT-1 Prototype.