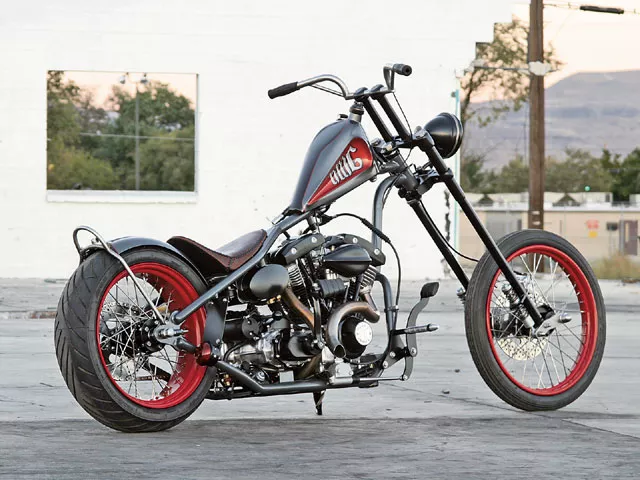 History is rife with famous sibling rivalries; look no further than Cain and Abel, and you'll see what we mean. But sometimes (when the parents do their job right) brothers can come out of childhood as true friends. And when that happens, as is the case with Taber and Trent Nash of Vancouver, WA, a partnership for life is formed on very strong bonds indeed. The fact that these guys grew up riding and wrenching on motorcycles is what led them to open their own custom bike shop three years ago.
"We both build the bikes and come up with the ideas," Taber told us. "I do a lot more of the metal fab and welding, and Trent does a lot of the little stuff and whatever is needed. He mostly runs the business side of things, but we both get our hands dirty." Trent's wife Jenna completes the family business by handling the office duties. We met up with them at the Street Vibrations show in Reno, NV, where this machine caught our collective eye. It's the kind of bike that seems simple from a distance, but as you zero in on the components, the magic unfolds.
In fact, in a world filled with retina-challenging paint jobs and acres of lovingly polished chrome, an understated custom such as this runs the risk of not being noticed. Everything about it is muted, from the satin finish on the frame to the flat, almost military paint scheme to the distinct lack of chromium alloy anywhere. "Most of what we do," said Taber, "has that modern look mixed in with the old-school stuff; we just make things clean. On this particular bike we wanted to do it so we didn't have any real flashy chrome anywhere, and we kind of brushed everything for a more dull, flat look. We didn't have a whole lot of outside influence on it." This is the "look" Taber and Trent have sought to make their signature style, so when you see it from a distance, you'll know the next thing to come into focus is the stylized "NMC" lettering (Nash Motorcycle Company) on the tank.
This unnamed custom was made for a friend and customer of their shop who came in with a rough idea of what he wanted, and then let the Brothers Nash have at it. Taber welded up the frame first with the idea of having it be a cool element unto itself. He intentionally left the usual front gussets off the gooseneck because he wanted an open look. The Nash brothers bolted up a Jerry's Springer frontend that they had gotten in a trade but changed the trees and rockers to give it their own spin. Taber knew he was headed for something special in terms of appearance, but he admitted he wasn't quite sure where he'd end up in terms of function. That had to wait for the road test later on down the line. "It's a little bouncy with the Springer, but it still rides pretty good. At normal speeds it goes nice and straight, and it takes corners pretty well." A 160mm tire on the 18-inch rear rim gave a nice, low-profile look, and allowed them to fit the hand-hammered rear fender snugly above it, but the flat running surface is less precise for line-holding than what you'd get if the tire were mounted per its design.
Perhaps the key component in this bike's style is the concave, stretched Sportster tank, which is mounted Frisco-style. The prominent way it stands up on the frame really makes the bike. Taber was quick to let us know that a lot of work went into this component. "It has a real small tunnel, so it reaches only about halfway down the backbone. And then we did the concave and stacked it about an inch. There's quite a bit of bodywork on it. We welded on some 5/16-inch rod and then worked that in. The steel cap setup is one of ours. This one is the radiator cap off an old Ford Model T that we cleaned up and then powdercoated. But we are manufacturing copies of these now and selling them." A 90-degree petcock at the tail end of the tank ensures that every drop of go-juice will find its way into the S&S; carb.
Air from the Goodson air cleaner joins the flowing fuel en route to be obliterated by the 93-inch S&S; powerplant, which is a serviceable if not super-high-performance mill. Taber and Trent blacked out the rockers and pushrod tubes with the same finish as is on the frame, downtubes, and oil bag to bring the motor into the overall design plan. They then added a couple of very cool touches to make it unique. The top of that list has to be the starter. Instead of using a standard button on the bar that sends a signal to an electric solenoid to fire the starter, you turn the key on so there are 12 volts flowing to the ignition, then shove in a stubby black plunger and engage the starter manually. As the motor spins, spring pressure pushes the bendix back out, disengaging the teeth from the flywheel. There's also a kicker on the five-speed gearbox in case you left your lights on at the bar. Stopping power is provided by a standard disc brake up front and an Exile sprotor in the back.
Spent gasses exit through a hand-formed two-into-two setup that is simultaneously eye- and ear-catching. "We do all of our own pipe bending and welding," Taber explained. "We decided we wanted a little bit more of a jagged look, so we made these out of sharp stainless sections. We knew we were going to do an open primary without the backing plate, so that gave us a place to route the pipe on the left side. This also makes the bike sound real funky, because we've got the exhaust shooting out both sides. With the single-fire ignition, it almost sounds like it's running on one cylinder sometimes."
The last step in the build was the seat. This is another area where the Nash brothers break with builder tradition-they do all their own seat and leatherwork by hand right there in the shop. "This one has a 1/4-inch aluminum seat pan that we shaped by hand, and then we use a closed-cell neoprene waterproof padding that's easy to shape. And the leather we kind of cut out and form so that it looks right with each individual bike. I guess we paid attention as Boy Scouts growing up. We never thought that those key chains we made for Mom would pay off in the future." We didn't get a chance to check with Mama Nash to see if she still had those keychains, but no doubt she's got every right to be proud of what her boys are up to now.
| | |
| --- | --- |
| SPEC SHEET | |
| GENERAL | |
| OWNER | COLE IRVINE |
| SHOP | NASH MOTORCYCLE COMPANY (NMC) |
| PHONE | (360) 693-4225 |
| WEBSITE | WWW.NASHMOTORCYCLE.COM |
| YEAR/MAKE/MODEL | '05/NMC/COLE |
| FABRICATION | NMC |
| ASSEMBLY | NMC |
| BUILD TIME | {{{90}}} DAYS |
| | |
| --- | --- |
| ENGINE | |
| YEAR/TYPE/SIZE | '05/SHOVELHEAD/93CI |
| BUILDER | S&S; |
| CASES | S&S; |
| FLYWHEELS | S&S; |
| RODS | S&S; |
| PISTONS | S&S; |
| CYLINDERS | S&S; |
| HEADS | S&S; |
| VALVES | S&S; |
| ROCKERS | H-D |
| ROCKER BOXES | H-D |
| PUSHRODS | JIMS |
| PUSHROD TUBES | H-D |
| CAM | S&S; |
| LIFTERS | JIMS |
| CARBURETOR | S&S; |
| AIR CLEANER | GOODSON |
| IGNITION | CRANE HI-4 S |
| EXHAUST | NMC |
| | |
| --- | --- |
| TRANSMISSION | |
| YEAR/TYPE | '05/REVTECH/FIVE-SPEED KICKER |
| CASE | REVTECH |
| GEARS | JIMS |
| CLUTCH | BDL |
| PRIMARY DRIVE | 3-INCH BDL |
| FINAL DRIVE | BDL CHAIN |
| | |
| --- | --- |
| FRAME | |
| YEAR/TYPE | '05/KRAFTECH/NMC |
| RAKE | 37 DEGREES |
| STRETCH | JUST THE GOOSENECK |
| FINISH | GUNMETAL POWDERCOAT |
| | |
| --- | --- |
| SUSPENSION | |
| FRONT | |
| BUILDER | JERRY'S SPRINGER |
| MODIFICATIONS | NMC ROCKERS |
| TRIPLE-TREES | NMC |
| | |
| --- | --- |
| WHEELS, TIRES, AND BRAKES: | |
| FRONT | |
| BUILDER/SIZE | H-D/NMC 21×40 SPOKE |
| TIRE | AVON SPEEDMASTER |
| HUB/SPOKES | H-D |
| CALIPER | PM |
| ROTOR | BIKER'S CHOICE |
| REAR | |
| BUILDER/SIZE | H-D/NMC 18×5.5×40 SPOKE |
| TIRE/SIZE | AVON/160MM |
| CALIPER | EXILE |
| ROTOR | EXILE |
| | |
| --- | --- |
| FINISH/PAINT | |
| COLORS | SATIN BLACK, CHARCOAL,RED METALLIC |
| PAINTER | JEFF RICHARDS |
| GRAPHICS | PAUL COMEAU |
| MOLDING | JEFF RICHARDS |
| POWDERCOATING | PRO COAT |
| | |
| --- | --- |
| ACCESSORIES | |
| REAR FENDER | NMC |
| FENDER STRUTS | NMC |
| GAS TANK & CAP | NMC |
| OIL TANK | V-TWIN/NMC |
| HANDLEBARS | NMC |
| RISERS | NMC |
| HAND CONTROLS | NMC, INTERNAL THROTTLE |
| FOOT CONTROLS | NMC |
| FOOTPEGS | NMC CIGAR PEGS |
| HEADLIGHT | S}} HEADLAMP FROM 1914 |
| TAILLIGHT | VINTAGE, UNKNOWN ORIGIN |
| LICENSE MOUNT | NMC |
| SEAT | NMC |