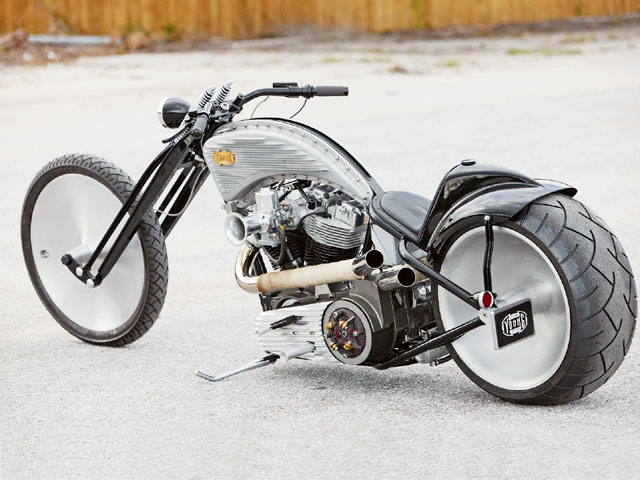 Hailing from Marietta, GA, Hank Young is a man with few limitations-well, at least when it comes to anything involving metal, wheels, and motors. Besides his talents as a hot rod and custom bike builder, he's one of the most affable men in the motorcycle industry-always approachable with his trademark smile and Southern drawl. We don't know if that's what Southern hospitality is all about, but it's welcomed and appreciated. There are certainly many out there with lesser skills and bigger attitudes.
Hank's been around metal for as long as he can remember, since his dad was an aerospace machinist by trade. In fact, his grandfather was also a metal man, so maybe the skills are in Hank's genes. Working in his dad's basement machine shop, Hank taught himself how to weld when he was eight years old. By the time he was 10, he was an expert welder, and the path was laid, so to speak. One of his first "real" jobs was restoring old Ford street rods. Many years of hard work garnered Hank a large national following for his four-wheeled creations. At that point, motorcycles were just Hank's hobby. In the early '90s he built custom Indians, knuckles, pans, and shovels for himself, his son Taylor, and his dad Lewis. Fifteen or so years ago, Hank turned his motorcycle hobby into a full-time gig.
One of Hank's building codes is making as much of the bike by hand as possible while having it still remain functional. You will rarely find off-the-shelf bolt-on parts on his bikes, as he prefers to shape, cut, and weld by hand. This pride in workmanship can be seen in every Hank Young creation, and you have to look no further than the welds. He never uses any molding to clean up his welds. They're visible for the world to see, and they're beautiful. This frame is no different, as Hank TIG-welded together all the steel bits to make this sleek rigid. The downtube and the two backbone sections started out as square stock that was machined to resemble an I-beam. Besides the obvious aesthetics of this arrangement, the setup serves as the anchor point for the unique gas tank that is bolted to the threaded top tubes.
The two-piece fuel tank was made possible with his father's help. Its two halves were made from cast aluminum that started life as pieces of wood. Yes, wood! Lewis formed the wood into the shape of the tank, which was then taken to a metal foundry to have a sand-cast form made from the carved wood. Molten aluminum was poured into the molds, and the final product was machined to the form you see here. The two halves of the tank were bolted directly to the frame, with gaskets in between to keep the gas contained. Aside from the prominent gas tank, the only other sheetmetal is the combination oil tank/rear fender. The two actually started out as separate pieces. The oil bag's bottom is the top of the fender, with the two being welded together after they were made. The shape and location of the oil tank is reminiscent of the back of a Sprint Car.
Oil lines that exit the combo lead to a very rare and historic motor. It's a 120-inch shovelhead built by former drag racer John Harmon in 1982. There were very few of these experimental engines ever produced. John cast his own engine cases, machined his own cylinders, and essentially handbuilt the entire motor. Not much information on what's inside these mills was ever made public, and unfortunately John passed away in the late '80s, taking his secrets with him. The monster motor breathes through two Young velocity stacks feeding two opposed SU carbs. Polished stainless-steel headers measuring 2-1/4 inches handle the spent gas. Hank says this bike easily shredded the meaty 280 Metzeler when he cracked the throttle, and it was most likely faster than today's current big-inch mills. Not bad for a 24-year-old shovelhead.
When it was time for wheels, Hank went all the way again, having them fabricated by Egotripp from his blueprints. They were machined from solid billet aluminum with a smooth look not often seen on a motorcycle. Attached to the wheels are Hank's own stainless-steel perimeter brake rotors clamped by PM calipers. A black Springer frontend from Spartan in Arizona complements the black-and-silver motif of the bike. To keep the rear frame section clean, there are no provisions for axle adjustment. Instead, Hank made a round nylon chain adjuster with an enclosed bearing that's bolted to the right side of the tail section. By moving the roller up and down, the tension of the drive chain can be adjusted.
When Hank started this project, he was trying to achieve an industrial and racy look. Because of its combination of go-fast looks and the Harmon shovelhead, Hank named the bike the "Bonneville Special." This name pays homage to the Holy Grail of speed that bears the same name and pays tribute to not only Hank's own past, but to his father's as well.
| | |
| --- | --- |
| SPEC SHEET | |
| GENERAL | |
| OWNER | HANK YOUNG |
| SHOP | YOUNG CHOPPERS |
| PHONE | (770) 425-1305 |
| WEBSITE | WWW.YOUNGCHOPPERS.COM |
| YEAR/MAKE/MODEL | '05/YOUNG CHOPPERS/ |
| | BONNEVILLE SPECIAL |
| FABRICATION | YOUNG CHOPPERS |
| ASSEMBLY | YOUNG CHOPPERS |
| BUILD TIME | TWO MONTHS |
| | |
| --- | --- |
| ENGINE | |
| YEAR/TYPE/SIZE | '82/SHOVELHEAD/120CI |
| BUILDER | JOHN HARMON |
| CASES | JOHN HARMON |
| FLYWHEELS | JOHN HARMON |
| RODS | JOHN HARMON |
| PISTONS | JOHN HARMON |
| CYLINDERS | JOHN HARMON |
| HEADS | JOHN HARMON |
| ROCKERS | H-D |
| ROCKER BOXES | H-D |
| PUSHRODS | JOHN HARMON |
| CAM | JOHN HARMON |
| LIFTERS | JOHN HARMON |
| CARBURETORS | SU |
| AIR CLEANERS | YOUNG VELOCITY STACKS |
| IGNITION | KARATA MAGNETO |
| EXHAUST | YOUNG CHOPPERS |
| | |
| --- | --- |
| TRANSMISSION | |
| YEAR/TYPE | '05/SIX-SPEED |
| CASE | ROADMAX |
| GEARS | ROADMAX |
| CLUTCH | PRIMO |
| PRIMARY DRIVE | PRIMO, 3-INCH |
| | |
| --- | --- |
| FRAME | |
| YEAR/TYPE | '05/YOUNG SPECIAL |
| RAKE | 45 DEGREES |
| STRETCH | 3 INCHES OUT |
| | |
| --- | --- |
| SUSPENSION | |
| FRONT | SPARTAN FRAMEWORKS |
| LENGTH | 8 INCHES OVER |
| TRIPLE-TREES | SPARTAN, 3-DEGREE |
| | |
| --- | --- |
| WHEELS, TIRES, AND BRAKES | |
| FRONT | |
| BUILDER/SIZE | EGOTRIPP/21-INCH |
| TIRE/SIZE | METZELER/21 |
| CALIPER | PERFORMANCE MACHINE |
| ROTOR | YOUNG PERIMETER |
| REAR | |
| BUILDER/SIZE | EGOTRIPP/18X11 |
| TIRE/SIZE | METZELER/280 |
| CALIPER | PERFORMANCE MACHINE |
| ROTOR | YOUNG CHOPPERS |
| | |
| --- | --- |
| FINISH/PAINT | |
| COLOR | BLACK |
| PAINTER | TERRY SOUTHERN |
| PLATING/POLISHING | PRO PLATING |
| | |
| --- | --- |
| ACCESSORIES | |
| REAR FENDER | YOUNG CHOPPERS |
| FENDER STRUTS | YOUNG CHOPPERS |
| GAS TANK & CAP | YOUNG CHOPPERS/LEWIS YOUNG |
| OIL TANK | YOUNG CHOPPERS |
| HANDLEBARS | YOUNG CHOPPERS |
| HAND CONTROLS | PERFORMANCE MACHINE |
| FOOT CONTROLS | YOUNG CHOPPERS |
| FOOTPEGS | YOUNG CHOPPERS |
| HEADLIGHT | CUSTOM CHROME |
| TAILLIGHT | NESS |
| LICENSE MOUNT | YOUNG CHOPPERS |
| SEAT | OUTLAW CUSTOM SEATS |