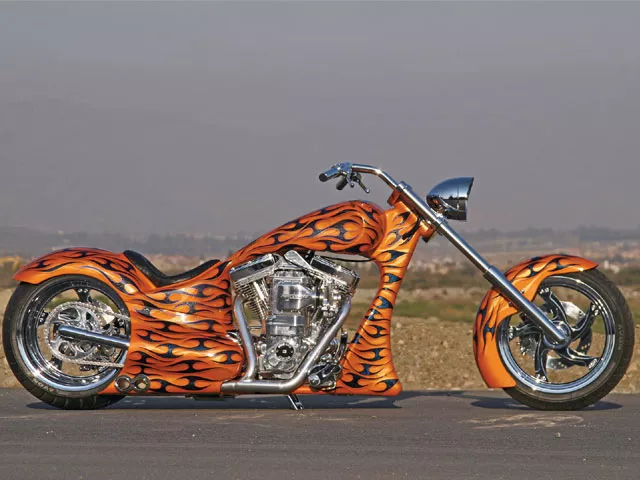 Chris Olson has had an artistic bent all his life, and although for the first several decades he dedicated himself to the sex, drugs, and rock 'n' roll lifestyle, during the past few years he's channeled his creative energy into bike building. Chris didn't just step into the motorcycle business in 2003 when he and his good friend Dave Mustaine of Megadeth-along with their wives Tammy and Pam-created Chris Olson Customs (COC), in Spokane, WA. Chris had been into bikes his whole life, and his first bike, a '64 panhead, was chopped apart and stretched before he even rode it for the first time. That was long before choppers were the latest craze. Choppers have always been around, but when Chris got into them, they were still reserved for the guys you didn't want to bring home for Christmas dinner.
While Chris still isn't the guy you want to bring home for dinner, he is the guy you want to go to if you are looking for a high-class custom with a whole lot of attention to detail. The name of this bike, "36-24-36," really says it all. It's just like a shapely woman-the curves are in all the right places.
This bike started when a guy named Tim contacted another bike builder in the Washington area to build his dream bike. The bike was going to be a marketing tool for Tim's company, MAE Inc. But as it turned out, the original builder couldn't get the job done, so Tim brought the roller to Chris and asked him to finish the job.
Coincidentally, when the original builder agreed to take on the Pro-Street project, he had come to Chris seeking advice on frame dimensions. Chris, being a helpful fellow bike builder, was more than happy to offer up his thoughts: 42 degrees of rake, 2 inches up, and 6 inches out. Heck, Chris was so generous that he even ordered the frame from RC Components for the original builder. However, when it came down to ordering the rest of the parts and actually building the bike, the original builder seemed to be in over his head.
So when Tim showed up at COC with a roller and a box full of parts, Chris knew exactly what to do with the frame, but not everything else. After sifting through the parts, Chris and Tim found that everything was mismatched, but luckily a few things could be salvaged for the mean Pro-Street they envisioned.
Originally Chris and Tim planned on using a 124ci S&S; motor. But they decided this bike was going to be over the top and therefore needed a powerplant to get it there. Chris searched high and low for the right motor and scored an S&S; 145ci Tribute motor. Introduced to the public a few years back as a tribute to commemorate Harley's 100 years of business (the 145's first 100ci) and S&S;'s 45 years in the industry (the remaining 45ci), the 145 was the powerhouse this bike needed.
In its out-of-the-box configuration, the motor is estimated to produce somewhere near 145 hp and 160 lb-ft of torque. But that wasn't enough for Chris, so he put in a call to Kendall Johnson and asked if he would be able to get this motor ready for a MagnaCharger. To Chris's knowledge it would be the first blown 145ci S&S.; According to the MagnaCharger website, depending on certain specifics-such as pump or racing fuel, proper tuning, and amount of boost-the supercharger could increase horsepower by 50-100 percent. So in theory, this bike could potentially produce more than 230 hp. Unfortunately, there are no dyno numbers to verify these speculations, but either way it still looks really intimidating.
The motor was matched up with only the best parts, including a Baker six-speed right-side-drive transmission, Rivera clutch, and primary wrapped with Arlen Ness inner and outer primary covers. The high-end parts were important to make sure everything flowed and matched.
The most difficult part of this build was the challenge Chris imposed upon himself with the sheetmetal. He wanted to make sure there were no sharp edges, that everything was going to be rounded and flow smoothly end to end and bend to bend. This included the arduous task of having the frame completely molded in, not with Bondo, but with metal. It took Chris and his friend, Chris Lidgerwood of Extreme Customs (also in Spokane, WA), more than 200 hours to get the sheetmetal just the way Chris wanted it. Then, instead of just slamming this Pro-Street to the ground and letting it rest on its framerails, Chris decided he wanted to create an air kickstand that he had been thinking about for the past few years. It seemed like a simple concept in his head, but it took hundreds of conceptual and creative hours just to construct the first prototype of the initial production part.
After finally nailing down the pneumatic kickstand, it was time to paint, and although the first paint job wasn't quite what the customer was looking for, the second rendition, complete with pointed tribal flames, really stood out as a sharp contrast to the smoothed-out look of the rest of the bike. This buxom beauty really exceeded all expectations, and you can be assured Chris has big plans for his future builds. Not one to sit still for too long, Chris has several projects lined up and works tirelessly to make sure he can be ahead of the trends and continue to develop classy custom broads…er…rides like this one.
| | |
| --- | --- |
| SPEC SHEET | |
| GENERAL | |
| OWNER | Tim and Kathy |
| SHOP | Chris Olson Customs (COC) |
| PHONE | (509) 991-7478 |
| WEBSITE | www.chrisolsoncustoms.com |
| YEAR/MAKE/MODEL | '06/COC/Pro Street |
| FABRICATION | COC |
| ASSEMBLY | COC |
| BUILD TIME | Forever |
| | |
| --- | --- |
| ENGINE | |
| YEAR/TYPE/SIZE | '03/S&S;/145ci w/MagnaCharger |
| BUILDER | S&S;/Kendall Johnson/S&S; |
| CASES | S&S; |
| FLYWHEELS | S&S; |
| RODS | S&S; |
| PISTONS | S&S; |
| CYLINDERS | S&S; |
| HEADS | S&S;/Kendall Johnson |
| VALVES | S&S; |
| ROCKERS | S&S; |
| ROCKER BOXES | S&S; |
| PUSHRODS | S&S; |
| PUSHROD TUBES | S&S; |
| CAM | Kendall Johnson |
| LIFTERS | S&S; |
| CARBURETOR | Mikuni |
| AIR CLEANER | COC |
| IGNITION | S&S; |
| EXHAUST | COC/Mike Burton |
| | |
| --- | --- |
| TRANSMISSION | |
| YEAR/TYPE | '05/Baker six-speed |
| CASE | Baker |
| GEARS | Baker |
| CLUTCH | Rivera-Primo |
| PRIMARY DRIVE | Rivera-Primo |
| | |
| --- | --- |
| FRAME | |
| YEAR/TYPE | '05/RC Components/ |
| | COC/Pro-Street |
| RAKE | 42 degrees |
| STRETCH | 2 inches up/6 inches out |
| | |
| --- | --- |
| SUSPENSION | |
| FRONT | Perse Performance |
| TRIPLE-TREES | Perse Performance |
| REAR | |
| SWINGARM | RC Components |
| SHOCKS | {{{Legend}}} Air Ride |
| | |
| --- | --- |
| WHEELS, TIRES, AND BRAKES | |
| FRONT | |
| BUILDER/SIZE | RC Components/18-inch |
| TIRE/SIZE | Avon/130/70-18 |
| CALIPER | PM |
| ROTOR | PM |
| REAR | |
| BUILDER/SIZE | RC Components/18×10 |
| TIRE/SIZE | Avon/{{{300}}} |
| CALIPER | PM |
| ROTOR | PM |
| | |
| --- | --- |
| FINISH/PAINT | |
| COLORS | HOK Orange/Marble white, blue |
| PAINTER | Extreme Customs |
| GRAPHICS | Chris Lidgerwood |
| MOLDING | Extreme Customs |
| PLATING/POLISHING | Triple Plate |
| | |
| --- | --- |
| ACCESSORIES | |
| FRONT FENDER | COC/Extreme Customs |
| REAR FENDER | COC/Extreme Customs |
| FENDER STRUTS | Internal COC |
| GAS TANK & CAP | COC/Extreme Customs |
| OIL TANK | RC Components |
| HANDLEBARS | Custom Cycle Controls |
| RISERS | Built In |
| HAND CONTROLS | Custom Cycle Controls |
| FOOT CONTROLS | Ness |
| FOOTPEGS | Perse Performance |
| HEADLIGHT | Headwinds |
| TAILLIGHT | Paul Yaffe |
| SEAT | Alligator Bob/ |
| | Advanced Custom Design |