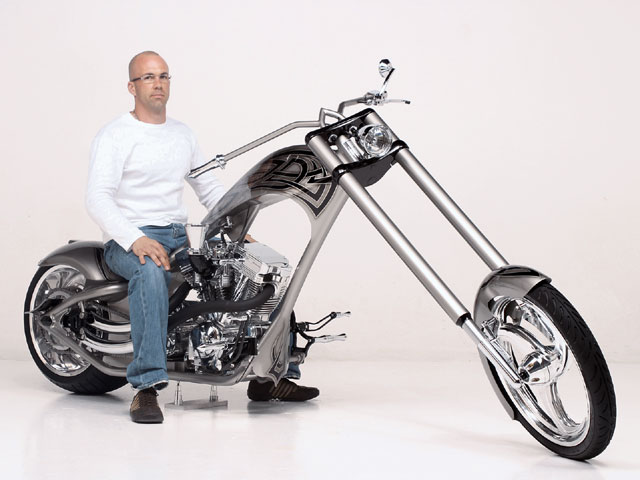 Drop what you're doing, sell everything, move to a new state, and start building customs. Sound like a good idea? OK, maybe it's not the perfect business plan for everyone, but it seemed to work out pretty well for Alexis Dean when he started his new firm: Synister Cycle Designs (SCD).
The owner of a few custom motorcycles in when he lived in south Florida, Alexis was never quite content with what he got from others, so instead of taking the rational route and building one for himself in his garage, he went full-bore. Before he even built his first motorcycle, he got licensed in Texas to be a manufacturer, so he moved to Houston to chase his dreams. But reality interrupted rather quickly.
Sitting in his shop and staring at a raw frame, he realized that this procedure was a little more involved than just tossing on a bunch of parts. He started fabricating all the pieces he would need for his initial creation. Starting with 16-gauge steel all around, he formed the sheetmetal first. Beginning with some basic metalworking tools and moving up to more expensive ones as needed, Alexis figured out through trial and error what would make the best statement on this first machine.
The first Synister machine was to be his. Since he stands 6 feet, 2 inches tall, Alexis made sure the bike would be big enough for his lanky frame. With a whopping 10 inches of stretch, the machine is all that and then some. He built and rebuilt the integrated gas tank four times to get just the right flow. As this was his first creation, Alexis needed to make an impact, but he still wanted to show respect for clean lines and not go too far over the top.
Set at 51 degrees and 18 inches over, the American Suspension Phantom forks make a bold statement at the frontend, but their understated satin finish and black accents match the rest of the bike perfectly and tie it all together. Held firmly in the forks is a set of one-off double spinners sourced from Ego Tripp. While not the flashiest cut, they fit the clean lines of the rest of the machine, adding extra visual stimulation while the machine is rolling. To keep the look of the 21-inch front wheel extra-clean, a front brake was not mounted.
Powering Alexis' chopper is a 124-inch TP Engineering Evo. With Edelbrock heads and a Mikuni 45mm flat-side carb, it was built to stretch his arms from stoplight to stoplight. An upward-facing Wimmer air horn does a good job collecting rain water to help cool the hot-running mill (OK, not really). A set of one-off SCD ceramic-coated pipes expels the gasses through the high-compression heads.
Transmitting power to the right-hand single-sided drive/brake setup is a chromed and polished Rivera six-speed coupled to a Primo Brute V beltdrive. A beefy 530 chain, like the ones used on Harleys before they went all belt, spins the rear 300-series Avon Venom. The only brake on the machine is a Hawg Halter caliper mounted inboard of the Ego Tripp sprocket at the rear of the bike.
Finding the right painter to coat his handcrafted creation wasn't an easy task, but in the end Alexis went with renowned master of the polyurethane Rick Rhodes for the task, with graphics laid down by Pat Maxwell. Polishing was done in-house at Synister, but powdercoat was farmed out to Precision Powder Coating.
Many of the remaining details were fabbed in-house by Alexis, as this was to be a machine to showcase his ultimate capabilities in the context of a ridable showbike. Things such as the tag mount, gas cap, molded LED taillight, and aluminum headlight were all made by SCD. However, there were a few details left to outside sources. The internally plumbed bars were sourced from Matt Hotch Designs and tipped with controls by Arlen Ness and Jaybrake. XO Products stepped in with the curvaceous forward controls and pegs.
Despite all of Alexis' sheetmetal wizardry throughout the project, the most satisfying fabrication on the bike was stamping the VIN number on his first true creation as a licensed manufacturer. There's something magical about that infinitely long alphanumeric code when the last three digits are 001 that will even make a grown man get a little misty. It was a reminder to Alexis of how real this obsession had become for him.
He had blown off a stable income, his family, and more than a few good women in pursuit of his dream, and his first creation had finally seen completion. It may seem extreme, but Alexis firmly believed that to truly live you have to do what you love, even if for just one day. For Alexis, his bikes (there have been more) are more than just a rolling piece of art-they are a piece of his life.
Based on that information, we'd say his life is clean and sparse, and very detail-oriented.
Spec Sheet
| | |
| --- | --- |
| GENERAL | |
| OWNER | ALEXIS DEAN |
| SHOP | SYNISTER CYCLE DESIGNS (SCD) |
| PHONE | (281) 288-9253 |
| WEBSITE | WWW.SYNISTERCYCLEDESIGNS.COM |
| YEAR/MAKE/MODEL '06/SCD/CHOPPER | |
| FABRICATION | ALEXIS DEAN (SCD) |
| ASSEMBLY | ALEXIS DEAN (SCD) |
| BUILD TIME | SIX MONTHS |
| | |
| --- | --- |
| ENGINE | |
| YEAR/TYPE/SIZE | '06/EVO/124-INCH |
| BUILDER | TP ENGINEERING |
| CASES | TP |
| FLYWHEELS | TP |
| RODS | TP |
| PISTONS | TP |
| CYLINDERS | TP |
| HEADS | EDELBROCK |
| VALVES | EDELBROCK |
| ROCKERS | EDELBROCK |
| ROCKER BOXES | TP PRO VENT |
| PUSHRODS | TP |
| PUSHROD TUBES | TP |
| CAMS | TP |
| LIFTERS | TP |
| CARBURETOR | MIKUNI 45MM |
| AIR CLEANER | WIMMER MACHINE |
| IGNITION | CRANE HI4 |
| EXHAUST | SCD |
| | |
| --- | --- |
| TRANSMISSION | |
| YEAR/TYPE | '06/SIX-SPEED RSD |
| CASE | RIVERA |
| GEARS | RIVERA |
| CLUTCH | RIVERA |
| PRIMARY | RIVERA |
| | |
| --- | --- |
| FRAME | |
| YEAR/TYPE | '06/SCD CHOPPER (ONE-OFF) |
| RAKE | 51 DEGREES |
| STRETCH | 10 INCHES |
| | |
| --- | --- |
| SUSPENSION | |
| FRONT | |
| BUILDER | AMERICAN SUSPENSION |
| YEAR/TYPE | '06/63MM PHANTOM INVERTED |
| MODIFICATIONS | 18 INCHES OVER |
| TRIPLE-TREES | AMERICAN SUSPENSION |
| REAR | |
| | |
| --- | --- |
| WHEELS, TIRES, AND BRAKES | |
| FRONT | |
| SIZE/TYPE | 21X2.25/EGO TRIPP DUAL SPINNER |
| TIRE MAKE/SIZE | AVON VENOM/21/{{{90}}} |
| REAR | |
| SIZE/TYPE | 18X10.5/EGO TRIPP DUAL SPINNER |
| TIRE MAKE/SIZE | AVON VENOM/18/{{{300}}} |
| HUB/SPOKES | EGO TRIPP |
| CALIPER | HAWG HALTER |
| ROTOR | EGO TRIPP |
| | |
| --- | --- |
| FINISH/PAINT | |
| COLOR | PEWTER METALLIC |
| PAINTER | RICK RHODES |
| GRAPHICS | PAT MAXWELL |
| MOLDING | ALEXIS DEAN |
| CHROME PLATING/ | |
| POLISHING | SCD |
| POWDERCOATING | PRECISION POWDER COAT |
| | |
| --- | --- |
| ACCESSORIES | |
| FRONT FENDER | SCD |
| REAR FENDER | SCD |
| FENDER STRUTS | SCD (HIDDEN) |
| GAS TANK & CAP | SCD |
| OIL TANK | SCD |
| DASH | NONE |
| GAUGES | NONE |
| HANDLEBARS | MATT HOTCH DESIGNS |
| MIRRORS | WIMMER MACHINE |
| HAND CONTROLS | JAY BRAKE/ARLEN NESS |
| FOOT CONTROLS | XO PRODUCTS |
| FOOTPEGS | XO PRODUCTS |
| HEADLIGHT | SCD |
| TAILLIGHT | SCD MOLDED LED |
| TURN SIGNALS | NONE |
| LICENSE MOUNT | SCD |
| OIL COOLER | NONE |
| SEAT | GATOR |