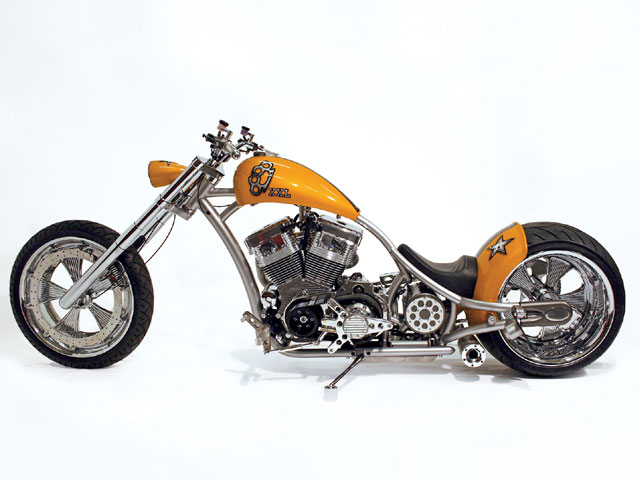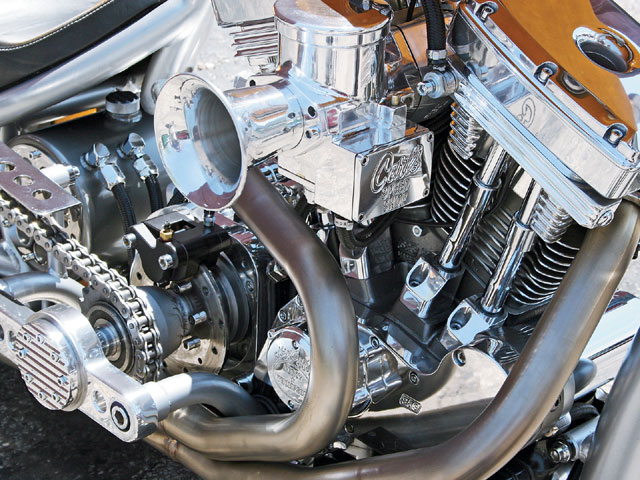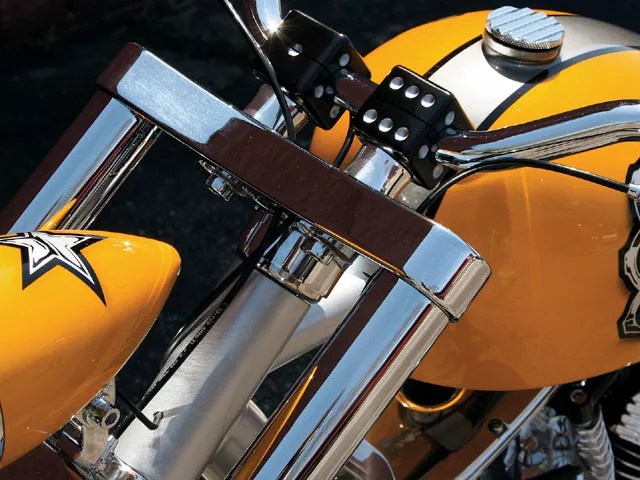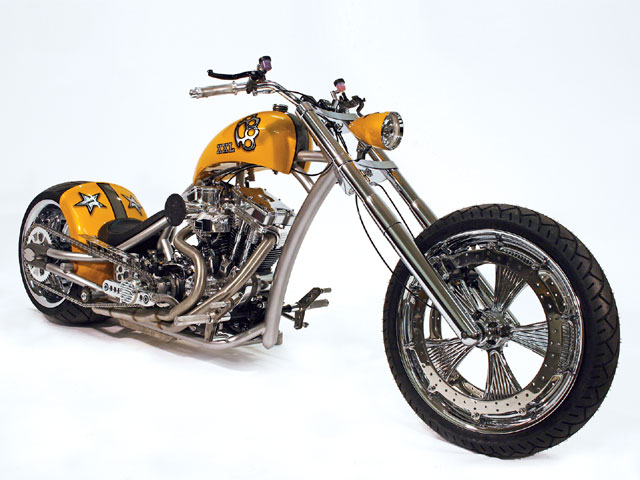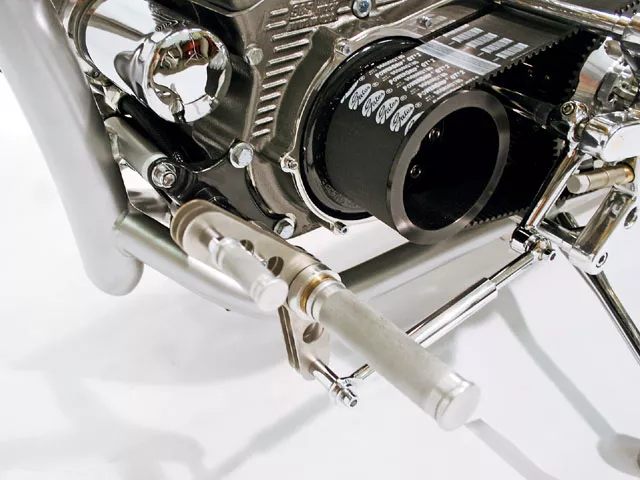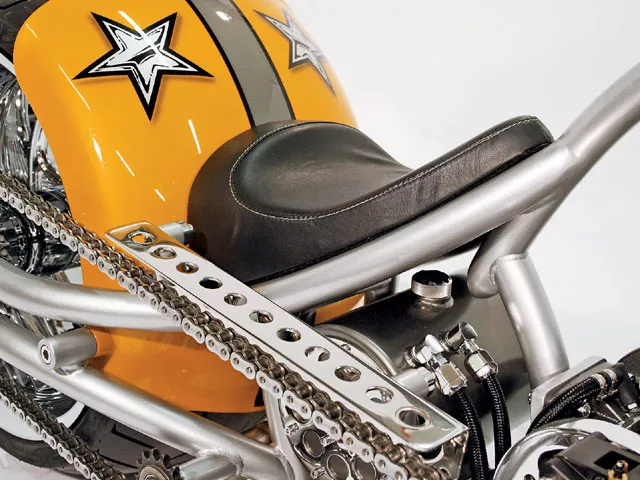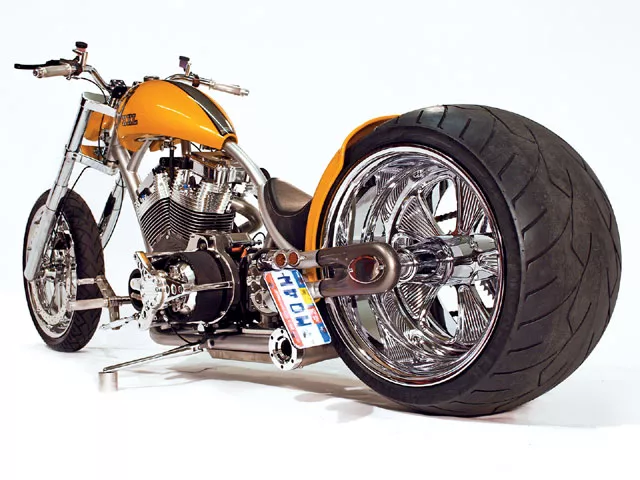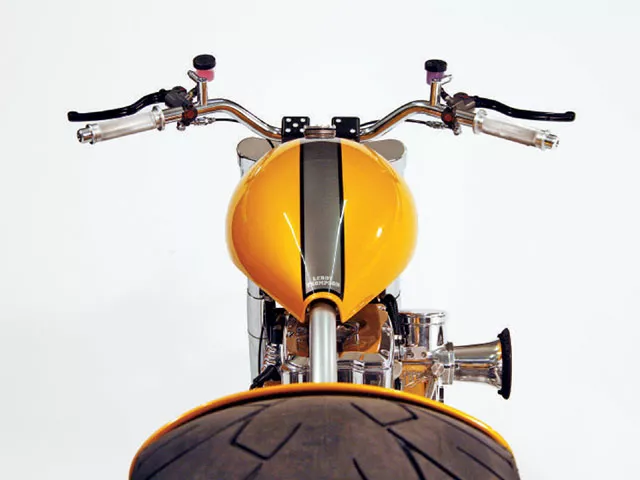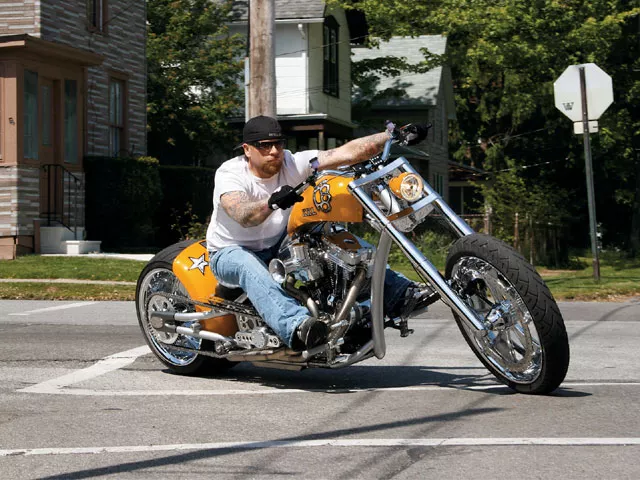 Leroy-Thompson Choppers (LTC) in Mentor, OH, builds bikes to the tune of leaving people scratching their heads and guessing what's next from the shop. At the very least, the crew strives to ensure that one part or function of each bike is just off the beaten path, including the yellow rigid "XXL" seen here. Now, take a closer look at this machine, think about the bike's name, and let the guessing begin at what's going on here. Ah-ha, see, we have faith that most of our readers know what they're looking at. But for the rest who are still scratching their noggins, that's cool, we'll let LTC's Natalie Sweet fill in the blanks.
When it comes to trying new things like exotic foods or a new drink, most people don't mind being a bit adventurous. Hey, how do you know you won't like it till you've tried it, right? But when it comes to building motorcycles, people tend to play it a little safer. Sure, it's fun to stray a little from the norm, to create something flashy and cool, but when it comes to rewriting the books on customization, to go far off the beaten path, it's often easier to sit back and let someone else take a stab at it first. Fortunately, that has never been the philosophy at Leroy-Thompson. In fact, the boys of LTC just wouldn't be comfortable if they weren't doing things their way, with quality craftsmanship, ingenuity, design, and a great sense of humor.
So when those enormous 360s hit the streets, LTC shop owner Scott Webster knew he had to build a bike around one…and that's exactly what he did. "With this bike we wanted to try and accomplish the unimaginable," Scott said. "We wanted to build a super big racing XL motor and pair it up with an obnoxiously wide tire just to make everyone scratch their heads." The XXL started out as somewhat of a science project where Scott planned to pair a giant 360 back tire with a 100ci XL Sportster motor. To date it had never been done before, and that was certainly a key part of the appeal to Scott and the rest of the boys at LTC.
"I guess the idea behind it was nobody else had built a Sportster bike with a 360 tire and I just thought it would be funny to do," Scott remarked. "I mean I thought 'how neat would it be to take the biggest wheel in production with the typically smallest motor.'" But coming up with the idea was only the first hurdle.
Since there is currently no one out there making tons of custom parts specifically for Sportsters, every aspect of the bike had to be custom engineered in-house at LTC. They began with getting all of the fixture points for the frame, and then connecting the dots. Then they centered the drag race-style motor on the frame, followed by attaching that monster of a rear tire. The engine's drive components are a masterpiece, of course, CNC'ed in house-no stock drive here.
The three-month building process didn't just produce a killer bike. It also gave way to several unique Leroy-Thompson Signature Series parts, including the Cylon wheel and the Moto-X racing-style grip. Both of these were created for the XXL and were then put into production and are now available for sale, as well as leaving the door wide open to creativity. For instance, the front brakes are the inverted brakes from a junior dragster combined with handcrafted supports coming down from the front forks. Or how about the super deluxe wide sprocket system with the trans brake? That's not a derivative procedure; it's completely original and innovative craftsmanship.
"I wanted to go down a road I knew no one had been down, and that's exactly what I did," Scott said. Hey, don't knock it till you've tried it!
| | |
| --- | --- |
| SPEC SHEET | |
| GENERAL | |
| SHOP | LEROY-THOMPSON CHOPPERS (LTC) |
| PHONE | (440) 266-1635 |
| WEB | WWW.LEROYTHOMPSONCHOPPERS.COM |
| YEAR/MAKE/MODEL | '06/LEROY-THOMPSON/RIGID |
| FABRICATION | LTC |
| ASSEMBLY | LTC |
| BUILD TIME | FOUR MONTHS |
| | |
| --- | --- |
| ENGINE | |
| YEAR/TYPE/SIZE | '06/S&S;/100XL |
| BUILDER | SCOTT MCCRYSTAL-LTC |
| CASES | S&S; |
| FLYWHEELS | S&S; |
| RODS | S&S; |
| PISTONS | J&E; |
| CYLINDERS | S&S; |
| HEADS | ZIPPER'S |
| VALVES | ZIPPER'S |
| ROCKERS | JIMS ROLLER TIP |
| ROCKER BOXES | S&S; |
| PUSHRODS | S&S; |
| PUSHROD TUBES | S&S; |
| CAMS | ZIPPER'S RED SHIFT |
| LIFTERS | JIMS BIG AXLE |
| CARBURETOR | CARL'S SPEED SHOP |
| AIR CLEANER | CARL'S SPEED SHOP |
| IGNITION | DYNA 2000I |
| EXHAUST | SUPERTRAPP/LTC |
| | |
| --- | --- |
| TRANSMISSION | |
| YEAR/TYPE | '06/BAKER SIX-SPEED |
| CASE | S&S; |
| CLUTCH | BANDIT/MTC |
| PRIMARY DRIVE | BANDIT/MTC |
| GEARS | BAKER |
| | |
| --- | --- |
| FRAME | |
| YEAR/TYPE | '06/LTC 4X |
| RAKE | 48 DEGREES |
| STRETCH | 4 INCHES |
| SWINGARM | N/A |
| | |
| --- | --- |
| SUSPENSION | |
| FRONT | |
| BUILDER | MEAN STREET |
| YEAR/TYPE | '06/BRAWLER |
| TRIPLE-TREES | MEAN STREET |
| REAR | N/A |
| | |
| --- | --- |
| WHEELS, TIRES, AND BRAKES | |
| FRONT | |
| SIZE/TYPE | 21-INCH X 3.5-INCH/LTC CYLON |
| TIRE MAKE/SIZE | METZELER/21-INCH |
| CALIPER | WILWOOD |
| ROTOR | LTC |
| REAR | |
| SIZE/TYPE | 18-INCH/LTC CYLON |
| TIRE MAKE/SIZE | VEE RUBBER/360 |
| CALIPER | WILWOOD |
| ROTOR | LTC |
| | |
| --- | --- |
| FINISH/PAINT | |
| COLORS | YELLOW, SILVER |
| PAINTER | S}} |
| GRAPHICS | VAL-AIR |
| CHROME PLATING/POLISHING | BALL METAL FINISHING |
| | |
| --- | --- |
| ACCESSORIES | |
| REAR FENDER | FAT KATZ |
| GAS TANK | METAL MONSTERS |
| OIL TANK | LTC |
| HANDLEBARS | LTC |
| RISERS | LTC DICE RISERS |
| HAND CONTROLS | MAGURA |
| FOOT CONTROLS | LTC MOTO-X |
| FOOTPEGS | LTC MOTO-X |
| HEADLIGHT | HEADWINDS |
| TAILLIGHT | FABRICATOR KEVIN |
| LICENSE MOUNT | FABRICATOR KEVIN |
| SEAT | INTERIORS BY DAVE |
| ELECTRICAL | CYCLE ELECTRIC |