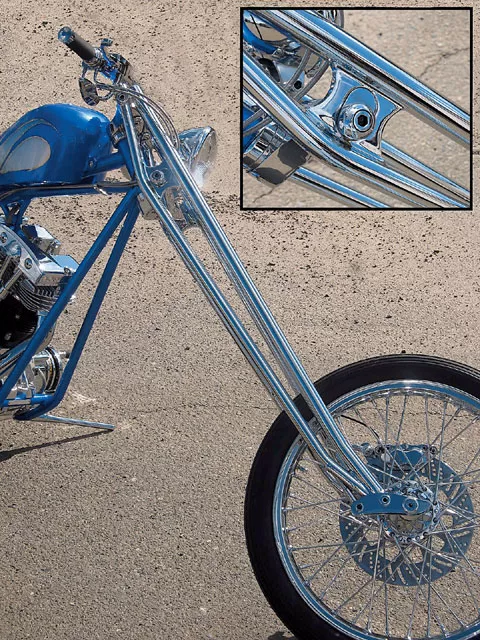 Big Bear Choppers Merc Springer $1,500 This Springer is 18-inches over with a2-degree rake Can be built to your desired length keeping with the 0-degree or 2-degree rake in the trees Download instructions from website to measure your frame to ensure correct trail with the Springer rake and length. Comes in a raw finishFor more information, contact Big Bear Choppers at (909) 878-4340, or visit www.bigbearchoppers.com.
Drag Specialties 613 Series Adjustable Shocks $449.95-$549.95 Fully assembled with an adjustable internal spring for pre-load will lower bike up to 2 inches Improved multi-stage velocity-sensitive internal valving will lower the bike up to with hydraulic anti-bottoming for smoother ride Available in chromeFor more information, contact Drag Specialties at www.dragspecialties.com.
Licks Cycles Super Shorties $229-$269 Designed to lower '79 to '07 stock Sportster seat height to 24 inches Shocks measure 10 inches from eye to eye Direct bolt-on replacement for factory shocks are available in many different color combinations Also available for FLT, FLH, FXR, and V-RodsFor more information, contact Licks Cycles at (413) 663-9050, or visit www.lickscycles.com.
Custom Cycle Control Systems Xtra Length Simplified Air Suspension $1,799 SAS-XL adds 2 inches of travel at the swingarm for a total of 6 inches overall No hoses to run and no fittings to fail Comes with internal compressor, dump valve, and new Remote Filtered Air Breather Made for '99 and earlier and '99 and later Softail modelsFor more information, contact Custom Cycle Control Systems at (866) 439-2129, or visit www.customcyclecontrols.com.
Spyke 63mm Inverted Front End $2,040-$3,151 Features speed-sensitive damping and progressive rate springs Comes with chrome-plated trees, chrome-plated 63.5mm diameter upper tube, and hard chrome 45mm diameter slider tube Legs are machined from billet and then chrome-plated Can handle single or dual disc brakesFor more information, contact Spyke at (562) 803-1700, or visit www.spykeinc.com.
Executive Choppers Harman Girder $1,900-$2,800 Updated version of the original Harman Girder has been re-designed with an adjustable rake plate built into the lower web where the bottom tree bolts to the fork Allows for a 0, 3, or 6-degree rake in the frontend Features 1-3/4-inch 4130 Chromoly front legs, 1-inch 4130 rear legs, and the trees are 1-3/4-inch billet steel designed to fit standard bar risersFor more information, contact Executive Choppers at (916) 780-6508, or visit www.executivechoppers.com.
Glide-Pro Shaft And Bushing System $399.95 Stabilizer shaft with bushings supports the hollow rubber mount that stabilizes the swingarm and the transmission into the frame Shaft is constructed of heat-treated PH 17-4 stainless steel providing high-tensile strength, and shaft is corrosion-resistant Bushings are made from injection-molded polymerFor more information, contact Glide-Pro at (619) 449-6521, or visit www.glide-pro.com.
Flyrite Choppers (FRC) Shorty Springer $495 FRC Springer is 4 inches shorter than most stock applications Developed specifically for 30-degree rake frames with no stretch Measures 17-1/2 inches from neck bottom to rear rocker pivot, and includes a 3/4-inch front axleFor more information, contact Flyrite Choppers at (512) 918-CHOP, or visit www.flyritechoppers.com.
Pro-One Billet FrontEnd Starting at $799 Frontend kits include hard chromed 41mm tubes in popular lengths, black or chromed lower legs, contoured Millennium, Fat, or Thin Raked triple trees, custom flush mount axle, handlebar damper kit, and all necessary hardware Other options include smooth or ball-milled trees and lower legs, Standard, Missile, and Rocket lower leg caps, and triple trees with or without integrated directionals These frontends are set up for single disc applications but dual disc conversion kit is availableFor more information, contact Pro-One at (800) 884-4173, or visit www.pro-one.com.
Greg's Custom Cycles Deepsickness Front End $4,950 Frontend actuates differently than a standard hydraulic fork assembly, using an external air shock and a stabilizer link for added control and performance Fork tree and rockers are constructed from billet aluminum and have a wide stance A wide range of handlebars will fit the stock mounting points, and a variety of colors as well as raw or powdercoated finishes are available with air-style shocks and billet rockersFor more information, contact Greg's Custom Cycles at (726) 2744, or visit www.gregscycles.com.
Air FX FXA-1002 $1,295 Made for '85 and up Softail models Air-ride suspension is a two-piston, four-chamber (two lift, two rebound) design built into one body Easily adjustable ride heightAnodized for durability, kit is available in polished or black finishFor more information, contact Air Systems Engineering at (800) 210-1454, or visit www.airsystemsengineering.com.
Storz/Ceriani Inverted Forks $2,400-$3,000 Available as a bolt-on kit for Softail, Dyna, Sportster, and V-Rod modelsForks utilize cartridge damper and are modified to a short length Features include progressively wound fork springs made from chrome silicon wire, one-piece billet lower legs, and concealed axle ends For more information, contact Storz Performance at (805) 641-9540, or visit www.storzperf.com.
Bullet Heavy-Duty Replacement Shocks $269.99-$319.99 Made for '00 and later Softail models Built-in lowering adjustment that can travel from approximately 11 to 11.5-inches in length along with adjustable dampening Machined with heavier-than-average components to take the abuse of bigger riders or two riders Adjustable or non-adjustable availableFor more information, contact Bulletpr at (800) 726-9620, or visit www.bulletprufparts.com.
Durfee "Classic" Girder $1,595-$1,795 Mild redesign of the original Durfee Girder from the '60s and '70s Lengths from 2-inches under to 20-inches over Made from 4130 chromoly seamless tubing and TIG-welded Available with many different options: single or dual-disc mounts, hidden controls and cables, with or without fender, and much moreFor more information contact Durfee at (503) 472-9196, or visit www.durfees.com.
Shotgun Shock $1,550 Softail air-ride kit with one-way valve in the body so that no outside air pressure is needed Kit includes: Body unit, chrome compressor, Evo-style mounting bracket, two-part wiring harness with two switches, diode/relay wiring harness, and moreFor more information, contact MC Advantages at (800) 726-9620, or visit www.mcadvantages.com.
B&T; Smooth Ride Shocks $569 Features an exclusive hydraulic dampening system and internal spring design combined with an adjustable air chamber for tenability Comes wrapped in billet aluminum and finished in chrome Available for American or metric swingarm-style bikes.For more information, contact Smooth Ride Shocks at (928) 505-2501, or visit www.smoothrideshocks.com.
Rolling Thunder Springer $3,062 Made from 2-inch DOM tubing with Bilstein gas-charged shocks mounted inside the chromed springs All components are CNC-machined and the top trees are flush mounted and use cam locks Brake lines are concealed inside rear fork legs for single or dual brake application Setup is for OEM fenders and mountsFor more information, contact Rolling Thunder Frames at (450) 699-7045,or visit www.rollingthunderframes.com.
Pearson Customs Springer$1,200-$1,500Everything 100-percent TIG-welded and machined in housePearson will custom-make their Springers to fit any frame Brass clip-ons are also available and are made to fit 1.500 or 41mm tubesFor more information, contact Pearson Customs at (952) 233-2670, or visit www.pearsoncustoms.com.
Mean Street Products Avalon Billet Forks $2,132 Made from solid billetAvailable in almost any configuration Raked triple clamps available in 3, 5, 6, and 7-degree increments Choose from chrome, black, or polished finishesFor more information, contact Mean Street Products at (915) 592-6887, or visit www.meanstreetproducts.com.
Alloy Art Air-Logic Leveling Suspension $1,850Firestone air-ride springs and Bilstein gas shocks Automatic load leveling system with on-board ECU sensor and on-board air compressor CNC-machined aluminum shock mount and bag mount with spherical bearings in top shock mounts All necessary hardware, airlines and mounting brackets includedFor more information, contact Alloy Art at (626) 963-5021, or visit www.alloyart.com
Progressive Suspension 812 Flame Series Shocks $349 Multi-stage velocity sensitive damper system Five position preload adjuster Machined aluminum end caps accompanied by water jet cut flamed spring cans Available in two spring colors-Chrome can with Chrome Spring or Chrome can with Black SpringFor more information, contact Progressive Suspension at (877) 690-7411, or visit www.progressivesuspension.com.
Paughco Tapered Leg Springer Starting at $1,780.95These Springers are fit with oval tapered rear legs to closely resemble OEM SpringersSpringers are available in many styles and sizesCan be ordered in either wide or narrow styles in stock lengths up to 21 inches over stock in increments of 3 inches available in chromeFor more information, contact Paughco at (775) 246-5738, or visit www.paughco.com.
Harley-Davidson Chrome Front End Packages $380.79-$501.95 Includes all of the components to completely chrome the front forks, including: Chrome Fork Sliders, Chrome Fork Slider Covers, Chrome Front Wheel Spacers, Chrome Fork Axle Retainer Nut Kit, Chrome Fork Slider Drain Screw Kit, and Classic Chrome Front Axle Nut Cover Kit Fits '00 and newer Touring modelsSimilar kits are also available for Sportster, V-Rod, Softail, and Dyna/FXR modlesFor more information, contact Harley-Davidson at (800) 443-2153, or visit www.harley-davidson.com.
Kiwi Leaf Spring Fork $1,899.99 Forks come with a one-inch neck stem to fit Harley and aftermarket frames Accepts wheels from 16 inches to 23 inches in diameterConstructed, jigged, and TIG-welded in-houseFor more information, contact Kiwi Motorcycles at (800) 601-KIWI, or visit www.kiwimotorcycles.c