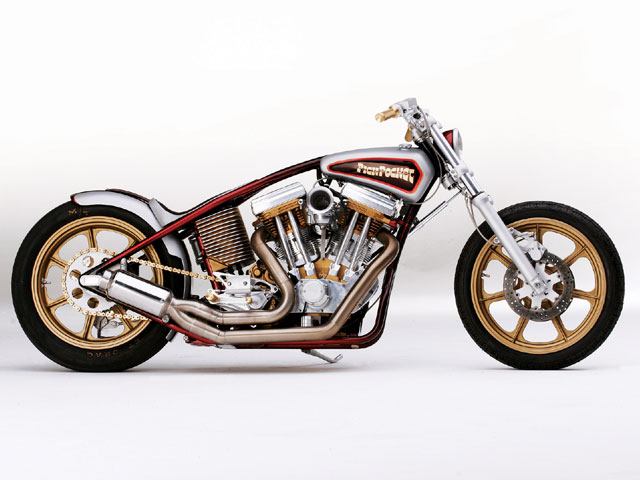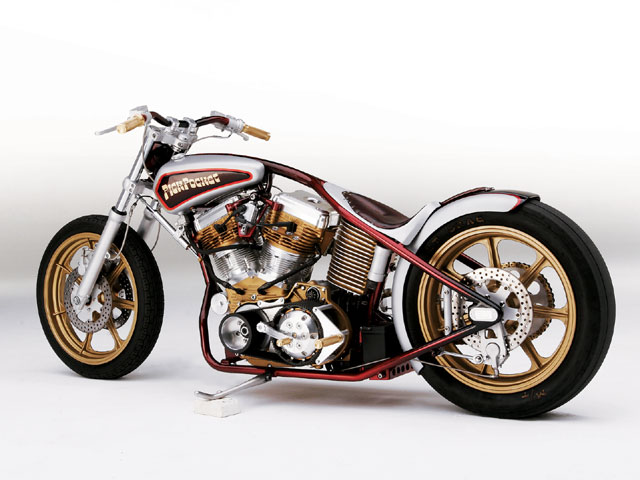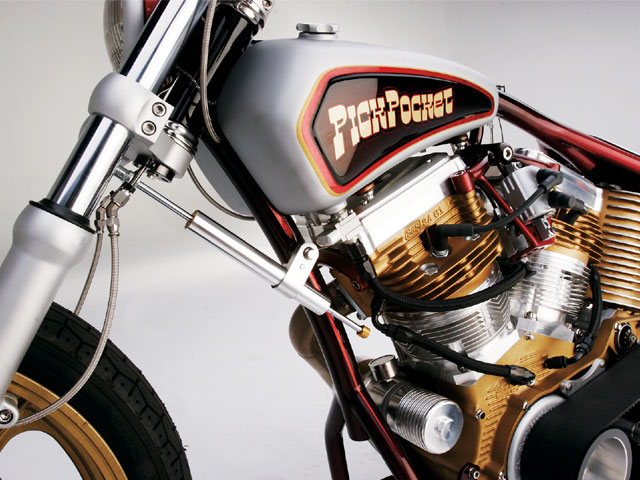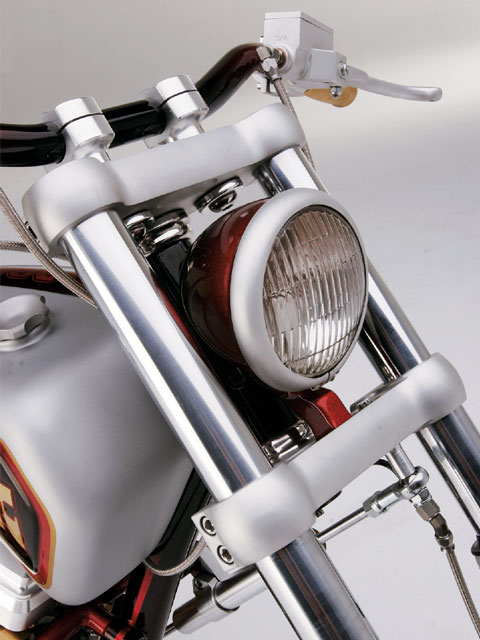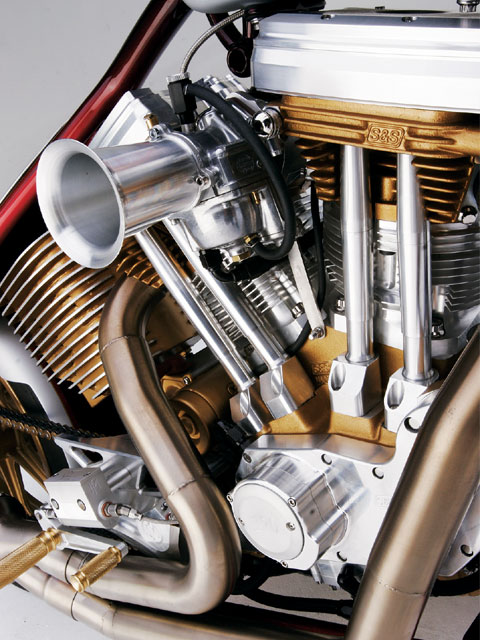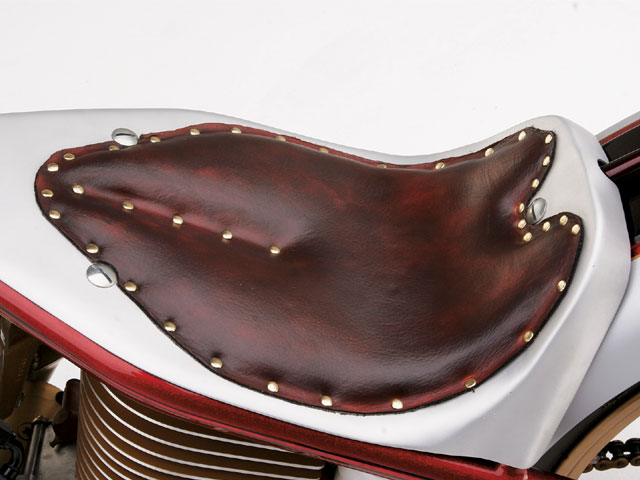 The Merriam-Webster dictionary defines a pickpocket as a thief who picks pockets. Simple enough, although what's been omitted is a "smart" thief picks one's pockets, then flees the scene with an unfair advantage over the victim. What does this have to do with the ground-up custom Sportster-AKA "Pickpocket"-before you? Besides the nomenclature, this speedy Sporty will give you a run for your money.
More importantly, who's behind this bike with an estimated $20K in the motor alone? (Yes, you read that number correctly.) After all, it was built for speed, so the engine was the most integral component of this bike for its owner and builder, Todd Silicato. As owner of Todd's Cycle (TC) in Huntington Beach, CA, his goal is to build bikes that "look and perform like no others in the industry." Pickpocket is no exception. The theory, according to Todd, is "Let's go race; your Big Twin against my Sportster. And bring your title." Looks like we need to delve into this build, especially the motor.
Performance-wise, Pickpocket is like a drag bike with a monster motor, and as Todd's personal bike, it's simply "a badass, fast Sportster." Although it was built to race, this bike was designed to be on the street, too. Aside from racing bragging rights, street cred and rideability were primary concerns to Todd when he built the 120ci XL Pro Stock S&S; motor. The custom-built Sportster mill was dropped between the rails of a frame from Fred's Frames and TC, with 34 degrees of rake in the neck and a 1-inch stretch. The motor with its S&S; cases and components was fitted with a 730 Red Shift cam, a Zipper's carb, and a Todd's Cycle exhaust. The mill features S&S; B-1 heads with G-Square porting, which are notorious with Pro Stock motors in the NHRA circuit. These heads are a particular race head that came to Todd with zero porting, until they were cleaned up, as Todd called it. G-Square is one of the top Pro Stock teams in the country, and they ported the heads as well as cut the top of the pistons to lower the compression from 14 to 12:1 compression ratio. The motor also utilizes extra heavy-duty connecting rods, which S&S; carries, and were designed and manufactured by the late drag racing icon Jim McClure. The Pro Stocker mill was then finally finished in gold. Todd bolted it up to a Bandit 3-inch open-belt primary and a Baker five-speed transmission with a chain final drive.
Seeing as Pickpocket was also built to race, light weight as well as some serious rubber and brakes were essential to how well this Sporty would handle on the track. All-aluminum sheetmetal parts including the TC rear fender, gas and oil tanks, as well as aluminum risers, and footpegs were used to help keep this super Sporty light and nimble. The sheetmetal was lovingly sprayed with red candy, silver, and gold paint by Chris Wood of Air Trix. Following that, Chris hand-lettered Pickpocket across the sides of the fuel tank and added Todd's Cycle to the frame's backbone between the split gas tanks before finally shipping everything back to TC.
Whatever loose change it flees with, rest assured that Pickpocket will stop on a dime with its Performance Machine (PM) 2-piston calipers in the front and 2-piston rear with PM 10-inch full-floating rotors on both ends. The road-racing magnesium wheels on this bike originally made by PM and Morris were wrapped in Continental rubber in the front and Mickey Thompson in the rear. As mentioned earlier, Pickpocket's 20K motor, coupled with the "best-of" and handmade parts and fab work, "really hasn't cleaned out anybody's pocket but mine," says Todd.
But it was all worth it, especially to give credit where credit is due on two points: "Not all Sportsters are for girls, and Sportys are the hot rods of H-D, and can very well hold their own," says Todd. And since Todd likes to give credit where it is due, he wanted to give a special thanks to Dennis Sanchez, Performance Machine, and S&S; for all of their hard work and support.
| | |
| --- | --- |
| GENERAL | |
| BIKE OWNER | Todd Silicato |
| SHOP NAME | Todd's Cycle |
| SHOP WEBSITE | www.toddscycle.com |
| YEAR/MAKE/MODEL | '07/Custom XL/Pickpocket |
| FABRICATION | Todd's Cycle (TC) |
| ASSEMBLY | TC |
| BUILD TIME | Three years |
| | |
| --- | --- |
| ENGINE | |
| YEAR/MANUFACTURER | '07/S&S; |
| TYPE/SIZE | XL Pro Stock S&S;/120-inch |
| BUILDER | TC |
| CASES | S&S; |
| CYLINDERS | S&S; Custom Billet |
| HEADS | S&S; B-1/G-Square Porting |
| ROCKER BOXES | S&S; |
| CARBURETOR/EFI | S&S; Zipper's |
| EXHAUST | TC |
| | |
| --- | --- |
| TRANSMISSION | |
| YEAR/MANUFACTURER/TYPE | '07/Baker/ |
| | five-speed |
| CLUTCH | Bandit |
| PRIMARY DRIVE | Bandit 3-inch belt |
| | |
| --- | --- |
| FRAME | |
| YEAR/MANUFACTURER | '07/Custom Fred's |
| | Frames/TC |
| RAKE | 34 degrees |
| STRETCH | 1-inch |
| | |
| --- | --- |
| SUSPENSION | |
| MANUFACTURER FRONT | H-D |
| LENGTH | 39mm |
| TRIPLE TREES | Custom Cycle Engineering |
| MANUFACTURER REAR | N/A |
| | |
| --- | --- |
| WHEELS, TIRES, AND BRAKES | |
| MANUFACTURER | |
| FRONT/TYPE | Morris/Performance |
| | Machine magnesium |
| SIZE-WIDTH/HEIGHT | 18×2.75 |
| TIRE/SIZE | {{{Continental}}}/{{{90}}}/90-18 |
| CALIPER | Performance Machine |
| | 2-piston custom brackets |
| ROTOR | Performance Machine |
| | 10-inch full floating |
| MANUFACTURER | |
| REAR/TYPE | Morris/Performance |
| | Machine magnesium |
| SIZE-WIDTH/HEIGHT | 18×4.0 |
| TIRE/SIZE | Mickey Thompson/25/55-18 |
| CALIPER | Performance Machine |
| | 2-piston Springer |
| ROTOR | Performance Machine |
| | 10-inch full floating |
| | |
| --- | --- |
| FINISH/PAINT | |
| COLORS | Red candy, bead blast, gold |
| PAINTER | Chris Wood at Air Trix |
| GRAPHICS | Chris Wood |
| | |
| --- | --- |
| ACCESSORIES | |
| REAR FENDER | Aluminum Dennis Sanchez |
| GAS TANK & CAP | Aluminum TC/Dennis Sanchez |
| OIL TANK | Aluminum TC/Dennis Sanchez |
| GAUGES | Oil pressure autogauge |
| HANDLEBARS | Flanders |
| RISERS | TC |
| HAND CONTROLS | Performance Machine |
| FOOT CONTROLS | Performance Machine |
| FOOTPEGS | TC |
| HEADLIGHT | Headwinds modified |
| SEAT | TC/Azteca |
| EXTRAS | Zipper's oil pump |
| | and oil filter mount, |
| | Storz steering damp, |
| | RSD hydraulic clutch |