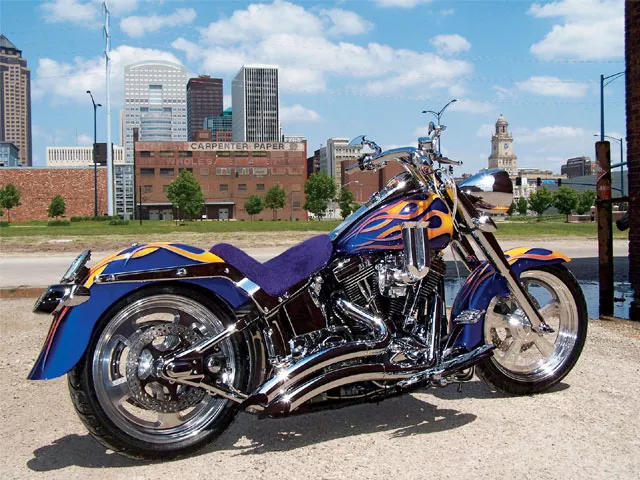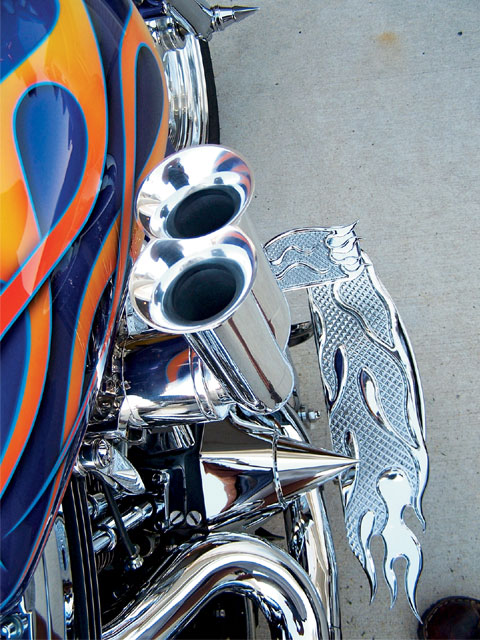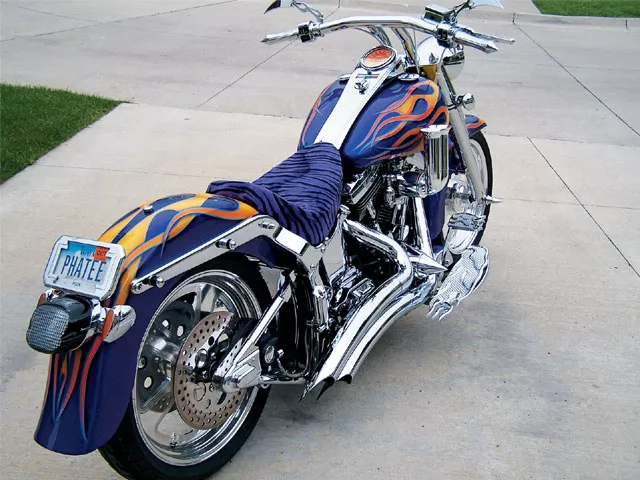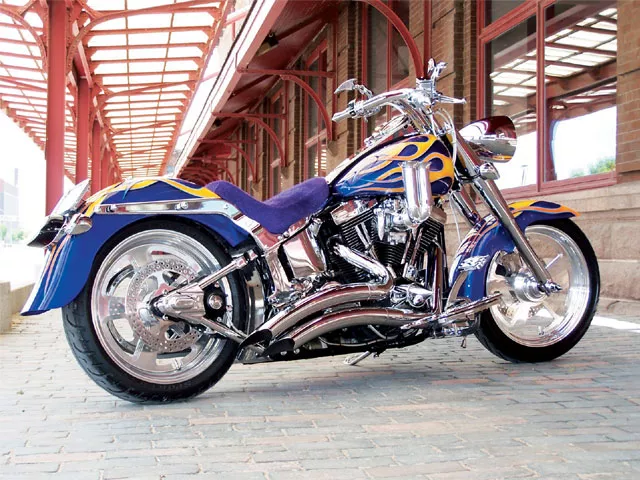 I Here at HOT BIKE, we get a lot of rides-Harleys, hogs, whatever you want to call them-submitted by our readers. Pick of the Pen is an opportunity to dedicate a few pages to our favorite reader-submitted bike each month. This month's pick of the pen comes to us from Ron Lilly.
Spec Sheet
| | |
| --- | --- |
| Owner | Ron Lilly |
| Hometown | Urbandale/IL |
| Year/Model | '95/Harley-Davidson Fat Boy |
| Builder/Assembly | Ron Lilly |
| Engine | 80 inch H-D, bored .030 |
| Carburetor | 42mm Mikuni chromed and polished, Andrews cam |
| Pipes | Vance and Hines Big Radius |
| Transmission | Five-speed |
| Gas Tank | Five gallon aftermarket |
| Front Fender | H-D |
| Rear Fender | H-D |
| Front Suspension | Nasi/H-D/Covington/White Bros. |
| Rear Suspension | Progressive shocks lowered 2 inches |
| Wheels | Daniel Boone/Volz Machine Shop |
| Tires | Rear 140/60/18 Dunlop Front 130/70/18 Dunlop |
Like many motorcycle enthusiasts, I wanted a Harley or a custom bike for some time. I was fortunate to find one with very little effort; it seemed to jump out of the newspaper one Sunday morning. It was the kind of bike we all look for: well cared for, low miles, and some custom work that had already been done. I remember the former owner saying "I like it clean and simple." Boy, so do I; at least until I went to my first bike night-then everything changed.
Here I was glad to be finally riding a Harley-Davidson motorcycle. I rode in all cool, thinking I'm the shiznit. I soon discovered my bike was just a plain ol' H-D, and I remember a fellow biker saying "Congratulations, when are you going to chrome it out and get some motor work done?"
And here I thought just getting one was an achievement!
I needed to make it more mine. Well, I was a fast learner, and after a trip to Daytona Bike Week, many bike shows, and countless hours thumbing through every bike magazine I could get my hands on, I soon had a vision for my ride. I dumped my Factory sheetmetal and then went to the computer looking for interesting paint jobs and color ideas. I stumbled upon a paint set on eBay that was very close to what I wanted, and purchased it. Next I had Jay Lyden from LA Cycles rake the frame 4 degrees to 36. I switched out a 42mm Mikuni for a polished and chrome Mikuni since I was going to run multiple stacks for shows and a practical air cleaner for longer rides. Then the great people from Tribal Motor Works hooked me up with there latest polished dual Big Johnson velocity stacks, which were going to need some modification to work on a Harley-Davidson, and after a few conversations with Alan I had a spacer machined to perfection, which was not the easiest to do over the phone. A big thanks to Tribal.
With that complete, I replaced those less-than-desirable 16-inch solid wheels for a set of 18-inch billet, and with some machine work by John from Volz Machine Shop in Grimes. Next I wanted to stay with a running board, but there was nothing out there that I liked. I contacted Thunder Gauntlet-at the time they were a new company designing and fabricating custom billet boards I selected a diamond cut and flamed floorboard to go with my new flamed paint set.
The next step was the frontend. I mixed a little Jim Nasi, Covington Cycle, and Harley-Davidson, and topped it off with a 7-inch inch Headwinds Rocket. Along with the endless amounts of chrome I added, I have a plethora of seats…fur, leather, suede, terrycloth; whatever might look cool-the wilder the better! I switch it up with four different seat pans and 20 fabric options. A once "keep it simple bike" has gotten out of hand, with no end in sight.