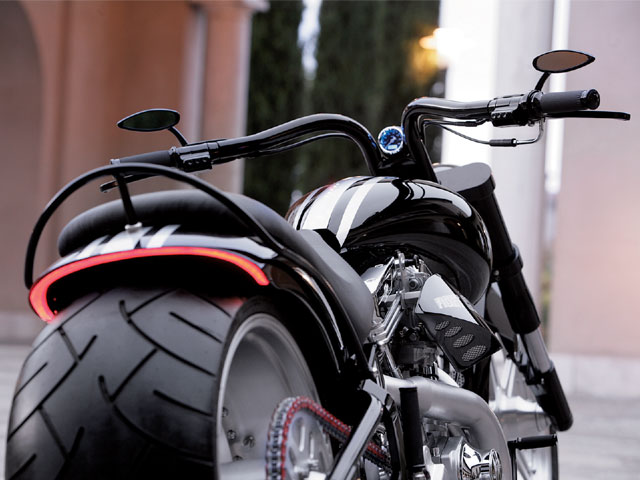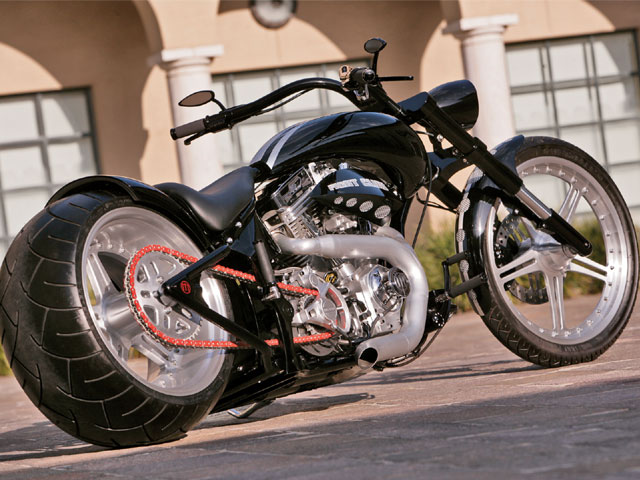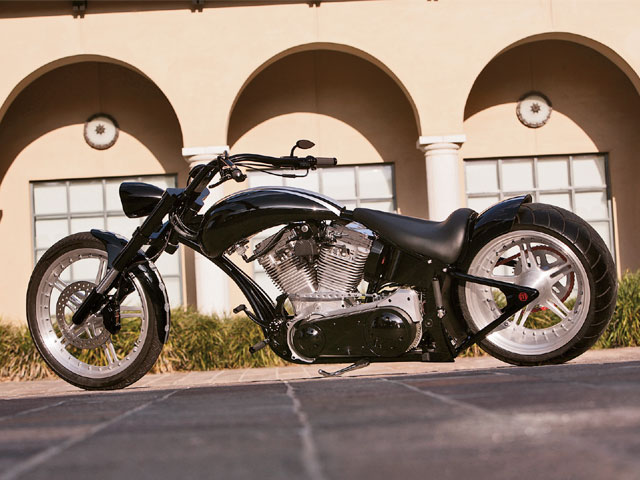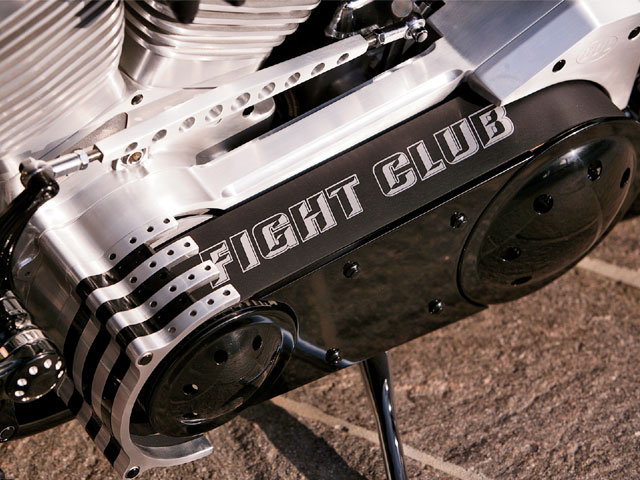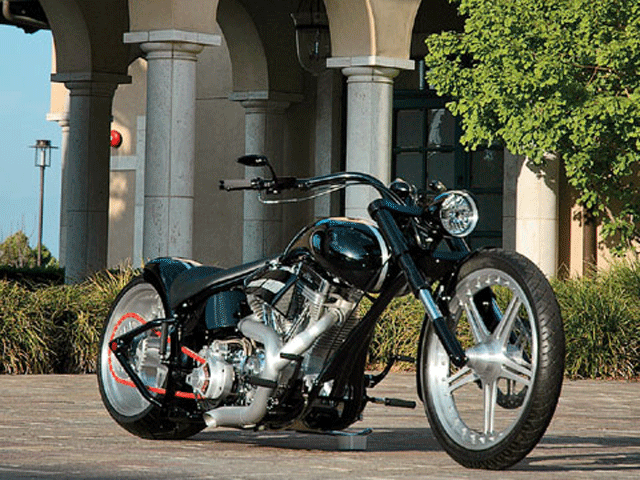 In an era where technological advances are profound and continuing over time, our relationship with technology literally goes hand-and-hand. We can't help but indulge in the latest and greatest widgets and gadgets, or considering cell phones as an extension of our hand, or what's more, unable to stand being separated from our BlackBerry or IPod. Technology is key to our lives, and Mercury Customs in Irvine, California, knows this all too well and does their part to play a key role in the motorcycle industry.
The custom before you, called "Fight Club," features some of Mercury Customs' pride points and the technological specializations within the operation. Founded in 2004, the shop aims to build stylish and functional bikes using advanced technologies, and this custom is no exception. Builder and Mercury Customs owner Joe Takai started the company with more than 20 years of experience in the fields of engineering, mechanics, and design, which contributed to his shop's direction and style of bikes.
In fact, it was Mercury's style of bikes in an advertisement in this very magazine that happened to catch Tom Heavey's attention. E-mails started flying between Joe and soon-to-be Fight Club's owner, Tom, and before long a great repertoire was established and a bike build was well underway. It turned out that Tom managed health clubs and was a competitive kickboxer (hence the bike's name), and had compiled research over a year for the style of bike he wanted and who shared similar visions about the project. After putting their heads and ideas together and making use of Joe's extensive background in the computer and visual effects fields, the project was launched.
Any fears of a communication breakdown were squashed with Mercury's customer websites for each client. "There was a tremendous amount of planning that went into this bike," Tom said, "and with things changing about a million times during the build, the website was great. Being on the other side of the country and not being able to jump into the car and head over to the shop, it was great to see the different stages of the build at any hour." One of Mercury's key objectives is keeping the client informed, so the websites are great in keeping the communication lines open. "It helps the customer follow the entire build," Joe said. "It's like a point of pride for us." So Tom had regular updates, detailed photos, and progress reports to continually reference during the build process.
Joe and Tom each had ideas about a frame until it was decided on an Xtreme Cycle Design frame, modified by Mercury, with 44 degrees of rake and 6 inches out, 4 inches down of stretch. Tom wanted the appearance of a backbone, so Joe fabricated a brushed aluminum English wheel-shaped piece, which gives the appearance of the frame backbone showing through while keeping the LED functionality. The dash panel was designed for this bike to incorporate a specially designed LED status circuit. The primary reason for the LED light was to feature the Phantom tracking alarm unit status, since the unit is hidden inside the bike. One of the challenges of the hidden alarm system is how to know if it's set or disabled, so Joe built a custom wire harness in the backbone of the fuel tank. Once the status indicator light was provided, Joe decided to add additional LEDs for turn signals, high beams, Neutral position, and power.
After securing a 114ci TP Engineering engine between the framerails, Joe got to work designing the air cleaner and exhaust pipes. What's cool to note about the air cleaner are the screen inserts that are imbedded into it, as well as on the fenders to help keep a uniform style. A muffler system was especially important to Tom, as he needed to get the bike registered. Similar to the exhausts on Ducatis and Aprilias, Joe designed a custom detachable muffler using 3-D CAD software. It utilizes a turnout pipe that can be removed, and then the muffler can is slipped on in its place, allowing Tom to be able to install or remove it himself.
As LED lighting is one of Mercury's specialties, they weren't going to let Fight Club roll out of the shop without some tricks for increased visibility and some added coolness. Check out how the taillight is embedded under the rear fender, creating a nice safety feature. Speaking of features, Tom also wanted a rear fender that traveled with the swingarm and tire, so Joe got to work creating the floating fender and wound up making two fenders and seats: One for a single rider and a second complete seat for the passenger. "This allowed the bike to look purpose-built for either a single or dual rider setup," he said.
When bikes are near completion, a name pops into Joe's head, and this custom is no exception. "A good chunk of work went into this bike," Joe said. "It kind of kicked my ass, plus had an aggressive membership kind of ring to it." After two weeks of thinking about it, Fight Club stuck.
And just because Tom was able to follow the entire build through the shop's client website doesn't mean he saw what it finally looked like. "It was a radio silence," Tom said. "I saw it in the raw stages, but never at final assembly or paint. So when it came off the truck, it was the first time I had really seen it. I was very excited and impressed." Joe added, "It was a big moment for us." A satisfied customer and a newfound friendship was a sign of more great things to come for Mercury Customs.
| | |
| --- | --- |
| SPEC SHEET | |
| GENERAL | |
| BIKE OWNER | Tom Heavey |
| SHOP NAME | Mercury Customs |
| SHOP PHONE | (949) 453-9300 |
| SHOP WEBSITE | www.mercurycustoms.com |
| YEAR/MAKE/MODEL | '07/Fight Club |
| FABRICATION | Mercury Customs |
| ASSEMBLY | Mercury Customs |
| BUILD TIME | One year |
| | |
| --- | --- |
| ENGINE | |
| YEAR/MANUFACTURER | '05/TP Engineering |
| TYPE/SIZE | V-Twin/114ci |
| BUILDER | TP Engineering |
| CASES | TP Engineering |
| CYLINDERS | TP Engineering |
| HEADS | TP Engineering |
| ROCKER BOXES | TP Engineering |
| CARBURETOR/EFI | Mikuni HSR 45 |
| AIR CLEANER | Mercury Customs |
| EXHAUST | Mercury Customs |
| | |
| --- | --- |
| TRANSMISSION | |
| YEAR/MANUFACTURER/TYPE | RSD/Trickshift/ |
| | six-speed |
| CASE | Trickshift |
| CLUTCH | BDL |
| PRIMARY DRIVE | BDL 3-inch open belt |
| | |
| --- | --- |
| FRAME | |
| YEAR/MANUFACTURER | Mercury Customs/ |
| | Xtreme Cycle Design |
| RAKE | 44 degrees |
| STRETCH | 6 inches out, 4 inches down |
| | |
| --- | --- |
| SUSPENSION | |
| MANUFACTURER FRONT | Mean Street |
| | Inverted/Smooth |
| LENGTH | 4 inches under stock |
| TRIPLE TREES | Mean Street |
| MANUFACTURER REAR | Platinum Air Suspension |
| SHOCKS | Platinum Bleed/Feed System |
| | |
| --- | --- |
| WHEELS, TIRES, AND BRAKES | |
| MANUFACTURER FRONT/TYPE | Sturgis Wheel Co |
| | Attitude |
| SIZE-WIDTH/HEIGHT | 21X2.15-inch |
| TIRE/SIZE | Metzeler 880/{{{90}}}/90H21TL |
| CALIPER | HHI 4 piston |
| ROTOR | Sturgis Wheel Co Attitude |
| MANUFACTUER REAR/TYPE | Sturgis Wheel Co |
| | Attitude |
| SIZE-WIDTH/HEIGHT | 18X10-inch |
| TIRE/SIZE | Metzeler 880/35VR-18 |
| CALIPER | ProTrans by JayBrake |
| ROTOR | N/A |
| | |
| --- | --- |
| FINISH/PAINT | |
| COLOR | Gloss black w/brushed inlaid |
| | aluminum stripes |
| PAINTER | Airtrix |
| GRAPHICS | Airtrix/{{{Mercury}}} Customs |
| POLISHING | Mercury Customs |
| POWDERCOAT | Precision Powdercoating |
| EXTRAS | Anodizing, Danco |
| | |
| --- | --- |
| | |
| ACCESSORIES | |
| FRONT FENDER | Mercury Customs |
| REAR FENDER | Mercury Customs |
| FENDER STRUTS | Mercury Customs |
| GAS TANK & CAP | Independent tank/ |
| | Mercury Customs |
| OIL TANK | Xtreme Cycle Design |
| DASH | Mercury Customs |
| GAUGES | MMB/Mercury Customs |
| HANDLEBARS | Mercury Customs |
| RISERS | N/A |
| MIRRORS | Performance Machine |
| HAND CONTROLS | Performance Machine {{{Contour}}} |
| FOOT CONTROLS | Performance Machine Contour |
| FOOTPEGS | Performance Machine Contour |
| HEADLIGHT | Headwinds Mariah Concours Rocket |
| TAILLIGHT | Mercury Customs ProLight |
| TURN SIGNALS | Mercury Customs ProLight |
| LICENSE MOUNT | JayBrake |
| SEAT | Mercury Customs |