Harley-Davidson's most extensive R&D program in its 115-year history has resulted in eight new Softail models—Fat Bob, Fat Boy, Street Bob, Low Rider, Softail Slim, Deluxe, Breakout, and Heritage Classic—all of which share the same frame, suspension, and Milwaukee-Eight powertrain. This new platform is intended to combine the hard-riding performance of the discontinued Dyna series with the custom looks of the Softail line.
"Thousands of hours of research and testing were put into the complete ground-up design of these new cruisers," Paul James, H-D product manager said. "We focused on taking the total rider experience to a higher level, where authenticity, heritage, and soul meet the modern edge of technology for a ride that must be felt to be believed."
The Fat Bob, Street Bob, and Low Rider are of arguably greatest interest and thus scrutiny because they replace Harley's utility knife, the Dyna. The first Dyna appeared in 1991 with the limited-production FXDB Sturgis. Since then, the platform has been updated and fine-tuned, culminating with the 2017 Low Rider S.
Chassis
The all-new frame is stiffer, lighter and specifically designed to house new dual-counterbalanced Milwaukee-Eight 107 and 114 cubic-inch V-twins. The underseat monoshock design offers higher-performance control while maintaining the classic looks of a hardtail. Benefits include increased lean angles, sharper turn-in response, quicker acceleration, and easier sidestand liftoff over the preceding Dyna and Softail models.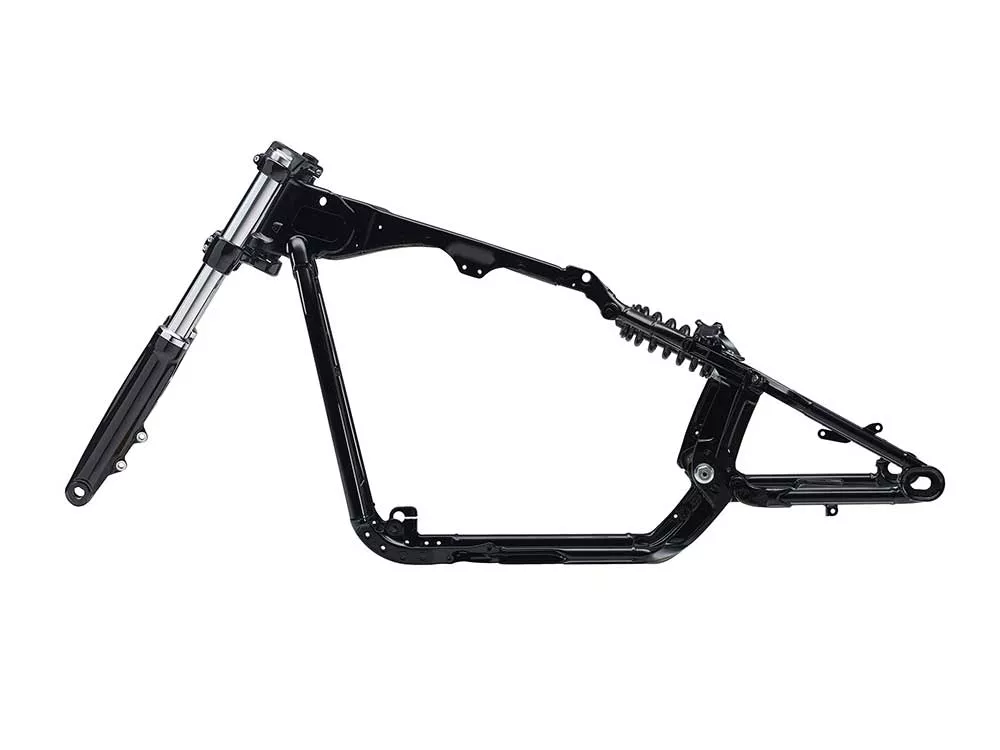 In fact, the frame is 65 percent stiffer than that used for the 2017 Softail. It also features reduced complexity with a 50 percent reduction in component parts and 22 percent reduction in welds. There are two swingarms, one for narrow tires and one for wider tires. Compared to the previous package, the "wide" chassis is 13 pounds lighter while the "narrow" chassis weighs an additional five pounds less. All this streamlining adds up to a 35-pound reduction in overall bike weight for some models.
Along with the latest chassis come all-new front and rear suspension. Every model uses Showa's dual-bending-valve front end, which is similar to a cartridge fork but with more responsive damping characteristics. This design was introduced on the 2017 Touring models and vastly improved the handling capabilities of those machines. Easily adjusted, the Showa shock is said to offer improved ride quality, traction, braking, and control with up to 450 pounds of preload capacity.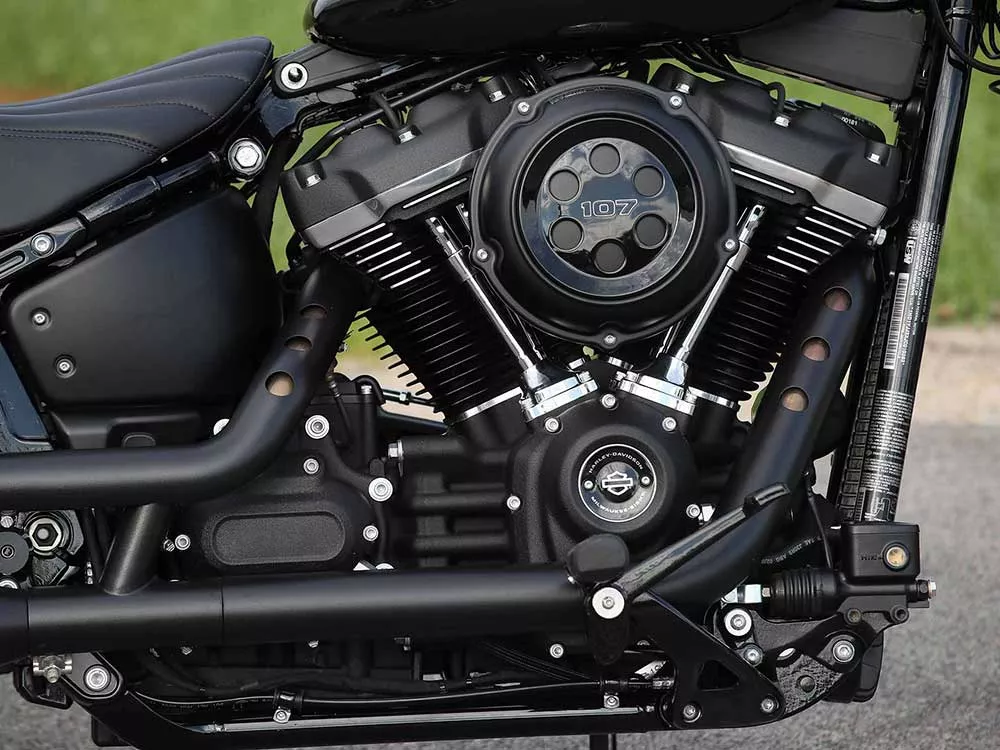 Powertrain
All 2018 Softail models use Milwaukee-Eight engines. All come standard with the 107 engine; the 114 is available on four models—Fat Bob 114, Fat Boy 114, Breakout 114, and Heritage Classic 114. All engines are rigid-mounted with dual counter-balancers canceling primary vibrations. Rigid mounting enables a tight, clean-looking fit and better overall stiffness for enhanced handling.
Harley claims the Milwaukee-Eight 107 (1746cc) is 10 percent quicker in acceleration from 0-60 mph and 16 percent faster in fifth-gear 60-80-mph roll-on acceleration than the previous-generation Twin Cam 103. The Milwaukee-Eight 114 (1868cc), meanwhile, is another nine percent quicker from 0-60 mph and 13 percent faster in roll-ons than the Milwaukee-Eight 107.
Styling & Design
"The authenticity of Harley-Davidson design comes by sweating the details from start to finish—hard to do and hard to copy," said Brad Richards, VP of styling and design. "Harley-Davidson motorcycles are not a commodity; they are handed down from generation to generation. We look at every nut and bolt on the bike, all the finishes, and every small detail. The new Softail frame is like a piece of art; the more you take off the bike, the more beautiful it becomes. Its design speaks to the teamwork that our styling and engineering processes demand."
Key Features of The Eight New Softail Models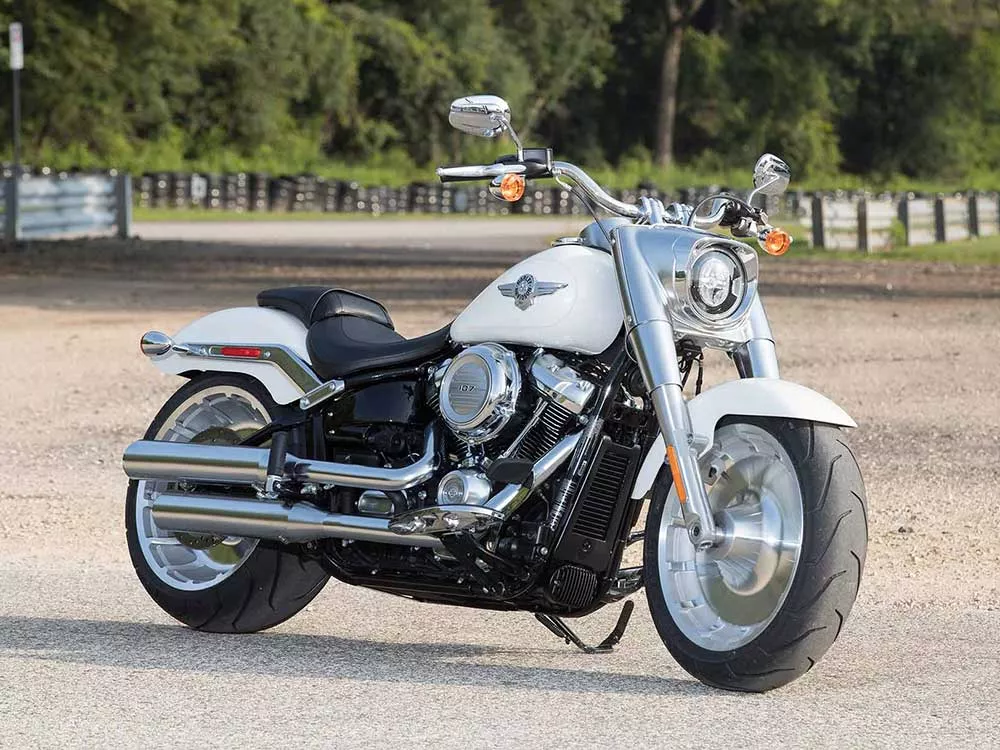 The legendary motorcycle that defined contemporary custom style for decades delivers a bold, muscular styling statement showing off its powerful engine and improved ride and handling.
Aggressive, steamroller stance and front-end design with a modern-day interpretation of the classic headlight nacelle; a 160mm front tire, the widest-ever on a Harley-Davidson production model, wraps the solid Lakester front wheel
31-pound weight reduction from previous model
ABS standard
240mm rear tire with solid Lakester rear wheel
Optional: Milwaukee-Eight 114 engine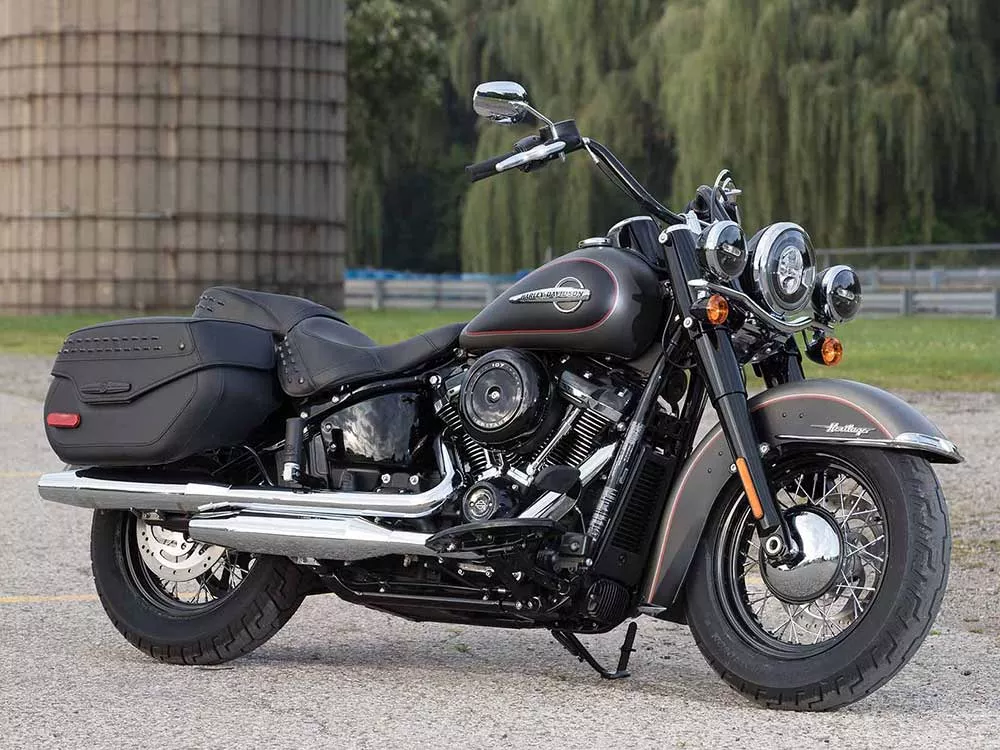 Design cues evoke the blacked-out styling of vintage 1950s Harley-Davidsons updated with a modern edge.
New detachable windscreen
New rigid, lockable, sealed, water-resistant saddlebags
Taller suspension with increased passenger and cargo payload capacity
32-pound weight reduction from previous model
Optional: Milwaukee-Eight 114 Engine
Standard cruise control and ABS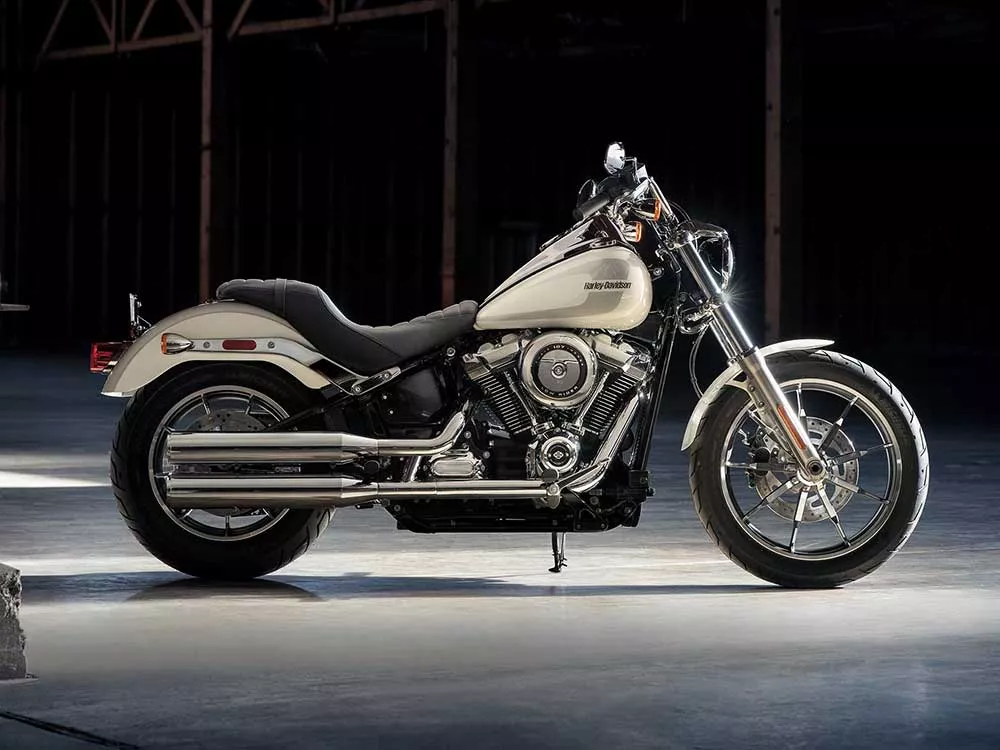 Inspired by the individualism of the 1970's custom-chopper era that gave birth to the original Low Rider, this new machine is lighter and faster, with corner-carving handling unimaginable back in the day.
Throwback-style dual tank-mount speedo and tach gauges, headlight visor, and fuel-tank graphics
19-inch front and 16-inch rear Radiate cast wheels
2-into-2 shotgun exhaust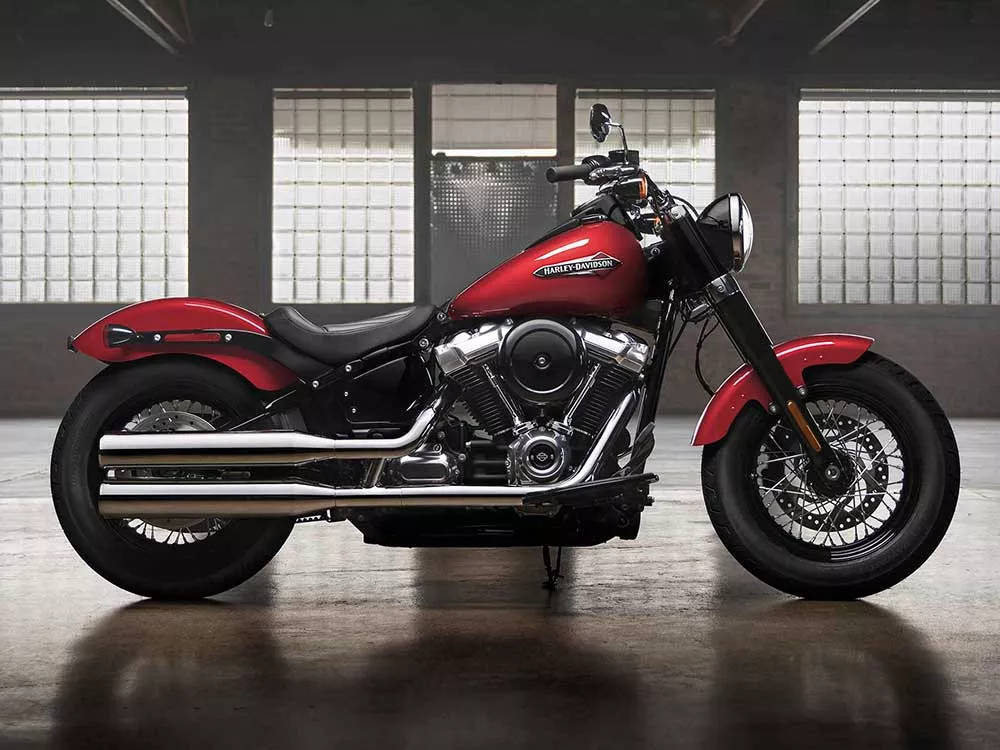 Stripped to its essential elements, the Slim pays homage to post-World War II custom bobbers with a narrow rear end, trimmed front fender, solo seat, and minimal chrome.
Dark finishes adorn the laced wheels, Hollywood handlebar, and all-new front end
Low-slung tuck-and-roll seat
Bold and smooth new front nacelle and fork cover
35-pound weight reduction from previous model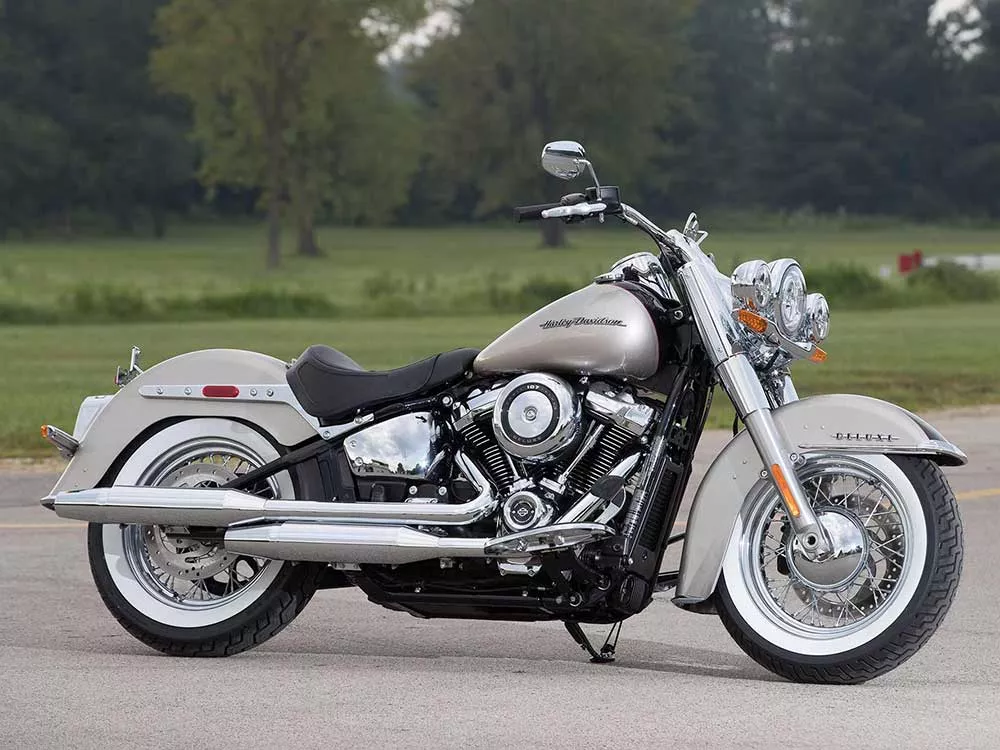 A classic high-line showstopper that stands out on any boulevard, the Deluxe glistens with bright chrome while delivering the ride of a seriously modern machine.
Signature all-LED lighting from front to back
Signature pull-back handlebar
33-pound weight reduction from previous model
Standard ABS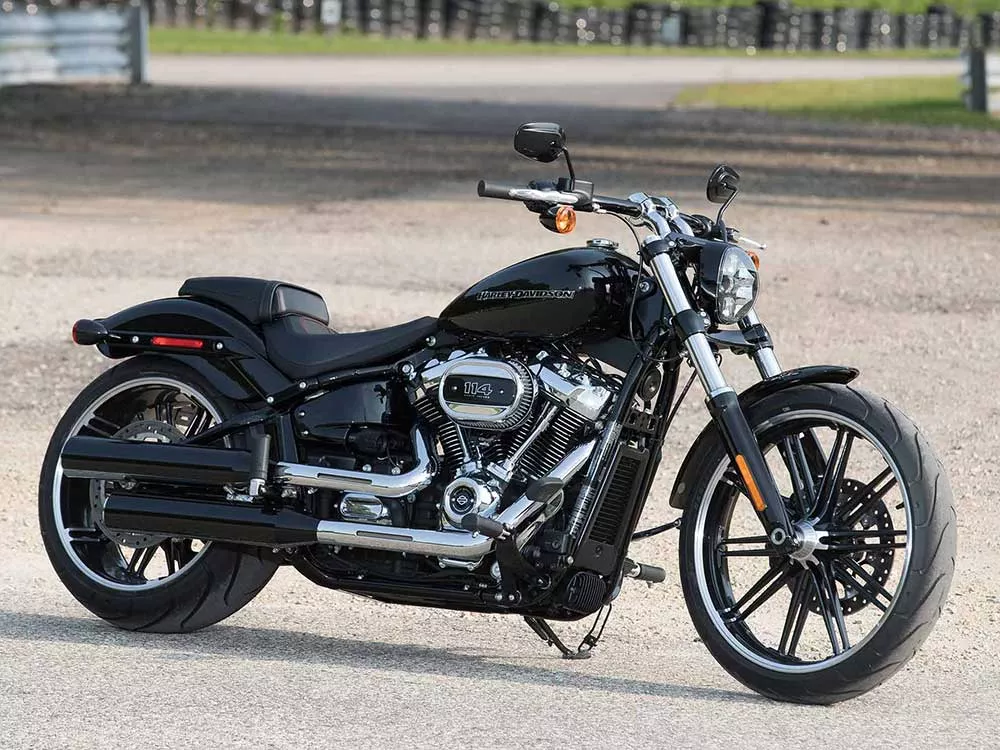 With greater agility and lean angle potential than ever imagined for a bike carrying so much dragster attitude and style, the all-new Breakout takes long, lean muscle to a modern edge.
New smooth-top 3.5-gallon fuel tank
Low-slung, raked-out 49mm fork
18-inch rear (240mm tire) and 21-inch front (130mm tire) with Gasser-style, gloss-black-powdercoated cast aluminum wheels
Distinctive Daymaker LED headlamp
Low-profile riser-mounted digital instrument screen
35-pound weight reduction from previous model
Standard ABS
Optional: Milwaukee-Eight 114 Engine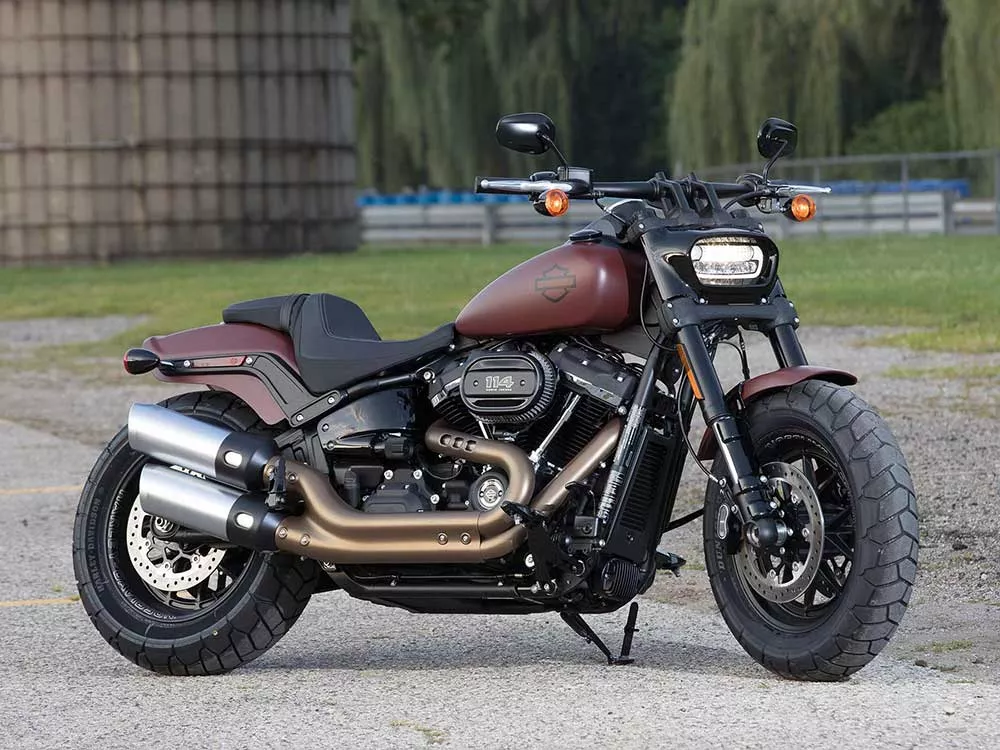 Asphalt-eating traction, pothole-devouring suspension, agile cornering, and a blacked-out take-no-prisoners look give the Fat Bob a groundbreaking appearance.
2-into-1-into-2 upswept exhaust with a custom finish
Largest aggressively treaded tires: 150mm front and 180mm rear
Dual front disc brakes
3.6-gallon fuel tank
33-pound weight reduction from previous model
Inverted 43mm cartridge-style fork
Optional: Milwaukee-Eight 114 Engine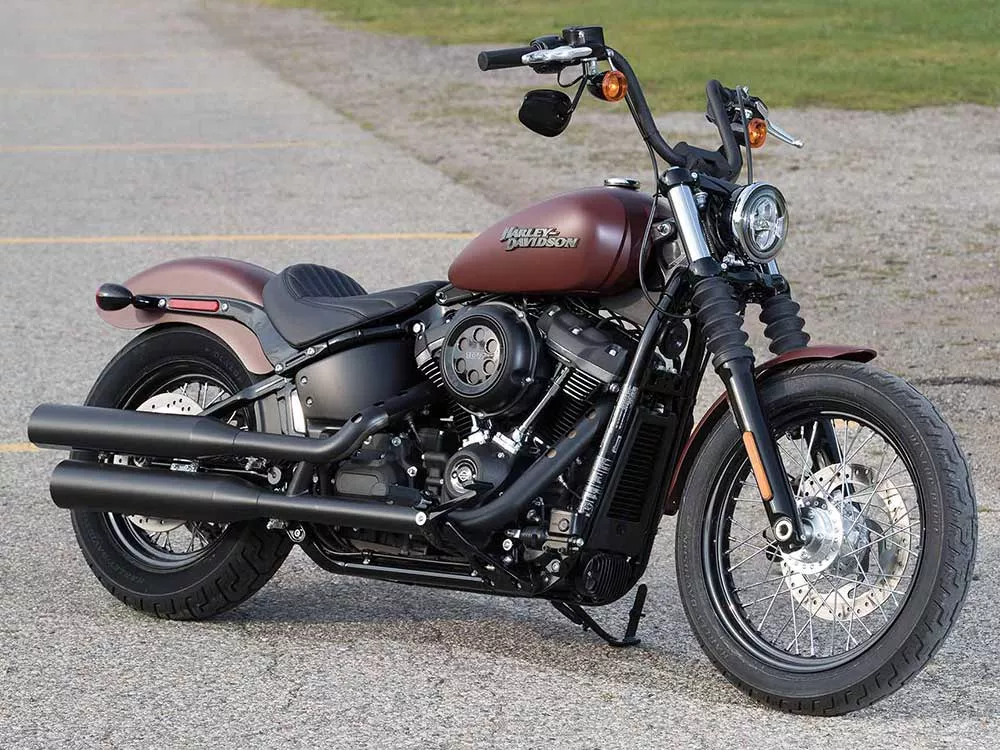 A bare-bones bike with go-anywhere DNA, the all-new Street Bob motorcycle has a fists-in-the-wind attitude with nothing extra to weigh it down.
Smooth-top 3.5-gallon fuel tank
Black-spoked wheels with chopped fenders
Low-profile riser-mounted digital instrument screen
17-pound weight reduction from previous model
Lowest MSRP in Softail line
---
---
New Technology Features on Every Softail Model
Daymaker LED headlights
Improved electrical system charging, more than doubled at idle speeds
Adjustable shock preload: wrench (Softail Slim, Street Bob, Low Rider); hand-adjustment knob (Fat Bob, Fat Boy, Breakout); socket (Deluxe, Heritage Classic)
Instrumentation
Keyless ignition/security system standard
Steering-head-mounted USB charge port
Fuel tanks