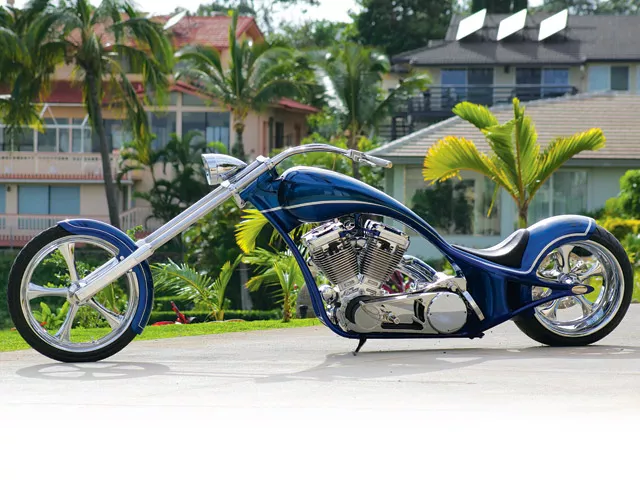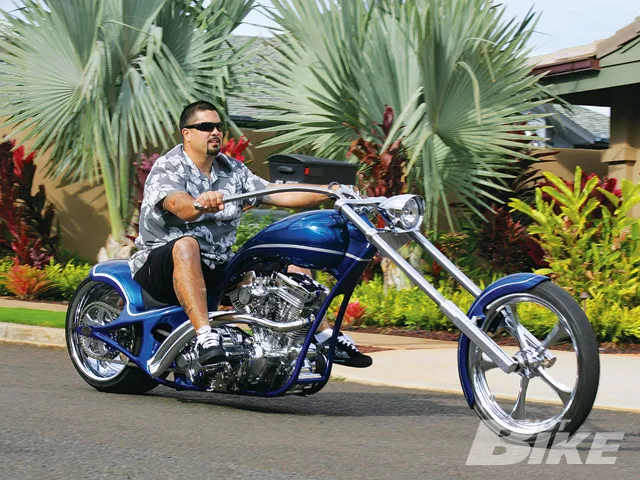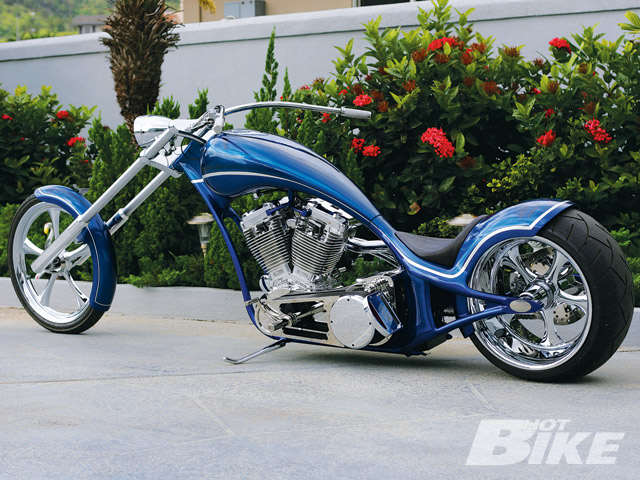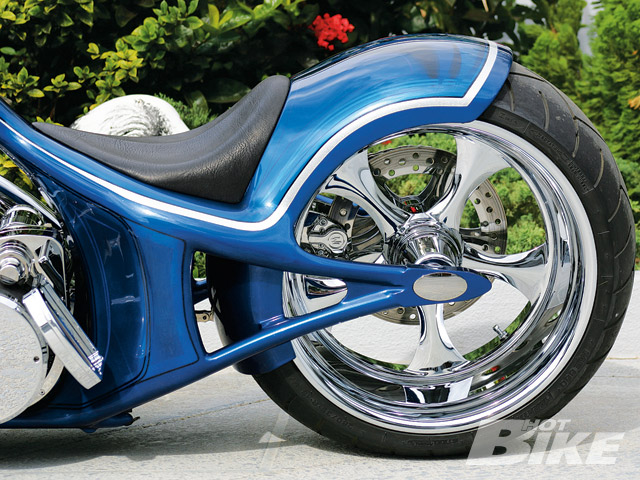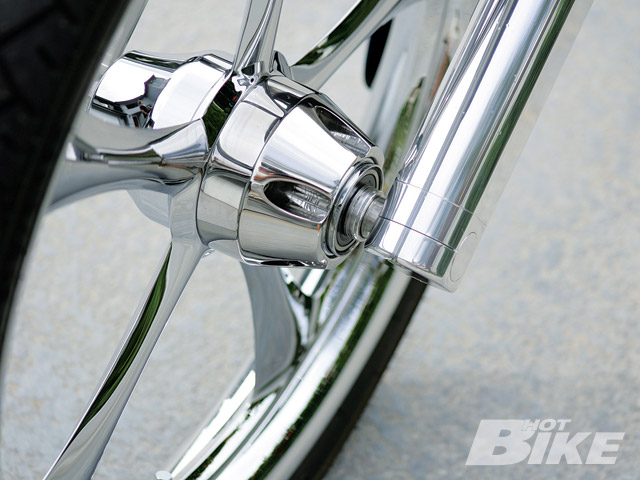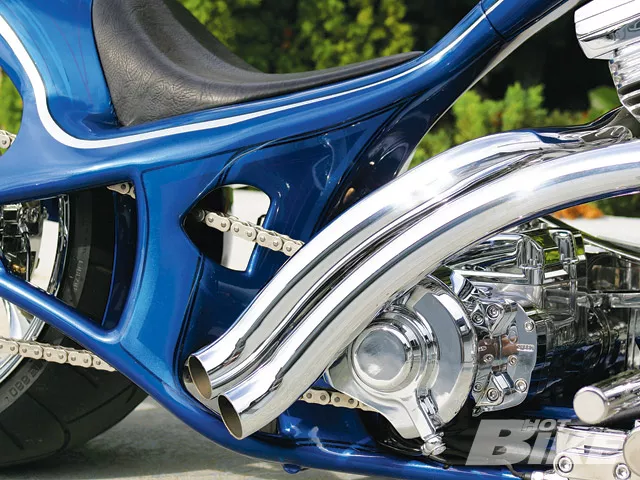 My name is Shad Bolosan, and I live in the north shore of Oahu, Hawaii. I work as a truck driver for Aloha Petroleum, delivering gasoline to our Aloha stations. I have always been a really big fan of Matt Hotch. I admire his bikes and daydream of one day owning one. But unfortunately, I'm like most people in that I would never be able to afford one. So in July of 2005, I decided to sell my Harley Softail and try to build a custom that looked like a Matt Hotch bike. The motorcycle I sold was a nice '98 FXSTC that was completely customized by my good friend, Nui Kauhane, of Grumpy's Customs here in Hawaii. When I told Nui I wanted to start this new project, he made me an offer. Nui said if I would come in and help him on my days off, he would teach me about building bikes and help me with my own build. It was an incredible opportunity for me to be able to learn from one of the best builders on the island. Needless to say, I took him up on his offer.
Matt's bikes always have that long, low, and elegant look, which he achieves from building the frame one bend at a time. I didn't have that kind of skill, so I purchased an '05 Independent Cycles Legend Hardlife frame. The first thing I did was cut out the center post for a more open look in the motor/trans area. After that I set the motor, trans, and primary in the frame. For the drivetrain I used a 96ci TP motor, a Prowler RSD six-speed transmission, and an Independent primary with a Primo-Rivera clutch. I then made the top motormount myself. For the wheels I got a pair of Renegade Monterey wheels, a 21-inch front and an 18×10 1/2 rear with a Metzeler 280. With the drivetrain in place, I then cut and trimmed a Fat Katz rear fender to my liking, then Nui welded in the struts and welded the fender to the frame. I wanted to put a long frontend on the bike but still have it sit low, so I had Nui rake the neck out to 46 degrees, then we put a 12-inch-over Patrick Kennedy frontend on with 7-degree Billet Concepts triple-trees. Next, I cut out about 3 inches off the back of the Independent gas tank and made my own end-cap piece, which Nui welded on for me. We then positioned the tank onto the frame and welded the tank tabs in place and I started fabricating some sheetmetal to cover up the area behind the primary/trans. I made everything by hand, using only a band saw, shot bag, hammer, a vice, and other basic handtools. I did all of the metal fabrication on the bike myself and Nui and my other friend did all the welding.
After all the sheetmetal fabrication between the tank and rear fender was done, I started to fabricate the sheetmetal pieces to fill in the space between the neck, backbone, and downtubes.
All this work was going on very slowly. We would come in early before the shop opened and work on my bike for a couple of hours, then we'd start on the customers' bikes and projects. This went on for about 1 1/2 years when a few things happened that kind of changed the course of the rest of the build. My wife and I bought our first home and because of this I wanted to get the bike done as soon as possible, since I knew my free time and funds would become very limited. Right about that same time, Nui was starting his new company, The Honolulu Motorcycle Company. Also, Nui's wife had just given birth to their first child, Kaea.
With all of this going on, Nui didn't really have any free time to finish up the welding on my bike and since I can't weld, I was kind of stuck. That's when my other two friends, Clifford and Rodney Medeiros stepped in to help. Cliff works with me at Aloha Petroleum and is one of my best friends, and his brother Rodney is a welder for a local cement company. So I gathered everything up from Nui's shop and brought the parts over to Rodney's house. Once there, we finished the fabrication around the neck and front of the gas tank. Rodney then welded in the Matt Hotch pop-up gas cap and kickstand. I then trimmed and mounted the Fat Katz front fender. To give the bike a cleaner look up front, I decided not to run a front brake. I also took off the rotor side hub of the front rim and machined it down to match the other side. The pipes and handlebars are straight from Matt Hotch. Once everything was done, I took it all apart and brought the frame and sheetmetal over to my friend Scott Kamalii, of Preczion Autoworx, and he did the extensive bodywork and laid down the two-tone candy blue paintjob with graphics and drop shadows popping under the candy. We called in Colin of Stripes and Things to do the pinstriping. While the painting was taking place, I sent out a bunch of pieces for chrome.
When I finally got everything back from paint and chrome, I got started on the final assembly. With the help of my friends, Garrett, Gilbert, and Keith, we put the bike together in the downstairs family room of my new house. Scott from Preczion came over and made the fiberglass seatpan for me, which was then sent to Rich, over at Bitchin Seat Company to get covered in exotic hide.
With the bike together, all I had left to do was wire it and add the fluids. Keith drew up the wiring plan for me to follow. At this time, Garrett had some pictures of the bike that he showed to his friend Raymond. I guess the pictures must have really made an impression on Raymond because after seeing them, he told Garrett to ask me if I wanted to sell it. With my new mortgage I was paying, Raymond kind of asked at the right time. I told Raymond that if the price was right, I would let it go. Raymond made me an offer I couldn't turn down. I sold him the bike as is with Garrett finishing up the wiring. Raymond later told me that when he first saw the bike, he knew he had to have it. It really made me feel good to hear that. Raymond even let me ride the bike a couple of times when it was finished, which was awesome. Even though it was hard for me to let go of the bike, I'm glad that Raymond has it; he's a good guy. It worked out well for both of us. I was able to pay some bills, do some renovations to my house, and I even had enough money left over to buy a really nice second-hand Deluxe.
So that's the story of my "Hardlife In Hawaii." I'm really happy with how the bike turned out. I think it does look like a Matt Hotch bike, and I hope I did him proud. I really want to thank all of my friends who helped me; if it wasn't for them I would never have been able to build this bike. Thank you so much Nui, Rodney, Gilbert, Keith, Scott, and my wife, Nell. HB
BIKE OWNER
Raymond Carvalho
BUILDER NAME
Shad Bolosan
YEAR/MAKE/MODEL
'07/Hardlife/Custom
FABRICATION
Shad Bolosan
ASSEMBLY
Shad Bolosan and friends
BUILD TIME
2 1/2 years
ENGINE
YEAR/ MANUFACTURER
'07/TP Engineering
TYPE/SIZE
Evo/96ci
BUILDER
TP
CASES
TP
CYLINDERS
TP
HEADS
TP
ROCKER BOXES
TP
CARBURETOR
Mikuni
AIR CLEANER
WimmerEXHAUST
Matt Hotch Designs
TRANSMISSION
YEAR/MANUFACTURER/TYPE
'05/Prowler
six-speedCASE
ProwlerCLUTCH
Primo-Rivera
PRIMARY DRIVE
Independent
FRAME
YEAR/MANUFACTURER
'05/Independent
RAKE
46 degrees
STRETCH
5 inches out
SUSPENSION
MANUFACTURER FRONT
Pat Kennedy
LENGTH
12 inches over
TRIPLE TREES
Billet Concepts
WHEELS, TIRES, AND BRAKES
MANUFACTURER FRONT/TYPE
Renegade/Monterey
SIZE-HEIGHT
21 inches
TIRE
Metzeler
MANUFACTURER REAR/TYPE
Renegade/Monterey
SIZE-HEIGHT/WIDTH
18×10 1/2
TIRE/SIZE
Metzeler/280
CALIPER
PM
ROTOR
Renegade
FINISH/PAINT
COLOR
Candy Blue
PAINTER
Scott Kamalii Preczion Autoworx
GRAPHICS
Scott Kamalii/Colin
PLATING/POLISHING
Hawaii Plating
ACCESSORIES
FRONT FENDER
Fat Katz/Shad
REAR FENDER
Fat Katz/Shad
FENDER STRUTS
Nui
GAS TANK∩
Independent/Matt Hotch
OIL TANK
Independent
HANDLEBARS
Matt Hotch Designs
RISERS
Shad Bolosan
HAND CONTROLS
PM
FOOT CONTROLS
Independent Cycles
FOOTPEGS
Independent Cycles
HEADLIGHT
Adjure
TAILLIGHT
Billet 4-U
LICENSE MOUNT
Billet 4-USEAT
Bitchin Seat Co