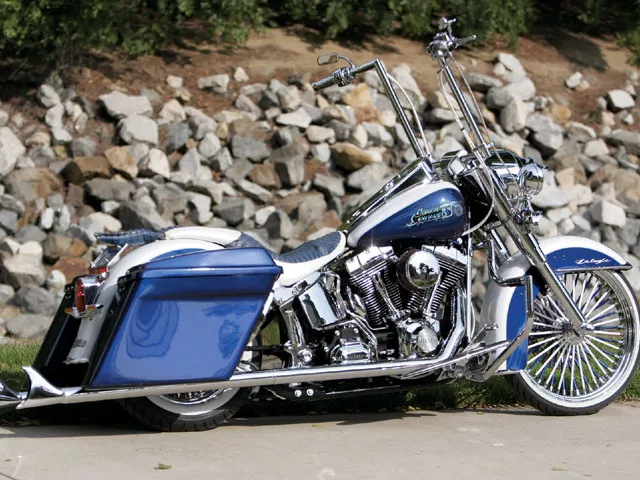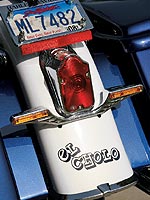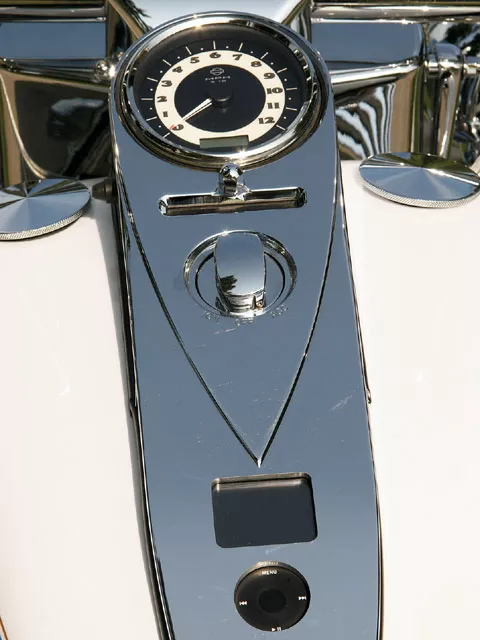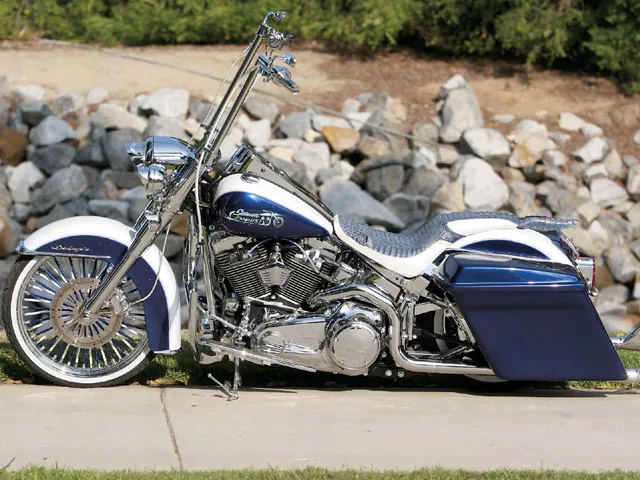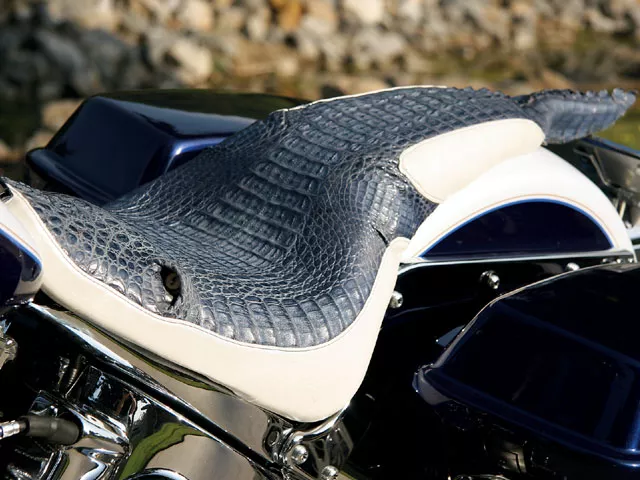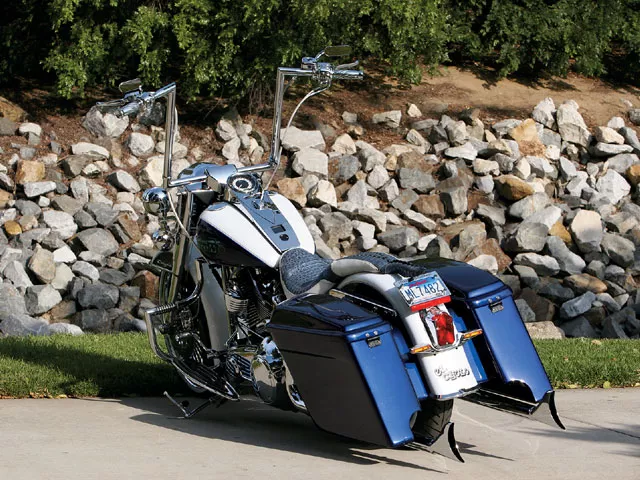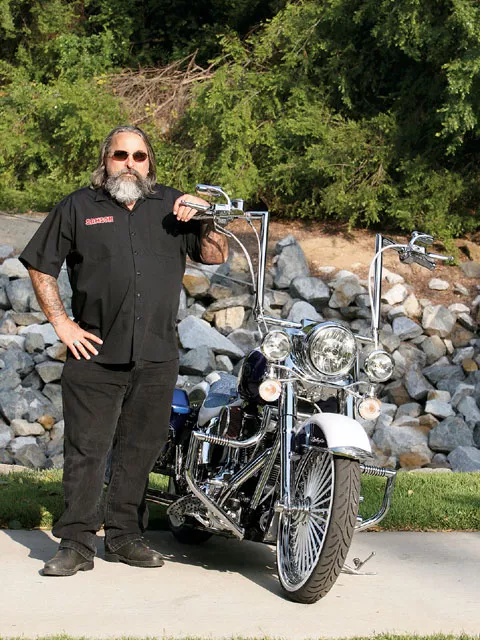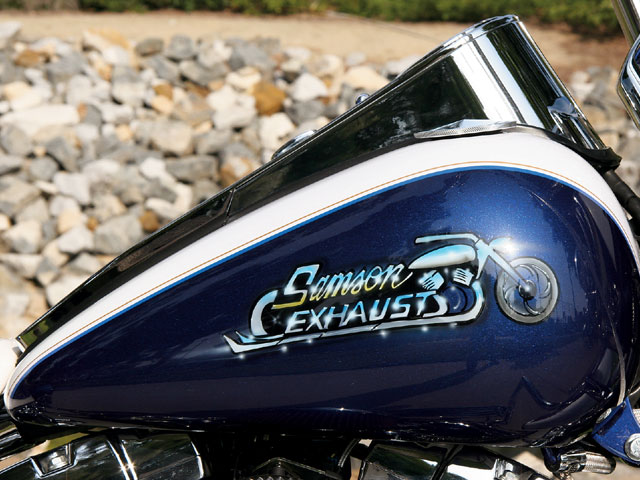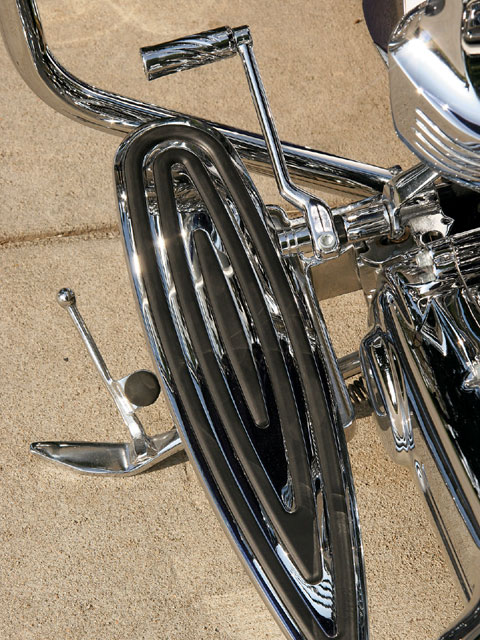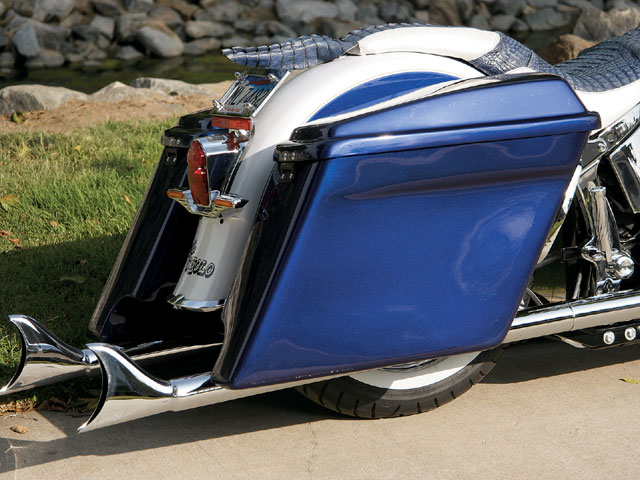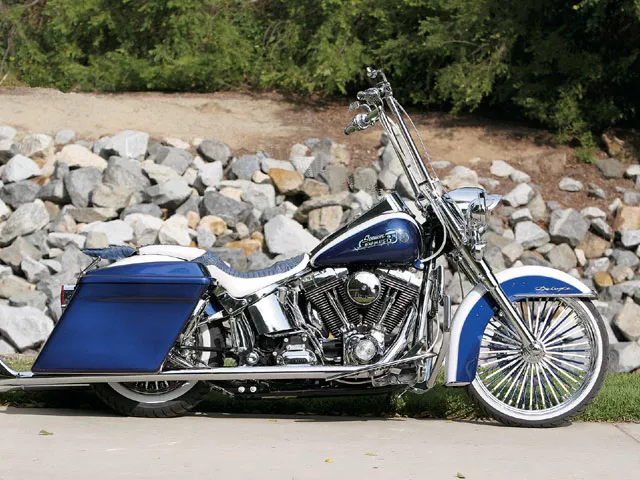 "The bike was back in the shop, and I didn't want to give it back. I love this one-maybe because it was our first big project, maybe because it's just a sexy-ass bike. Whatever the reason, it still had to go back, but it was a little easier knowing it was going to be featured right here in HOT BIKE magazine," said Paul Paz, co-owner of Lowlife Kustoms in Stockton, CA.
As Paul neared the end of telling the story of this bike, it became apparent that this build was the shop's first huge break into the industry. It all started with being in the right place at the right time with the right style of bike that had captured the interest of Samson Exhaust in Brea, CA. In December 2006 while attending a dealer show in Vegas, Paul and shop co-owner Joe Dominguez were introduced to Kenny Price (the godfather of pipes), founder and CEO of Samson Exhaust. Lowlife's style of bikes complemented Samson's new Cholo True Dual exhaust system, and it was decided they would build Samson's '07 Softail Deluxe, featured here. "It would be our first shot at building a bike for a national company," Paul said. "This was big time for us."
The details worked out called for the bike to be done for a show in February 2007. Paul and Joe were excited about the opportunity and got started on the project right away, or right after renting a trailer to get the bike back to their shop. After stripping this bike down, they got together and came up with a concept and went with it. "This bike was going to say West Coast style all over it," Paul said. "We started putting a parts list together, and Joe called Nick Trumbo (formerly) of Samson, Robert from Custom Chrome, Beck at Kryakyn, Joel at Arlen Ness, Randy at Cycle Visions, and Dave England at After Hours Bike Works, along with some of our boys that we work with. Everyone was very helpful and willing to pitch in."
Lowlife then turned to Bob Divine of Divine Customs Creations in Martinez, CA, for a seat that would complement the bike, and as Paul explained, "He went to work and turned out one sick gator seat." To add a tad of flash to this seat, the gator's eyes light up and alternate in color. With the help of Cory Ness, they picked parts that would lend some Ness flavor to the project, like matching grips, shift knob, and brake lever, followed by Ness mirrors, long boards, Big Bags, and rear light bar. Paul explained, "Inside the Ness Big Bags is a 250-watt amplifier and a pair of Pioneer five-way 460-watt 6x9s, all controlled from the tank console by an integrated 30-gig video iPod." The Ness Big Bags, along with the bag fillers by Cycle Visions, were sent to Horacio Ramirez of Kreative Koncepts in Modesto, CA, who color-matched all the pieces and gave them their finish.
Then Lowlife talked with Sam Wakim, owner of Ride Wright Wheels, and went with the company's 50-spoke Fat Daddy 21×3.5-incher in the front and a 16×3.5-incher in the rear wrapped with Avon Venom white walls with color-matched spokes. To make this bike pop, Kryakyn provided some chrome accessories, while Barnett Performance Products got the bike set up with the braided lines. Lowlife then installed their air-ride system, which is controlled by remote. Dave from After Hours broke down, then assembled the 96-inch engine with diamond-cut heads and jugs from Diamond Heads. They installed the Cholo True Dual exhaust system from Samson, "Their marquee piece for the bike," Paul stated. The finishing touch was Lowlife's seven-color LED light system, all custom wired for this bike.
When the bike was finished, Lowlife delivered it to Samson, where it was well received. But the other big day for Lowlife was still waiting to see how folks would take to the bike at February's show, and there again people responded well to it. After another bike show, Lowlife picked up the bike from Samson for some tweaking. "The bike was back in the shop, and I didn't want to give it back…maybe because it was our first big project, maybe because it's just a sexy-ass bike…"
| | |
| --- | --- |
| SPEC SHEET | |
| GENERAL | |
| OWNER | Samson Exhausst/Kenny Price |
| PHONE | (714) 518-2480 |
| WEBSITE | www.samsonusa.com |
| SHOP | Lowlife Kustoms |
| PHONE | (209) 981-9134 |
| WEBSITE | www.lowlife-kustoms.com |
| YEAR/MAKE/MODEL | '07/H-D/Softail Deluxe |
| FABRICATION | Lowlife Kustoms |
| ASSEMBLY | Lowlife Kustoms |
| BUILD TIME | Two Months |
| | |
| --- | --- |
| ENGINE | |
| YEAR/TYPE/SIZE | '07/H-D/96ci |
| BUILDER | H-D |
| CASES | H-D |
| FLYWHEELS | H-D |
| RODS | H-D |
| PISTONS | H-D |
| CYLINDERS | Diamond-cut H-D |
| HEADS | Diamond-cut H-D |
| VALVES | H-D |
| ROCKERS | H-D |
| ROCKER BOXES | H-D |
| PUSHRODS | H-D |
| CAM | H-D |
| LIFTERS | H-D |
| EFI | H-D |
| IGNITION | H-D |
| EXHAUST | Samson Cholo Longtails |
| FINISH | Airbrush Stock Paint |
| | |
| --- | --- |
| TRANSMISSION | |
| BUILDER/YEAR/TYPE | H-D/'07/Six-speed |
| FINISH | Stock H-D |
| CASE | Stock H-D |
| TOP/SIDE COVERS | Stock H-D |
| CLUTCH | Stock H-D |
| PRIMARY DRIVE | Stock H-D |
| FINAL DRIVE | Stock H-D |
| GEARS | Stock H-D |
| | |
| --- | --- |
| FRAME | |
| YEAR/TYPE | '07/H-D |
| RAKE | None |
| STRETCH | Stock H-D |
| MOLDING | None |
| FINISH | Stock H-D |
| SWINGARM | Chromed |
| | |
| --- | --- |
| SUSPENSION | |
| FRONT | |
| BUILDER | H-D |
| YEAR/TYPE | '07/H-D |
| MODIFICATIONS | Chromed |
| TRIPLE-TREES | Chromed |
| REAR | |
| YEAR/TYPE | '07 |
| MODIFICATIONS | Lowlife Kustoms |
| SHOCKS | Air-Remote Controlled |
| | |
| --- | --- |
| WHEELS, TIRES, AND BRAKES | |
| FRONT | |
| SIZE/TYPE | 21×3.5-inch/Ride WrightFat Daddy 50-spoke |
| TIRE MAKE/SIZE | Avon VenomWhite Wall/90/AM41H-21 |
| CALIPER | Chromed H-D |
| ROTOR | H-D |
| REAR | |
| SIZE/TYPE | 16×3.5-inch/Ride Wright Fat Daddyspoke |
| TIRE MAKE/SIZE | Avon VemonWhite Wall/AM42 MT90HB 16 |
| HUB/SPOKES | Ride Wright |
| CALIPER | Chromed H-D |
| ROTOR | H-D |
| | |
| --- | --- |
| FINISH/PAINT | |
| COLORS | Blue/White |
| PAINTER | Horacio Ramirez |
| Kreative Koncepts | |
| GRAPHICS | Steve Fernandez |
| MOLDING | None |
| CHROME PLATING/POLISHING | Alco-Cad |
| POWDERCOATING | Bronzeway |
| | |
| --- | --- |
| ACCESSORIES | |
| FRONT FENDER | H-D |
| REAR FENDER | H-D |
| FENDER STRUTS | H-D |
| GAS TANK & CAP | H-D |
| OIL TANK | Chromed H-D |
| DASH | Modified Arlen Ness Motorcycles |
| GAUGES | H-D |
| HANDLEBARS | LA Choppers |
| RISERS | H-D |
| MIRRORS | Ness |
| HAND CONTROLS | H-D Chromed |
| FOOT CONTROLS | H-D |
| FOOTPEGS | Ness |
| HEADLIGHT | H-D |
| TAILLIGHT | H-D |
| TURN SIGNALS | Ness |
| LICENSE MOUNT | Ness |
| SEAT | Devine Customs Creations |
| ELECTRICAL | Lowlife Kustoms |