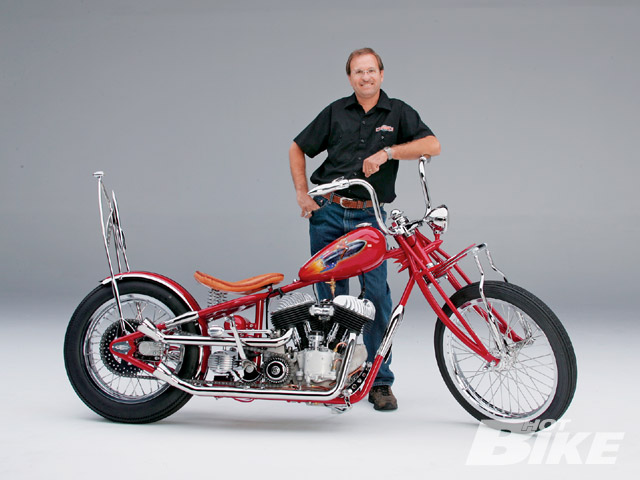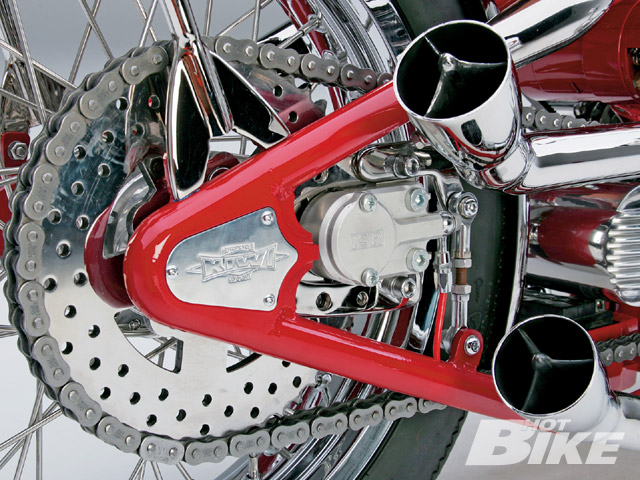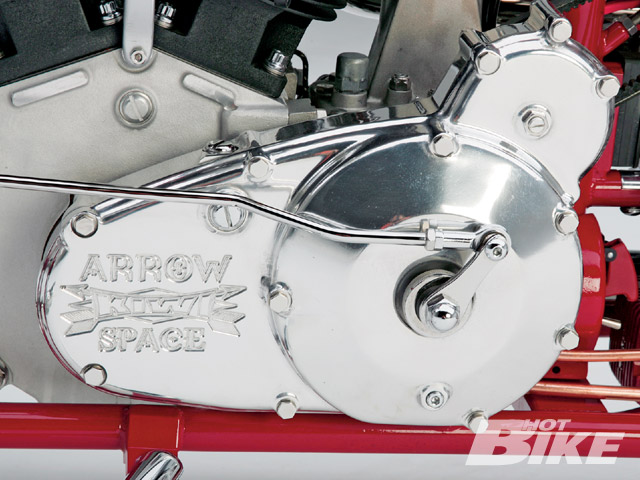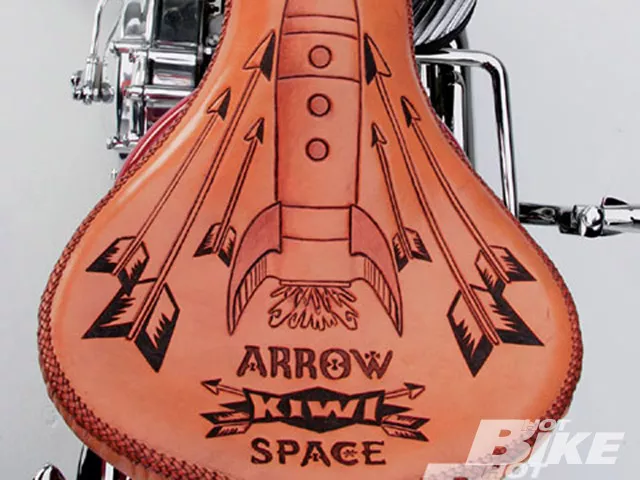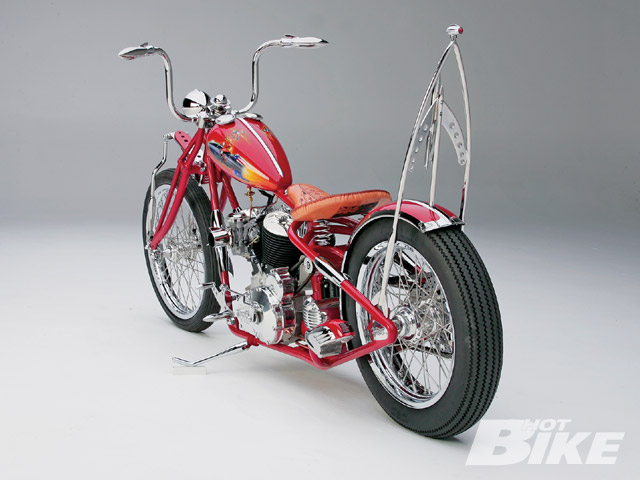 Editors Note:
Every once in awhile we come across a bike a bit different and may not be what you expect to be seen in the pages of HOT BIKE. When Mike Tomas owner of Kiwi Indian built a bike for the One World Choppers exhibit, which showcased foreign-born bike builders, we felt the bike would make a cool feature for Street Chopper. However, once we saw all the work that went into building the Arrow Space Indian we had to put it in the pages of HOT BIKE. When the time came to photograph the bike, Mike showed up with one hell of a bike and a story to tell. So we let him give us the story on the build.
At the Cincinnati V-Twin Expo trade show in Feb '07 Michael Lichter made me an offer that I could not refuse, it was his "One World Choppers" exhibit for Sturgis. I felt honored to have been asked to represent New Zealand, this was a big deal for us. Since leaving school (almost 30 years ago) I have always been dedicated to the Indian brand. I have seen many attempts made at reviving the brand come and go mainly because none have ever understood what Indian is really about. However, for me I enjoy bringing to life a part of America's past motorcycle history. There is history to everything that we are doing today and I feel someone has to keep the history alive so it might as well be us.
Now that we had the invite the tough part of the project was the concept of what to build to showcase our abilities, talents and products. I needed to get my head around a project that was cool, old school, and unique, which is what Kiwi Indian is all about. I started a list of what features the bike should have, leaf spring fork, rigid frame, sissy bar, 21 inch front and 18 inch rear wheel, narrow tires with old style tread, peanut gas tank, remote oil tank (un-Indian), tank nose art graphics, narrow rear fender, no front fender, straight exhausts, ape hangers, left hand throttle (typical Indian), right side hand shifter, foot clutch, custom seat, steering dampener and some design theme worked into the frame.
Designing a bike with our engine offers a lot of freedom in the design process since our engine is 2-1/2 to 3 inches shorter than that of a Harley based engine. We're one of the few motorcycle engine manufacturers who actually make a proprietary engine in the USA. When you get on any Kiwi Indian bike you will immediately notice the low center of gravity and the unique and easy handling of our bikes; light, nimble, smooth, and just plain fun. This is what motorcycles are all about and what most builders overlook and don't build into their bikes today.
I wanted the frame to be as structural as possible and I thought it would look better if we made the rockets with a hole through them and had them chrome plated and then slid them over the frame locking them into place with set screws (grub screws down under) and then welding the frame tubes to the neck and rear axle mounts. While it is a lot of work, I felt the end result would be surprisingly brilliant if I could ever pick the right shade of red as the color was going to be key in making our chrome rockets "pop." Nobody knows how much I really hate picking colors and picking the red was a big chore. I went through every brand of car dealership, domestics, foreign, I finally saw the red I was after, on a '07 VW Jetta in Salsa Red. That was it, no doubt about it.
Trevelen gave us a cool oil tank, which we had to use on the build as it was a special gesture from him. However, for the longest time we could not find an appropriate spot for it. We finally found a suitable spot right above the battery and box. In that location it would reduce the direct visibility of the battery yet sit centrally above it, fill in a dead area, and look very cool while supporting the rear fender. The oil tank fins added a certain touch to this bike.
The original factory Indian clutch and foot brake pedals don't have any style to them at all so creating new ones were mandatory for us. We wanted to give the edges some style so we went for a rounded look and drilled some chamfered holes into them for a cool effect, which also flowed in with the sissy bar. Steering dampeners were cool back in their day and I wanted to create a totally custom Kiwi made steering dampener. The boys created the knob that represented Saturn with its rings around it. Quite a nice finishing touch which brings in the space theme.
Designing an exhaust system for a bike is one of those items that can either make or break a bike and we needed it to be outstanding and complement the rest of the bike. One of our friends named "Bagger" dropped in during the fabrication stages of the build and when he saw the bike he went digging through his junk pile at home and donated us two very cool rocket shape exhaust tips. No one had any idea what they were off but they were just plain cool.
Travis Bonde is a very talented fabricator who stops by regularly as he loves to see what we have going on at the shop. Travis started pounding on some sheetmetal and eventually created a cool tank. He sat it on the frame and wow, now we had our tank, perfect. Since the Chica rear fender had a rib down the center of it, we thought it would be cool to have a matching rib running down the center of the gas tank.
Shirley from Bad Ass Seats in Las Vegas got word of our bike build through a mutual friend and she insisted on donating one of her awesome hand crafted custom seats that Ronnie from Pyrographix designed. Shirley is a cool English lady who is so sweet that even though we had other offers to do our seat, she was the one.
The paintwork on this bike is super nice, however, I purposely didn't want a deluxe finish on the frame and forks. This took Josh from Nostalgia Restyling quite by surprise as it is contrary to what Josh likes to produce. All of our frame and fork joints are TIG welded and are absolutely perfect and there is no way we were going to have them covered up with filler. We wanted to show them off so there was no filler work done to the weld areas.
Monte Moore who is an outstanding artist was excited to do the tank art for the bike build. When I asked why he was so excited, he replied "man you build the most kick ass bikes on earth, why wouldn't I be?" When you look into his work on the tank you will see the finest of details. Our handlebar height had to be no higher than 48 inches as it had to fit inside of a van. Likewise, with the sissy bar, as it too could not exceed 48 inches either.
The Kiwi guys Scott and Mader contributed to the build as well and had the idea of making a rocket look like it was coming from the engine area and piercing through the steering neck and coming out the front and incorporating the front part into a head light mount.
When I saw the chrome work that Nick and Mariana (Riverside Plating) did on the rear fender it totally blew me away as they fully chromed the fender and it was a beautiful work of art, just absolutely perfect.
After several hard weeks of work, the bike's final assembly started coming together. First was the leaf spring pack with its chrome and red alternating leaf colors, then the forks onto the frame, a front wheel and then the rear wheel and before you knew it was up on wheels and looking mighty "tight". I have several kick ass Kiwi Tribe guys working with me on this build which I can't speak highly enough about, Scott Mills, Justin Hale (Mader) and Joe Lambert (Engine Joe).
Some companies really rocked and made things happen for us and without them this project would not have been done from start to finish in eight weeks.
We are "the Principal of old school" and when school is in session others will pay attention to the principal. We've set a new standard.
| | |
| --- | --- |
| SPECS | |
| BIKE OWNER | Kiwi Mike Tomas |
| SHOP NAME | Kiwi Indian Motorcycle Co. |
| SHOP PHONE | (800) 601-KIWI |
| SHOP WEBSITE | www.kiwiindian.com |
| YEAR/MAKE/MODEL | '07/Kiwi/Arrow Space |
| FABRICATION | Kiwi Indian Motorcycle Co. |
| ASSEMBLY | Kiwi Indian Motorcycle Co. |
| BUILD TIME | {{{Eight}}} weeks |
| | |
| --- | --- |
| ENGINE | |
| YEAR/MANUFACTURER | '03/Kiwi Indian |
| TYPE/SIZE | Kiwi Flat Head/84ci |
| BUILDER | Joe Lambert |
| CASES | Kiwi Indian |
| CYLINDERS | Kiwi Indian |
| HEADS | Kiwi Indian |
| ROCKER BOXES | Kiwi Indian |
| CARBURETOR | 40mm CV |
| AIR CLEANER | Kiwi Indian |
| EXHAUST | Kiwi Indian |
| | |
| --- | --- |
| TRANSMISSION | |
| YEAR/MANUFACTURER/TYPE | '03/Kiwi Indian/synchromesh four-speed |
| CASE | Kiwi Indian |
| PRIMARY DRIVE | Kiwi Indian |
| | |
| --- | --- |
| FRAME | |
| YEAR/MANUFACTURER | '07/Kiwi Indian Rigid |
| RAKE | Stock |
| STRETCH | Stock |
| | |
| --- | --- |
| SUSPENSION | |
| MANUFACTURER FRONT | Kiwi Indian Leaf Spring |
| LENGTH | 19-inches |
| TRIPLE TREES | Kiwi Indian |
| | |
| --- | --- |
| WHEELS, TIRES, AND BRAKES | |
| MANUFACTURER FRONT/TYPE | Black Bike /Spoke |
| SIZE-HEIGHT/WIDTH | 21×2.15 |
| TIRE/SIZE | Coker {{{90}}}/90/21 |
| MANUFACTURER REAR/TYPE | Black Bike /Spoke |
| SIZE-HEIGHT/WIDTH | 18×4 |
| TIRE/SIZE | Coker/18 |
| CALIPER | ISR/LA Choprods |
| ROTOR | ISR/LA Choprods |
| | |
| --- | --- |
| FINISH/PAINT | |
| COLOR | Salsa Red |
| PAINTER | Josh / Nostalgic Restyling |
| GRAPHICS | Monte Moore / Maverick Custom Paint |
| PLATING/POLISHING | Riverside Plating |
| POWDERCOAT | B&B; Powdercoating |
| | |
| --- | --- |
| ACCESSORIES | |
| REAR FENDER | Chica |
| FENDER STRUTS | Kiwi Indian |
| GAS TANK∩ | Kiwi Indian |
| OIL TANK | SuperCo |
| HANDLEBARS | Kiwi Indian |
| RISERS | Kiwi Indian |
| HAND CONTROLS | Kiwi Indian |
| FOOT CONTROLS | Kiwi Indian |
| FOOTPEGS | Kiwi Indian |
| HEADLIGHT | Kiwi Indian |
| TAILLIGHT | Swap meet |
| LICENSE MOUNT | Kiwi Indian |
| SEAT | Bad Ass Seats |