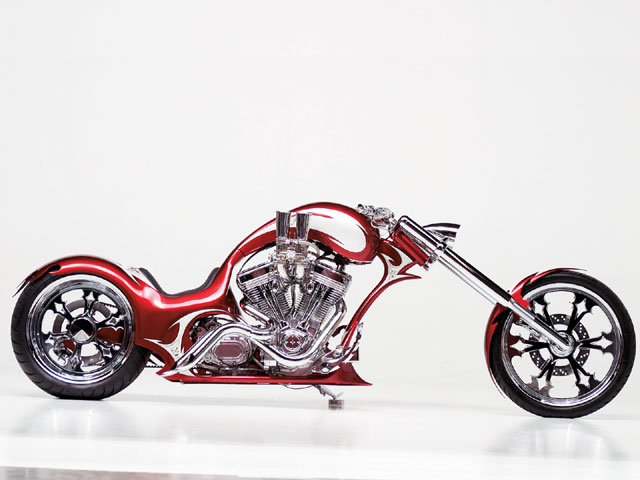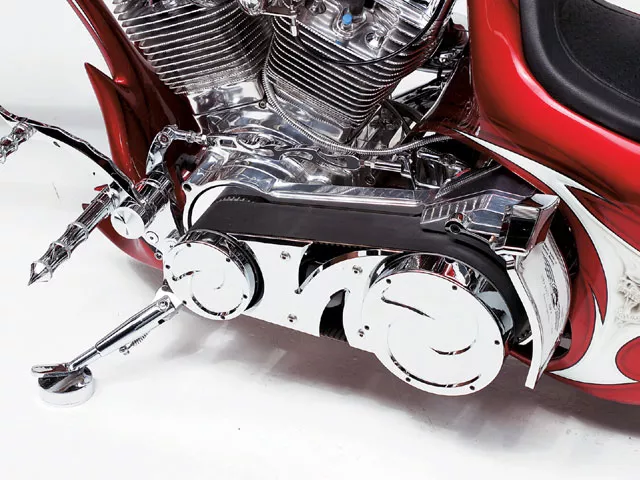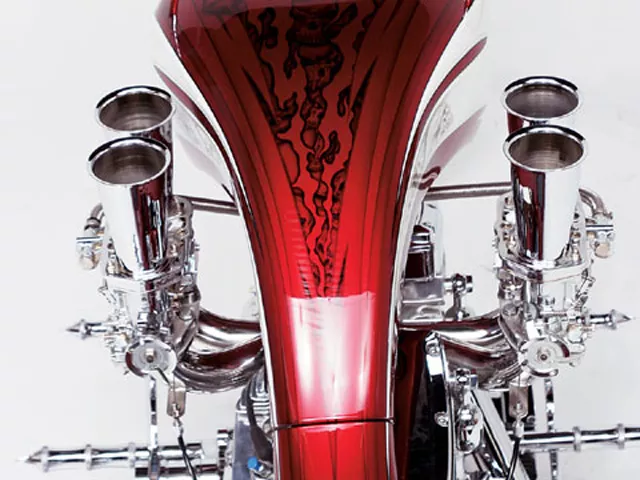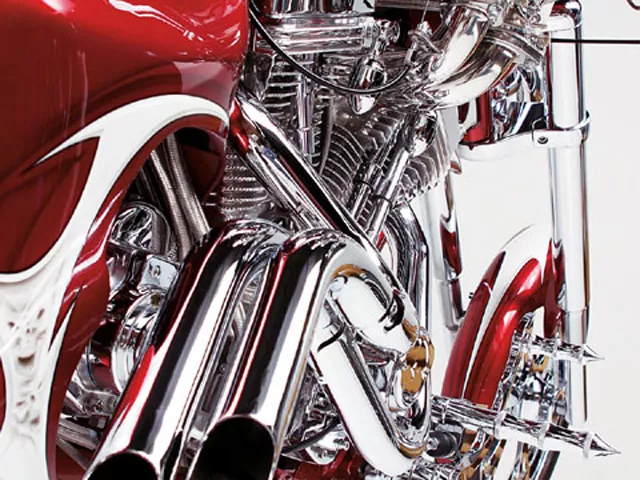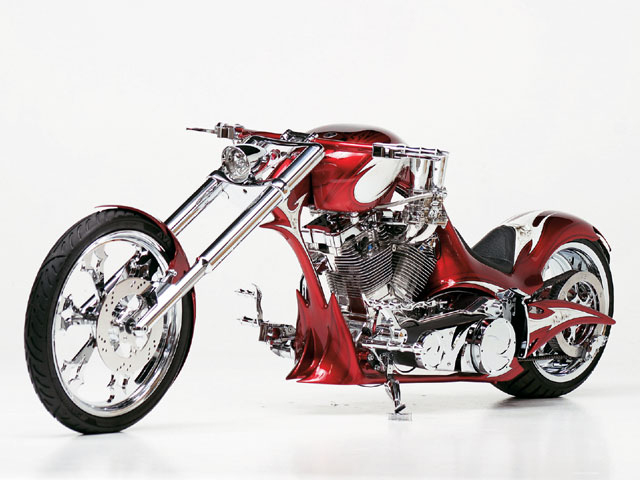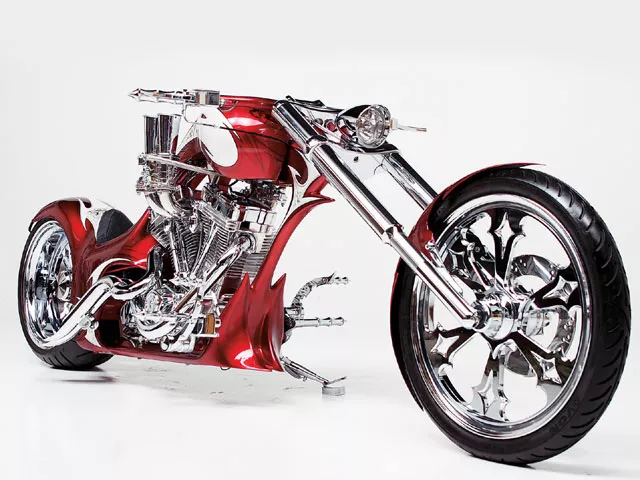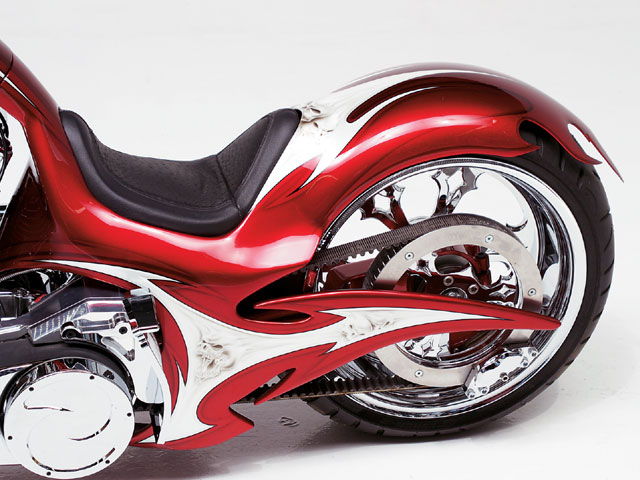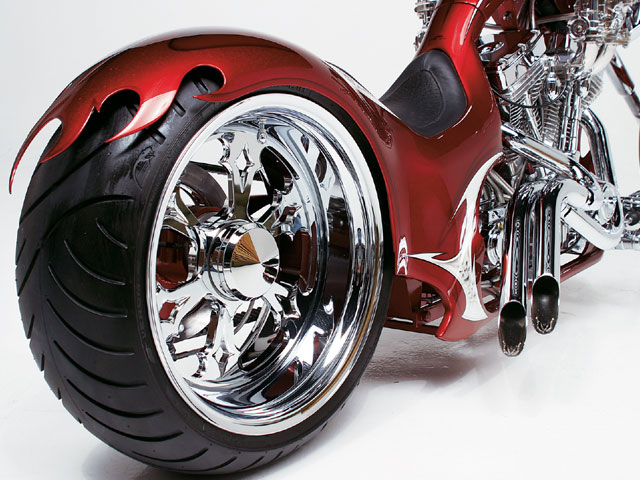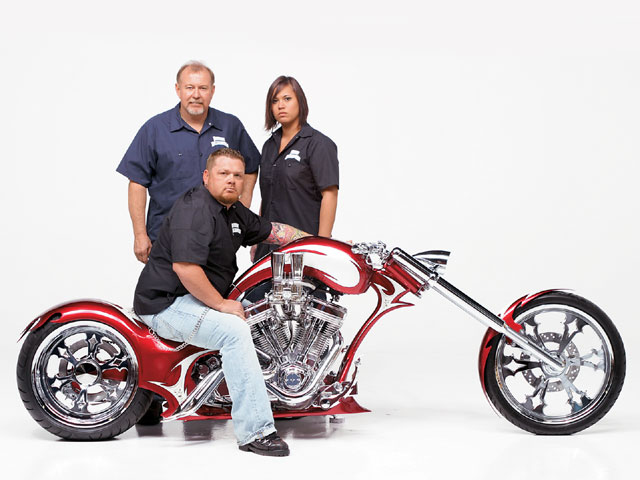 If there's one thing Chris Ogden knows about, it's metal. His dad and family were all metal engineers, which suggests an entire clan sitting around after dinner-mom, dad, kids, grandparents, everyone-tinkering away on various metal projects. Well, that's probably not quite how it went, but Chris did grow up helping his dad fabricate stuff like wood driers for lumberyards and various tanks to hold liquids of all sorts.
Chris ended up opening a paint and body shop in the mid-'80s, and fabricated stuff for custom trucks and hot rods on the side. Over the years he also worked on a ton of different bikes, and in 1997 he got his first Harley. Of course he customized it with chrome, but nothing really radical fabrication-wise.
Chris had taken his artistic abilities to the point where he could fabricate anything he could imagine, so five years ago he opened Fatman Cycleworks, shifting his focus and implementing his artistry in the world of V-Twins. Fatman Cycleworks now builds four or five custom bikes a year, usually very high-end, radically fabricated works of art. This bike, Crimson and Chrome, is no exception.
Kevin Logsdon approached Chris after he had a bad experience at another shop. It turned out the build he envisioned wasn't coming off as he thought. Parts he ordered through that shop didn't fit right, and his dream bike wasn't materializing. Kevin had a definite vision, but needed a builder to get him there. Chris was the man. They met through a mutual friend and hit it off right away. They began re-ordering parts and started the build from the ground up.
Kevin is one of those high-end types of guys; he just has a thing for nice stuff. Kevin had a daily rider and wanted this to be a show bike, long and curvy, round and rolled, deep-throated and entirely three-dimensional. He wanted to be lying on the tank when sitting on the seat. Chris listened to Kevin's vision and began formulating plans in his head. "The most important part of any build is connecting with the owner. Kevin knew what he wanted, but needed a builder to get him there. We hit it off right away and I think I was able to bring his vision to life. If I can see it in my head, I can build it in metal," Chris said.
Chris began with a Fatman Cycleworks War Eagle frame with 57-degrees of rake and 7-inches of stretch in the backbone. Of course, everything had to be fabricated from scratch. He also wanted to make sure the focus of the build was the bike's incredible lines, so he decided to hide all the electrical components and put the coils under the tank.
For power he used an Ultima 120ci motor with a RevTech transmission and custom primary that he made in-house. To give it a race-ready look, Chris threw on some dual side-by-side Weber carbs and fabricated a sleek exhaust system that completely flows with the bike.
There is nothing flat on the bike, a fact that made fabrication a challenge for Chris, something he really enjoyed. When you see the front lower spoiler in person, it has a 3-D kind of look. Everything from the tank to the rear fender is completely curved, and to keep with the radical nature of the build, he went with wheels from RC Components-of course, they had to be top shelf with spinners, something not many people use.
For paint, Chris and Kevin settled on Candy Red and had Brian Loker from Design Graphics lay it down. In the end, what Kevin ended up with was a super high-end, radical custom that was an instant show winner. It debuted in Galveston, TX, and took the show.
Chris ended up pretty stoked about the final product. Again he was able to translate to material the conglomeration of both his own and Kevin Logsdon's imaginations, and ended up with a radical and beautiful piece of art.
Spec Sheet
| | |
| --- | --- |
| GENERAL | |
| OWNER | Kevin Logsdon |
| SHOP | Fatman Cycleworks |
| PHONE | (918) 371-5155 |
| WEBSITE | www.fatmancycleworks.com |
| YEAR/MAKE/MODEL | '07/Radical Custom |
| FABRICATION | Fatman Cycleworks |
| ASSEMBLY | Fatman Cycleworks |
| BUILD TIME | 12 months |
| | |
| --- | --- |
| ENGINE | |
| YEAR/ TYPE/SIZE | '07/Ultima/120ci |
| BUILDER | Ultima |
| CYLINDERS | Ultima |
| HEADS | Ultima |
| ROCKER BOXES | Ultima |
| CAMS | Ultima |
| CARBURETOR | Dual Webers 48mm |
| AIR CLEANER | Weber |
| EXHAUST | Martin Brothers |
| | |
| --- | --- |
| TRANSMISSION | |
| YEAR/TYPE | '07/RevTech |
| CASE | RevTech |
| CLUTCH | BDL |
| PRIMARY DRIVE | BDL/Fatman Cycleworks |
| | |
| --- | --- |
| FRAME | |
| YEAR/TYPE | War {{{Eagle}}}/Fatman Cycleworks |
| RAKE | {{{57}}} degrees |
| STRETCH | 7 inches |
| | |
| --- | --- |
| SUSPENSION | |
| FRONT | American |
| LENGTH: | 10-over |
| TRIPLE TREES | American |
| REAR | Rigid |
| SWINGARM | Single-sided |
| | |
| --- | --- |
| WHEELS, TIRES, AND BRAKES | |
| FRONT | RC Components |
| BUILDER/SIZE | 21×2.15 |
| TIRE/SIZE | Avon/{{{90}}}/100×21 |
| CALIPER | American |
| ROTOR | RC Components |
| REAR | RC Components' Spinners |
| BUILDER/SIZE | 18×8.5 |
| TIRE/SIZE | Avon/250/40×18 |
| CALIPER | RC Components |
| ROTOR | RC Components |
| | |
| --- | --- |
| FINISH/PAINT | |
| COLOR | Candy Red |
| PAINTER | Design Graphics |
| GRAPHICS | 3-D Skulls |
| PLATING/POLISHING | Brown plating |
| | |
| --- | --- |
| ACCESSORIES | |
| FRONT FENDER: | Kustomworks/ |
| | Fatman Cycleworks |
| REAR FENDER | Fatman Cycleworks |
| GAS TANK)∩ | Jim Battles |
| OIL TANK | War {{{Eagle}}} |
| HANDLEBARS | Fatman Cycleworks |
| RISERS | Fatman Cycleworks |
| HAND CONTROLS | Belt Drive |
| FOOT CONTROLS | Accutronix |
| FOOTPEGS | Accutronix |
| HEADLIGHT | Accessories Unlimited |
| TAILLIGHT | V-Twin |
| LICENSE MOUNT | V-Twin |
| SEAT | Fatman Cycleworks |