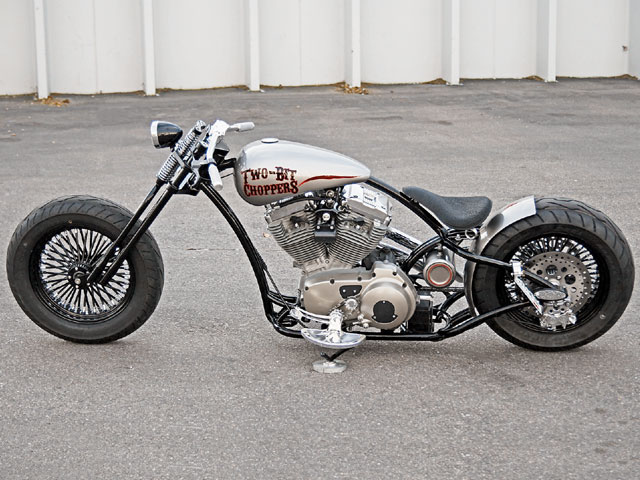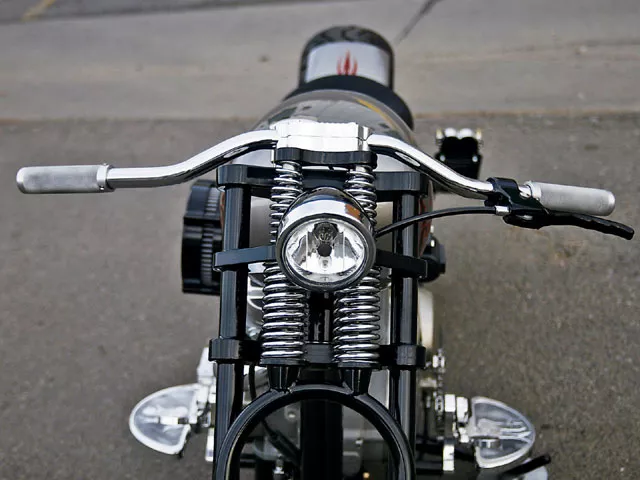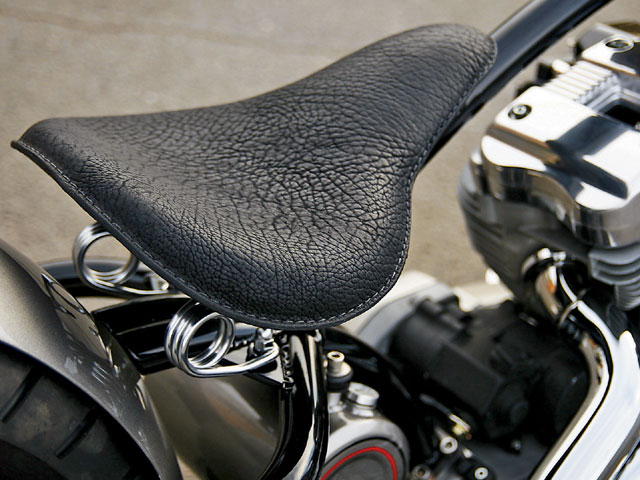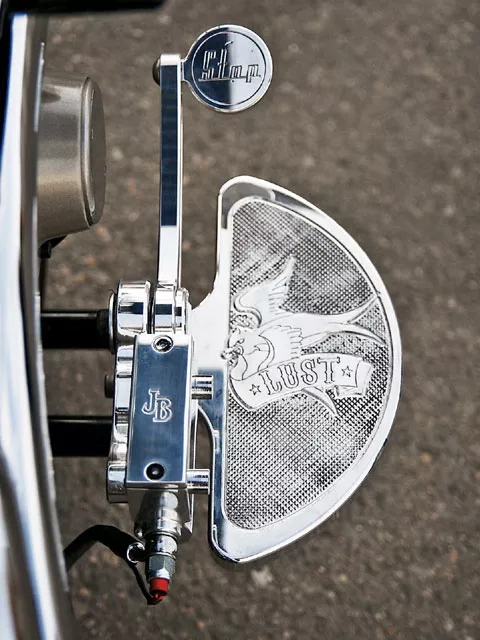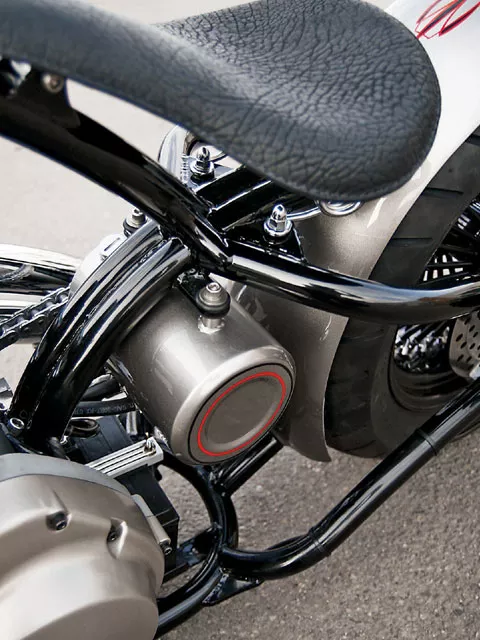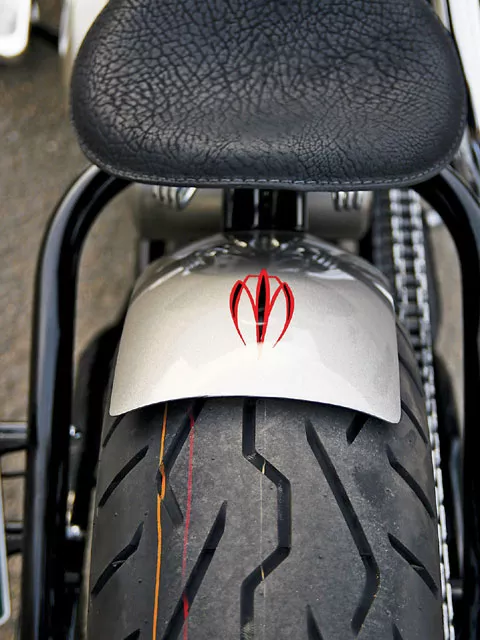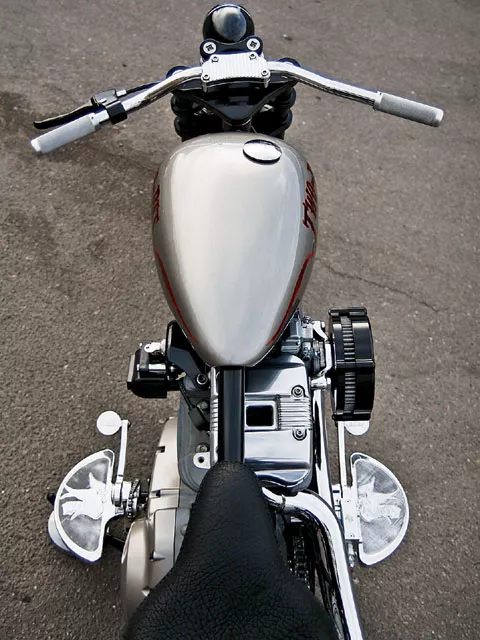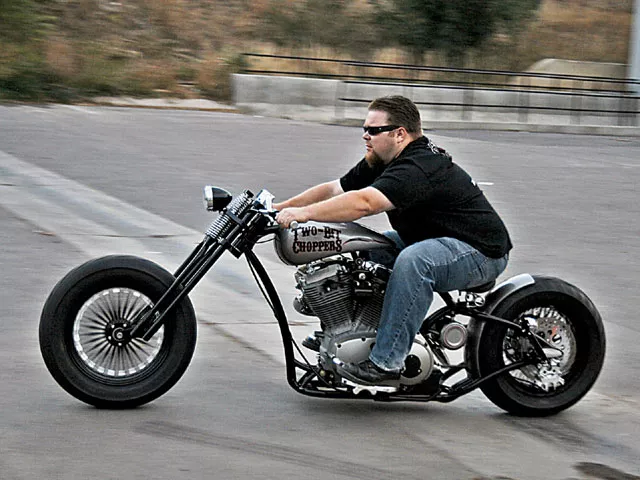 Born in the midst of the Great Depression to poor North Dakota farmers, my granddad had the type of threadbare childhood that inspired more than a few "uphill both ways through four feet of snow" stories, and hardened him like a dropforged wrench. Growing up without much helped him cultivate his natural mechanical talents, though, as having a set of wheels meant buying something broke and fixing it on your own. That's where the story of the XB Buell-based Springer you see here found its humble beginnings.
Details are sketchy; my grandfather was an only child and about as private a guy as you'll ever meet, so he took a lot of this story to his grave with him back in 1995. What we do know is that sometime late in the '40s he ended up the proud owner of a probably more than slightly used Harley-Davidson Knucklehead. The bike needed work, but he had it running in no time and by all accounts proceeded to ride the wheels off it, terrorizing the citizenry of Jamestown, ND.
No one can really remember his motivation, where he was headed, or maybe what he thought he was running from, but early the next summer he set out on this old EL and bounced his way on mostly dirt roads from America's great northern plains out to the Pacific coast and back. He had little to no money and worked day jobs busting tires at service stations or helping out at farms along the way to pay for another tank of gas and a belly full of food. He tramped his way to the ocean and must have fallen in love, as he joined the Navy soon after returning home. The old EL found a new home before he shipped out, and he never owned another motorcycle.
In building this new bike I wanted to pay homage to my grandfather's vagabond adventure as well as to the bike that carried him on it.
I plucked the 1203cc Buell X-Blade engine out of a wrecked '04 Firebolt model that had been looped over in what must have been a highly impressive bit of wheelie stunting. The engine checked out no worse for the wear, needing only a new primary cover to be good as new.
Preferring the simplicity of carburetion and standard electronic ignition, I set to the task of stripping the bike's electronic fuel injection system. In its place went a battle-proven HSR 42mm Mikuni carburetor and Screamin' Eagle nosecone ignition. I designed a one-off anodized and hand-painted nautical star pattern for one of my HiPo Billet Air Cleaners to cap the intake tract, while a set of Bassani Sweepers handle the noise making duties.
With the powertrain sorted, I got in touch with Mike Marquart and Fred Evans at Redneck Engineering to talk about a frame and Springer frontend. A couple of conversations and a few measurements later and we had one of Redneck's XB Bobber style frames spec'd out for 38-degrees of rake in the neck stretched 1-up and 3-out.
From the conception of the project I knew I wanted to run a 16-inch wheel with a heavy looking 150 series tire on the front, which made for some nip and tuck moments on clearances in Redneck's mid-glide New Skool Springer, but everything came together without issue.
Wheels were another key to the design I'd been mulling in my head. Back in 2006 I had the pleasure of making the acquaintance of Ride Wright Wheel Company's owner Sam Wakim at the Las Vegas Bikefest. With our booths set up across the aisle from one another for four straight days, we had plenty of opportunity to admire each other's wares, and we talked business and bikes on several occasions throughout the weekend. I expressed my lust for a set of his 50-spoke Phat Daddy model wheels and Sam countered with his card and an invite to call him when I needed a set.
Months later Sam still remembered me by name when I finally called to take him up on his offer. A matched set of 16-inch black on black on black wheels in 3.5-inch and 5.5-inch widths hit my doorstep in just a couple weeks, and were immediately strung with Dunlop D251 tires, a 150x80R16 out front with a modest but meaty 200x60R16 out back.
Wanting to play off the speed-hole pattern of my billet aluminum drive sprocket cover, I opted for a Sprocket Specialists 530 series "ultra light" sprocket paired with a Russell standard vented 11.5-inch brake rotor. The single rotor aptly handles all of the bike's braking needs with help from a four-piston Performance Machine caliper mounted on our own billet caliper bracket.
My buddy Fabricator Kevin dropped me out a Double Shot taillight, and I finished off the rear wheel with an RK Racing chain.
Clean but functional was the motto for the handlebars. I milled an undimpled set of swap meet super bars to be run upside down with a StreamLine Designs internal throttle set-up. Black Mountain Precision provided the grips while Joker Machine got the call for the solitary clutch perch.
The foot controls are a variation of a set I was already offering, but instead of pegs I wanted to update the classic rubber half-moon style floorboards. Knurled and inlaid with a pair of tattoo-inspired swallows, they make for comfortable riding through a multitude of possible foot positions.
Coating Specialties in Windsor, Colorado, handled the gloss black powdercoating, while S&S; Anodizing in Henderson, CO, stained the close tolerance bits. Painter Bryan Koufal matched Buell's Magnesium Tone side covers on the tins, while Mart Ford once again validated his legend with the lettering and striping. Dan Ballard's Bitchin' Stitchin' finished things off with a bison hide seat as comfortable as it is unique.
I think my granddad would have appreciated the finished product, and I find myself remembering him now and again as I roll down the road, one hand in my pocket on the dead spark plugs he always told me to carry for the windshields of tailgating cage drivers. Like I said, he was a little rough around the edges.
| | |
| --- | --- |
| SPEC SHEET | |
| BIKE OWNER | Justin Schilling |
| SHOP NAME | Two-Bit Choppers |
| SHOP PHONE | (970) 587-5867 |
| SHOP WEBSITE | www.twobitchoppers.com |
| YEAR/MAKE/MODEL | '07/XB Mutant Springer |
| FABRICATION | Redneck Engineering/Two-Bit Choppers |
| ASSEMBLY | Two-Bit Choppers |
| BUILD TIME | 3 Months |
| | |
| --- | --- |
| ENGINE | |
| YEAR/ MANUFACTURER | '04/Buell |
| TYPE/SIZE | XB/1203cc |
| BUILDER | H-D |
| CASES | H-D |
| CYLINDERS | H-D |
| HEADS | H-D |
| ROCKER BOXES | H-D |
| CARBURETOR/EFI | Mikuni |
| AIR CLEANER | Two-Bit Choppers |
| EXHAUST | Bassani |
| | |
| --- | --- |
| TRANSMISSION | |
| YEAR/MANUFACTURER/TYPE | '04/Buell/5-Speed |
| CASE | H-D |
| CLUTCH | H-D |
| PRIMARY DRIVE | H-D |
| | |
| --- | --- |
| FRAME | |
| YEAR/MANUFACTURER | '07/RedneckEngineering |
| RAKE | 38-degrees |
| STRETCH | 3-out 1-up |
| | |
| --- | --- |
| SUSPENSION | |
| MANUFACTURER FRONT | Redneck Engineering |
| LENGTH | 1-under |
| TRIPLE TREES | Redneck Engineering |
| MANUFACTURER REAR | N/A |
| SWINGARM | N/A |
| | |
| --- | --- |
| WHEELS, TIRES, AND BRAKES | |
| MANUFACTURER FRONT/TYPE | Ride WrightPhat Daddy |
| SIZE-WIDTH/HEIGHT | 3.5×16 |
| TIRE/SIZE | Dunlop D251 150/80R16 |
| CALIPER | N/A |
| ROTOR | N/A |
| MANUFACTURER REAR/TYPE | Ride Wright/Phat Daddy |
| SIZE-WIDTH/HEIGHT | 5.5×16 |
| TIRE/SIZE | Dunlop D251 {{{200}}}/60R16 |
| CALIPER | PM |
| ROTOR | Russell |
| | |
| --- | --- |
| FINISH/PAINT | |
| COLOR | Magnesium Tone |
| PAINTER | Bryan Koufal |
| GRAPHICS | Mart {{{Ford}}} |
| PLATING/POLISHING | Two-Bit Choppers |
| POWDERCOAT | Coating Specialties |
| ANODIZING | S&S; Anodizing |
| | |
| --- | --- |
| ACCESSORIES | |
| REAR FENDER | RWD/Redneck Engineering |
| GAS TANK∩ | Redneck Engineering/Drag Specialties |
| OIL TANK | Redneck Engineering |
| HANDLEBARS | Swap meet Special |
| RISERS | Two-Bit Choppers |
| HAND CONTROLS | Joker Machine |
| FOOT CONTROLS | Two-Bit Choppers |
| FLOORBOARDS | Two-Bit Choppers |
| HEADLIGHT | Swapmeet Special |
| TAILLIGHT | Fabricator Kevin |
| LICENSE MOUNT | Fabricator Kevin |
| SEAT | Bitchin' Stitchin' |