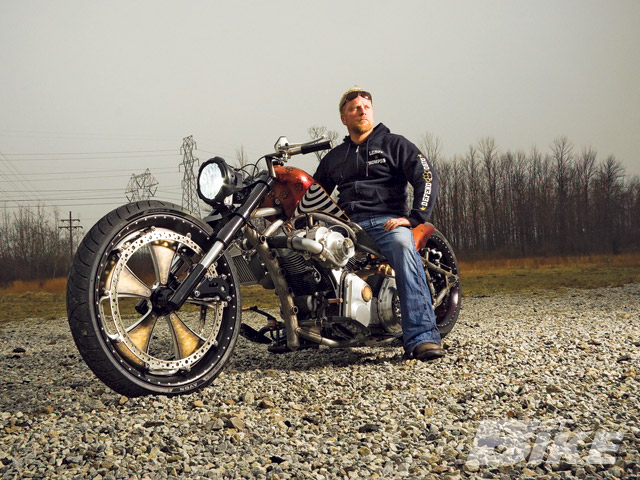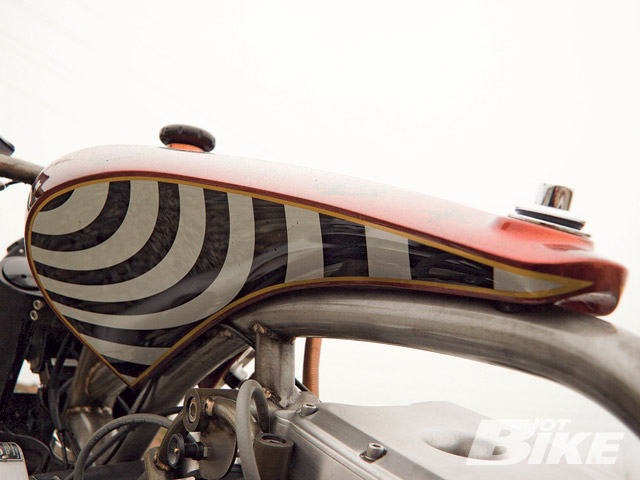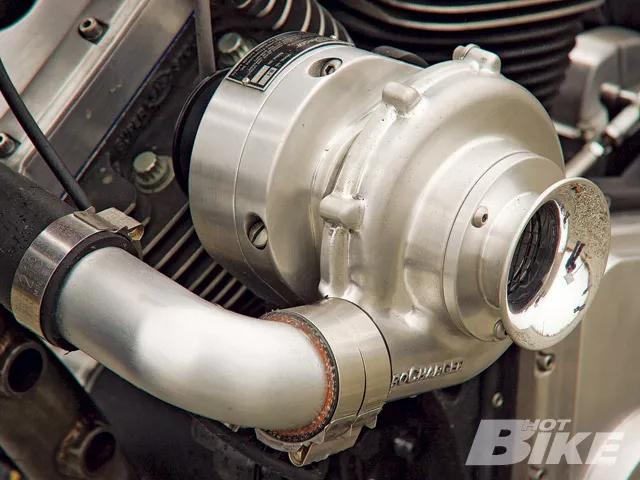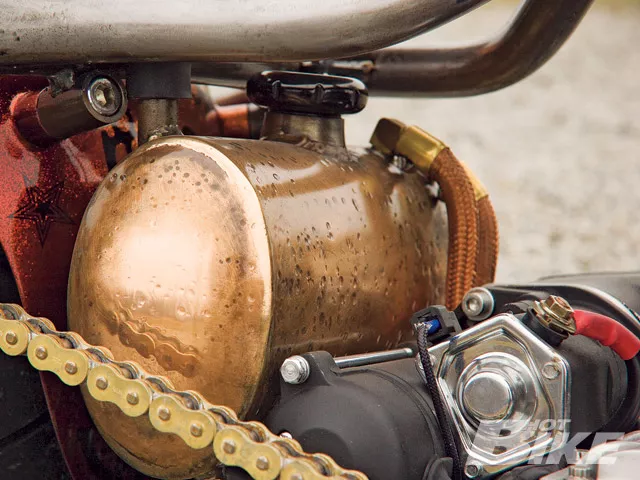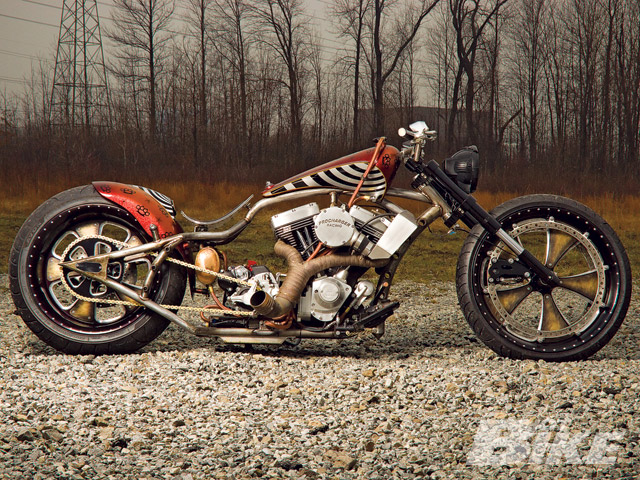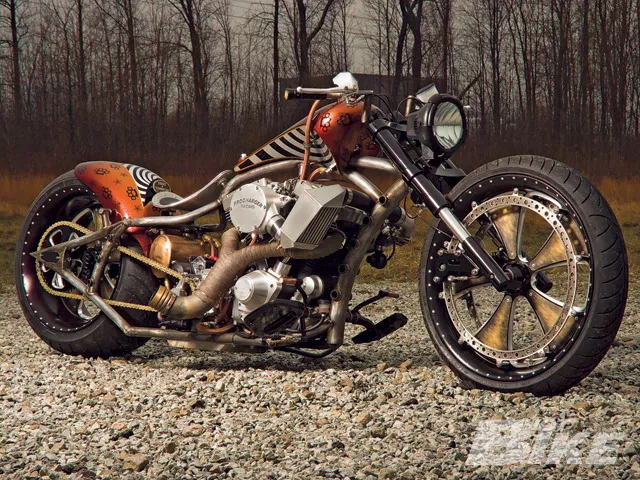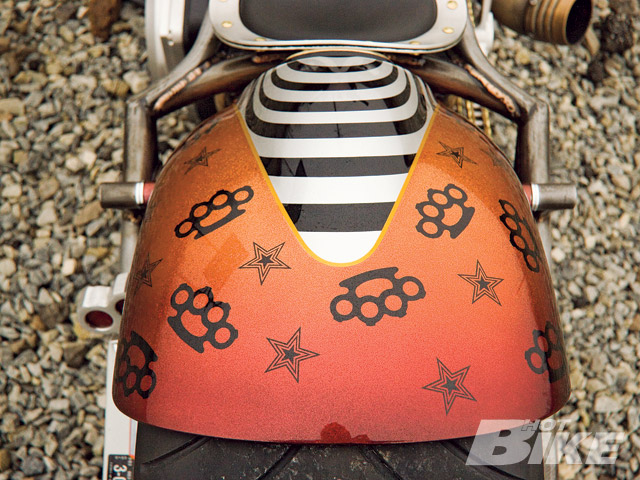 Scott Webster of Leroy-Thompson Handcrafted Customs in Mentor, Ohio, knows he may catch some flack for naming this bike "Trendkill," but he firmly stands behind the custom and his unwillingness to succumb to trends. As the shop name implies, handmade motorcycles are about the only things two-wheeled that roll out of Leroy-Thompson's doors, and you'd often be hard-pressed to find off-the-shelf parts on Scott's rides. Now, don't get the wrong idea; Scott's not trying to take dough from parts manufacturers in the industry; he simply wants to show people what they can do with a little bit of elbow grease and some determination.
Isn't building a bike really a form of self-expression, besides the obvious mode of transport and picking up the ladies? Whether you want to show off what you ride, regardless of its looks, or you want to showcase your shop or parts, a motorcycle is a prime platform to express yourself. "The whole point of the bike was the name in itself, Trendkill," Scott said. "It was an expression of why I got into custom bikes. It's about going out and showing what you can do; it's an expression of you." Moreover, Scott believes that with some creativity and basic equipment or access to it, you can build something for yourself without breaking the bank.
When it comes to building a custom, Scott knows that trying to find a marriage of coolness and rideablility all tied into affordability is no easy task. "We try to keep our stuff fresh," Scott said, "and show people who are interested ways of going about things with simple equipment." He added, "If you look at our bikes, it's all about making things instead of buying them." Deviating from stale bike designs, Scott started this custom with the shop's new Ethyl frame, which was the reason to build the Trendkill bike in the first place. With 40 degrees of rake in the neck and 3 inches of stretch in the backbone, the industrial-style frame was a great, solid platform to build from. Not only did Scott want to showcase the Ethyl frame and some of his other parts, he equally needed to show off the induction system in this road warrior.
The induction system stemmed from a conversation between Scott and Walt Sipp from ProCharger at the 2006 V-Twin Expo. "Walt wanted to showcase his new induction system for carbureted motors," Scott said. "Walt wanted to see the system in an over-the-top bike, so we started working together from there on a custom that would do this." Although the ProCharger super charger is a little more involved on Trendkill, the basis of the system is a fairly simple install that you can bolt on over the weekend and have a screamin' fast ride come Monday morning. "It's a nice, tight package," Scott said, "and it's a great jump in horsepower." Between the 124ci S&S; motor, the Super G carb, and the ProCharger system, Trendkill went from a respectful 130 horsepower to an astounding 180 horses-a two-wheeled bullet.
With a no-frills, all-thrills attitude, Scott didn't stop at the radical frame, handmade parts, or the power-punchin' motor; he went all-in from the small details to the crazy paintjob. "I wanted the typical, bare-natural frame like all of my customs," Scott said. Taking it a step further, the hand rubbing and antiquing of the frame are just some of the details Scott wanted to incorporate into this ride. Turning his attention to the wheels, Scott wanted to show off his new line of anodized colors, and these wheels are no exception. With a 23-inch in the front and 20-inch in the rear, the shop's signature series wheels with bronze inserts wrapped in Avon rubber were sure to stop on a dime with Brembo brakes.
The tins and other accents were the skilled handiwork of Scott, including details such as the brass exhaust tips and the brass covers on the Baker 6 RSD transmission. "Normally, I don't do crazy paint, but this bike was an exception," Scott said. It seems the painter, Mike Valentine of Val Air, was a little reluctant with Scott's choice, but nonetheless painted this ride in an Alice in Wonderland/Jigsaw special mix, and the paintjob speaks for itself.
Even though Scott considers bikes to be works of art, he also believes they should be rideable and affordable. "There are different ways to do things that can be done right out of your garage without having to outsource," Scott said. "Try to be creative first without going for your checkbook. With some elbow grease, you can have something really killer and not have to break your wallet over it." Scott would like to give a special thanks to ProCharger. HB