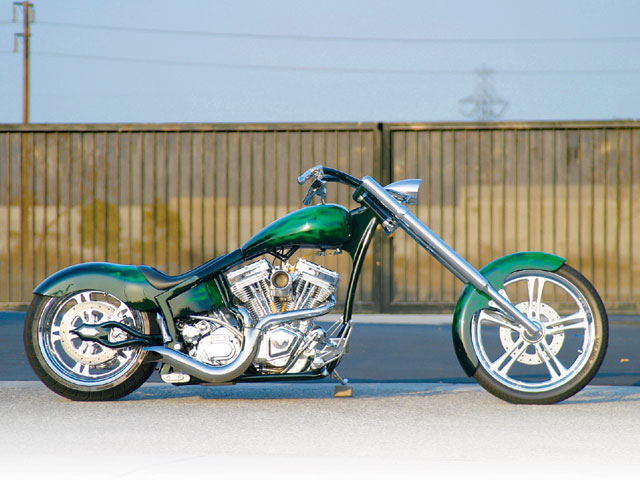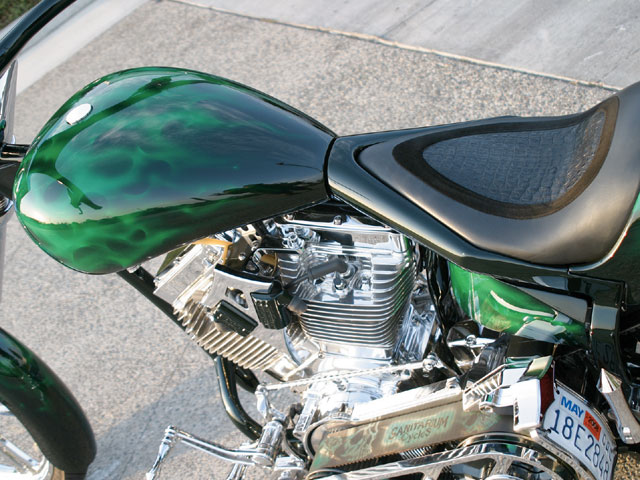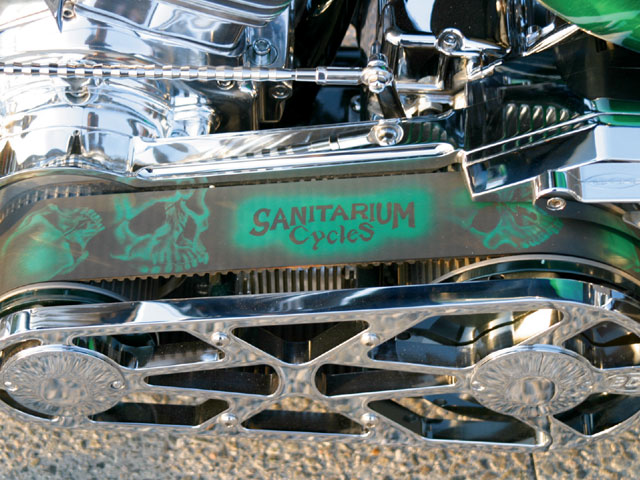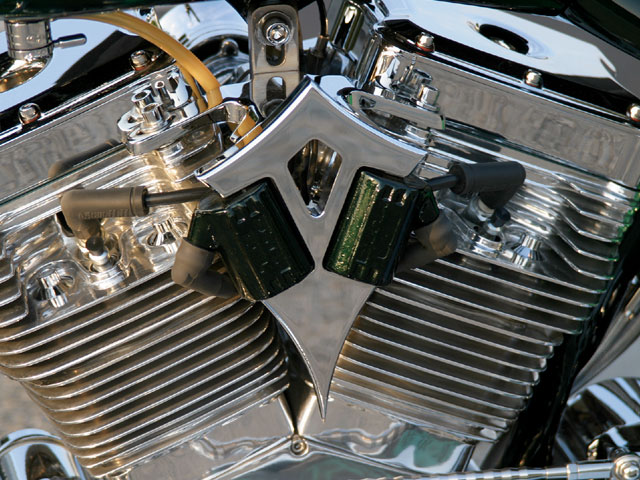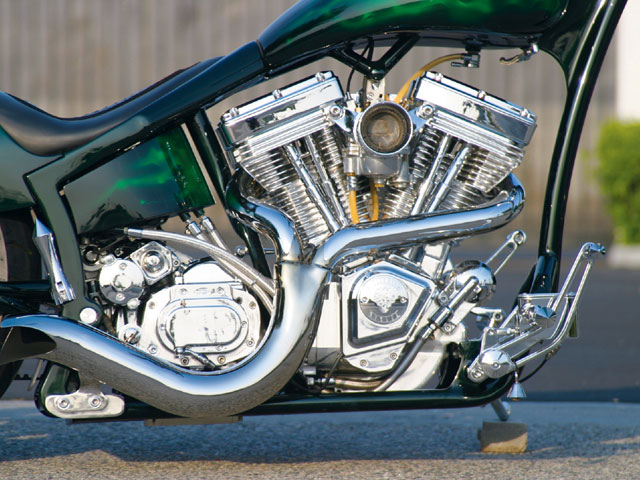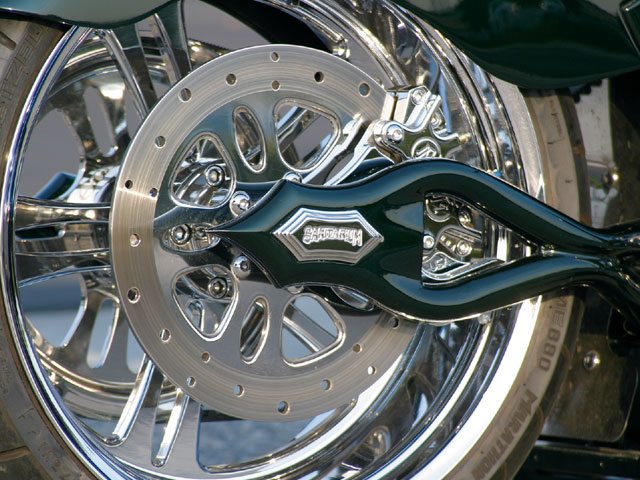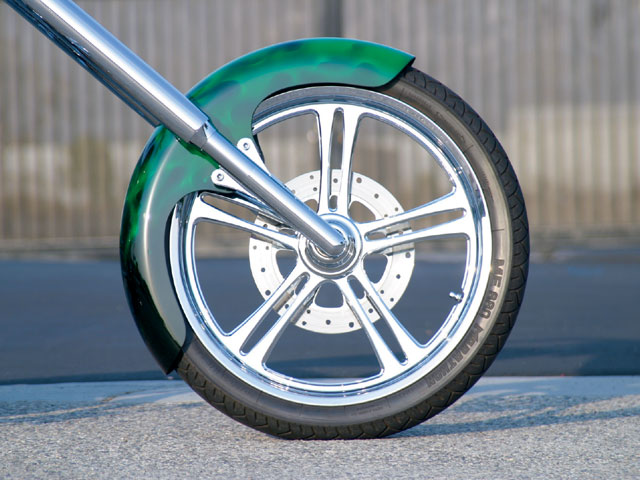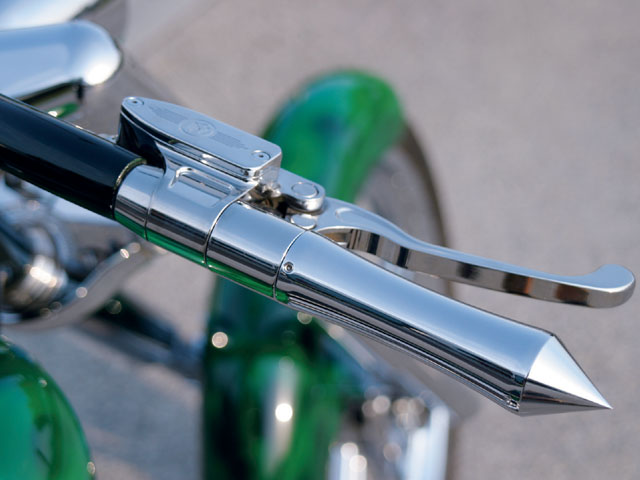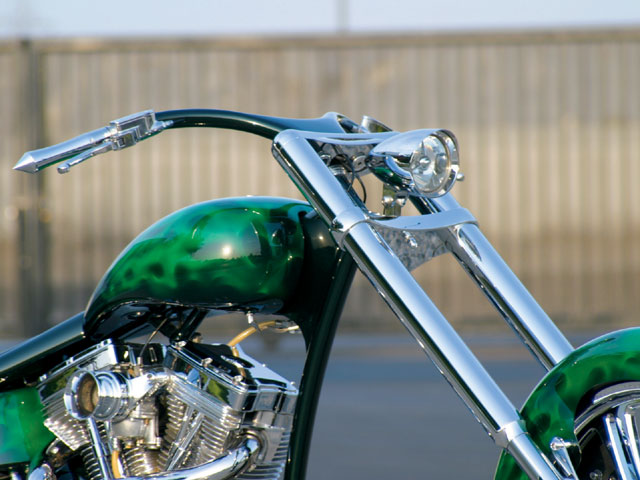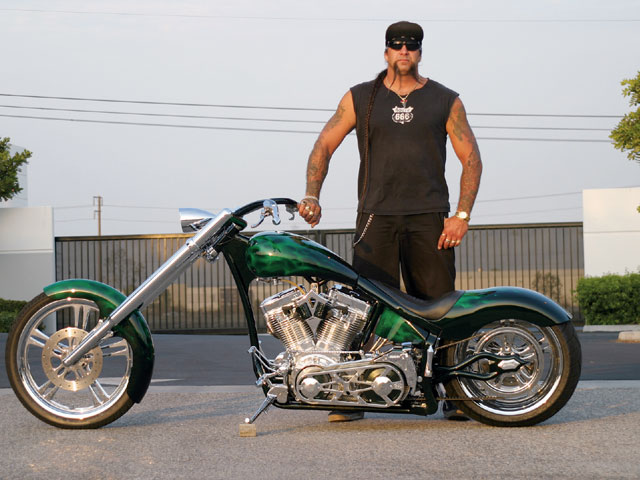 Right about the time dressers were rolling into popularity, Martin Aguilar walked into Sanitarium Cycles in Ontario, California, looking for just the opposite. The chopper lovefest had peaked; tons of new builders were still looking to make a go of it, hawking chopped iron to anyone with the green to buy the dream. Some were saying that long choppers were starting the long fade out of the spotlight, but that didn't deter Martin from getting his.
Well, sorta-kinda. Using a second mortgage to buy a bike wasn't Martin's bag. Instead, he hunted around for a reasonable shop and went with Sanitarium, partly because they were willing to work with him to build a good chopper for less than the federal deficit. The shop's owned by a guy who goes by Whiskey; he's a former jet propulsion engineer who was raised around motorcycles. For Whiskey, riding is a family tradition spanning three generations. It was a hobby that snowballed into a full-time career. He prides himself on clean and functional V-Twins for reasonable prices. Instead of one earth-shatterer, he builds lots of reasonable customs.
The key to that with Martin's project was moderation. "We kept it in between mild and radical. I went in going for cleanliness. It's not all overboard with molding," Whiskey said. There also isn't much in the way of one-offs on this chopper. Hand-fabricated, unique parts really personalize a bike, but they also gobble up time in the making and when you're charging for labor you can be damn sure time equals money. Having said that, Whiskey chose the aftermarket parts for this project very carefully, so as to give Martin the classy and rideable chop he'd asked for. The sort of bike you can take to a show, then hit the road for a good ride afterward.
Choosing the right parts was foreplay for the main event, though. Once he had enough parts to get under way, Whiskey still had to make them all flow together into a unified design, and that was the real work. He concentrated on sanitizing it and molding it just enough to clean up the welds and make the sheetmetal look like it was made just for the Diamond Chassis. That sounds a lot simpler than it actually is; the same's true of the paint. The bike oozes a darkness offset by green flames, but there's a subtle glow to it from the candy green that went over the initial paintjob.
By the time the chopper was ready to roll, dressers were the next big thing. A lot of new chopper builders fell victim to changing trends, but Sanitarium wasn't one of them. Whiskey's reasonable approach not only made Martin Aguilar a happy customer, it also keeps Sanitarium alive and kicking.
| | |
| --- | --- |
| SPEC SHEET | |
| OWNER | Martin Aguilar |
| SHOP | Sanitarium Cycles |
| PHONE | (909) 390-9707 |
| WEBSITE | www.myspace.com/sanitariumcycles |
| YEAR/MAKE/MODEL | '07/Sanitarium Cycles/ Pro-Street |
| FABRICATION | Whiskey at Sanitarium Cycles |
| ASSEMBLY | Whiskey at Sanitarium Cycles |
| BUILD TIME | One year |
| | |
| --- | --- |
| ENGINE | |
| YEAR/TYPE/SIZE | '07/Ultima/120ci |
| BUILDER | Ultima |
| CASES | Ultima |
| FLYWHEELS | Ultima |
| CYLINDERS | Ultima |
| HEADS | Ultima |
| VALVES | Ultima |
| ROCKERS | Ultima |
| ROCKER BOXES | Ultima |
| PUSHRODS | JIMS |
| CAM | Andrews |
| LIFTERS | Andrews |
| CARBURETOR | S&S; |
| EXHAUST | Street Walker |
| | |
| --- | --- |
| TRANSMISSION | |
| YEAR/TYPE | '07/Ultima |
| CASE | Ultima |
| GEARS | Ultima |
| CLUTCH | BDL |
| PRIMARY DRIVE | BDL |
| | |
| --- | --- |
| FRAME | |
| YEAR/TYPE | '06/Diamond Chassis Softail |
| RAKE | 43 degrees |
| STRETCH | 4 inches out, 1 inch up |
| | |
| --- | --- |
| SUSPENSION | |
| FRONT | American Suspension |
| LENGTH | 2 inches over |
| TRIPLE-TREES | American Suspension |
| REAR SWINGARM | Diamond Chassis |
| SHOCKS | Platinum air ride |
| | |
| --- | --- |
| WHEELS, TIRES, AND BRAKES | |
| FRONTBUILDER/SIZE | PM Villain/21×2.15-inch |
| TIRE/SIZE | Metzeler 30/{{{90}}} |
| CALIPER(S) | PM |
| ROTOR | PM Villain |
| REAR BUILDER/SIZE | PM Villain/18×8.5-inch |
| TIRE/SIZE | Metzeler/{{{240}}} |
| CALIPER | PM |
| ROTOR | PM Villain |
| | |
| --- | --- |
| FINISH/PAINT | |
| COLOR(S) | House of Kolor Organic Green |
| PAINTER | Prax Garcia |
| GRAPHICS | Pink House Kustoms |
| MOLDING | Sanitarium |
| | |
| --- | --- |
| ACCESSORIES | |
| FRONT FENDER | Russ Wernimont |
| REAR FENDER | Russ Wernimont |
| GAS TANK | Russ Wernimont |
| OIL TANK | Diamond Chassis |
| HANDLEBARS | Diamond Chassis |
| HAND CONTROLS | PM |
| FOOT CONTROLS | McCaas |
| FOOTPEGS | McCaas |
| HEADLIGHT | Accessories Unlimited |
| TAILLIGHT | Sanitarium |
| LICENSE MOUNT | Sanitarium |
| SEAT | Miller Upholstery |