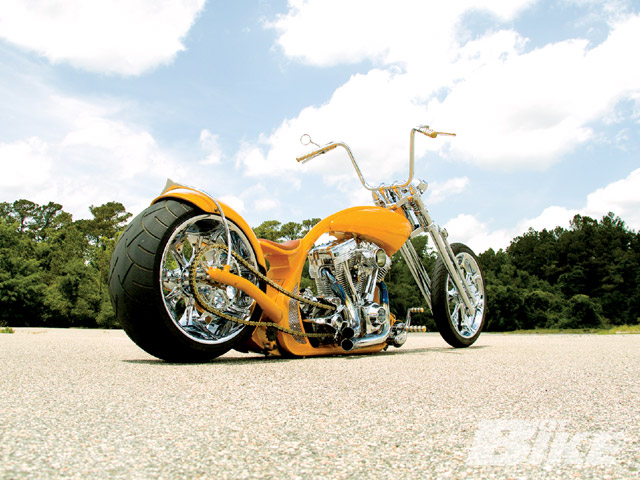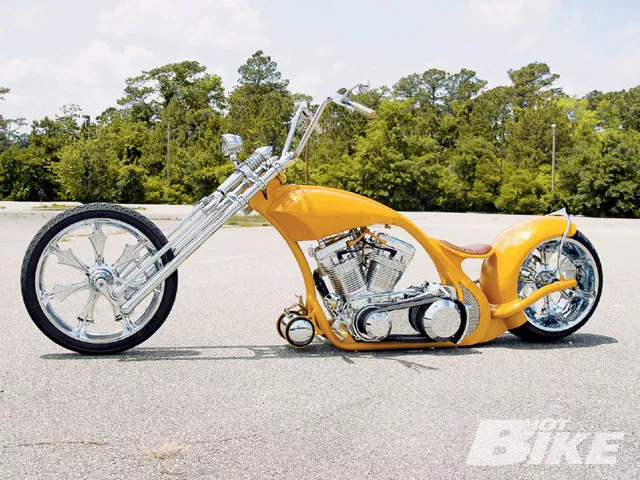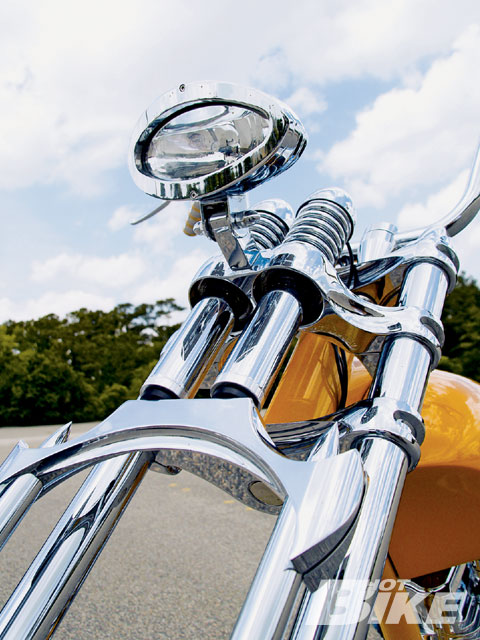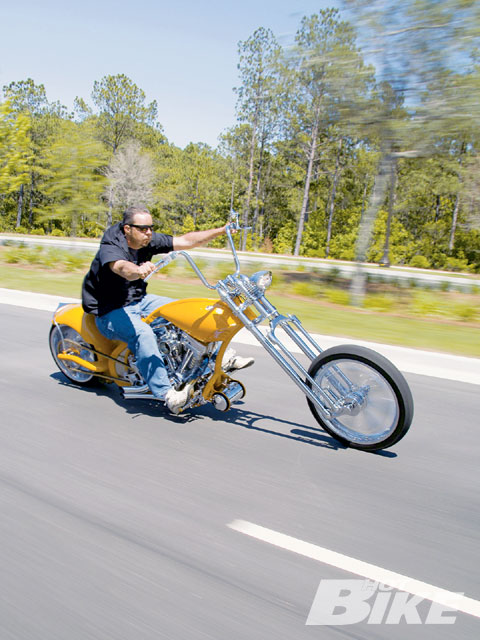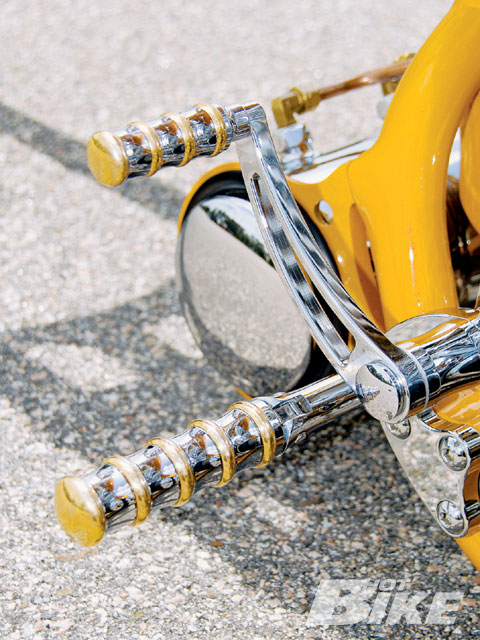 After building a couple custom bikes out of his garage that caught attention and won awards, Eddie Wise of Pelion, South Carolina, got "wise" and decided to take things a little more seriously. With his main gig being a woodworker building custom cabinets for high-end homes, turning metal into beautifully crafted and functional motorcycles was an easy transition for Eddie. The only difference was there's more mechanics involved in creating a custom motorcycle. After moving the cabinet business into a new building, Eddie and his buddy/business partner Bryan Stone decided to use the old woodworking shop as the digs for a side venture, a custom motorcycle shop, and in 2007 they opened Image 803.
After building a bike dubbed "The Scorpion King" which won tons of awards and made the cover of a national motorcycle magazine (yes there are other mags besides HOT BIKE-hard to believe we know), people began asking Eddie and Bryan how they were going to top that previous success. At that time, Eddie didn't know what he was going to build next, but as soon as he sat down with a pencil and some paper the ideas started to emerge on the page. "I knew it had to be different, because that's how I am," Eddie told us. "I wanted something that looked as if it was brought from the past into the future and fitted with all the newest gadgets and gismos." Through the experience with the Scorpion bike, Eddie knew that if he wanted to stand a chance at any of the big bike shows he needed to build something special.
Cruising around his town, Eddie spotted a frame in the window of a local motorcycle shop. After talking with the guys at the shop they told him "Some Guy" in Georgia made the frame and gave Eddie "Some Guy's" phone number. With specs in mind and a pretty good idea of what he wanted to build, Eddie called up "Some Guy" and ordered a custom frame. However, by the time the frame arrived Eddie and Bryan had already changed direction on how they envisioned the bike. The key aspect of their new idea was to have the bike "sit" on the ground. Eddie also wanted a suspended seat, so that it would look like he was floating in air when riding.
"We hacked up that frame," Eddie said. "We basically cut off the back half of the frame and started from scratch. To get the bike to rise up off the ground we ordered a Shotgun Shocks Softail style air ride unit for the rear and an American Suspension Springer frontend that was also set up with an air ride system." Getting the frame to look exactly right and getting it to function with the frontend so that the frame rails would drop to the ground when aired out and then there would be at least 4-1/2 inches of ground clearance when ready to ride wasn't as easy as Eddie and Bryan originally thought. There was a lot of tacking, moving, re-tacking and checking on both the frame and frontend before final welding. "But it was all worth it because I ride over speed bumps with no worries," Eddie said.For the wheels, Eddie ordered a set of Devil's Slide wheels from Metal Motorsports, a 21×2.15 for the front and an 18×10 1/2 for the rear. Carved from solid aluminum, the wheels have a true 3-D design with each spoke flowing all the way out to the outer edge of the rim. With such badass wheels in play, Eddie didn't want to hide them behind brake rotors, so for the front he utilized a 360 brake setup, and in the rear he went with trans brake from JayBrake. To really show off the front wheel Eddie and Bryan decided to pass on a front fender and focused their attention on the gas tank and rear fender. The rear fender was pretty straightforward. They took a blank wide enough to cover the 280 Metzeler and shaped it to expose the lip of the rim, then mounted it to the swingarm. With such a heavy piece of metal hanging off the back of the bike, they fabbed up a strut/sissy bar to help support the fender. "For the tank I ordered up a kit that was basically two tank halves. Then like everything else I began cutting, shaping and welding to get it just right," Eddie commented. "I wanted split tanks with the backbone running through it, I also dished out the front of the tanks so that they flowed with the arch of the downtube. I modified the hell out of the two tank halves; there is probably only about 20 percent of the tanks that is still original."
Once everything was completed and the bike was finished the show circuit started. "The bike has done really well in all of the shows and gets a ton of attention every where I ride it. In fact that's the thing that surprised me the most was how well this bike rides," said Eddie. It's smooth, comfortable and still manageable in the turns. I can ride from Columbia, South Carolina, to Myrtle Beach, South Carolina, which is about a three hour ride, stop one time and still feel fresh and ready to ride more when I get into town. We like building bikes that are different but rideable. Our motto is 'custom bikes built one at a time, to be one of a kind. ' I think this bike sums up our motto perfectly."
| | |
| --- | --- |
| SPECS | |
| BIKE OWNER | Eddie Wise |
| SHOP NAME | Image 803 |
| SHOP PHONE | (803) 513-1736 |
| SHOP WEBSITE | |
| YEAR/MODEL | '08/Special Construction |
| FABRICATION | Image 803 |
| ASSEMBLY | Image 803 |
| BUILD TIME | Six Months |
| | |
| --- | --- |
| ENGINE | |
| YEAR/MANUFACTURER | '08/Patrick Racing |
| TYPE/SIZE | Evo/101ci |
| BUILDER | Patrick Racing |
| CASES | S&S; |
| CYLINDERS | Patrick Racing |
| HEADS | Patrick Racing |
| ROCKER BOXES | Patrick Racing |
| CARBURETOR | Mikuni |
| AIR CLEANER | Velocity Stack |
| EXHAUST | Image 803/Russell Marlowe |
| | |
| --- | --- |
| TRANSMISSION | |
| YEAR/MANUFACTURER/TYPE | '08/Baker/RSD Six Speed |
| CASE | Baker |
| PRIMARY DRIVE | Russell Marlow |
| | |
| --- | --- |
| FRAME | |
| YEAR/MANUFACTURER | '08/Image 803 |
| RAKE | 45 degrees |
| STRETCH | 10 inches out, 2 inches up |
| | |
| --- | --- |
| SUSPENSION | |
| MANUFACTURER | |
| FRONT | American Suspension/Image 803 |
| LENGTH | 4 inches over |
| TRIPLE TREES | American Suspension |
| MANUFACTURER REAR | Shotgun Shocks |
| SWINGARM | Image 803 |
| | |
| --- | --- |
| WHEELS, TIRES, AND BRAKES | |
| MANUFACTURER | |
| FRONT/TYPE | Metalmotorsports/Devil's Slide |
| SIZE-WIDTH/HEIGHT | 21×2.15 |
| TIRE/SIZE | Metzeler/90×21 |
| CALIPER | 360 Brake |
| ROTOR | 360 Brake |
| MANUFACTUER REAR/TYPE | Metalmotorsports |
| SIZE-WIDTH/HEIGHT | 18×10.5 |
| TIRE/SIZE | Metzeler/18×280 |
| CALIPER | Jay Brake |
| ROTOR | Jay Brake |
| | |
| --- | --- |
| FINISH/PAINT | |
| COLOR | Butterscotch |
| PAINTER | Richard and Goofy |
| PLATING/POLISHING | Chrome Masters |
| | |
| --- | --- |
| ACCESSORIES | |
| REAR FENDER | Image 803 |
| FENDER STRUTS | Image 803 |
| GAS TANK∩ | Image 803/Matt Hotch |
| OIL TANK | Mooneyes |
| HANDLEBARS | Image 803 |
| MIRRORS | Euro Components |
| HAND CONTROLS | Euro Components |
| FOOT CONTROLS | Euro Components |
| FOOTPEGS | Euro Components |
| HEADLIGHT | Kodlin |
| TAILLIGHT | Metal Art |
| LICENSE MOUNT | Metal Art |
| SEAT | Mark |