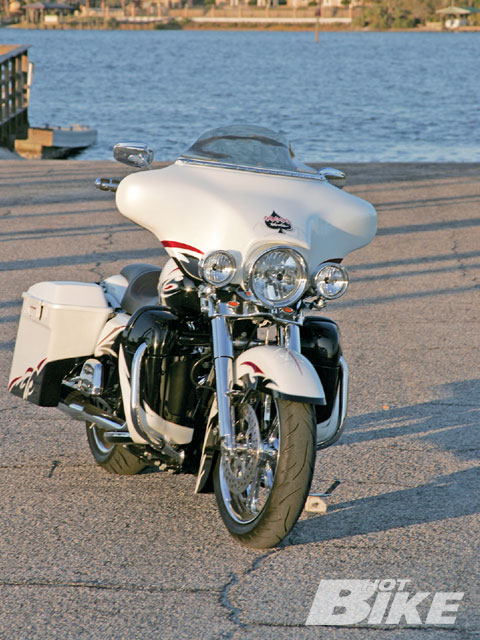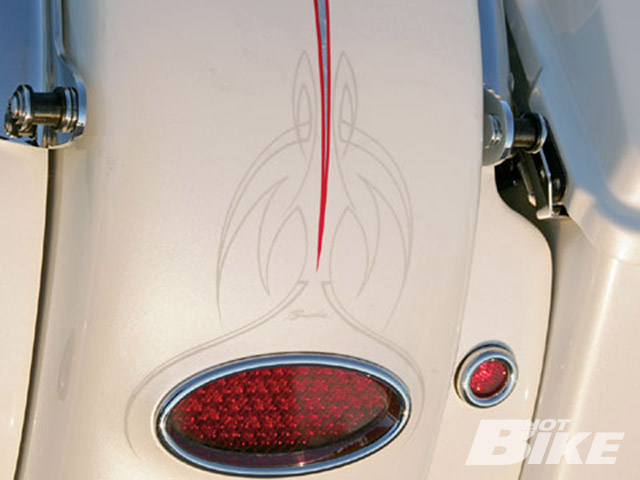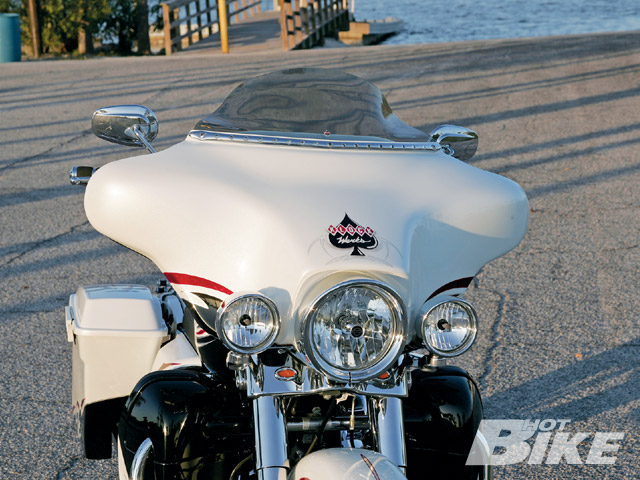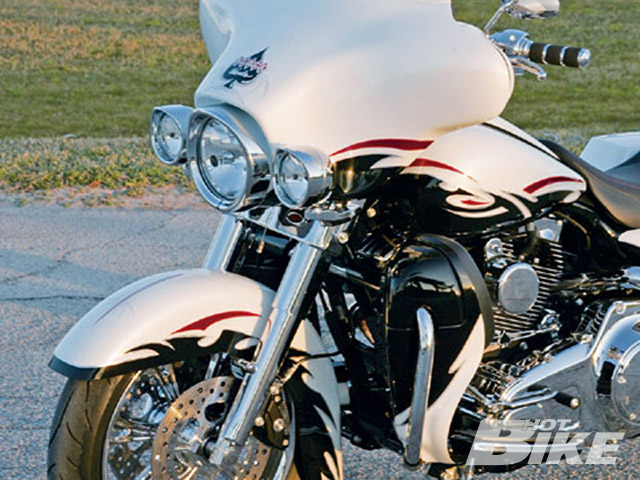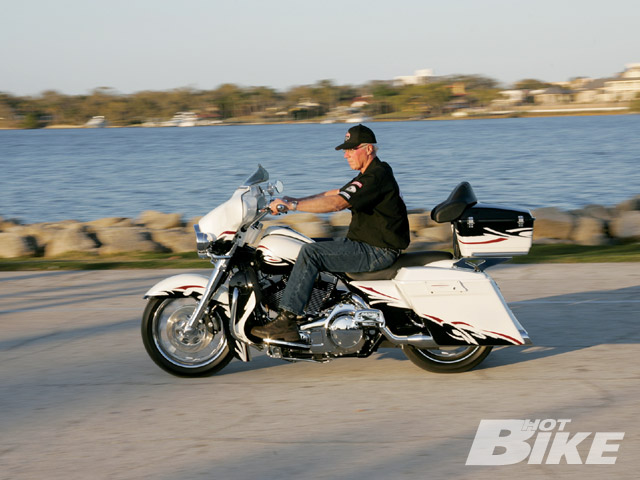 I don't think I would've wanted Brian Klock in my Cub Scout troop as a kid. Sure, things would've been fine most of the year, but for one day, he'd be the kid every other cub wanted to scalp. I'm talking about the pinewood derby. That's where fathers and sons have to build little wood cars, race them, and get a little trophy. Given his father Roger's love of cars and motorcycles, and how he instilled that in Brian, going up against those two in a build-a-car race would be a one-way ticket to therapy for every other cub in the pack. If you need proof of what I'm saying, check out the '09 Electra Glide Classic Brian tailored to his pop.
It's the third in a series of rides Brian has created to give props to his father for being there when he took the leap into custom bike building back in 1997. Back then Roger questioned his son's sanity; he may have even mumbled "adoption" once or twice. Now? Not so much. When your bikes hold land speed records and grace magazine covers on a regular basis, it's okay to call yourself a successful custom bike builder.
Enough with the history lesson, though. Harley renovated its entire tour line for '09, thanks to the redesigned frame. The ripple from that reached the aftermarket, sending guys like Brian to their CAD programs and drawing boards, coming up with new custom parts to fit. Roger's bike carries the result of his son's latest creative impulses.
Knowing that most of his customers are looking to dress up their rides as their wallets and watches will allow, Brian tried to keep the parts line for the new baggers quick and easy bolt-on components that can be added all at once or one part at a time. For his pops bike the biggest changes were centered in and around the body work. New sheetmetal means a new stance, and that's what Roger wanted. Klock Werks went after the rear fender, changing it over to one of its own, complete with new oval taillight, marker lights, and a light-up license frame. Likewise, Brian changed out the front fender for one of his new Benchmark pieces that fits Harley's stock 17-inch wheel as well as the 18-inch RC Components wheel on this machine. Insofar as the gas goes, Klock Werks styled it up with its own dash and a Ness cap.
Even though the motor hop up was mild, the bike still managed to surprise the Klock Werks team after Roger's maiden run. When Roger got back to the shop, he said it was cool. No big twist there; Klock Werks makes great baggers all year long. "No," Roger said. "It was cool." He was being literal. Brian saddled this iron horse with a Drag Specialties seat covered in a special reflective leather. He tells us the butt rest is 45 degrees cooler to the touch in most situations. That's not a bad bit of air conditioning to have on a long day's run in the hot sun.
Still, any excuse to design new parts is a good excuse. Roger's bike guinea pigged for his son's shop as a pipe mule (Klock Werks needed new exhaust designs for the '09 tourers). Thus the new DoubleBack header mated to a Revolver muffler eight-position tip. It's a mellow-toned setup; we're guessing Roger likes to hear his stereo more than his pipes. The other motor changes were confined to Roland Sands rocker boxes and a MoFlow air cleaner from Cycle Visions.
When Brian Klock took his leap of faith into starting his own shop back 1997, it filled his dad with a hope and dread cocktail for the future. Fortunately, Roger raised his son well enough to make the dream happen. Roger's new ride and the 12 years of professional experience that produced it are proof of that. Good thing he didn't put Brian up for adoption or someone else would be getting all these cool motorcycles.
| | |
| --- | --- |
| SPECS | |
| BIKE OWNER | Roger Klock |
| SHOP NAME | Klock Werks |
| SHOP PHONE | (605) 996-3700 |
| SHOP WEBSITE | kustomcycles.com |
| YEAR/MAKE/MODEL | 2009 H-D {{{Electra}}} Glide Classic |
| FABRICATION | Klock Werks Design Team |
| ASSEMBLY | Klock Werks Design Team |
| BUILD TIME | Two months |
| | |
| --- | --- |
| ENGINE | |
| YEAR/MANUFACTURER | 2009 H-D |
| TYPE/SIZE | Twin Cam 96ci |
| BUILDER | H-D |
| CASES | H-D |
| CYLINDERS | H-D |
| HEADS | H-D |
| ROCKER BOXES | Roland Sands Design |
| CARBURETOR/EFI | H-D |
| AIR CLEANER | MoFlow by Cycle Visions |
| EXHAUST | Klock Werks Double Back True Duals/Revolver Mufflers |
| | |
| --- | --- |
| TRANSMISSION | |
| YEAR/MANUFACTURER/TYPE | 2009 H-D six-speed |
| CASE | H-D |
| CLUTCH | H-D |
| PRIMARY DRIVE | H-D with chrome inner |
| | |
| --- | --- |
| FRAME | |
| YEAR/MANUFACTURER | 2009 H-D Electra Glide Classic |
| RAKE | Stock |
| STRETCH | None |
| | |
| --- | --- |
| SUSPENSION | |
| MANUFACTURER FRONT | H-D legs/Progressive Suspension springs |
| LENGTH | 1 inch under |
| TRIPLE TREES | H-D |
| MANFACTURER REAR | H-D |
| SWINGARM | H-D |
| | |
| --- | --- |
| WHEELS, TIRES, AND BRAKES | |
| MANUFACTURER FRONT/TYPE | RC Components |
| SIZE-WIDTH/HEIGHT | 18×3.5-inch |
| TIRE/SIZE | Avon Cobra 130/70-18 |
| CALIPER | H-D |
| ROTOR | RC Components |
| MANUFACTURER REAR/TYPE | RC Components |
| SIZE-WIDTH/HEIGHT | 18×5.5-inch |
| TIRE/SIZE | Avon Cobra 180/55-18 |
| CALIPER | H-D |
| ROTOR | RC Components |
| | |
| --- | --- |
| FINISH/PAINT | |
| COLOR | Pearl White, Vivid Black |
| PAINTER | Steel {{{Vision}}} Design |
| GRAPHICS | Eric Carr and Mark Brodie |
| PLATING/POLISHING | Chromemasters |
| POWDERCOAT | QW Design |
| | |
| --- | --- |
| ACCESSORIES | |
| FRONT FENDER | Klock Werks Benchmark |
| REAR FENDER | Klock Werks |
| FENDER STRUTS | KW One-Piece Fillers |
| GAS TANK & CAP | H-D with Ness cap |
| OIL TANK | H-D |
| DASH | Klock Werks (painted inner) |
| GAUGES | Klock Werks/Auto Meter |
| HANDLEBARS | Klock Werks Ergobars |
| RISERS | H-D |
| MIRRORS | H-D |
| HAND CONTROLS | H-D |
| FOOT CONTROLS | H-D |
| FOOTPEGS | H-D |
| HEADLIGHT | H-D |
| TAILLIGHT | Klock Werks |
| TURN SIGNALS | Klock Werks |
| LICENSE MOUNT | Klock Werks |
| SEAT | Drag Specialties |
| SADDLEBAGS | Klock Werks |
| SADDLEBAG LATCHES | Klock Werks |
| BAG FILLERS | Klock Wereks |
| FAIRING | H-D |
| STEREO | H-D |
| SPEAKERS | H-D/Klock Werks |