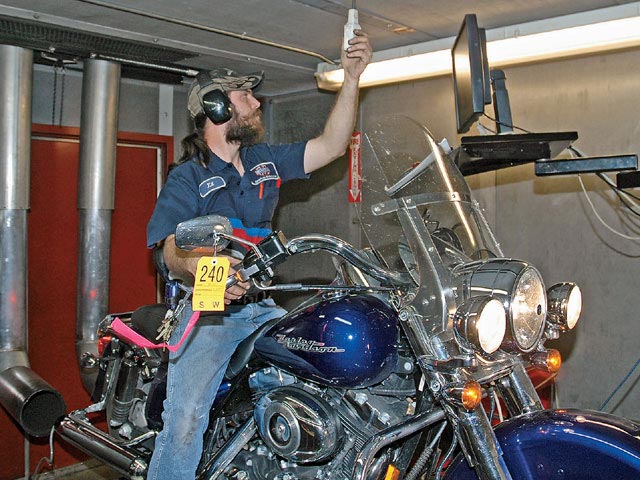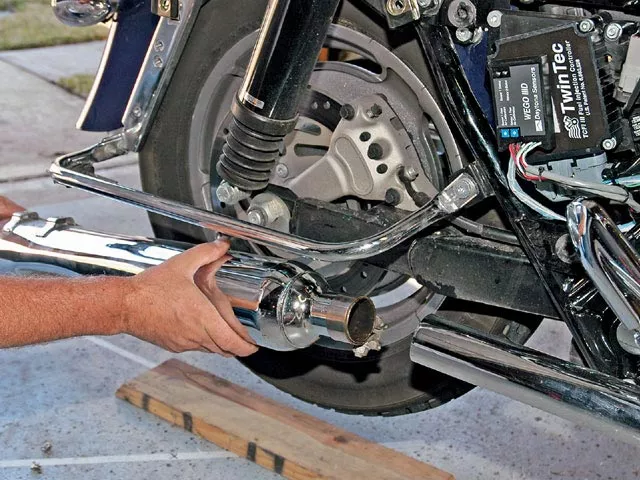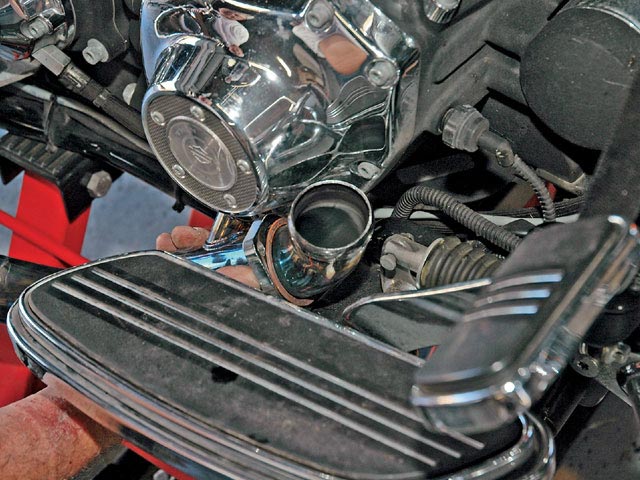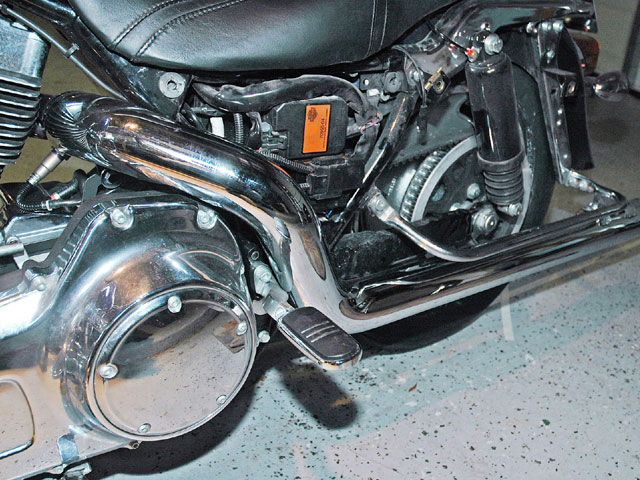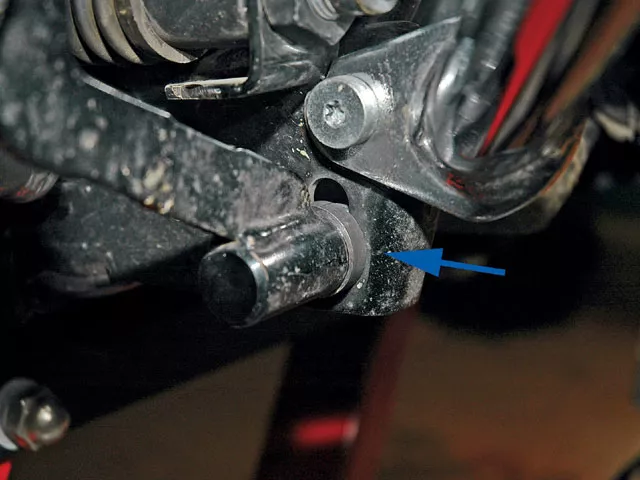 We were tired of the calm putt-putt and bland looks of the stock exhaust on our muscular '07 Road King Custom. So, given the opportunity, we were excited to install a set of Hard Krome T-Rex 3-inch True Duals (Part No 961-2007 MSRP $824.95). Hard Krome markets the T-Rex as the largest true dual exhaust system in the industry. The 3-inch diameter outer pipe creates a massive-looking flow of chrome from header to rear fender. While we know that true duals aren't the best choice for maximum street performance, we can't resist the balanced look of individual pipes blasting a healthy beat out the back, and they feel so natural on a Road King.
These pipes will never blue because of their patented double-wall construction. The inner pipe is a progressive stepped header design beginning with a 1.75-inch diameter pipe at the exhaust port that steps to a 1.875-inch diameter, and then to a 2-inch diameter and terminates into 2.25-inch diameter removable baffle. It's all surrounded by a chrome 3-inch outer wall, which ends with a chrome 3-inch billet aluminum end cap. All 2007 and up models have dual O2 sensor ports.
Installation of the T-Rex set was straightforward, complicated only by the lack of instructions. Without those, we stumbled a couple times, but if you read our story then you can benefit from our experience. The hardest part was removing the multi-jointed stock exhausts. Plus, with the T-Rex built-in heat shields, the pipes were heavy and bulky to handle.
Prior to adding these pipes, we installed a Daytona Twin Tec TCFI III kit (see HOT BIKE Vol. 40, No. 5). Since this is the configuration we're going to run for a while, we performed a more thorough tuning by carefully following the steps in the Twin Tec TCFI III FI System Tuning Manual.
With those changes, the bike really rode and sounded great. We headed to Mancuso's Harley-Davidson Crossroads in Houston, Texas, for a final dyno run. While a dyno is not required to tune the TCFI III, these dyno numbers did give us valuable information to compare before and after performance and to verify that our off-dyno tuning was accurate. We did not attempt to adjust the TCFI III during the dyno runs.
Although the dyno numbers don't show a substantial performance gain over stock, we are satisfied with our own butt-dyno experience. More importantly, the T-Rex pipes met our criteria for stunning looks and throbbing sounds. To measure that exhaust throb, we used a stationary sound test procedure (see HOT BIKE Vol 40, No 7). At half throttle the stock pipes yielded a docile 98 decibels (dB), while the T-Rex produced a thumping 116 dB. Now that's a roar fit for a king. HB