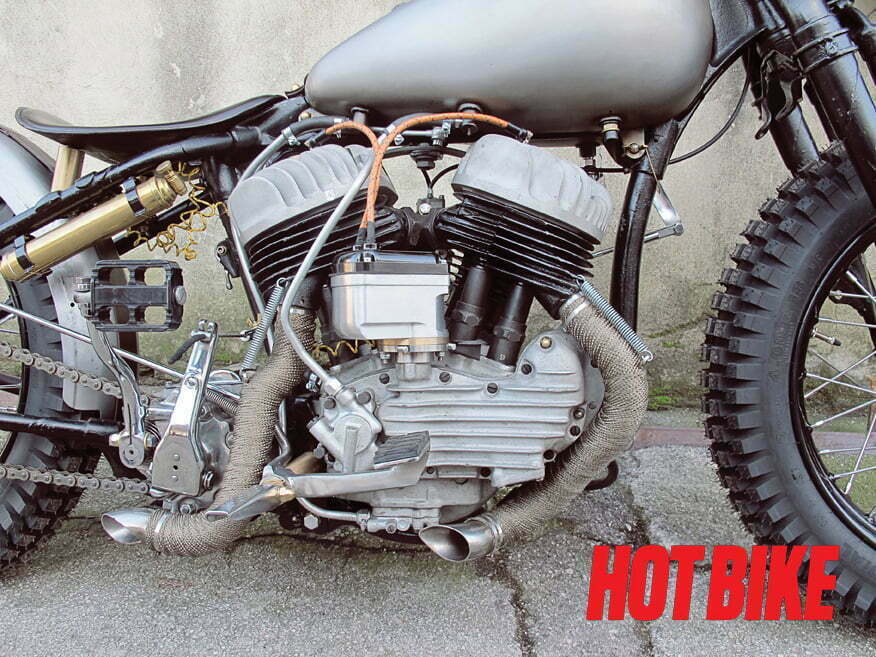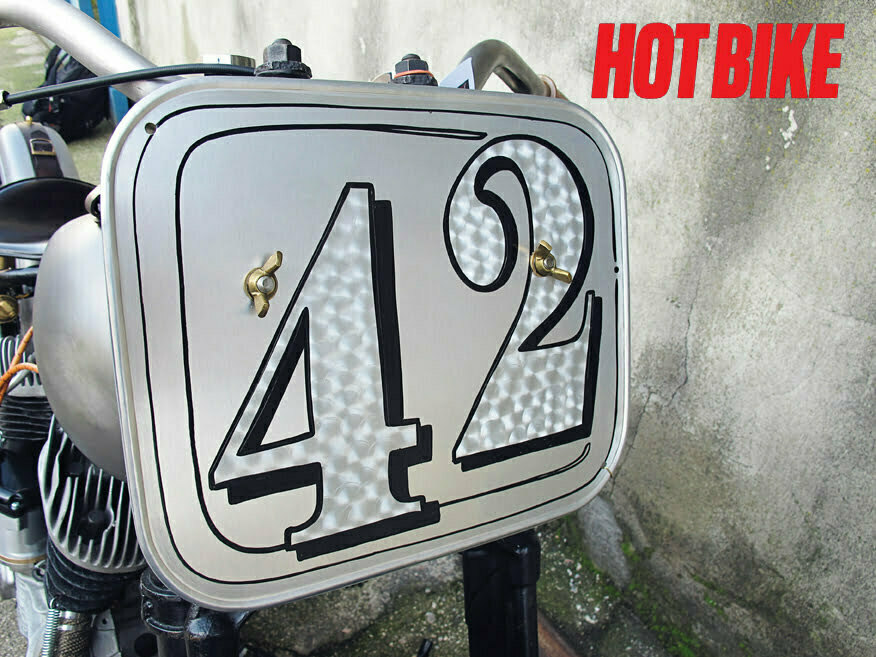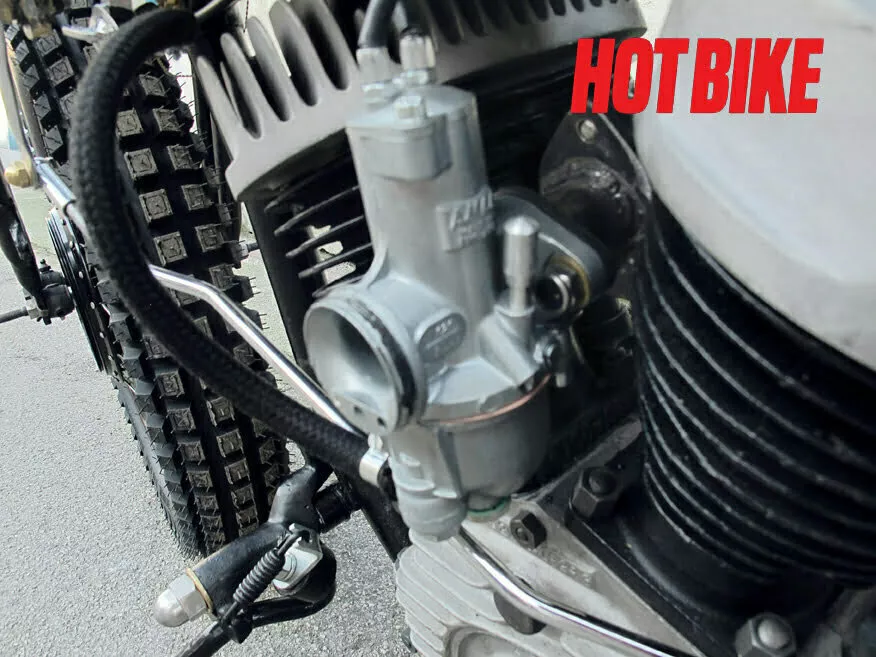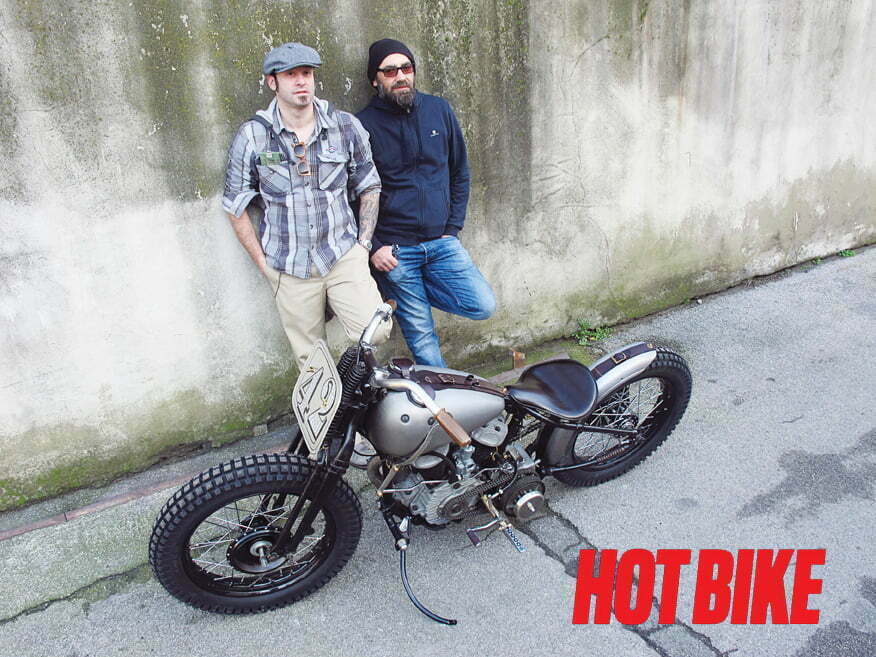 Partin' doesn't need to be sweet sorrow.
Prior to constructing his 1942 Harley-Davidson WLA, Cris Mantello knew budget building and part picking could, indeed, beat boisterous bells and whistles. So after bouncing around bikes, Mantello's conceptual thought process quickly shifted from new-age bikes to those enduring the monotonous modifications of the '40s and '50s. After all, fancy frills are often overshadowed by simplistic strategies.
With classic throwbacks in mind, Mantello's building backlog came to fruition shortly following "one of the best deals" of his life. During a 2010 bartering session, Mantello obtained his first WL through an atypical exchange with a friend. Trading a trio of axes—a Fender Stratocaster, a Gibson SJ 200, and a Gibson Flying J—for the bike, Mantello was stunned when his overly enthusiastic buddy threw in a 1967 Vespa 50 Special. Ironically, the Vespa was worth more than all three guitars combined.
Mantello rode the WL nearly every day for two years straight, traveling roughly 6,000 miles. The bike's transmission was repaired just once, and, during that span, he replaced the original 6V coil ignition with a Morris magneto.
But with his passion not quite satisfied, Mantello transitioned toward other rides. He later purchased a 1953 Panhead, which he customized into a long, Salt Lake-style bobber.
Still, his true dream of building a fast version of the reliable, but admittedly slow, WI never dissipated.
On one boisterous Italian night, Mantello arbitrarily met Alessandro Chopper Castellani at a rather dry gathering. He was riding a stylish iron head with a springer fork and WI handlebar. Mantello admired not only the bike but also Castellani's bushy beard. So with no attractive females in the vicinity, the two quickly departed from the dull revelry and spent the rest of the night riding together from club to club—Mantello on his Pan and Castellani on his sporty. Mantello quickly took notice of the speed of Castellani's bike. Mantello mentioned he had spare parts from the WI, which had never been used, and Castellani said he had some leftovers from the sporty.
From there, a project was conceived.
Both gents, who were youngsters in the '50s, once had visions of bike building to win races and gals. But their unwavering adoration for erecting classic bikes eventually superseded both prizes.
Using a stock frame and a high-compression engine purchased from Harald Hacker in 2011, Mantello implemented a '40s springer found inexpensively on eBay. The first step was to use basement scraps from their personal collection, which turned out to be incredibly cost effective. Castellani designed and built the middle position controls to set a sporty riding position.
They removed all unnecessary parts. The only touch of modernity that remained was the riser, sportster bars, and some hex screws. The controls were constructed to fit Mantello's height, and the choice of the bars and footpegs gave him the ability to ride on both dust and asphalt.
Mantello purchased very few parts: the magneto, tank, and wheels. The carburetor is a British Amal, Mantello's celebratory nudge at the birth of the royal baby (but not really). The biggest coin dropped was for the engine and the Morris magneto ignition.
The bike is 100 percent original, so Mantello restrained himself, removing only the front fender and replacing it with a chopped rear one. He kept the rest original, even the wiring. Castellani, along with his friend, Ronnie, developed the exhaust from scrap. Another friend provided all the brass parts for free—a "gift" from his workplace. The duo also had a craftsman complete the leather details. They decided on leather due to its resistance and increased beauty in the aging process.
The idea to use brass has become Castellani's trademark—a way to ennoble a pig iron bike. Every bolt is in precise position and has been tied with brass wire to prevent loss.
As for color, Castellani wanted green with pinstriping, but Mantello sought black. So they didn't paint it all. It's bare metal, with a front number plate envisioned by pinstriper artist Mosa.
<div class="st-block quote text-
Notice: Undefined index: st_text_align in C:laragonwwwhotbike-importblocksquote.php on line 1
">
As Mantello says, "Motorcycles are supposed to be hit by rocks, uploaded and downloaded from trucks, and eventually fall on the ground." The total investment of the opaque gloss was $10.
At first sight, the bike is simple but full of technical details that are hidden throughout. Thanks, in part, to Castellani's devotion, the two assembled the bike in just a few hours.
It's not a collection of expensive parts from an aftermarket catalog, as Mantello claims. "We are Italians. We are poor at the moment!"
This is the kind of bike, though fast and light, that could be made by a couple of hillbillies back in the '50s with a hammer and a screwdriver in a dump. It's bare bones. There's no front brake because it's too expensive and, as Mantello says, "not so much useful."
Sure, it's rigid; it has a foot clutch, a hand shift, and is completely undecorated metal, but this isn't a prizewinner of a HOG contest or an eye catcher for the squares.
It's pure, unadulterated fun, at little expense.