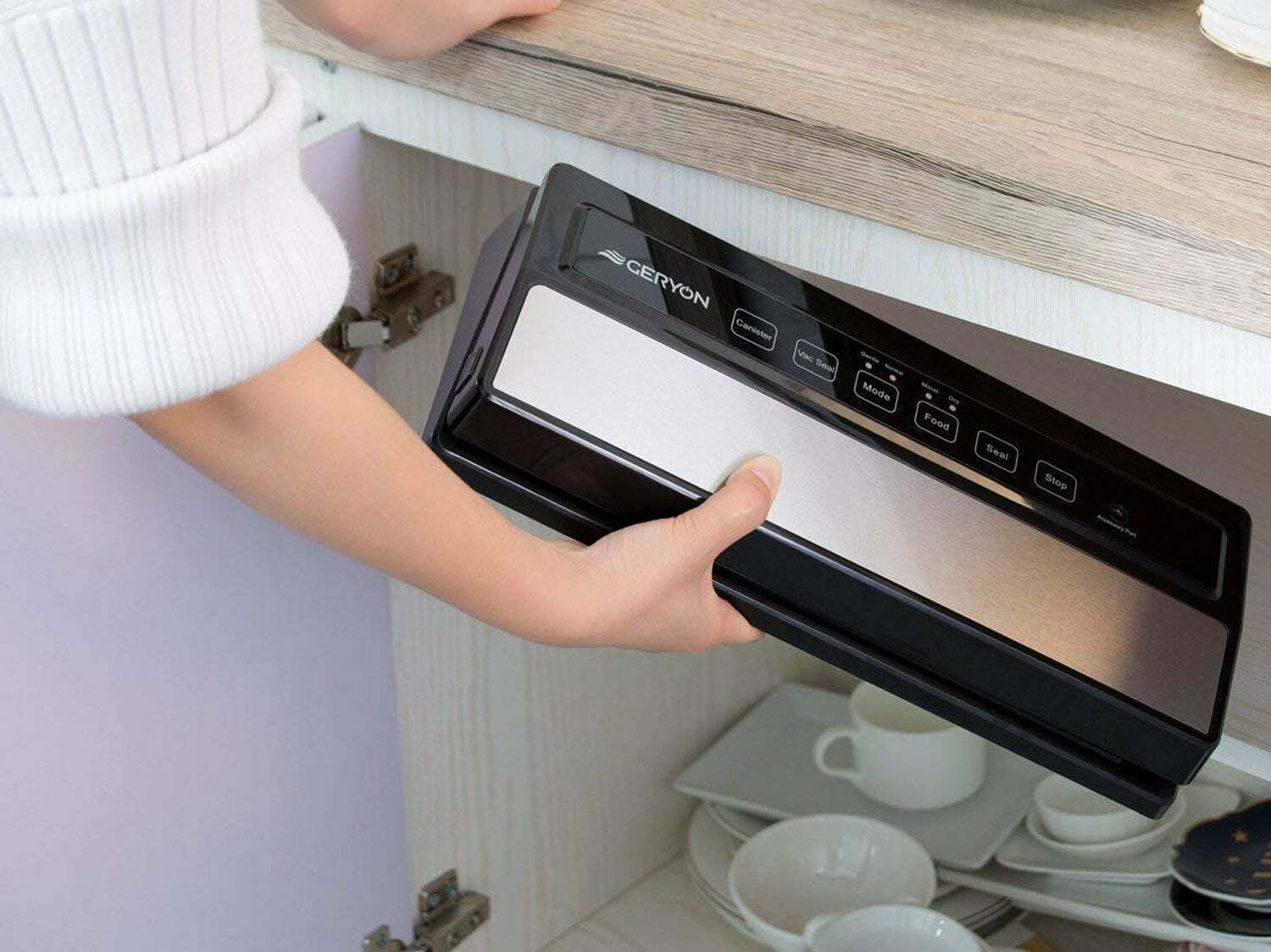 Vacuum sealing your food will extend its life, fact. Vacuum sealing your food that you will throw in the freezer will fight off any and all freezer burn, fact. Your not owning a vacuum sealer means that you throw away food that would've kept if you'd vacuum sealed it, fact. Why waste all of that money when you can save your green by vacuum sealing your greens? We've rounded up the best options in vacuum sealing.
Geryon Vacuum Sealer Machine
The Geryon Vacuum Sealer provides you with premium-level options at entry-level pricing. The sealer features a moist/dry mode that helps provide the right amount of vacuum and seal on food items that contain higher concentrations of moisture, without ruining the machine. This machine also works with rolls or bags, and with rolls and bags that are not proprietary meaning this machine is universal. The sealer comes apart in two sections for quick and simple cleaning. The fully automatic vacuum and sealing process takes the guesswork out of saving your food.
Anova Culinary Sous Vide Nano And Vacuum Sealer Bundle
Anova Culinary is known for its sous vide machines—the company has been making them for more than a decade. When using a sous vide immersion circulator, one needs to immerse whatever they are cooking in a water bath, with the item in a vacuum-sealed bag. Anova has released this combo to give you the all-in-one experience. The one-touch operation of the sealer takes the guesswork out of the procedure and leaves you with a perfect seal. This sealer works with dry or moist food and for added security you can make your own double-seals before inserting your items into the water bath. This sous vide and vacuum sealer combo is perfect if you want to save your food and try out immersion cooking.
Foodsaver V2244 Vacuum Sealer With Bags And Rolls Starter Kit
As its name implies, Foodsaver was created in order to prolong the storage of food for later consumption while utilizing a vacuum-sealing technology. As time has progressed, Foodsaver has been perfecting its products, making them more compact and counter-space friendly, while retaining its sucking and sealing power. The Foodsaver V2244 not only vacuums and seals bags, but with the attachment hose connected, you can seal jars, plastic bags, and food containers. The patented drip tray makes sealing moist foods possible and clean-up simple. Extend your dollar and the life span of your food by sealing it.