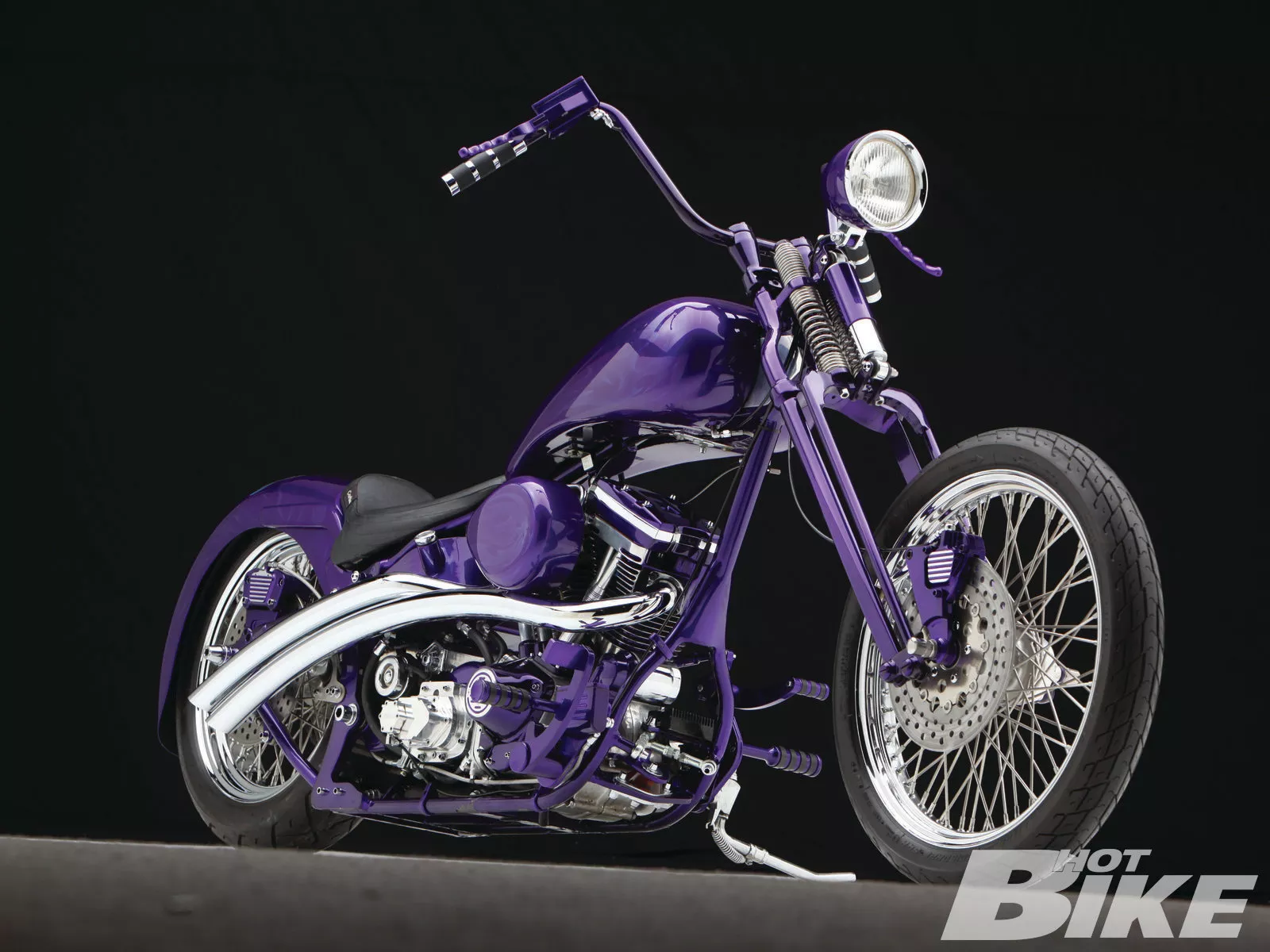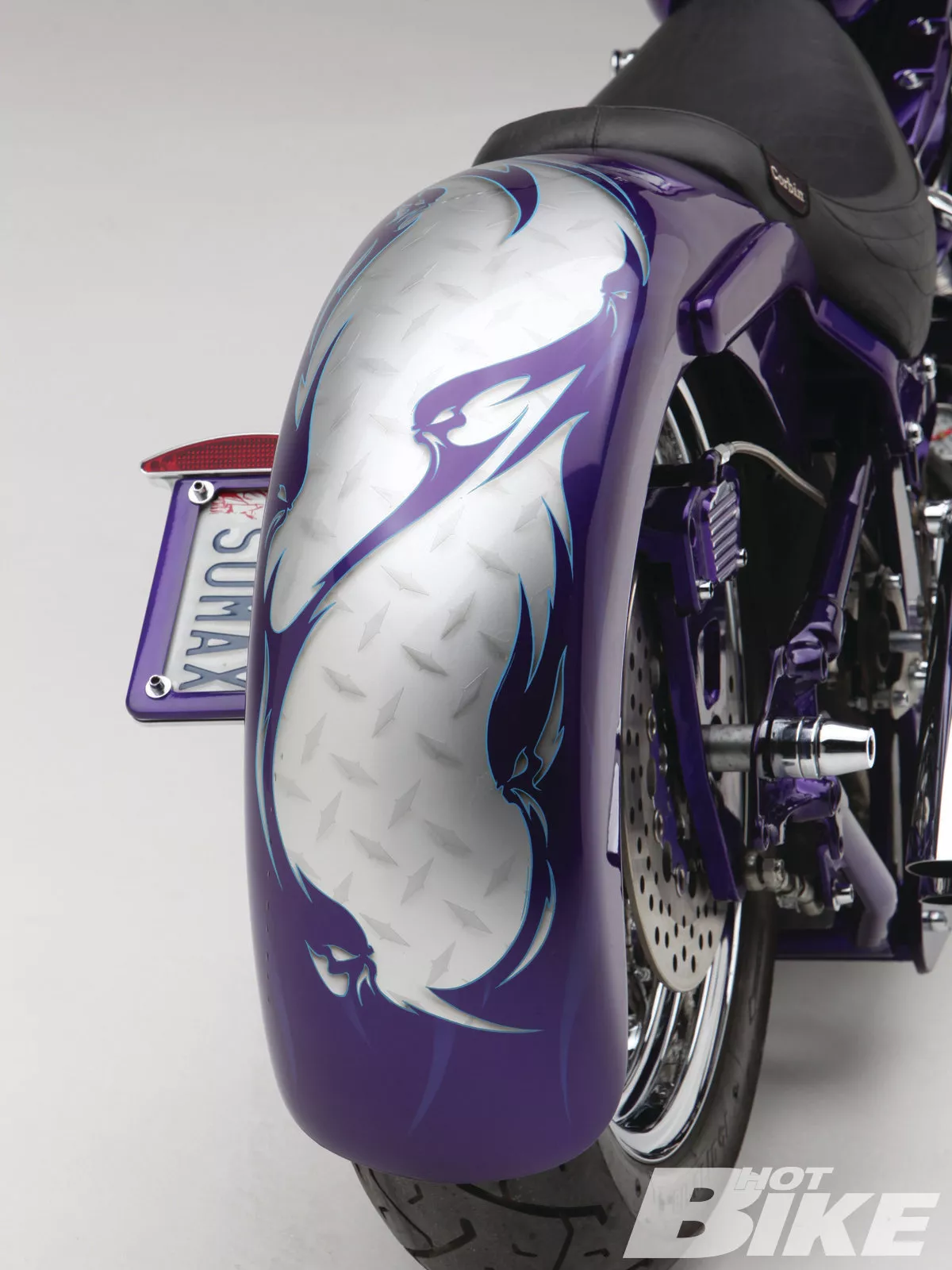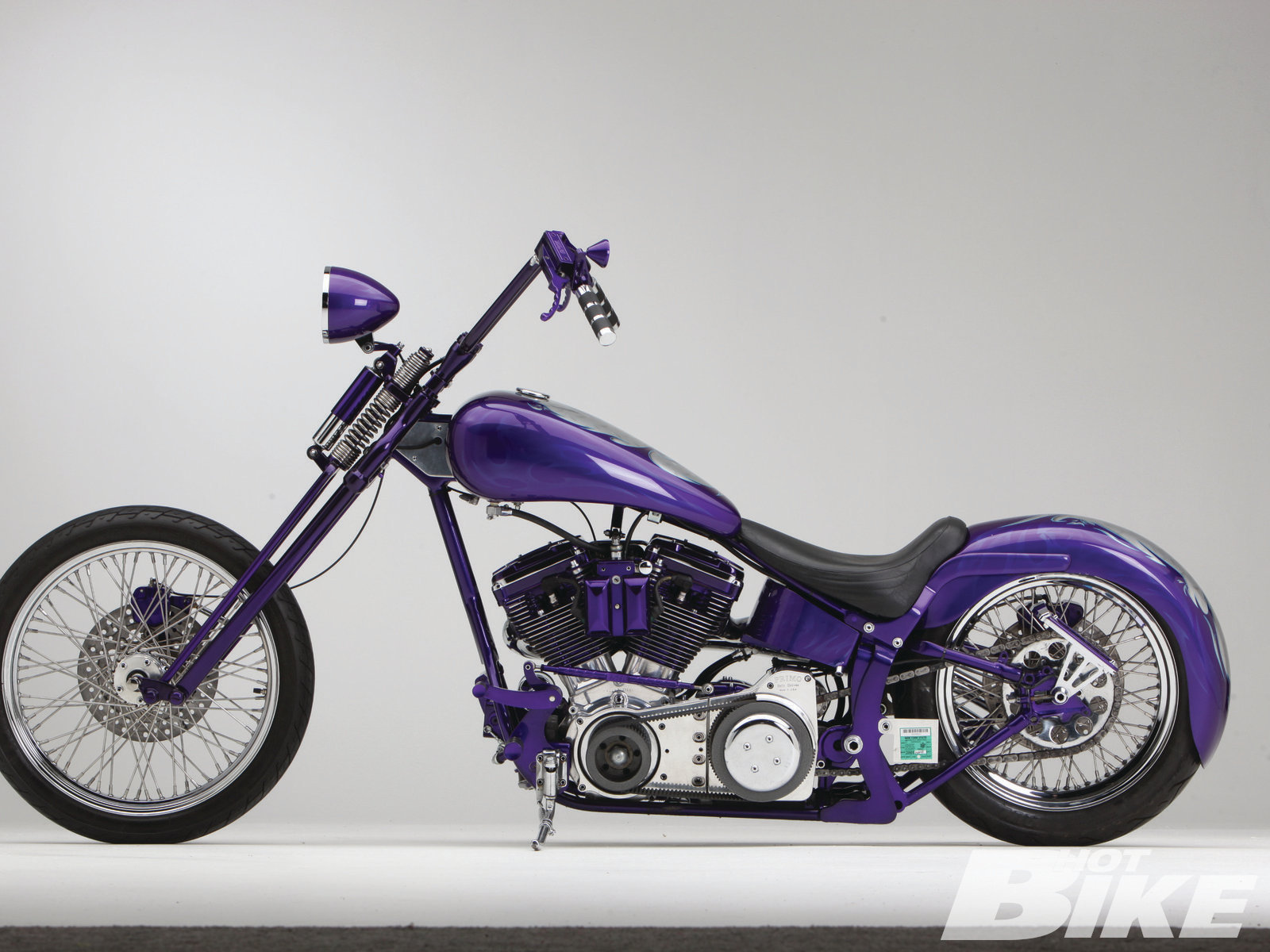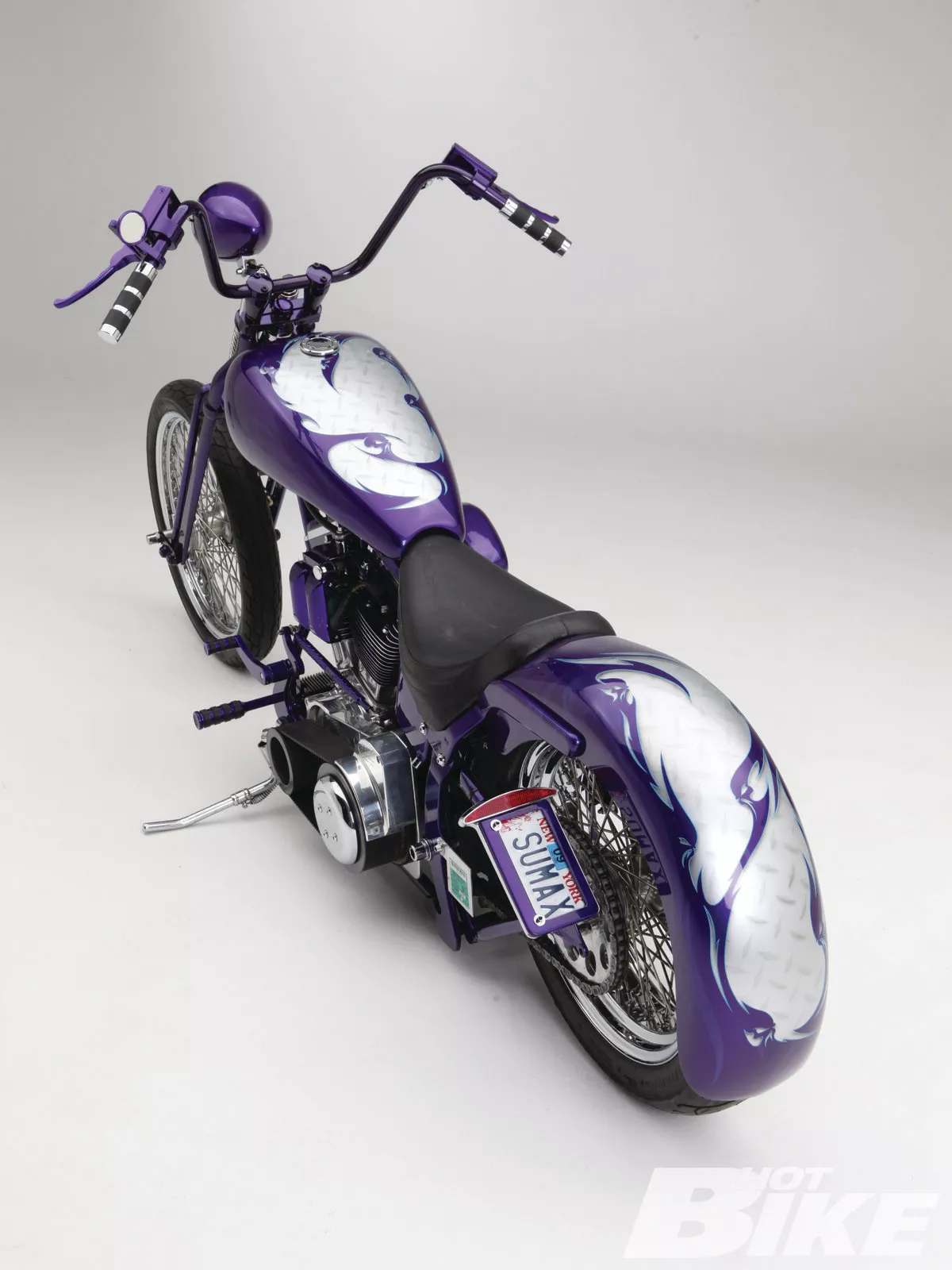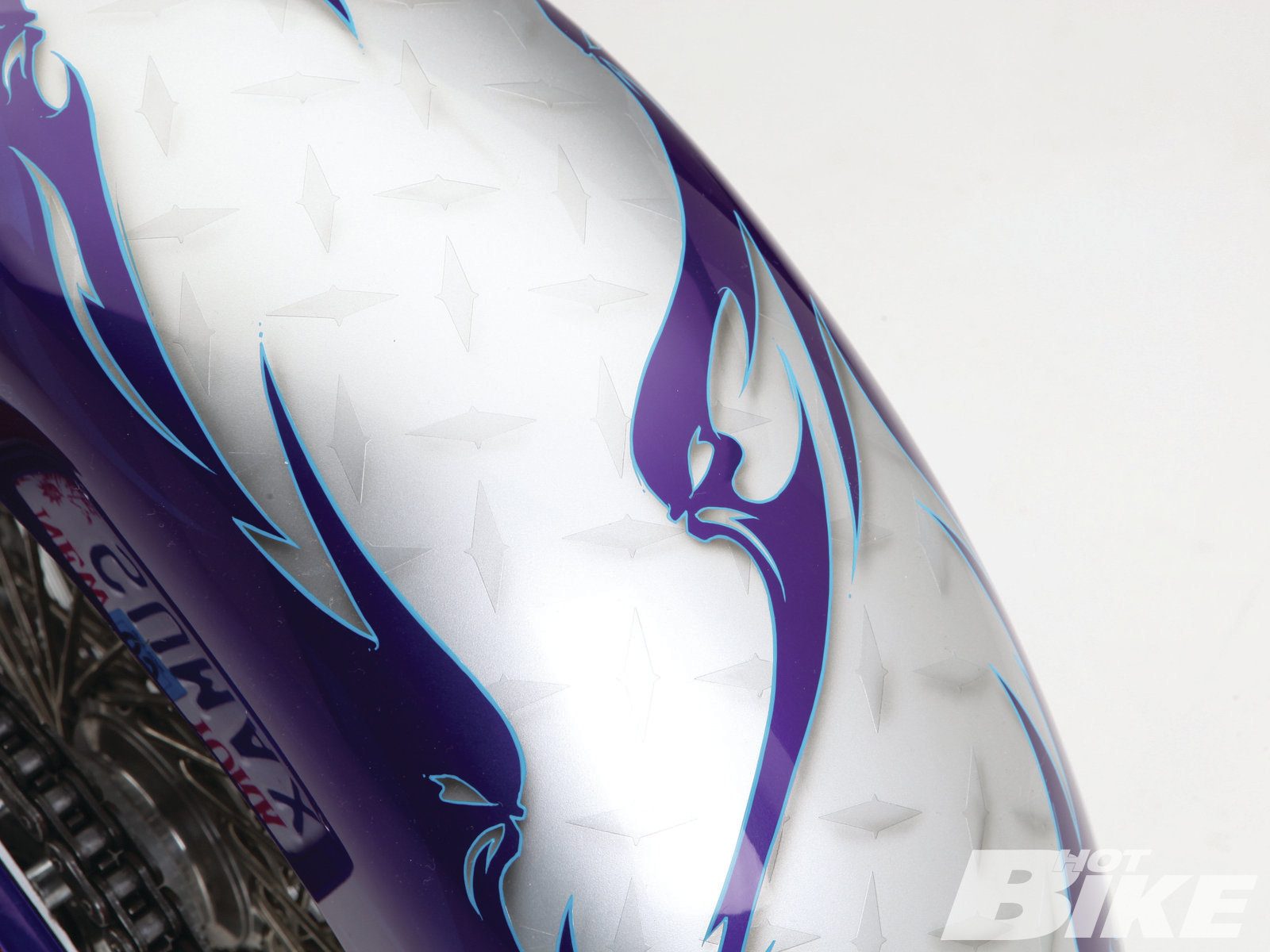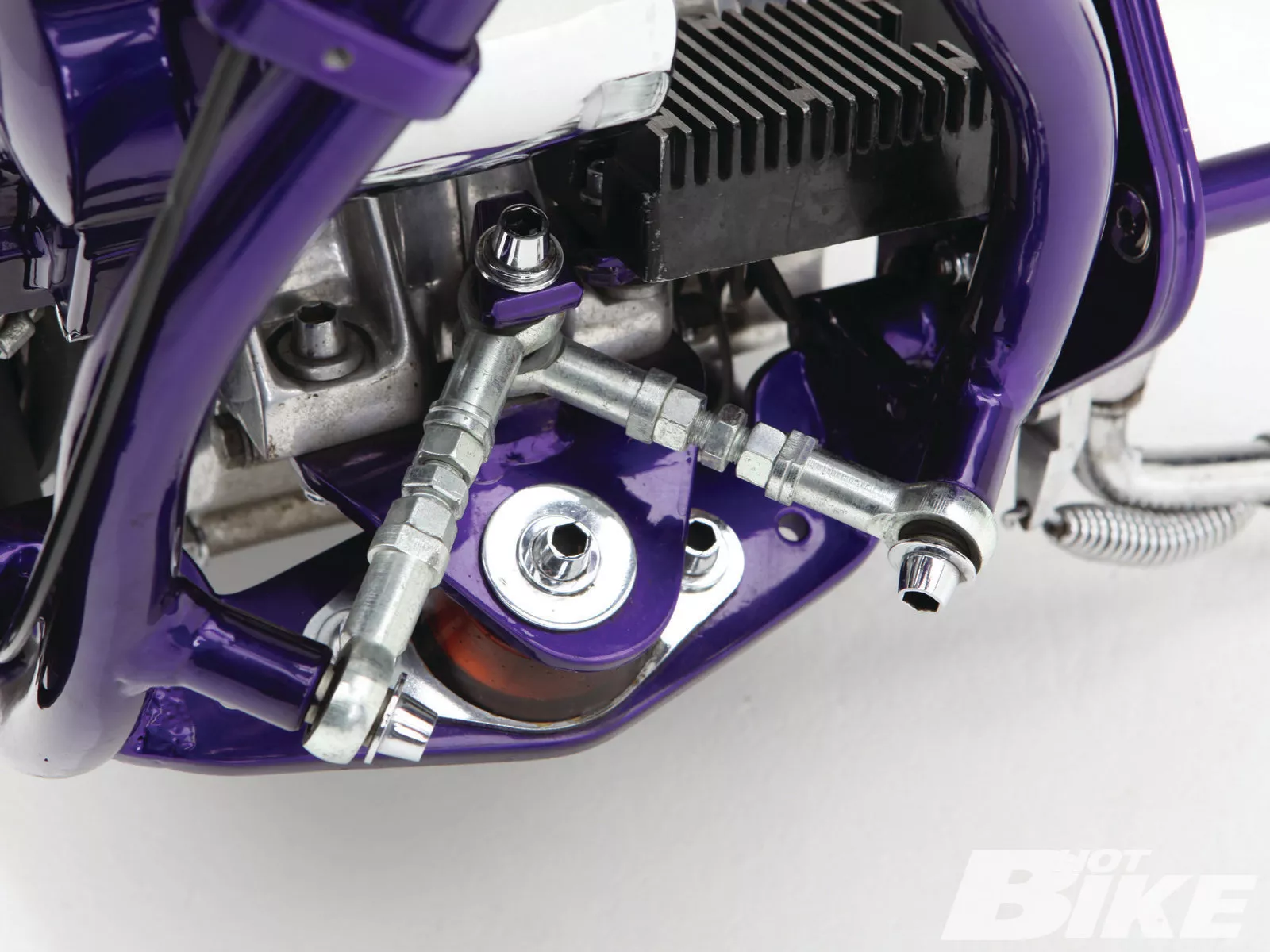 With more than 30 years of experience, Kirk VanScoten has had his hands in just about every facet of the motorcycle industry. From working as a freelance editor for HOT BIKE in his early days, as well as building bikes that have graced the pages and cover of HOT BIKE, to manufacturing and supplying fenders, saddlebags, spark plug wires, battery cables, and industry-leading powdercoating services all through his company, Sumax, Kirk has seen more and done more in this industry than most people will ever imagine. In fact, it was a stint in the motorcycle frame business with a friend back in the '90s that helped the purple powdercoated beauty before you come to be, albeit it took more than a decade for the bike to hit the streets.
"Back in the early '90s I sold frames made by a friend named Kevin Starke. He made and we sold Softail, swingarm, and Pro Street FXR-style frames," Kirk tells us. "One evening we sat down and discussed the idea of mating an FXR with an FXST hopefully resulting in the ultimate frame/ride. I set a design to create a chopper featuring a whishbone-style front section, Softail style swingarm, and rubber-mount drivetrain setup." To also add a little different mix to the bike and make people take second notice, Scott and Kevin decided to use old rigid-style axle adjusters on the swingarm. "It was just one of the fun little things we added to get guys to scratch their heads while they admired the bike and tried to figure out everything we did," Kirk comments.
Unfortunately, Kevin passed away in 1995 and with his passing the frame business dissolved. Kirk still had the FXR-FXST frame and swingarm, however, and stored them away on a shelf in the corner. Fast-forward more than 10 years later, while Kirk was working on a bagger project with his friend, Kevin Boyle, owner of Motorcycle Medic in Pittsfield, Massachusetts, Kevin saw the frame and swingarm and asked Kirk about it. When Kirk told Kevin about the old frame business and the story behind that particular frame, Kevin's eyes lit up, and he insisted it was time to knock the dust off and put the frame to good use. Kirk agreed that the frame and swingarm had aged long enough up on the shelf and that they should build the ultimate FXR-FXST bike.
<div class="st-block quote text-
Notice: Undefined index: st_text_align in C:laragonwwwhotbike-importblocksquote.php on line 1
">
One evening we sat down and discussed the idea of mating an FXR with a FXST hopefully resulting in the ultimate frame/ride.
Comprised of 4 inches of stretch in the downtubes, 6 inches of stretch in the backbone, and 38 degrees of rake, Kirk decided to complement the somewhat long and stretched look of the frame by adding a Paughco 6-inch-over Springer frontend with a Fournales air shock. A pair of Works Performance shocks were installed between the underside of the frame and swingarm to handle the bumps in the rear. Once a pair of laced wheels, a 21-inch front and 16-inch rear, were bolted in place, the bike really started to come to life. When it came to adding more defining lines to the bike, Kirk and Kevin felt that running without a front fender would give the bike a somewhat chopper-esqu attitude. Over the backbone, however, a smoothly stretched and tapered steel gas tank from Fat Katz was used, while to cover the rear tire, Kirk utilized one of his Sumax composite glass rear fenders.
With the major portion of the build set in stone, Kirk and Kevin turned their attention to the centerpiece. "Our idea was to build the bike around a high-output engine based on a 80ci Evo," Kirk tells us. "So I took the engine and trans I had over to Hillside Cycle and Machine in Munnsville, New York, where for the past 20 years brothers Scott and Craig Palmer have been building my drivelines." Between the skilled hands of the Palmer brothers, they massaged the heads giving them their Stage II treatment. The heads were then combined with new Megasphere pistons and a Woods #9 cam, Daytona Twin Tech ignition, and an S&S; carb that was outfitted with a ThunderJet setup. The engine was topped off with a set of polished stainless steel pipes that Kirk's friend from the UK sent over, a Sumax composite glass air cleaner, and Thundervolt Taylor 10.4mm spark plug wires combined with Extreme Duty two-gauge battery cables to fire and handle the starting power. To help transfer the power to the rear wheel, Kirk's friends at Primo-Rivera sent him one of their open beltdrives and a hydraulic clutch setup.
When it came to adding some color, many of the parts were sent into the Sumax powedercoat facility where they were baked in a heavy dose of Sumax's specially formulated Candy Purple, which keeps it's deep rich color by being highly resistant to fading. The parts that weren't powerdercoated were handed off to a local painter who simply goes by the name, RIP. RIP laid down matching purple paint set off with some silver diamond plate graphics outlined with blue pinstriping with a few skulls mixed in for good measure.
After a year of fabrication, modification, and assembly between Kirk and Kevin Boyle, and spending more than 15 years tucked away on a shelf, Kirk and Kevin Starke's FXR-FXST idea finally came to life and, more importantly, hit the open road. "Kevin Boyle had fun putting this project together," Kirk comments. "He is a master for detail as he hid all the wires and lines in the ape hangers. The bike is very sanitary from front to back. This bike makes an entrance just by the thunder it creates. Then the heads start scratching as they see the motor shaking in the frame. It truly is a blast from the past." HB
Specifications
| | |
| --- | --- |
| Bike Owner | Kirk VanScoten |
| Shop Name | Sumax/Motorcycle Medic |
| Shop Phone | (315) 768-1058/(413) 442-1616 |
| Shop Website | sumax.com/vtwinspecialist.com |
| Year/Make/Model | '09/FXR-FXST/Custom |
| Fabrication | Sumax/Motorcycle Medic |
| Assembly | Kevin Boyle-Motorcycle Medic |
| Build Time | One year |
| | |
| --- | --- |
| Engine | |
| Manufacturer | H-D |
| Type/Size | Evo/80ci |
| Builder | Hillside Motorcycles |
| Cases | H-D |
| Cylinders | H-D |
| Heads | Hillside Motorcycles |
| Rocker Boxes | H-D |
| Carb | S&S |
| Air Cleaner | Sumax |
| Exhaust | UK Radius |
| | |
| --- | --- |
| Transmission | |
| Manufacturer/Type | H-D/FXR Five Speed |
| Case | H-D |
| Clutch | Primo-Rivera |
| Primary Drive | Primo-Rivera |
| | |
| --- | --- |
| Frame | |
| Year/Manufacturer | Starke Protoype FXR-FXST |
| Rake | 38 degrees |
| Stretch | 4 inches up, 6 inches out |
| | |
| --- | --- |
| Suspension | |
| Manufacturer | Front Paughco |
| Length | 6 inches over |
| Triple Trees | Paughco |
| Manufacturer | Rear Works Performance |
| Swingarm | Starke |
| | |
| --- | --- |
| Wheels, Tires, And Brakes | |
| Manufacturer | Front/Type Akront/Spoke |
| Size-Height/Width | 21×3 |
| Tire/Size | Avon/90/90-21 |
| Caliper | Excel |
| Rotor | Russell |
| Manufacturer | Rear/Type Akront/Spoke |
| Size-Height/Width | 16×4.5 |
| Tire/Size | Avon |
| Caliper | Excel |
| Rotor | Russell |
| | |
| --- | --- |
| Finish/Paint | |
| Color | Candy Purple |
| Painter | RIP Wee Wlliy |
| Graphics | RIP Wee Willy |
| | |
| --- | --- |
| Accessories | |
| Rear Fender | Sumax |
| Fender Struts | Starke |
| Gas Tank & Cap | Fat Katz |
| Oil Tank | Starke |
| Handlebars | Paughco |
| Hand Controls | Excel |
| Foot Controls | Excel |
| Footpegs | Excel |
| Headlight | Drag Specialties |
| Taillight | Drag Specialties |
| License Mount | Drag Specialties |
| Seat | Corbin |