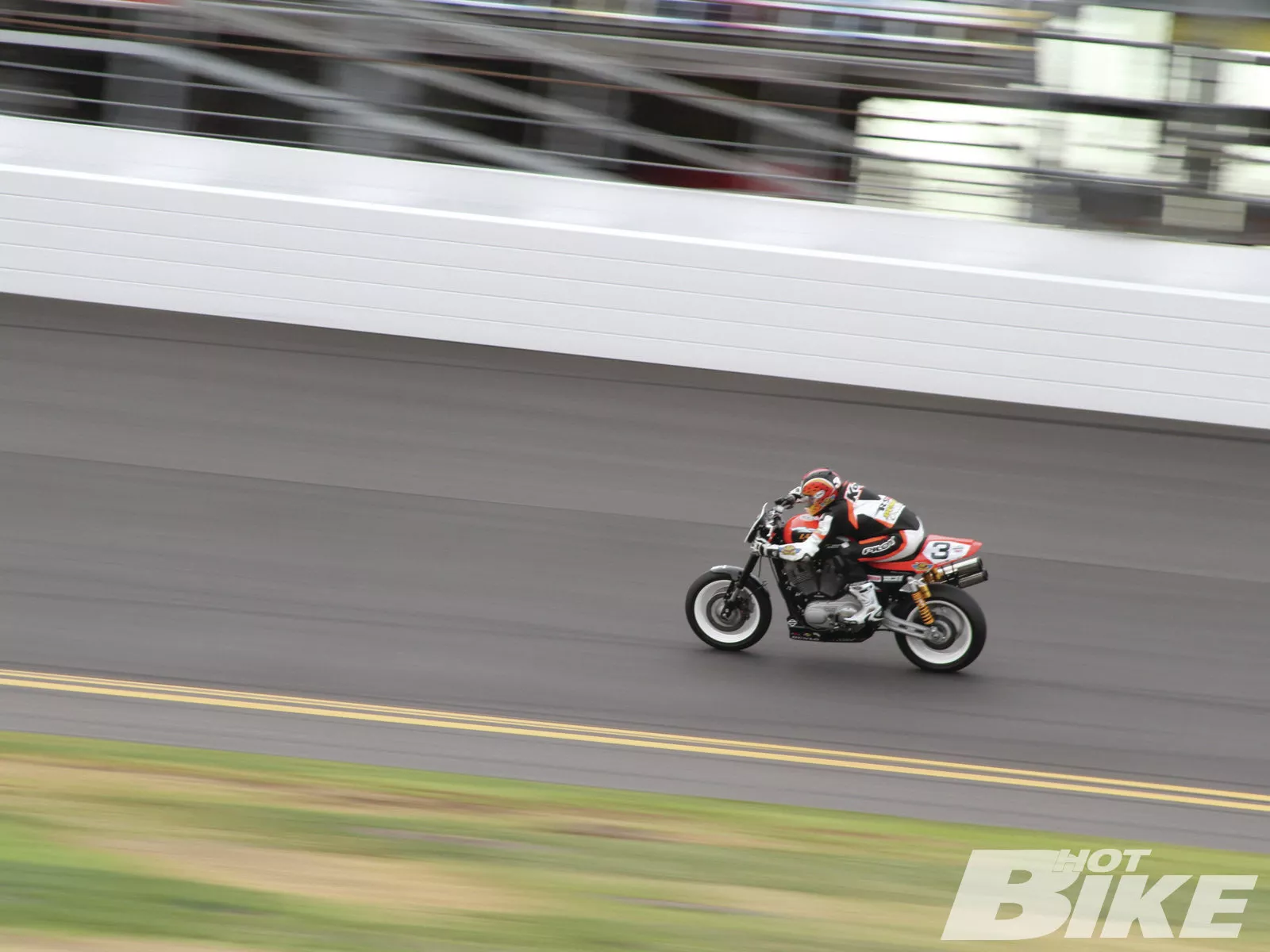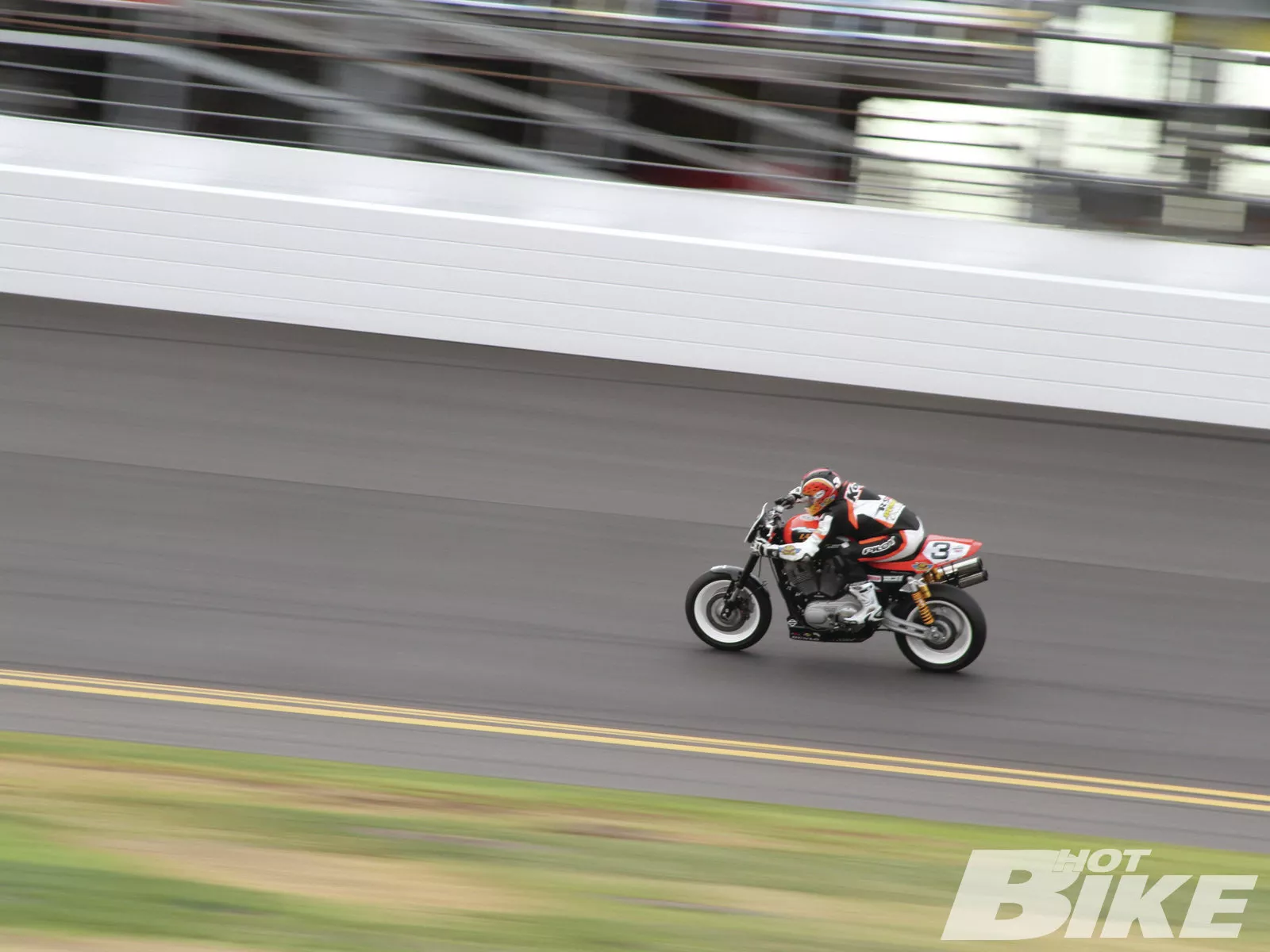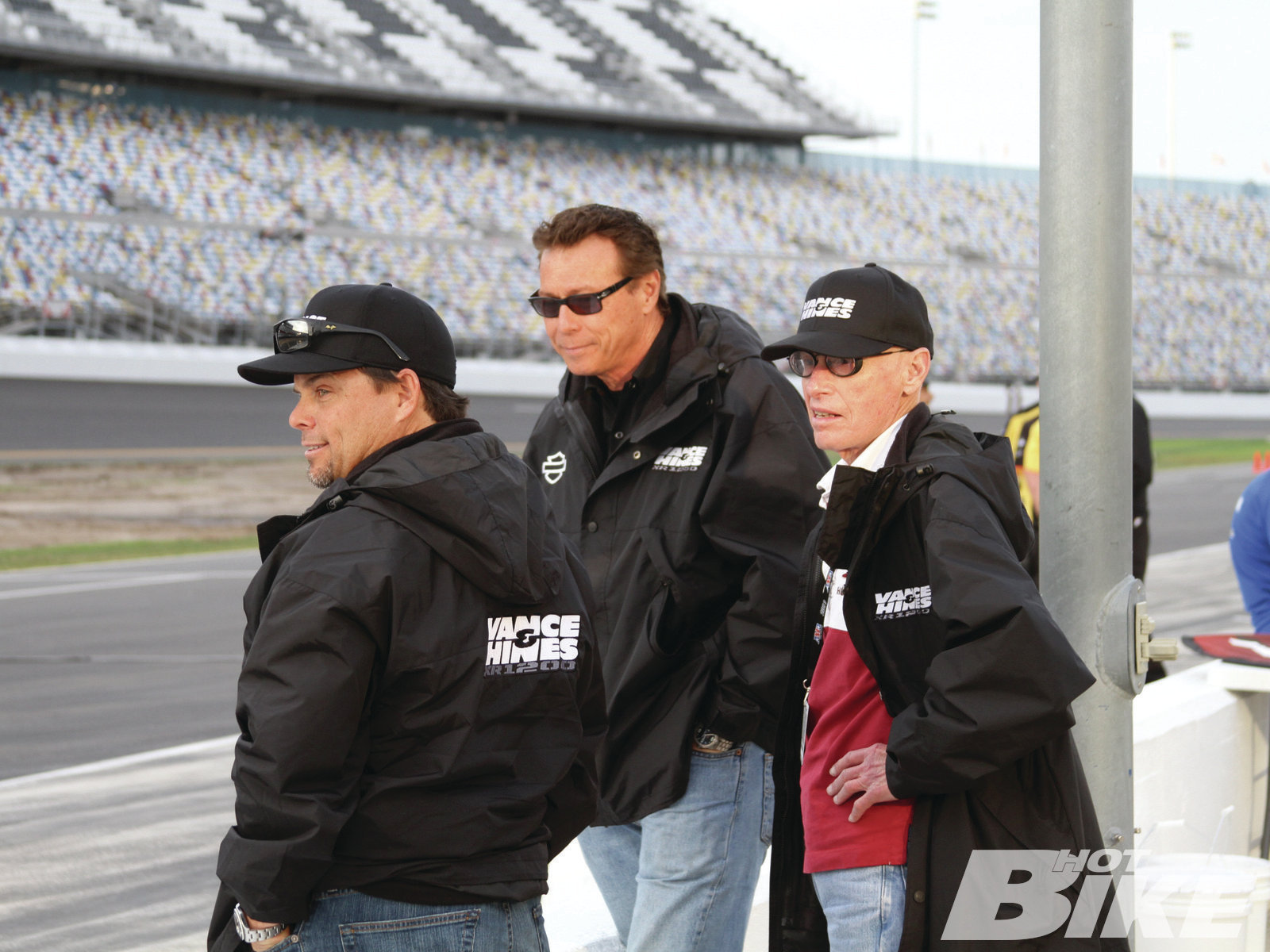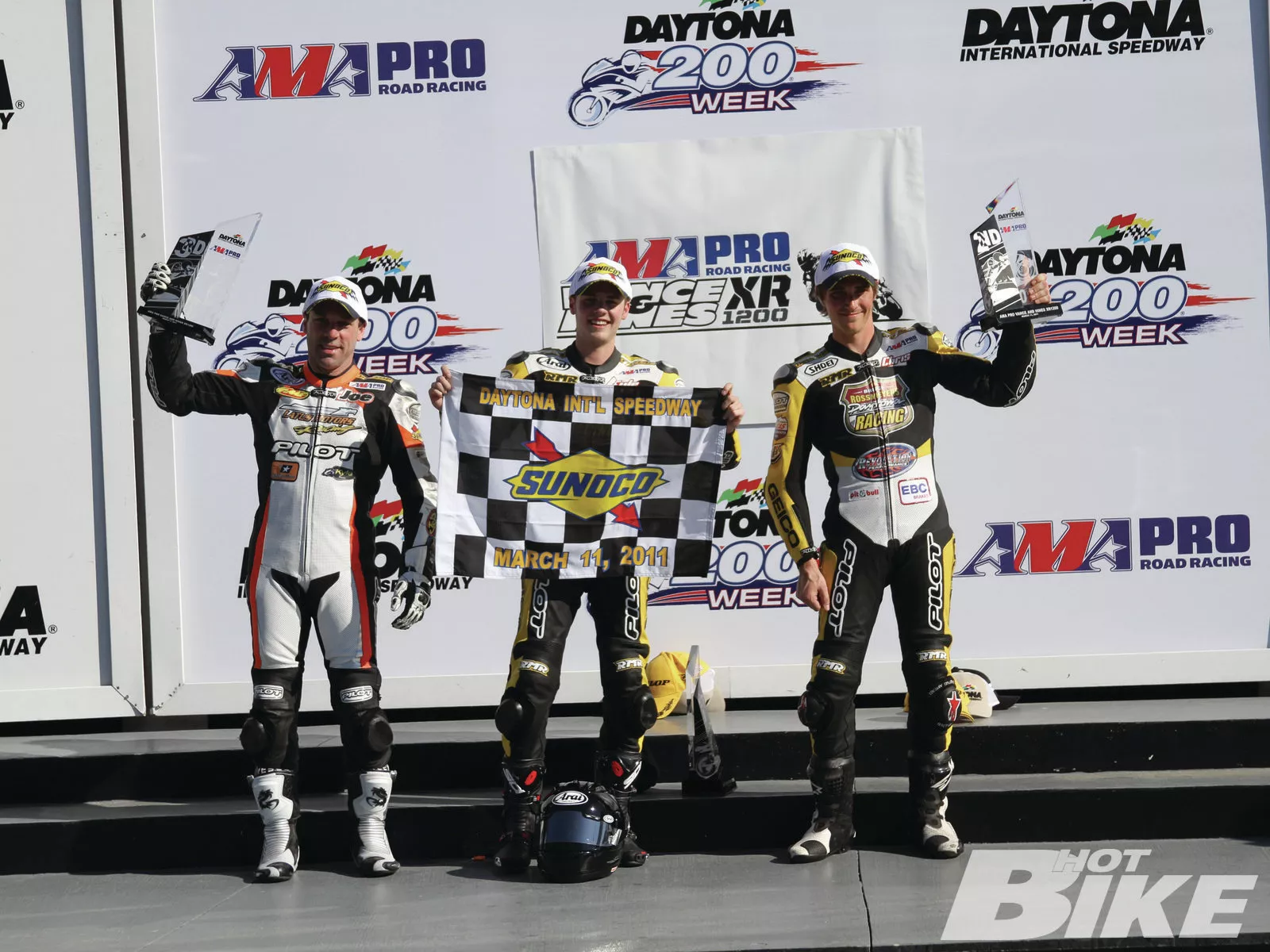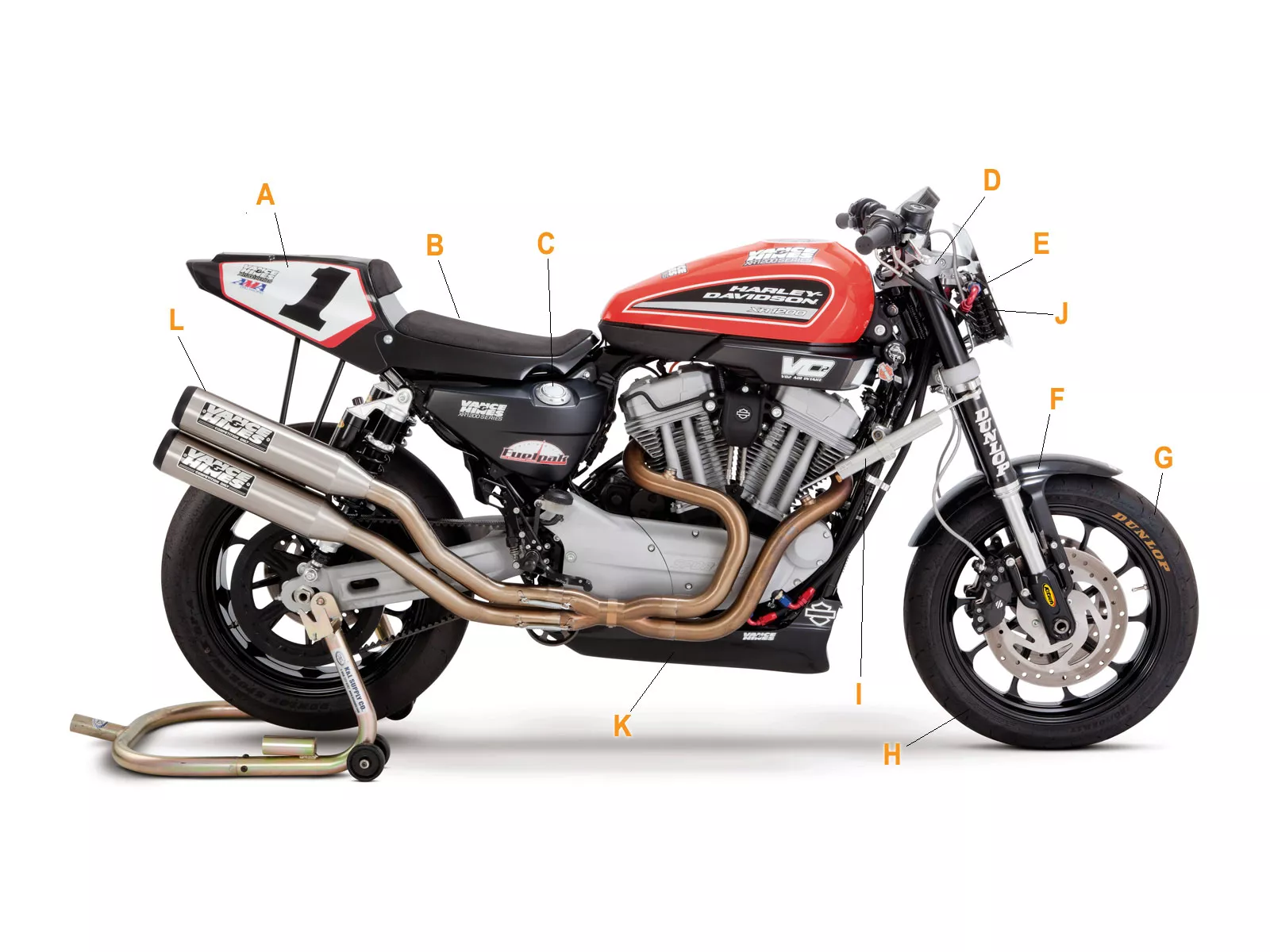 When you go to an AMA event and the [American] Superbikes are on the track, or the Super Sports, or the Daytona Sportbikes are on the track, nobody knows which is which because they all sound the same! When the Harleys are on the track, everybody in the place, everybody, says, 'The Harleys are out there!' explains Terry Vance, president of Vance & Hines regarding the AMA Pro Vance & Hines XR1200 Racing Series. 'We can't go to an event without people knowing we are out there.'"
Since the XR1200 first debuted in Europe, it also spawned the first race series to boot, the Henderson Harley-Davidson XR1200 Trophy Series. Terry Vance liked what he saw across the pond and thought, "There's no reason we can't do that here [in the States]." Soon enough, Vance approached David Atlas, chief operating officer for the American Motorcyclist Association's (AMA) Pro Racing division to pitch a spec racing series using the XR1200 with Vance & Hines parts, and as they say, the rest is history. After some R&D the Vance & Hines XR1200 race kit was developed ($3,500), which includes the Widow 2-1-2 stainless exhaust, a Fuelpak fuel tuner, a sportier tail section with seat undertray kit, a belly pan (required for all AMA road racing), a 17-inch front wheel, steering damper, steering stop assembly, number plate, oil cooler relocator kit, decals, and new front fender.
The engine and trans would remain the same to keep it competitive, but a high-flow air filter can be used. Other modifications would be allowed. Teams can replace the factory rear shocks with more tunable systems, but the front forks must utilize the factory fork legs; however, the guts can utilize a valving system or cartridge-style setup, according to the AMA. As with all AMA Pro road racing, Dunlop tires and Sunoco Fuels will sponsor the XR1200 series.
Harley-Davidson serves as a contingency sponsor in that it contributes money to the overall purse. The company relies on its dealers to actually sponsor race teams. And there are many dealer-sponsored teams for 2011.
The AMA Pro Vance & Hines XR1200 Racing Series debuted last year June 4-6, 2010 at Road America in Elkhart Lake, Wisconsin. The 2010 spec-bike series (one-make racing with minimal modifications) consisted of five rounds, starting in Elkhart, then round two in Lexington, Ohio, round three in Alton, Virginia, round four in New Jersey, and finally Birmingham, Alabama, to finish up the inaugural season at Barber Motorsports Park.
Danny Eslick, was the overall winner of the 2010 XR1200 series, but missed the last two XR1200 events. Since he wasn't successful repeating as the winner for the 2010 Daytona Sport Bike series, Eslick decided to sit the 2011 XR1200 season out. "I enjoyed it last year and it was a lot of fun but I kind of have bigger fish to fry in the [Daytona] Sport Bike class. We're just trying to stay focused on our main goal and win another championship," Eslick says. When asked about his thoughts on racing the Vance & Hines Harley, "The XR1200 series is awesome! There are a few things here and there that are different on other people's bikes, but not much. It pretty much comes down to the rider on that side of it," Eslick says.
What started with five races has almost doubled to eight confirmed races with a ninth to be added (venue has not been confirmed at time of print, check hotbikeweb.com for location information). After a total of 10 riders showed up at Elkhart for the inaugural run, Vance projects around 30 teams to be there for the series' first anniversary race at Elkhart Lake. "I'm pretty sure we can be close to 30 bikes. We've sold enough kits to have at least 27-30 bikes at Elkhart," Terry states.
Competing again for 2011 is the Harley Owners Group (HOG) team, which was put in place to help draw awareness to the XR1200 class by hosting guest riders, like last year's season finale rider, Jeremy McWilliams, the European racing superstar, who took the checkered flag at Barber Motorsports Park. Crew Chief and Mechanic for the HOG Team Matt King, who is also product communications manager for Harley-Davidson, is amped for the rest of the 2011 season and feels it's only going to get bigger. "Road racing promoters want to attract Harley riders because they're obviously a big part of the road racing community and maybe they're not historically road racing fans but they're seen as a growth opportunity for promoters," King states. Considering that Harleys make up the majority of motorcycles on the road, it makes sense for a Harley racing class like this to exist.
King also thinks it's great for the dealers and for racers that can't afford to spend a lot of dough. "It's a fairly grass roots deal for a lot of these guys. They're able to be part of the AMA pro racing weekend. It's a great opportunity for a lot of these guys to get their foot in the door of that level of racing. Which is why it was a great idea from Vance & Hines and AMA to put this class out there so it's more affordable for entry level of racing, more attainable, and a great opportunity for a lot of dealers," King says.
Eslick shares the same feeling. "It's relatively cheap to get into it. You're not burning up tires like we do in the sportbike class, where we're going through several sets of tires. Last year I was doing it on one set of tires a weekend. We used our race tires from the weekend before to practice on and to qualify, then put a new set on to race," Eslick recalls.
Eslick races in both classes for Richie Morris Racing. Richie Morris, who's involved in multiple motorcycle racing classes, is pretty excited since he used to race the 883s back in the '90s US Twins days. "If we can get the Harley riders interested in our sport it will bring a different demographic to the racetrack. Plus it's great racing! You've got equally prepared motorcycles, which leaves it up to the rider, and I think Daytona was a pretty good example," Morris states. Daytona top four finishers were within one second of each other. "It makes for some fantastic finishes," he says.
Morris, along with the Rossmeyers, are currently sponsoring three racers in the Series: Kyle Wyman, who took First at Daytona, Chris Fillmore, who took Second at Daytona, and Micahel Corbino, who looks promising for the rest of the year.
Richie Morris says the Series should be a hit if local dealers start to get involved. "I think that if we can continue to get bikes to the grid more and more people will get involved; the key is getting the local dealerships involved. I'm trying to work on a corporate sponsor where I can afford the local dealerships to be involved within a 300-400–mile radius of their dealership. We're working on a lot of different plans and we'll just have to see how everything unfolds," Morris says.
The AMA is also psyched for the return of Harley road racing, which hasn't been present since the short stint of the AMA Harley-Davidson 883 class. Dave McGrath, director of road racing for AMA Pro Racing, says the AMA is looking forward to what the new class will bring. "We're very encouraged from following the half season from last year. From the entries at Daytona [this year] and the noise that's been made for the guys going west to Miller to finish up this season has been very encouraging. The Vance & Hines folks have told us that people are buying the kits, and the teams that were potentially on the fence last year seemed to have made the investments that they can and are really making the efforts to join them, so that's very encouraging," McGrath states.
Look for the up-to-date race results on hotbikeweb.com, or visit vanceandhines.com/xr1200series for a complete list of AMA rules, up-to-the second results, and more news regarding the series in general. HB
| | |
| --- | --- |
| 2011 Schedule: | |
| May 13-15 | Infineon Raceway |
| **May 28-30 ** | Miller Motorsports Park |
| Jun 3-5 | Road America |
| Jun 17-19 | Barber Motorsports Park |
| Jul 8-10 | Mid-Ohio Sports Car Course |
| Aug 12-14 | Virginia Int'l Raceway |
| Sept 2-4 | New Jersey Motorsports Park |
An additional September event— To be determined)
| | | | |
| --- | --- | --- | --- |
| 2011 Purse: | | | |
| Position | Vance & Hines | H-D | Total Per Event |
| 1 | $2,500 | $1,250 | $3,750 |
| 2 | $1,100 | $1,000 | $2,000 |
| 3 | $750 | $750 | $1,500 |
| 4 | $500 | $500 | $1,000 |
| 5 | $250 | $250 | $500 |
| 6 | N/A | $250 | $250 |
| 7 | N/A | $250 | $250 |
| 8 | N/A | $250 | $250 |
| 9 | N/A | $250 | $250 |
| 10 | N/A | $250 | $250 |
| Total Purse Per Event: | | $10,000 | |
| | | | |
| --- | --- | --- | --- |
| 2010 XR1200 Rider Standings | | | |
| Pos | Rider | Total Points | Total Wins |
| 1 | Danny Eslick | 96 | 3 |
| 2 | Travis Wyman | 88 | 0 |
| 3 | Jake Holden | 67 | 0 |
| 4 | Paul James | 62 | 0 |
| 5 | PJ Jacobsen | 54 | 1 |
| 6 | Joseph Rozynski | 50 | 0 |
| 7 | Matthew Heidel | 44 | 0 |
| 8 | Eric Stump | 37 | 0 |
| 9 | Kyle Wyman | 36 | 0 |
| 10 | Jeremy McWilliams | 31 | 1 |
Vance & Hines XR1200 Series Kit
A Decal Kit
B Seat Assembly and Seat Undertray Kit
C V&H Racing Fuelpak
D Steering Stop Assembly
E **Number Plate
**F Front fender
G **Performance Machine Assault Wheel
**H Dunlop Spec Tires
I Ohlins Steering Damper
J Oil Cooler Relocator Kit
K Belly Pan
L V&H Widow 2-1-2 Stainless Exhaust
**Optional Items: **(Not Shown) VHM Performance Air Filter, XR1200 LCD Display.
**Note: **All bikes competing must utilize the above components. Rear shocks may be swapped and front fork internals may be upgraded with a cartridge or valving kit, but overall suspension mods cannot exceed $2,500.
Source:
**AMA Pro Racing **| amaproracing.com
Harley-Davidson | harley-davidson.com
Richie Morris Racing | richiemorrisracing.com
Vance & Hines | vanceandhines.com