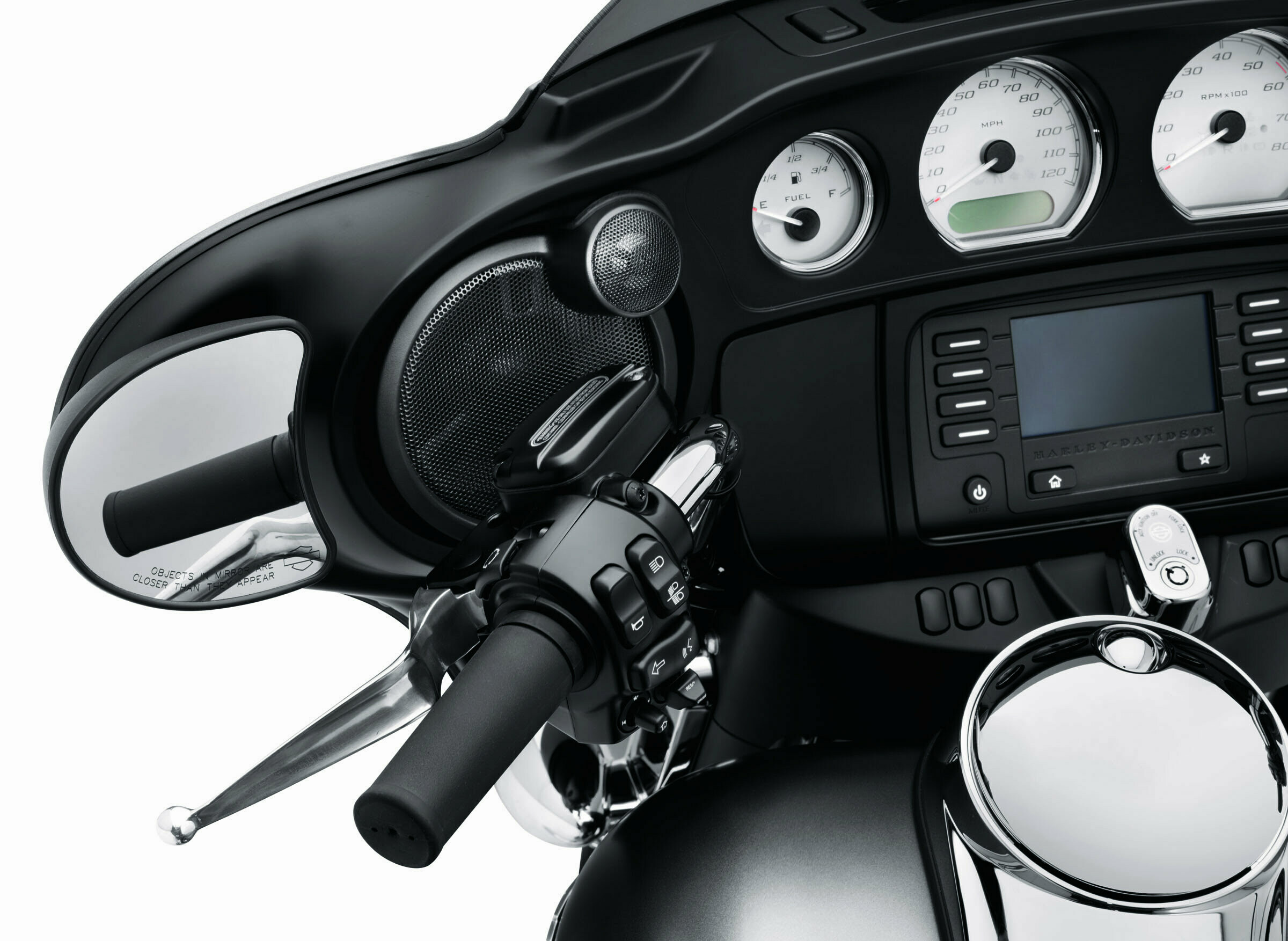 Add big, bold sound to a Harley-Davidson Touring motorcycle model with Harley Boom! Audio Stage II 6.5" Batwing Fairing Speakers (P/N 76000524A, $329.95*) from Harley-Davidson Genuine Motor Parts & Accessories. Powered by a dedicated 300 watt amplifier (sold separately), Stage II speakers are designed to work seamlessly with the factory-installed Harley Boom! Audio Box infotainment unit on 2014-later Touring motorcycles. These three-way speakers feature high-excursion woofers for extended bass performance, and a bridge-mounted mid-frequency driver and separate tweeter for rich vocals and startlingly real treble notes. Each speaker is powered by two channels from the Boom! Audio 300 watt amplifier – one 75 watt channel powers the woofer, and another 75 watt channel powers the mid/tweeter combo – for true audiophile performance. Built with composite speaker frames, heavy-weight magnets and protective perforated-metal grills, these weather- and vibration-resistant speakers are designed for motorcycle use. The complete kit includes two three-way speakers, electronic crossovers, grills and plug-in connections. Separate purchase of amplifier and fitment-specific installation hardware is required. See an authorized Harley-Davidson dealer for fitment details.
For 2015-later Road Glide models, Harley-Davidson offers the Boom! Audio Stage II 6.5" Road Glide Fairing Speakers (P/N 76000594A, $359.95*).
These and other Harley-Davidson Genuine Motor Parts & Accessories are available at more than 750 authorized retail locations in the United States and online.
*Manufacturer's Suggested Retail Price (MSRP), excluding taxes and shipping. Prices at local dealerships may vary.
About Harley-Davidson Motor Company
Since 1903, Harley-Davidson Motor Company has fulfilled dreams of personal freedom with cruiser, touring and custom motorcycles, riding experiences and events, and a complete line of Harley-Davidson motorcycle parts, accessories, general merchandise, riding gear and apparel. For more information, visit www.h-d.com.
Continue window shopping here.