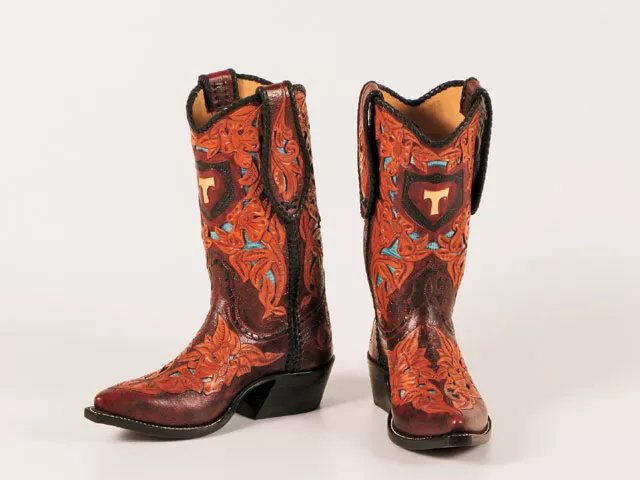 Who: Riff Raff Leather
What: Boots, Seats, and More
Wear: Working with leather since his early teens, Pascal Riff Raff-as he's known in the motorcycle industry-of Riff Raff Leather in North Hollywood, California, has made a name for himself since the business opened in 1996. With a clientele ranging from the who's who of Hollywood to rock stars, and yes, us everyday folks, Pascal's hand-tooled leather items are created to be one-of-a-kind, personalized pieces made to the owner's specifi cations. In the case of the boots shown here, Pascal designs a mock-up boot fi rst for every customer to wear around and test for exact fi tment, and then makes the boots. Handmade from Spanish tooling leather and inlaid with turquoise lizard skin, Pascal then hand-laced and lined these boots with calfskin, producing an original, hand- and quality-crafted item. And, if you like to match from head to toe, items can be made to complement your desires, like the matching seat of the same construction as the boots. Important to note: Pascal works with anything in leather and anything that's legal-endangered species need not apply. For more information, contact Riff Raff Leather at (818) 506-4668, or visit
Who: Unique Prototype Design
What: Calf Chaps
Wear: As the newest addition to the company's product line, the chaps are the "newest 'half chap' on the riding gear market." Offering calf protection for riders from road debris and the elements, Calf Chaps are made of quality full grain chrome-tanned leather accented with stainless steel snaps and YKK zippers, and are tailored to your body. Plus, you can get to your wallet, keys, and change without having to remove your chaps. For more information, contact Unique Prototype Design at (262) 305-8529, or visit
.