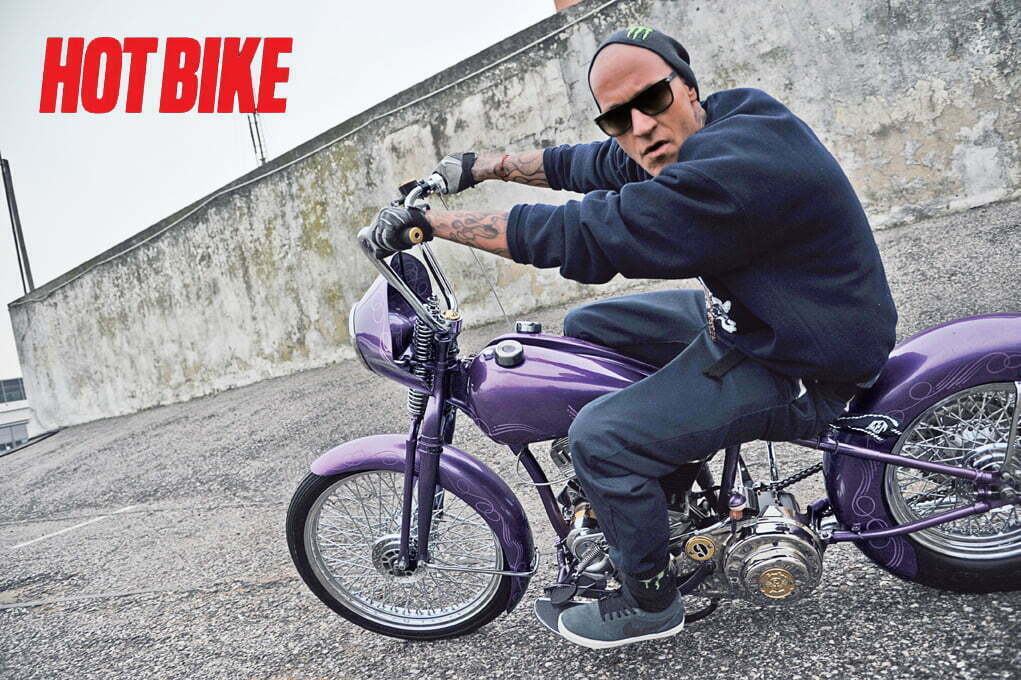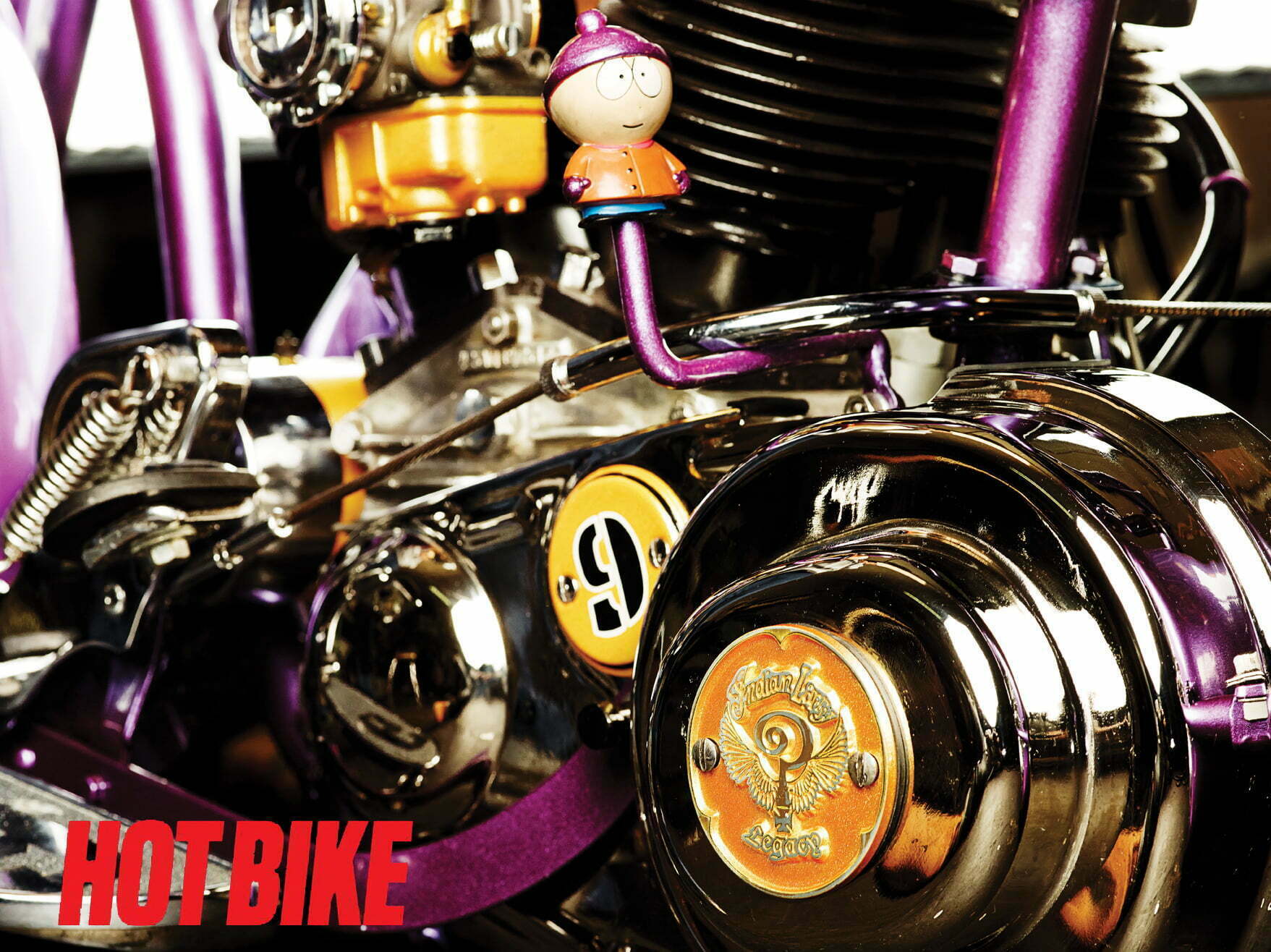 Hard Nine Choppers was founded by Danny Schneider in Bern, Switzerland. It's a funny story (well, not really) of how it all came to be. Why, you ask? Because if it weren't for Danny bailing off a motorcycle while 30 feet up in the air, Hard Nine Choppers would have never happened. See, an FMX dirt jump gone wrong in the year 2000 shattered Danny's ankle into 18 pieces and landed him in the hospital with a slew of major life-threatening complications for four months and put a rather abrupt end to his freestyle and outdoor motocross racing career.
With no clue as how to weld, fabricate, or even work on motorcycle motors, Danny began to chop up bikes and learn bike building the hard way. And 14 short years later, this skinny-ass Swiss kid has earned international recognition, a boat-load of awards, and a solid reputation for customizing vintage bikes in his own very special way. This purple H-D Flatty is no different.
I sat down with Danny while we both were in Italy for the Verona Motor Bike Expo and got some clue on what his newest bike is all about.
"Well, the idea of building this kind of bike out of an old bike was in my head for a long time," Danny begins. "I think it's a great evolution of a classic. I am also a huge fan of the lowrider 'Chicano-style' of bike building, so that is how I tried to mash up this bike build. I had the H-D WLC frame and engine sitting around in my shop, plus the two wheels, which I won in 2009 at the AMD World Championship of bike building. These wheels were only used in my garage once at a New Year's Eve party as necklaces to rap to the PlayStation SingStar game. Yes, I'm 39 and not 13, but so what?
<div class="st-block quote text-
Notice: Undefined index: st_text_align in C:laragonwwwhotbike-importblocksquote.php on line 1
">
"Last year I won a $1,500 credit check for Custom Chrome parts at the Verona Motor Bike Expo with my Indian Build (Hot Bike, April 2013)," Danny continues. "So instead of blowing this check on bagger parts to sell on eBay I got to thinking why not use new Custom Chrome parts to finish off the build of this bike? It was a challenge 'cause I'm definitely not a fan of ordering parts when you have piles of old ones that could be used, but what the hell, huh?
"I started this whole bike by figuring out how to get the new rims onto the old frame and fork," Danny explains. "That was a pain in the ass, and I had to machine everything to make it happen. It took me around 70 hours to do this. What a pain in the ass, you know? I then figured out I wanted to make a gas tank like an Indian, which is between the tubes holding the gas on the left and oil on the right. The fenders were fun to make as well. I made them shorter both front and rear and stretched the back one quite a bit. I fabbed up a couple of slim all-steel saddlebags for the bike that took me right at 90 hours to make, and they f—ked up the lines of the bike so much; I just tossed them to the side. I use 'em now at my house to store my fly-fishing stuff. I wanted tall cholo-style apehangers, so I bent up a set of tight ones and added the front fairing, which really sets off the look of this bike. It's a love-it-or-hate-it component of the build.
"In Switzerland, it's impossible to chrome heads or engine side covers, so I started painting every part that wasn't already plated and decided to use a purple with gold scheme and a lot of chrome parts," Danny says. "The tank logo was also an idea I had for a long time 'cause my city, Bern, and California both have a bear in the flag, and since I pretty much live in both places it was perfect for me. My buddy Anthony from Tattoo Adventure designed the logos for me. And my buddy Herb from Switzerland pinstriped it here in Switzerland. I wanted the paint to be a mix between a classic bike, a SoCal bagger, and a lowrider as seen through the eyes of a European dude. The motor was rebuilt to stock specs and is magneto-fired because I wanted the middle tube in the frame clean with no battery and other shit cluttering it up. The tranny is the stock three-speed with a few tricks done to it to make it shift better. I don't want to brag, but the bike runs and shifts like a dream.
"I usually work creatively using old parts and rebuild them to use as something new and not what they might have been originally intended for," Danny explains. "That's my style. Although this bike does have a fair amount of new parts on it, there is a perfect mix of old parts on it too. And that's why I loved building this bike."