Corbin took the solo design Wall saddle and merged it with their two-up Gambler model to come up with the Widowmaker. Featuring six inches of vertical back support in the rider's area that is perfect for hot rodded bikes while keeping a low profile without external backrest.
Widowmaker saddle offers a sleek, flowing appearance that makes this design extremely popular for 'round town cruising. Features a sculpted driver's position with a clean pillion seating area providing a flawless profile. This saddle disperses rider's weight ergonomically and gives you lasting support while still providing good ground reach at stop signs! This is an excellent choice for riders that often ride solo or have passengers along for short to medium range trips.
The Corbin saddle eliminates hot spots and increases your riding time… even with such a low profile. Passenger seating area is built to keep a slick look, but the use of our high-density Comfort Cell foam still provides comfort and support. Designed to work alone or in conjunction with the Harley-Davidson sissy bar.
Includes genuine leather seating panels in your choice of colors and styles for a truly distinctive touch. Leather seating is great because it breathes with your body and will conform with the foam shape for a personalized fit. Leather is durable and works great for motorcycle saddles. If you care for it properly with a quality conditioner like our Saddle Cream, your leather saddle will be your riding buddy for many years.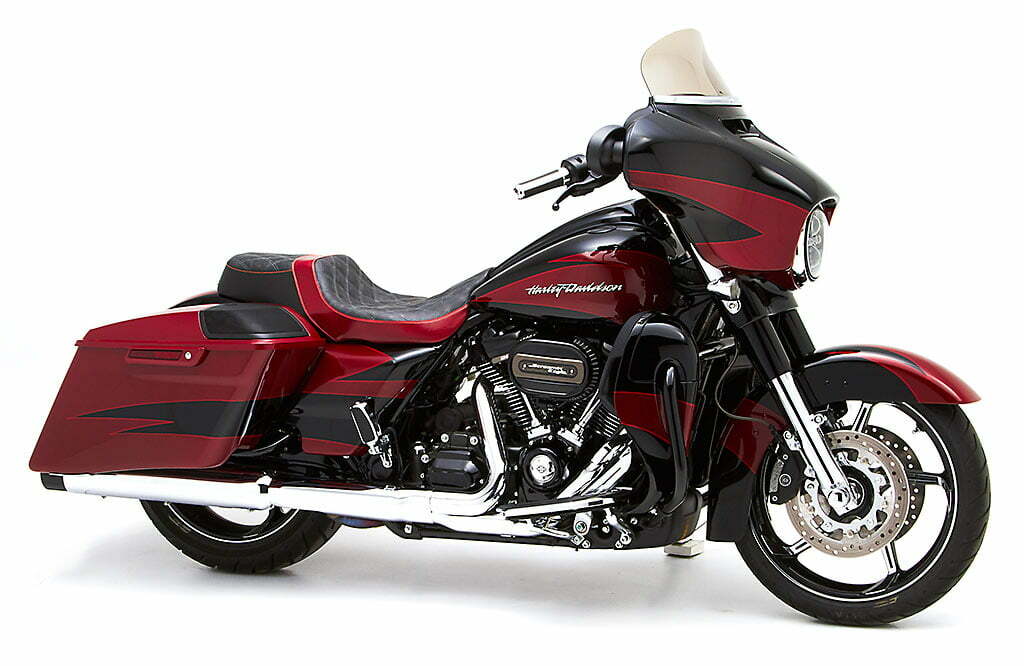 Corbin uses only the finest leather products in the manufacture of its saddles:
Black Natural Grain Leather Seating, Black Sides, Black Diamond Stitching & Red Corbin logo

Black Natural Grain Leather Seating, Asphalt & Carbonium Sides, Red Diamond Stitching & Red Corbin / BMC logo

Black Bomber Jacket Leather Seating, Candy Red & Carbonium Sides, Silver Diamond Stitching and Red Corbin Logo
Available with the option of electric seat heater in the front for an added bit of luxury. Wiring easily into your stock H-D fusebox, the Corbin seat heater is controlled via a conveniently located switch along the rider seating position on the left side. You just wire in the Corbin supplied pigtail and enjoy the warmth on those chilly morning rides. Passenger seating is not heated on this model.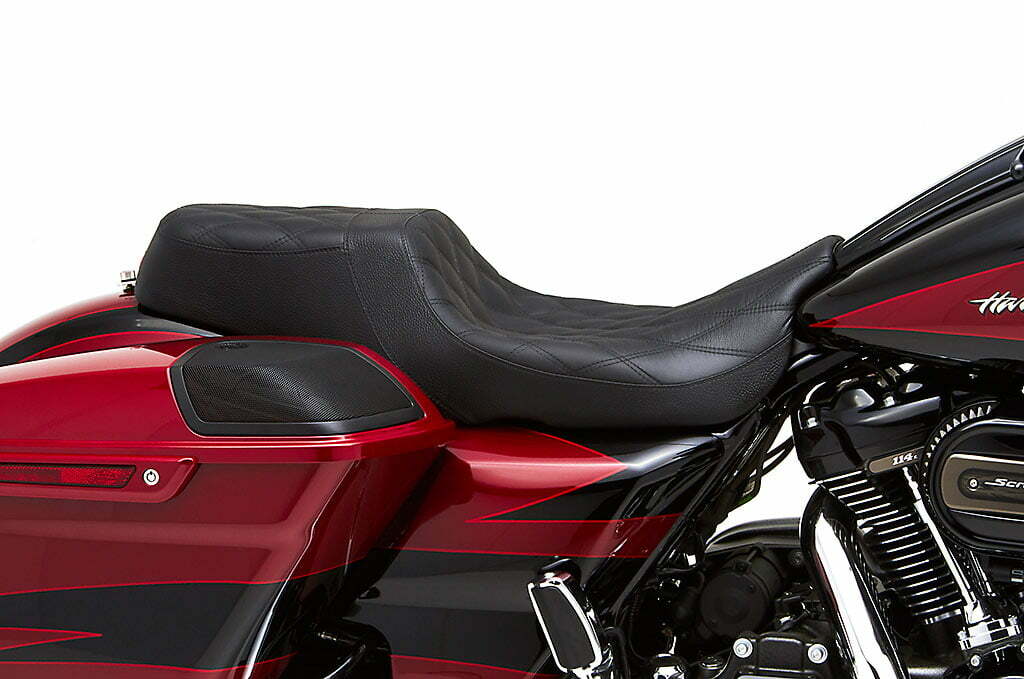 Corbin saddles are legendary for their tight, integrated fit to the bike and this model is no exception. Installs easily with a tongue in the front and a single bolt into your fender at the rear. For a clean, tool-free installation, use one of our stainless steel thumbscrews in this location. They are available in a variety of thread sizes for various applications. Your late model Bagger uses a 1/4″ x 20 thread so order part #ACST-20.
For more information, visit the Corbin website.