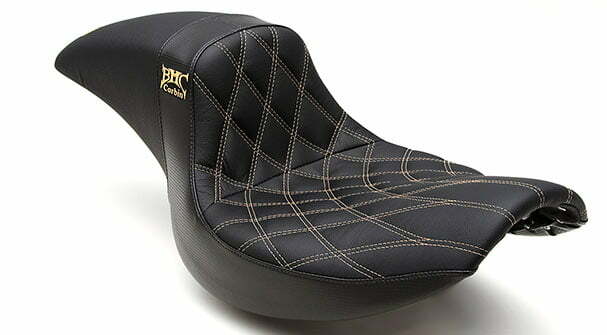 Last week Corbin introduced the first of this new series of saddles….."The Wall" for Dyna Models. Today, they call your attention to the FXR application of this seat.
This is the newest incarnation of the classic Corbin fastback "The Wall" because of the seven inches of vertical back support brought about by the raised tail section. Big Mike (of BMC Motorcycle Company fame) came to Corbin for a series of seats with a taller and more vertical back area that would hold the rider in position more aggressively. Rumor has it Big Mike wanted this for stunt riders, but Corbin found this works extremely well for hot rodded bikes and cafe racers where a less reclined posture is desired.
As far as passengers are concerned, the tail of the Wall saddle is padded and upholstered to provide for short trips. Although this is built with the same quality foam material as the rider's area, the shaping is designed primarily for looks and rider back support. When taking a passenger make sure you tell them to hold on tight.
Up front, the ergonomically designed platform increases the area of body contact to disperse rider weight evenly and eliminate hot spots. Dished in the center to eliminate pressure on the tail bone. The nose of the saddle is narrow to provide for good ground reach.
High density foam provides a long lasting ride and plenty of support. The entire saddle touches your Harley ONLY with rubber bumpers to protect your paint job.
The seat includes genuine leather seating panels in your choice of colors and styles for a truly distinctive touch. Leather seating is best because it breathes with your body and will conform with the foam shape for a personalized fit after break in. Leather is also extremely durable for years of enjoyment. Over time your saddle will age and develop a unique character just like your leather jacket. If you care for it properly with a quality conditioner, your leather saddle will be your riding buddy for many years.
The Wall saddle installs on your bike using a tongue in the front and a single bolt into your fender at the rear. This seat also works on the H-D hinge system (but it requires a hinge part transferred from the stock seat). The Wall is available in a variety of sizes to suit multiple needs. The seat install location on your FXR may use a 1/4″ x 20 thread or 1/4″ x 28 thread, please double check before ordering. Manufactured with pride in the USA. For more details, click here.