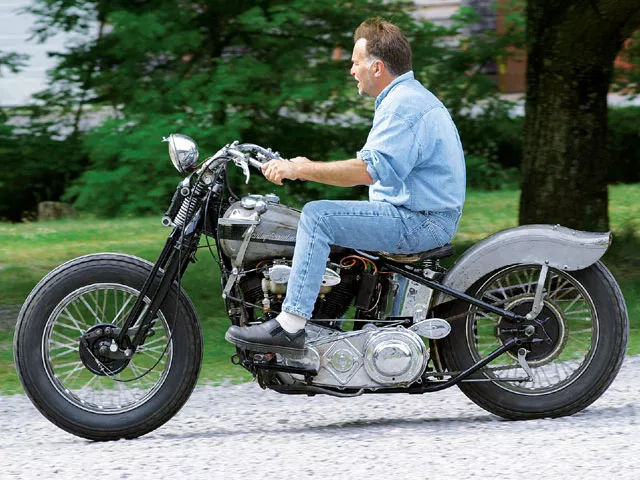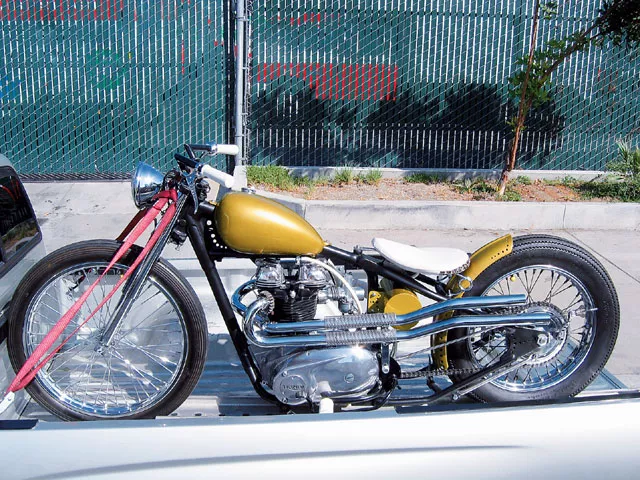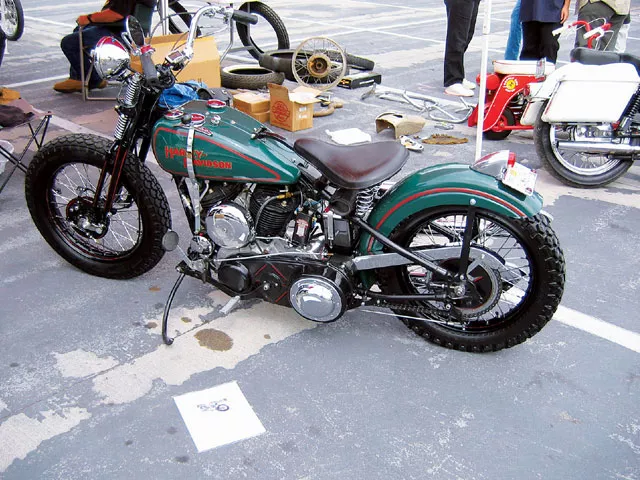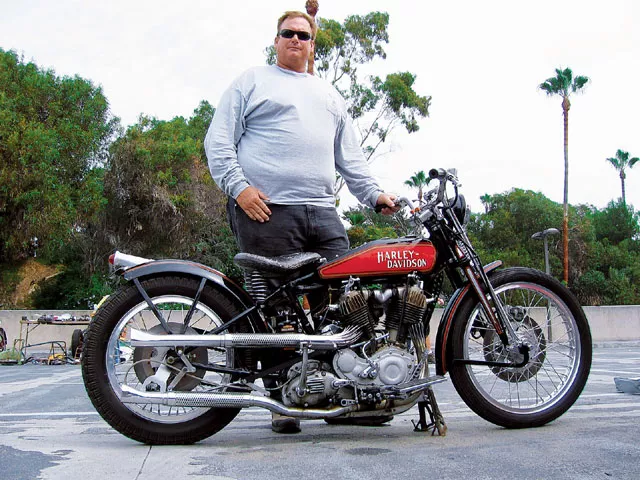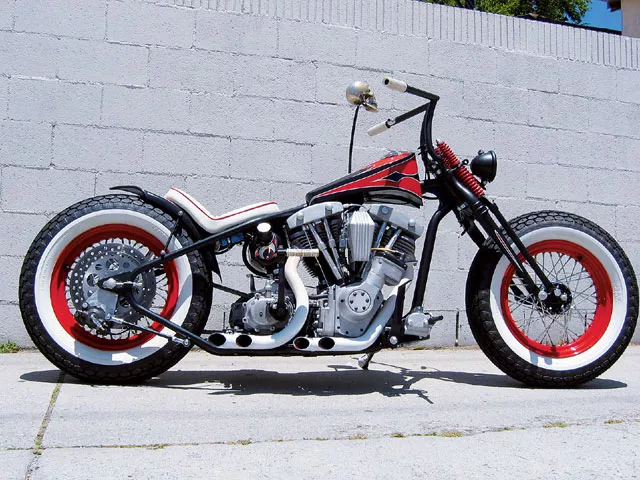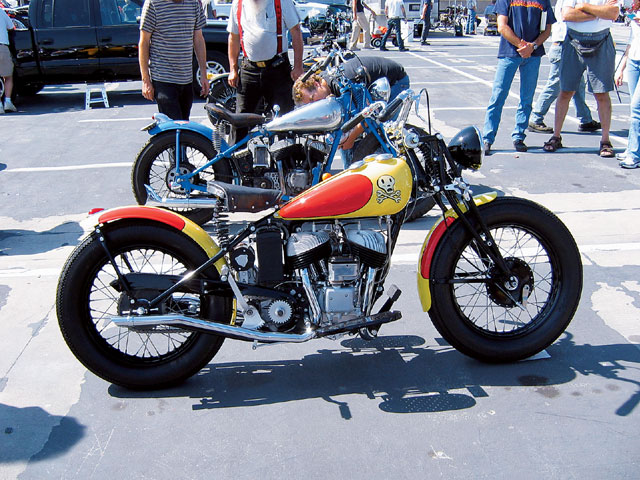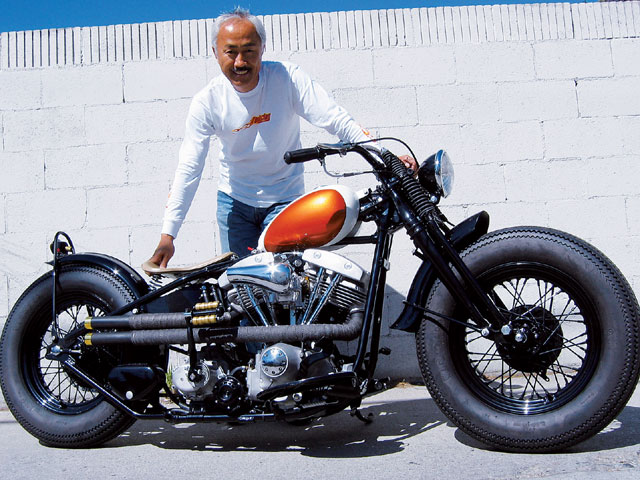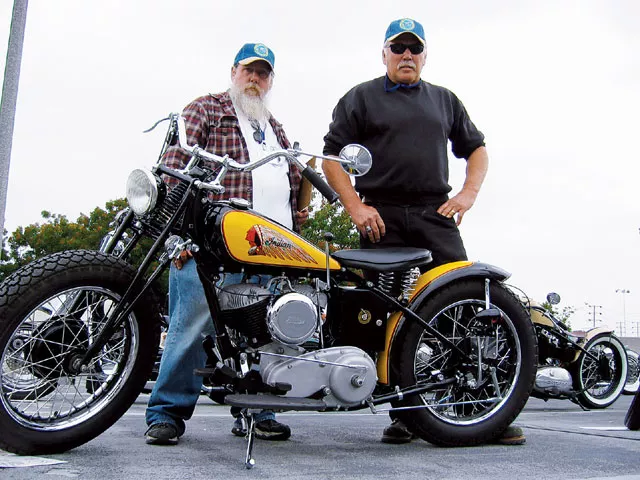 If you haven't noticed, everybody's got Bob lately. Bob's a badass. He takes a punch without flinching. Well, come to think of it, Bob doesn't have an ass. Yeah, instead of a traditional punching bag, Bob's one of those human torsos fashioned from flesh-colored plastic. When we're not wailing on him, venting our spleen after riding in L.A. traffic, Bob wears a leather jacket and sunglasses. Anybody walking in and seeing him for the first time tends to freak out at first sight.
Same thing seems to have happened lately with the "bobber" bike boom, as there's some freakin' confusion as to what a true bobber really is. Seeking the answer, we banged on the shop doors and/or heads of several guys who should be able to clarify the issue. We're using the all-encompassing word "expert" to add clout to our investigation into Bobberland. What we learned is that there's been a blurring of the lines among a "cutdown," a "bobber," and a "chopper," three apparently distinctly different styles of bike. We found out, as the saying goes, that one's man's chopper is another man's bobber-and sometimes vice versa.
Taking the opportunity to gather on-the-spot info, we rode over to the annual Los Angeles-area El Camino Bike Show and Swap Meet, an annual gathering of vintage, classic, and antique bike enthusiasts, where we accosted several of the event's judges to hear their take on bobbers. So what if they were all hunkered around a '28 Harley trying to figure out if the spark-plug wires were the right color-inquiring HOT BIKE minds wanted to know if they knew jack about Bob? Just as the morning's marine-layer overcast started to burn off and the SoCal sun illuminated the dozens of vintage bikes lined up in the bike-show area, we had our first glimpse at a definition from judge Paul Wheeler when he responded to our question: "Got Bob?"
To which he replied, "My pet peeve is that all these guys who have these choppers are calling them bobbers when they've got ape hangers and stuff. They're really choppers, and they got a new name for them as 'bobbers' just because it's popular now." Now, Paul's built a few bobbers himself, as he's been wrenching on bikes since he was 16 (now going on 60). He's been there, bobbed that. He's even got three bobbers currently in the works, two powered by flatheads and one by a panhead. "My first chopper was in '66 right before I went to Vietnam, so I went through stockers, choppers, bobbers, and everything else. It's not hard to tell a pure bobber from a chopper. When you got ape hangers, custom seats, and whitewall tires, it's not a bobber, which is simpler and keeps its original frame, not aftermarket. Now it could be a 'cutdown,' which is another word getting popular again. Cutdowns were around before WWII, while choppers came out afterward when guys starting tossing anything that wasn't necessary for speed and performance, chopping their bikes. The bobbers also cut their fenders so when they rode on the dirt roads they wouldn't get clods of dirt stuck between their fenders and tires."
Our next comments on the subject were offered up by Pat Taylor, a judge for the past five years at the El Camino show. "They either took off or bobbed the rear fender. They cut it down and remounted it; they also either removed the front fender or cut it way down; they kept stock tanks and a stock seat, or they switched for a smaller one from a different-model bike. It was basically a stock bike that they started taking parts off to make lighter so they could race on weekends. They gave themselves a suicide clutch and bought a set of Flanders bars because they were inexpensive at the time. And that's the difference between a stock bike and a bobber. Choppers came in with ape hangers and little coffin tanks and square fenders off a British bike. They were more elaborate and had more fancy chrome that the bobber guys couldn't afford in the old days. To get away from being Joe Citizen, they bobbed their fenders. They wanted to have a different look from the guys back then who rode dressers with their little suits and Good Humor hats and bloused pants and looked like they should have been on a horse. The bobber guys had Levi jackets and rode a dirty bike."
So are people misusing the term "bobber" today? Says Pat, "Oh, I think they are. They even have an '06 Harley they call a 'Street Bobber,' which I think is just a fancy paint job on a bike they already had." (Pat asks, "Please, no letters from Milwaukee.")
Noticing that we were disturbing the judging process at the show, the event's chief judge, Dave Carlton, stepped up to the plate to answer the question, probably to get us out of the judges' faces so they could get back to adding up the points. He directed his comments to the bikes appearing at the show that classified themselves as bobbers. As far as his criteria for a legitimate bobber goes, Dave explains, "A real bobber is a motorcycle that has been modified to reflect how it would have been done in the period that it was presented as; for example, a '65 would have period parts and period modifications; a '57 bobber, the same thing. Some of the things that we see on these bobbers are modern fasteners, parts that weren't manufactured in those days, parts inconsistent with bikes that were fielded and ridden at the time." In other words, wrong nuts and bolts got you points deducted at the event.
But where was Bob when we needed him? Could someone please show us a true, blue Bobber? Moving away from the judging area, we shopped the vendor's stalls, not exactly 'til we dropped, but when we spied a placard lying under a low-slung "modified" we stopped in our tracks. In big, black letters the placard read "California Bobber." We thought, Gee, the Holy Grail.
Under the blue awning, the bike's owner, "SL" Larry, who in real life runs a diesel repair shop and has been "doing motorcycles" for 40 years, expressed among other things, a strong inclination toward flatheads. "Harley had the most highly developed flathead ever, but they retired it in 1968. Ironically they were putting out about 68 horses at the crank from a 45-inch motor. And they ruled the world!" Larry and two of his buddies were selling old bike parts, and a cluster of interesting old iron ringed their vendor's spot, including Larry's '35 VL Harley with the bobber signage. Asked if it was a "pure" bobber, Larry replied, in no uncertain terms, "Of course, it's a bobber! It's got no ****ing 21-inch tire on the front. Hear me, E*** R****? I sent them a nastygram saying they keep running all these bike features on these so-called bobbers wearing 21-inch front tires. They need to pack up all those bikes and go back to New York." (Please, no letters from the Big Apple, either.)
When pressed to further develop his theme, Larry added the following clarification, further enhancing our database on bobber criteria. "Hey, Larry," we asked, "what is the proper tire for a bobber?" He answered, "Whatever the bike came with. Up to 1940 they had 18s or 19s, and after 1940 a lot of guys went to 16s."
"OK," we asked, "so, in your opinion, are the bobber/chopper lines being blurred?" To which Larry replied, "They don't know their ass from a hole in the ground." To which we responded, digging deeper for the truth, "So tell us what are the characteristics of a real bobber."
He said, "That depends if it's a West Coast bobber or a Midwest bobber. The Midwest bobbers generally have a front fender, and they're very cool, and they're made by people just as cool as out here because they started the s*** back in the Midwest. But the California guys had their own take on it. Before we got to bobbers we had the Long Beach Cutdown style, like that-" Larry pointed to a gnarly-looking Harley squatting nearby. It turned out to be a '20s "Two Cam" Harley owned by Larry's friend Craig Taylor. The bike was originally built and ridden by the legendary John Cameron and his longtime buddy Lance Tidwell, both members of the famous post-WWII Booze Fighters MC.
"OK," said Larry, "so let's look at choppers. There's the Frisco chopper and the SoCal choppers, and they're completely different bikes, like the Frisco choppers that have the high bars and midmount controls. But the cutdowns, like Cameron's bike there, they came first and generally have a lot more work in them than a bobber. Cutdowns came out around 1925, while bobbers appeared in the early '30s 'cause guys were pulling off the headlights and fenders and pulling off the rear tail sections when they went racing their enduros. They kept that up for a while for racing, and it was a functional thing, but then the guys coming back from the war started stylizing, cutting up their bikes just to look cool."
At this point in the discussion under the blue awning, Larry's friend Craig, the owner of John Cameron's bike, is asked to enter the fray and to offer his observations. "The bike is a combination '25/'28 Two-Cam, one of the last bikes John and Lance built together back in the '70s. It's a cutdown, so the frame is shortened, lowered, the motor keystoned in, the forks shortened and narrowed with a steep rake, so it's a pretty quick-handling bike."
We pushed on all the way to Van Nuys, CA, where we encountered the past (and present) master of vintage iron, Mike Parti. For several decades now he's been an eminent restorer of bikes, as well as a hot rodder of the first magnitude. A visit to his shop is like stepping back a hundred years, and many of the tools he employs to massage bikes back into existence are literally a century old. Mike goes way back. He knew "Bob" when Bob was a youngster, growing up in SoCal and running riot in the streets, and he's seen all the trends-often leading them.
Asked for his definition of a "real" bobber, Mike says, "Back in the '40s and '50s, bobbers were usually our only form of transportation, a combination go-to-work, ride-in-the-dirt bike. The early bobbers were rigid Harleys and Indians. They did not have an extended frontend. They usually had high bars. There were two types: the Skinny Bob and the Fat Bob. The Fat Bob had stock tanks, while the Skinny Bob had a small tank made from cutting out the center of the Fat Bob tanks and making them narrower-basically a copy of the WR Harley-Davidson. They usually ran an 18-inch tire on the back, possibly a 16, an 18, or 19 on the front. My '37 stroker Indian Scout bobber runs a 4.00/18 on both ends because back then the roads here in the Valley were dirt. They used to run trials universal tires, while I always preferred the Grasshoppers. You'd bob the front fender or take it off completely if it was California. The rear fender was either replaced or cut short to get the wheel in and out easily. The seat could be a stock solo seat or one that was trimmed and narrowed, then reupholstered. Later they came out with the Bates seat, which was a smaller, competition seat. A lot were handshift bikes. They did not rake the frontend, and they didn't extend the frontend, and if they did the ultimate were XA forks, which were Harley-Davidson military forks and only a couple inches longer. But the main thing they were looking for was ground clearance for cornering. Twin pipes were essential.
"On the Harleys, they used to take the oil tank, cut the bottom, make it smaller, and raise it up higher. Then you'd put a block under the transmission and raise it up higher, the object being to keep from grinding the case going into a hard corner. One of the parts that was real popular in those days was the Slick-Shift, which was a mechanism that was like a footshift, but you could shift without using the clutch."
Then we asked, "What's this about a cutdown?" He answered, "Well, before they were called bob jobs, they were called cutdowns, with the best being the Long Beach cutdown-usually made from a Harley JD or a VL."
We then turned our attention to probably the best little bike museum this side of Magee Falls, NC. Well, it actually is in Magee Falls, population 1,400. And, at last count, there were also 237 motorcycles (of which Dale's built 96) of the very best in historic American antique, vintage, and classic motorcycles. No doubt you've already heard of the "Museum That Runs," a.k.a. The Wheels Through Time All-American Transportation Museum, conceived, built, owned, and operated by ultimate enthusiast Dale Walksler. A couple of years ago Dale sold his very successful H-D dealership in Mt. Vernon, IL, and headed for the bucolic bliss of Magee Valley, where he relocated his collection to an all-new facility that's already seen its 150,000th visitor.
When we talked to Dale at the museum he had just gotten back from lunch-riding a Crocker, no less-after taking a break from the restoration shop where he was working on, yes, two bobbers, including a knucklehead. "It's for a customer, and I'd call it a Glossy Bobber-basically a contemporary bobber using some aftermarket pipes. It's a bobber that goes back to the roots but adds a new spin. Genuine bobbers originally started with stock Harley Big-Twins, which means stock frames, stock brakes, Harley wheels, generally stock tanks with parts removed, or, as in the case of the fenders, bobbed, and thus their name. Prior to bobbers there were California 'cutdowns.'" So Dale, who had to get back to the restoration shop, confirmed much that we had heard from our previous sources.
Bidding farewell to NC, we next headed north-not to Alaska, but an even cooler place: Rock Tavern, NY, home of Orange County Choppers (a.k.a. OCC). Speaking with Paul Sr., himself just back from shooting a Discovery Channel commercial in the Big Apple, we posed the same question…"Got Bob or got Chopper?"
Paul Sr. replied, "For me, the bobber has always been a classic look. One we built recently, painted traditional Harley orange, has a pan-shovel motor. I agree that people are calling choppers bobbers and confusing the issue. People are building choppers that have the bobber influence but aren't what they really looked like originally. Back then there wasn't really a lot of customization in the design of the tank, fenders, and sissy bars like they do now. A bobber traditionally had half a front fender, and the tank was split, and there was a springer frontend. A bobber is just a real stripped-down bike built for speed, with all parts they didn't need taken off. With a bobber the frame is left alone, the rake unchanged, the frame uncut and not stretched. They didn't cut 'em up, they just cut them down. Your bobber is your basic bike stripped down. Now we build choppers with big rear tires and the long frontends and blah, blah, blah, you know what I mean, but I think what attracts people to bobbers today is their traditional look, the fact that their roots go way back to when it all started, choppers growing out of that era." Paul Sr. had to stop there, being called back to dealing with the Discovery Channel filming.
After OCC gave the thumbs-up to bobbers from an East Coast perspective, we had to come full circle for the final word to our story, now an opus of sorts. Our bobber odyssey would take us to Dublin. Hey, we said "odyssey," didn't we? OK, so it's Dublin, CA. But it's still an exotic a locale, since it's headquarters for Arlen and Cory Ness. But in this case, Arlen was in Scottsdale, AZ, attending a bike event, and though he was up to his boots in bikes and bike fans, he was gracious as always and listened to our now oft-repeated question: "Got Bob?"
He replied, "Back in the day you'd take a '74 Harley, and you'd either take off the hinged back of the fender and add a little sissy bar back there, or you'd take the front fender and put it on the rear, add a stock springer with maybe a set of apes. That was a bobber in my day. Some of the bikes being seen today and called bobbers look like them, what with the Sportster tank, high bars, and little sissy-bar fender in the back with a skinny tire up front, all of which kinda 'reminds' you of the original bobbers. Choppers were more elaborate, while bobbers were basically 'cut pieces off, make it shorter, smaller'-an economical thing, too. Sometimes you'd just primer them, maybe add some stripes. I like all the old stuff, but since bobbers didn't have much to them, I don't have any bobbers per se. I usually do a lot more to them, so they get beyond the bobber stage."
So there you have it-the results of our cross-country survey. Now let's hear what you have to say. "Got Bob?"