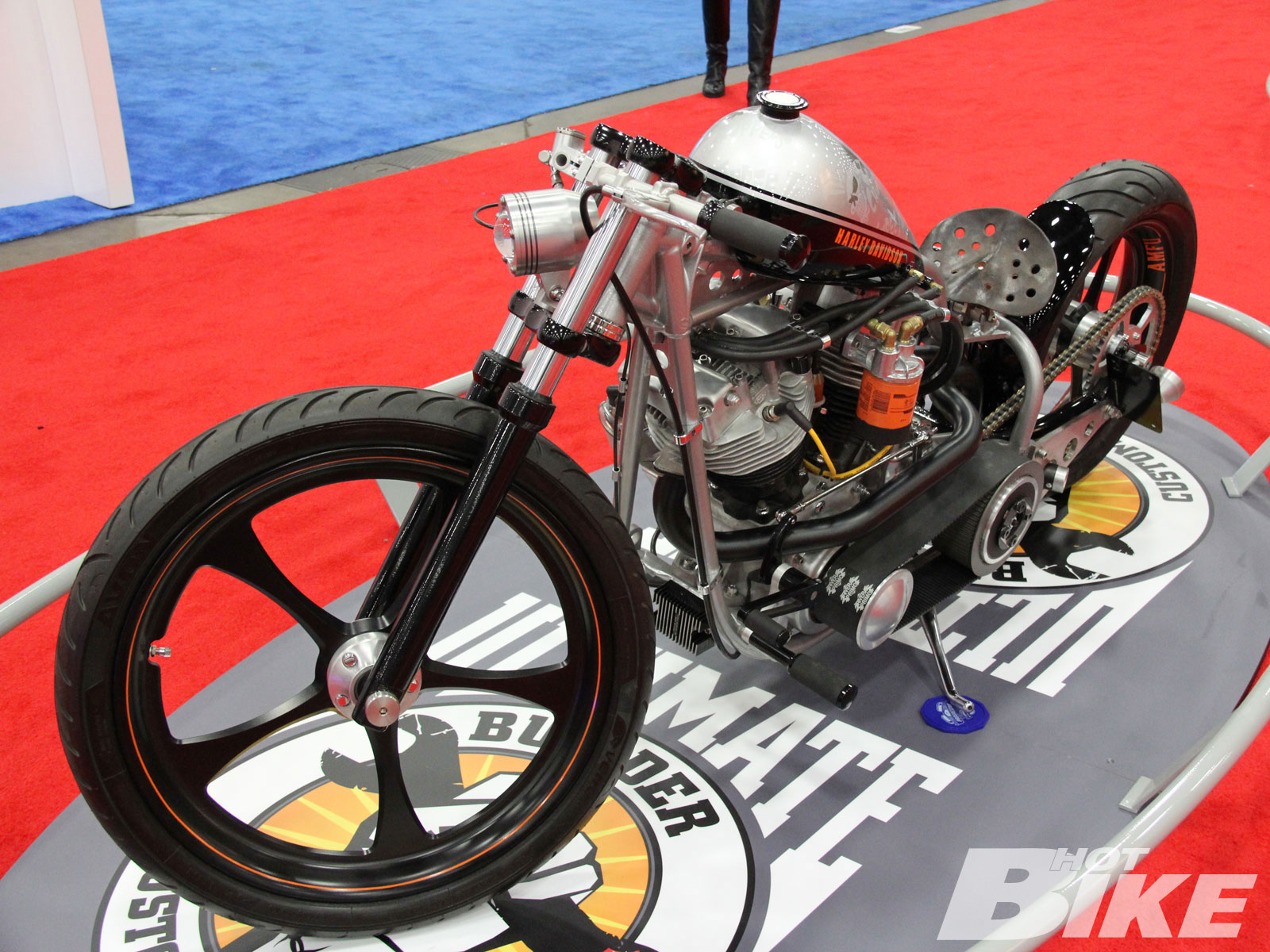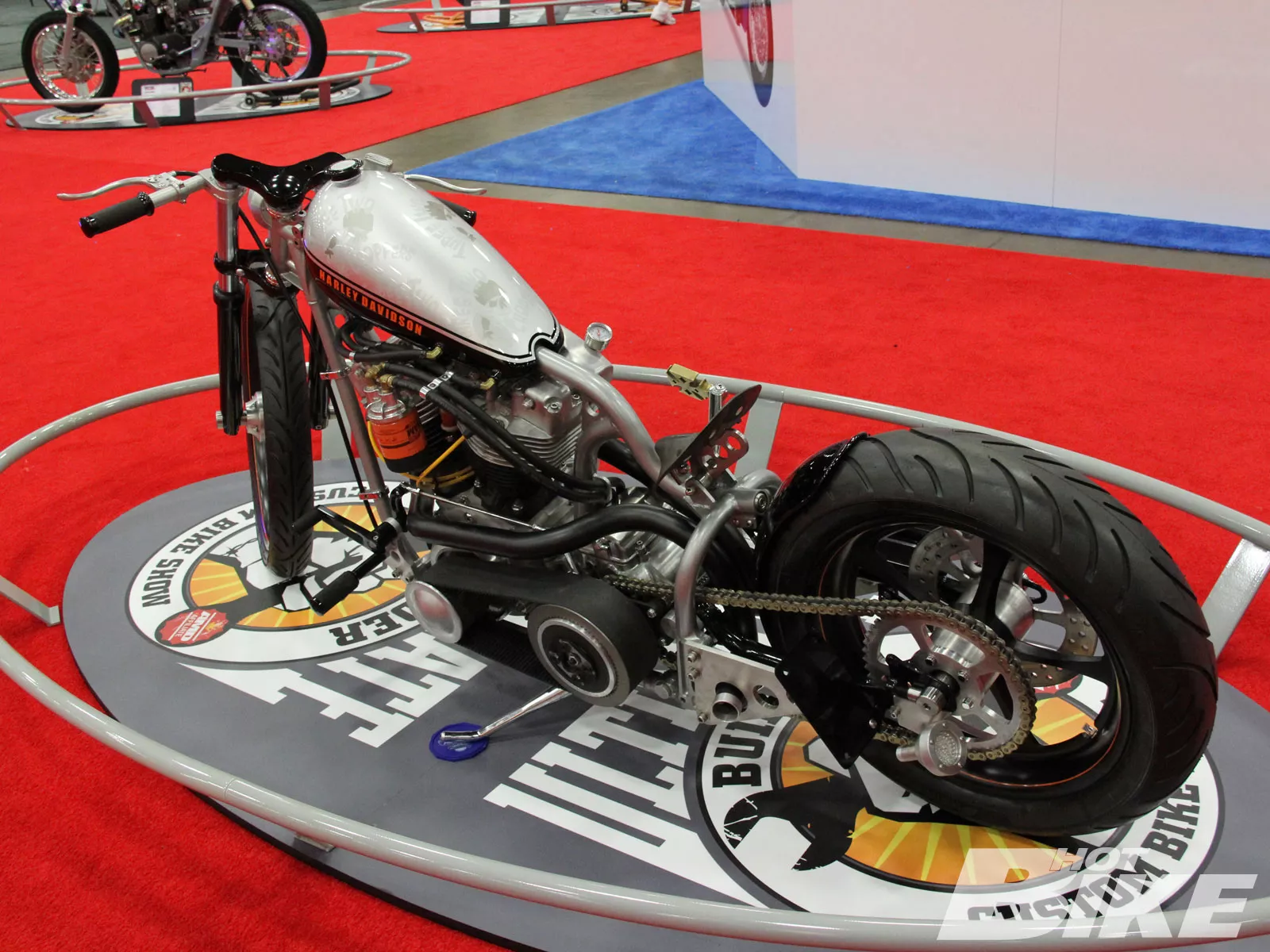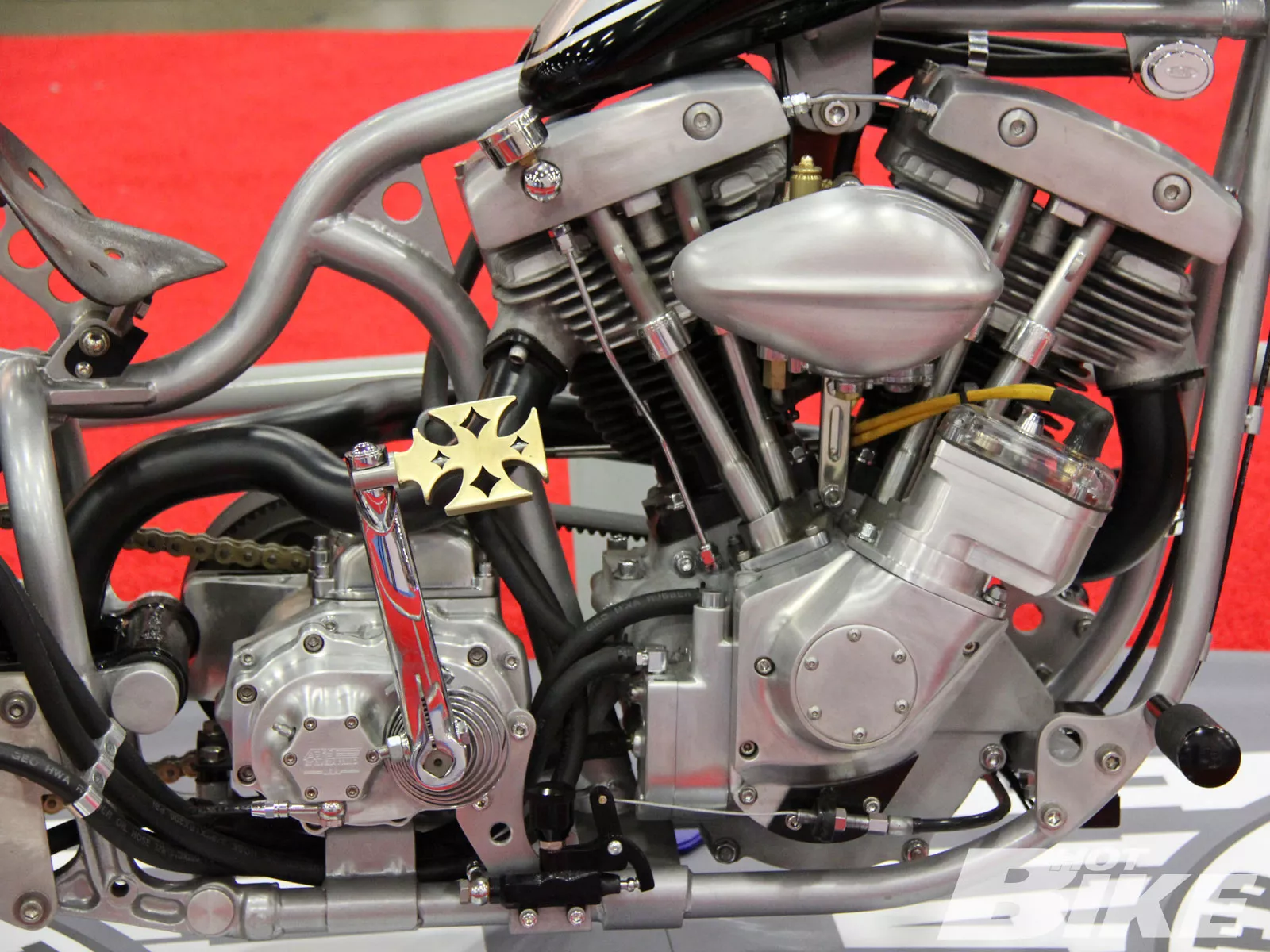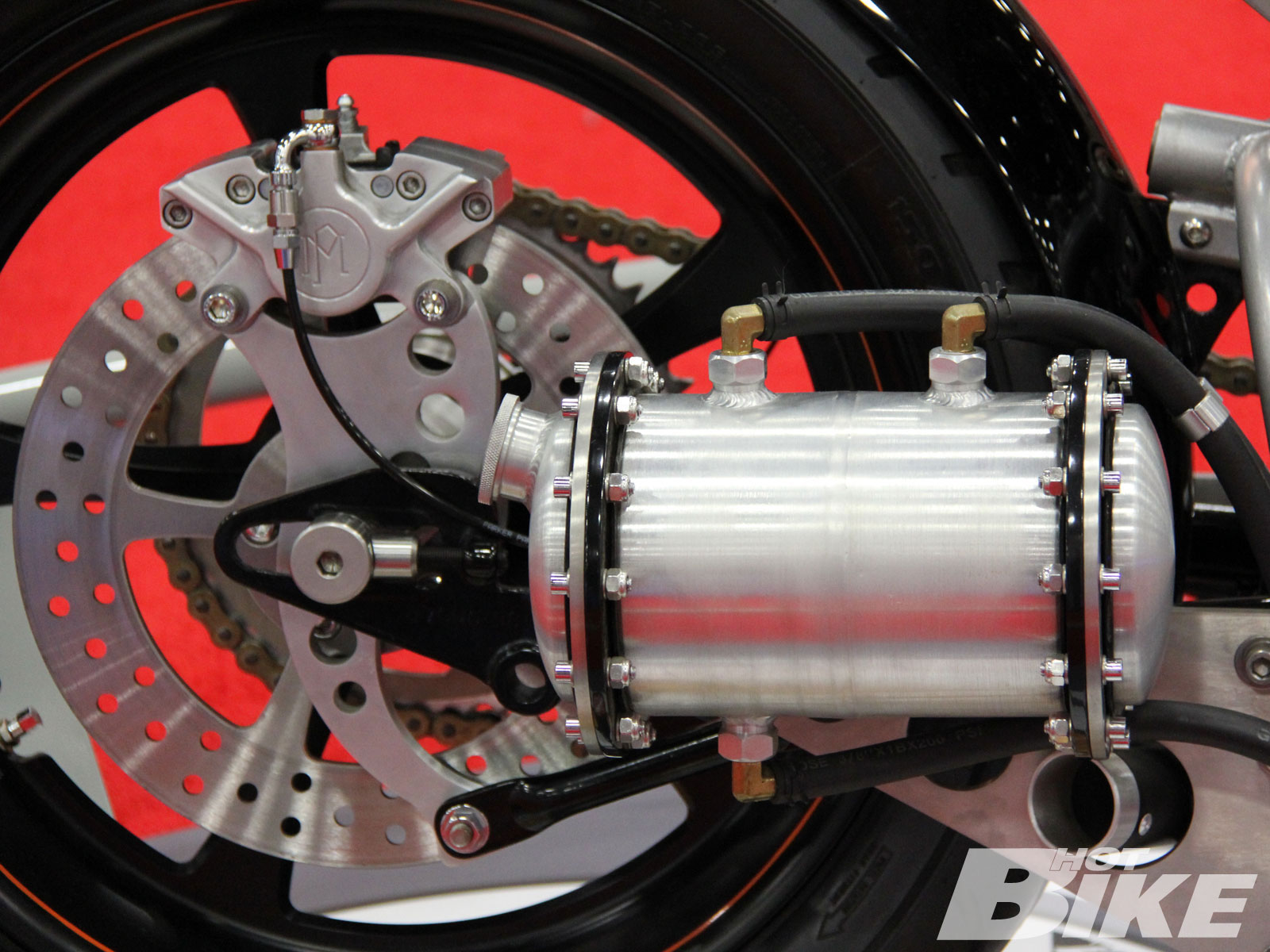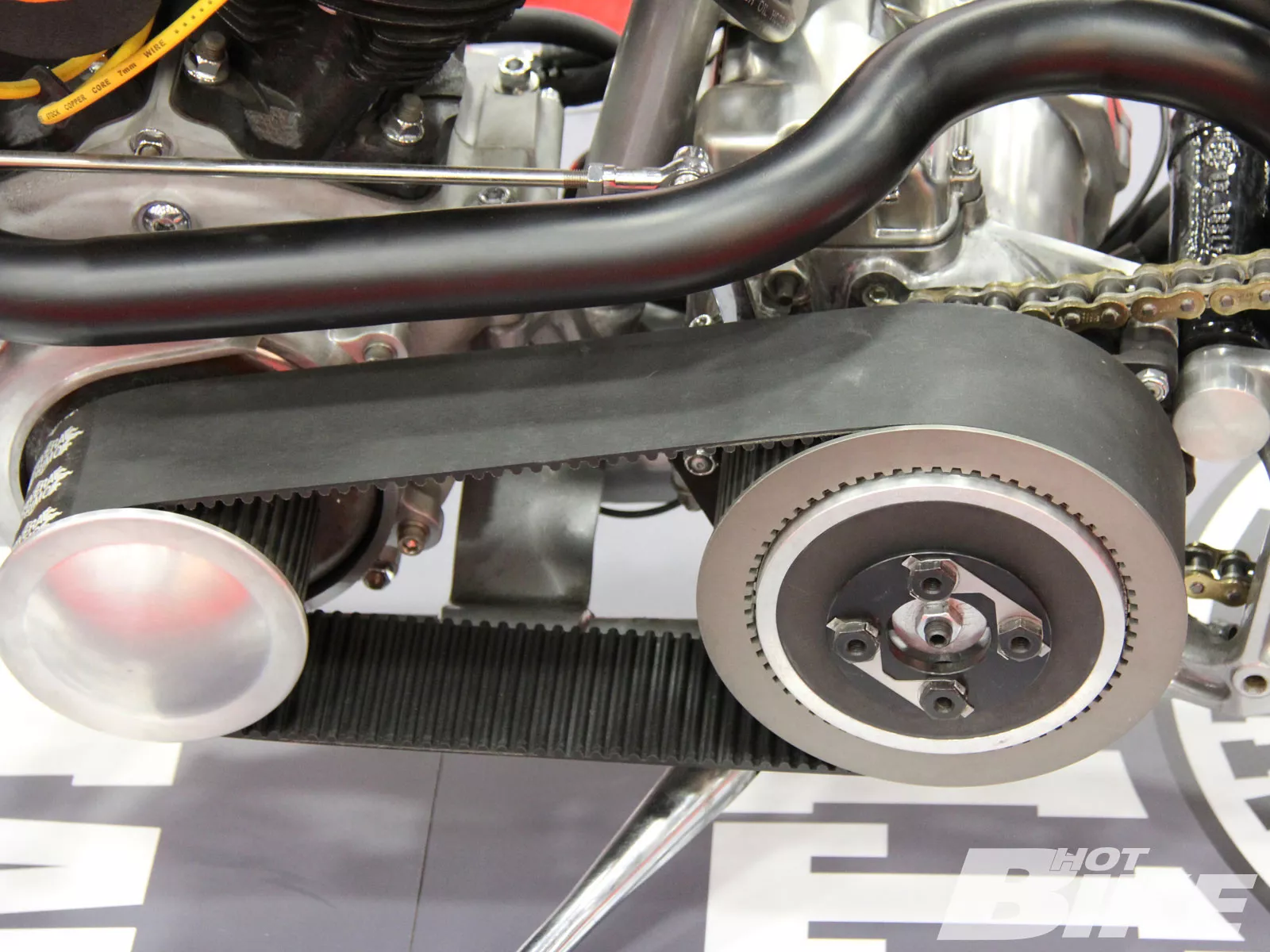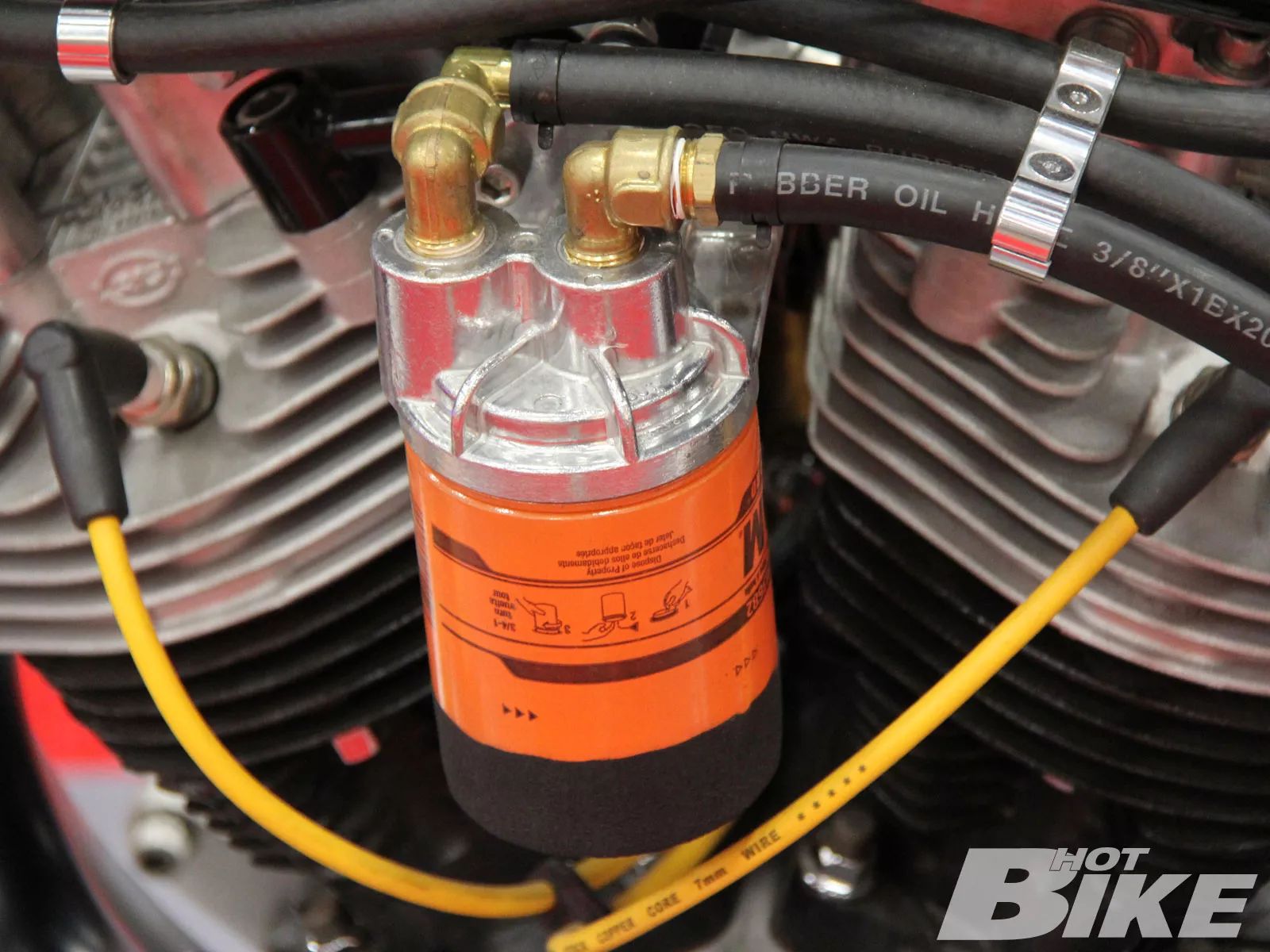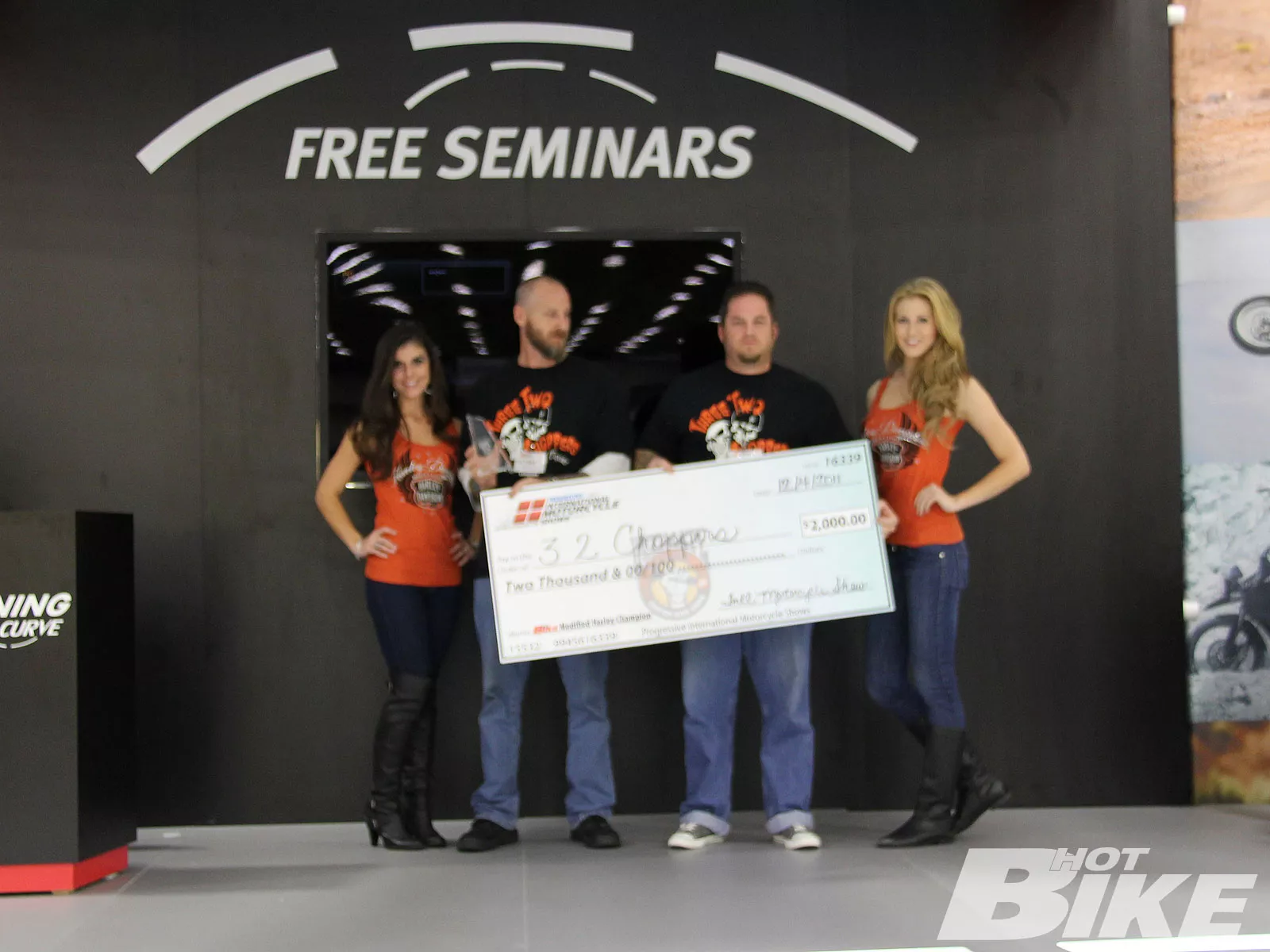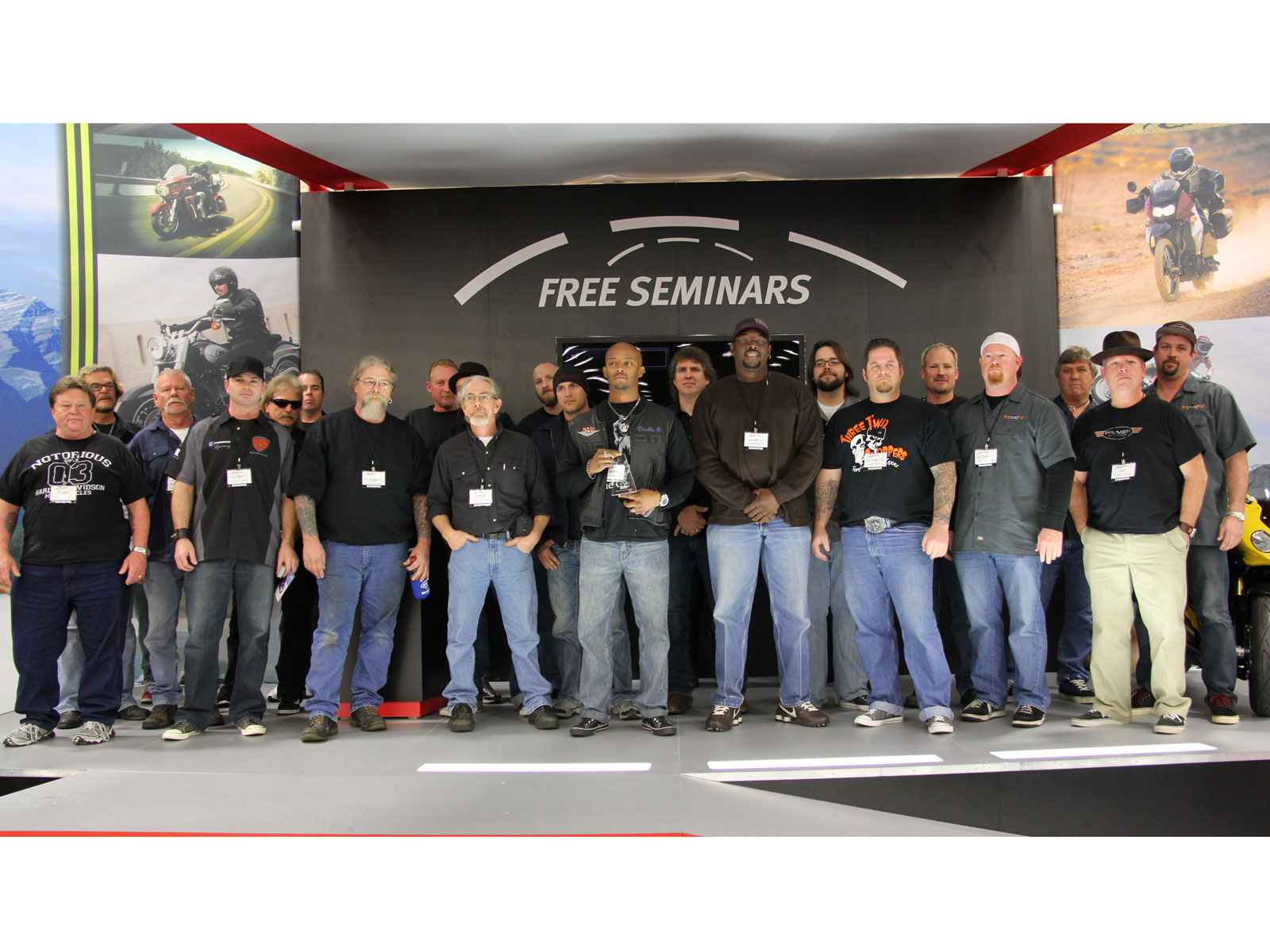 The winner of the MOD Harley class at the Ultimate Builder Custom Bike Show in Dallas was two brothers, Jimmie Lee and JC Coen, owners of Three Two Choppers of Fort Worth, Texas. There bike, "AMFU," finished a wheel ahead of Joseph Russell's "Back in Red & Black" 2010 Harley-Davidson Road Glide for first place in Hot Bike's Modified Harley Class. The 1983 Harley FXE drop seat sled sports a HIPO Shovelhead mil. This hot rod has a lot of old-school touches like a Morris Magneto, Dennis Goodson air cleaner, Mooneyes spun aluminum oil tank and kick start. The brothers took home a $2,000 check for their effort.
The 4 classes include FreeStyle, Modified Harley, Retro Mod and Performance Custom. All makes, models, designs and manufacturers are welcomed to participate, but space at each UBCBS competition is limited. Builders should log on to www.ultimatebuilderbikeshow.com, or call Biker Pros at 919-886-5075 for details. The winners of the UBCBS Series receive a fee-free entry into the 9th annual AMD World Championship of Custom Bike Building in Sturgis. The AMD World Championship of Custom Bike Building is affiliated with the IMS Ultimate Custom Bike Competitions. Here is a list of the winners from the Ultimate Builder Custom Bike Show in Dallas, Texas.
FreeStyle Class
Bad Influence – 2009 Moore Custom by Moore Customs – Larry Moore
Filigree – 2012 69 Chopper by Brass Balls Bobbers – Dar Holdsworth
Road Glide – 2011 Roadglide by Martin bros bikes – Joe Martin
Mod Harley Class
AMFU – Three Two Choppers – Jimmie and JC Coen
Back in Red & Black by Flying Tire Motorcycle – Joseph Russell
Not Your Daddy's Road Glide – 2012 Road Glide – Dallas Harley-Davidson
Performance Custom Class
Midnight – 2009 Suzuki Hayabusa by Arynn Aikins
2006 Yamaha YZF-R1 by Darryl Beard
The Green 39 – 2010 Primer Inc. Flat Tracker by Pat Kahanek
Retro Mod Class
Number 79 – 1979 Iron Head Sportster by Pat Kahanek & Primer Inc. Customs
Sweet Tracker- 1973 XS650 by MW Performance – Mark Webster
Kyle Shorey of Shadetree Fabrications
People's Choice
Bryan Stalcup with BigHubless
FreeStyle Class
Larry Moore of Moore Customs won with Bad Influence. His bike is a 2009 Moore Custom that was painted by Joe DeLarose. The chopper features a Harley-Davidson 80ci in a full custom frame with Dual Fuel Tanks, Dual Calipers, Hand Fab Sheet Metal.
Mod Harley Class
Three Two Choppers' AMFU was built by Jimmie and JC Coen and features a Mooris Magneto, Hydeaulic Clutch, Narrow Glide, Frame Caps that is built on s 1983 Harley FXE.
Performance Custom Class
Arynn Aikins brought in Midnight, a 2009 Suzuki Hayabusa, and took home first place in the Performance Custom Class.
Retro Mod Class
The 1979 Iron Head Sportster custom Cafe Racer named Number 79 and built by Pat Kahanek & Primer Inc. Customs took first place in Retro Mod Class. It features a hand built exhaust, swingarm and tail section. Lots of engine updates including pistons, cylinders, head work and cams.