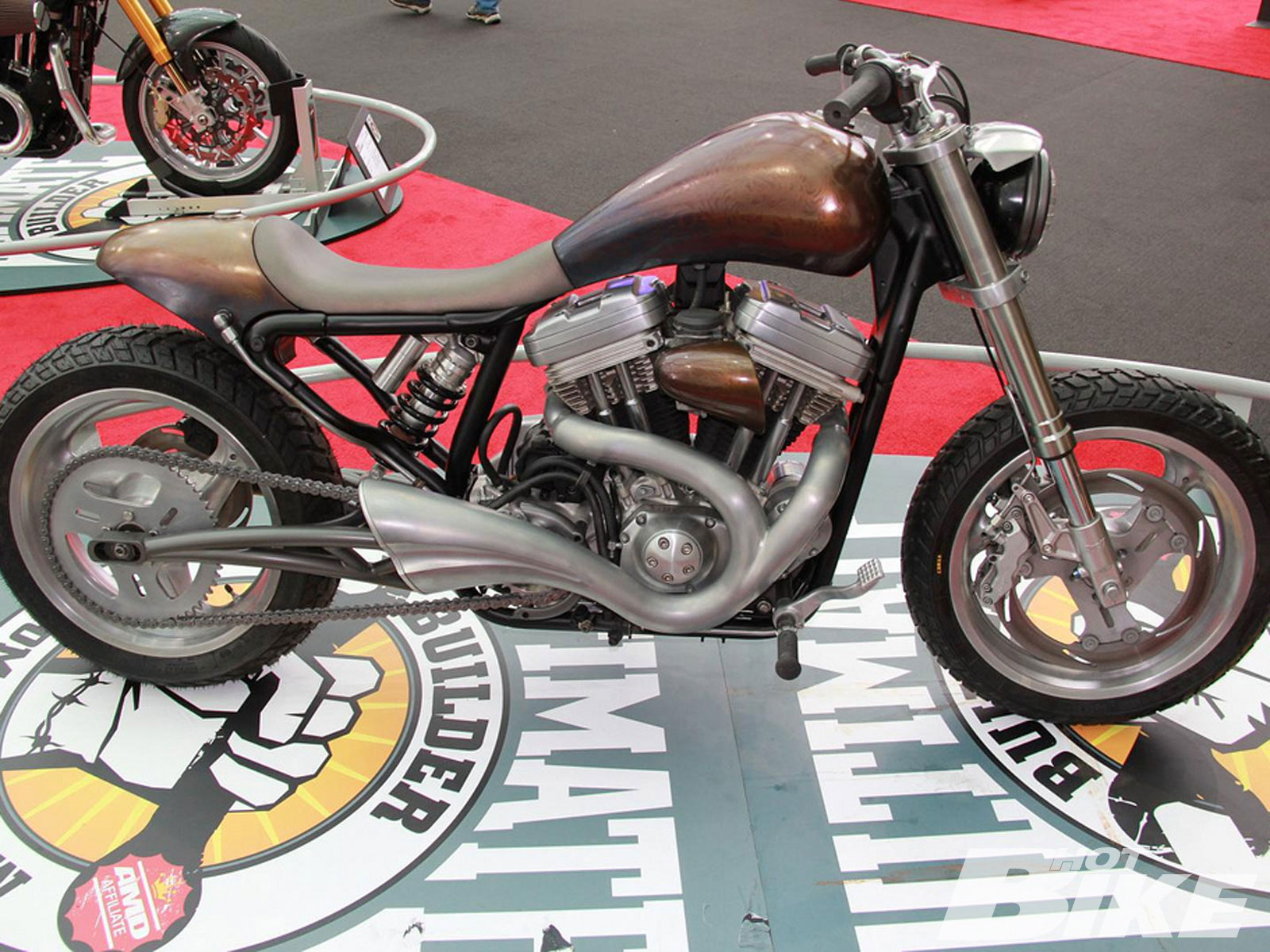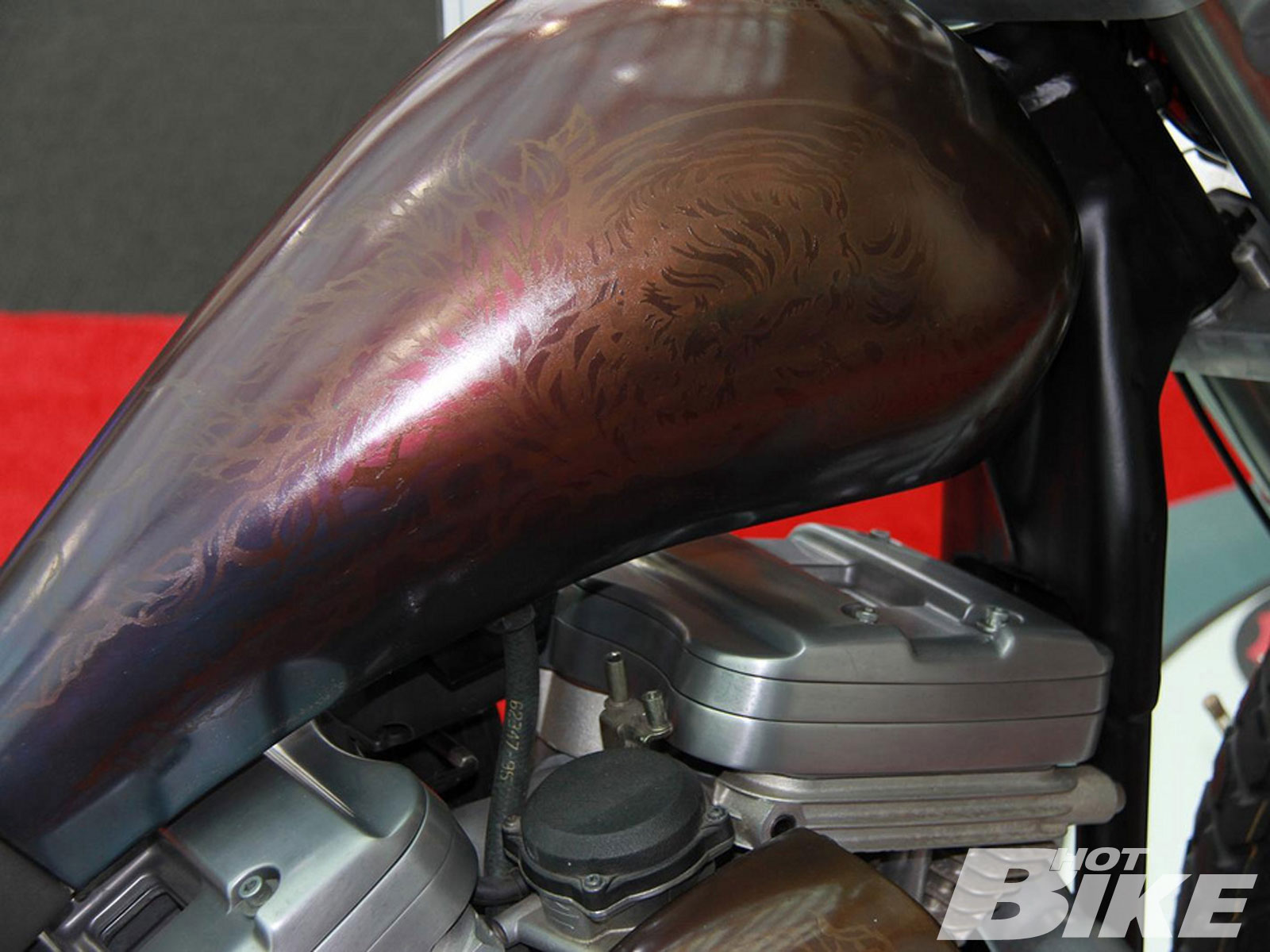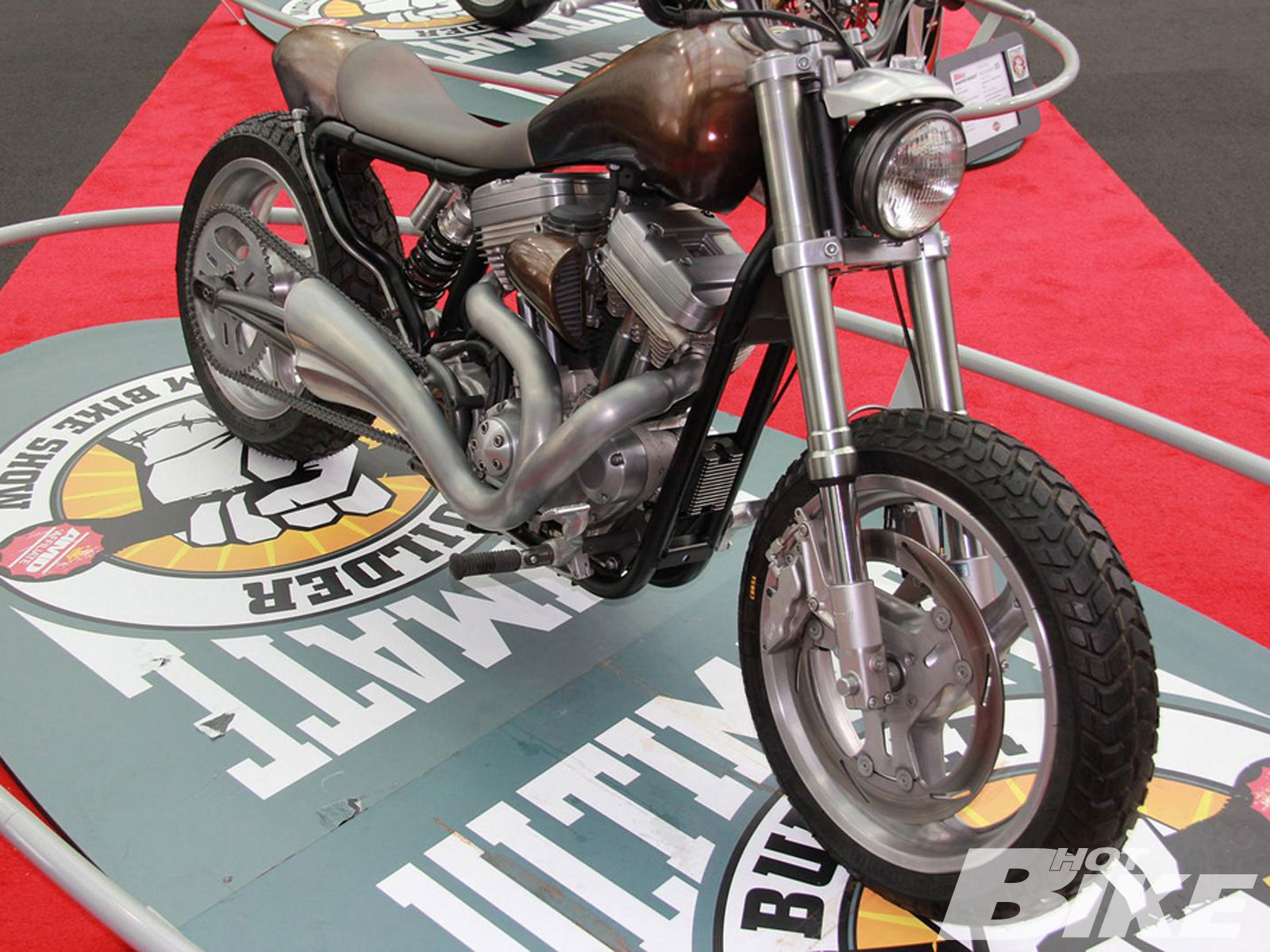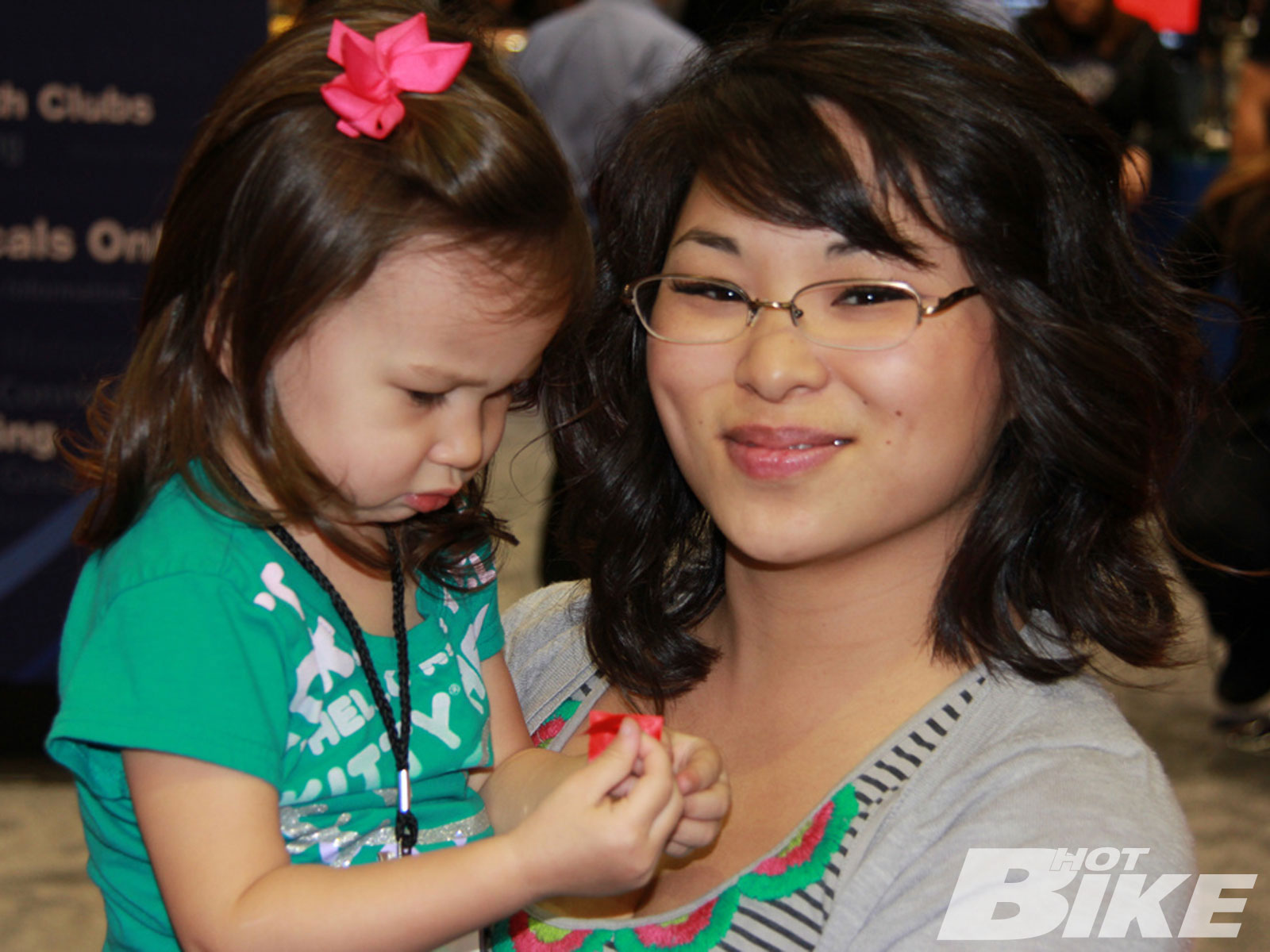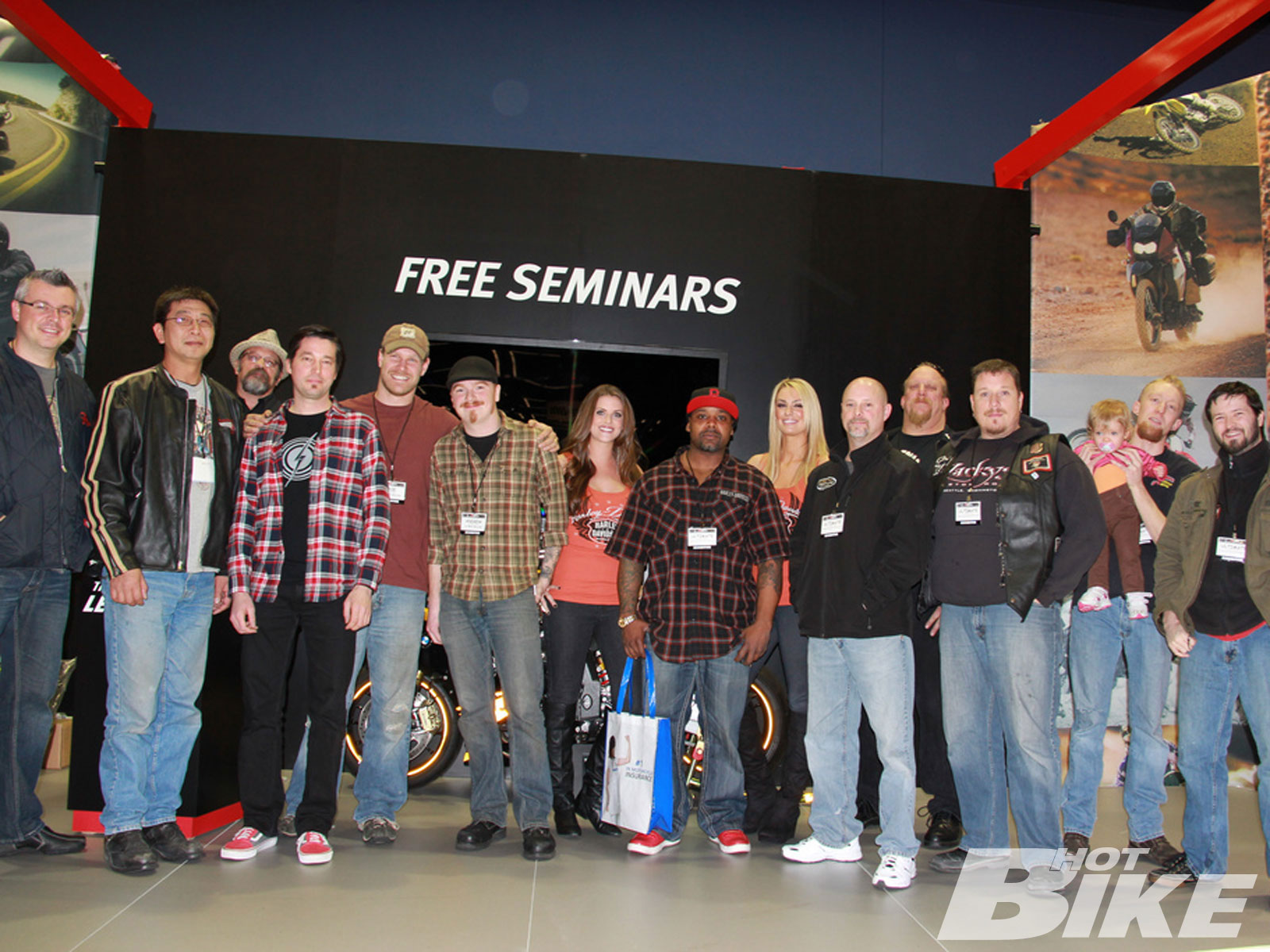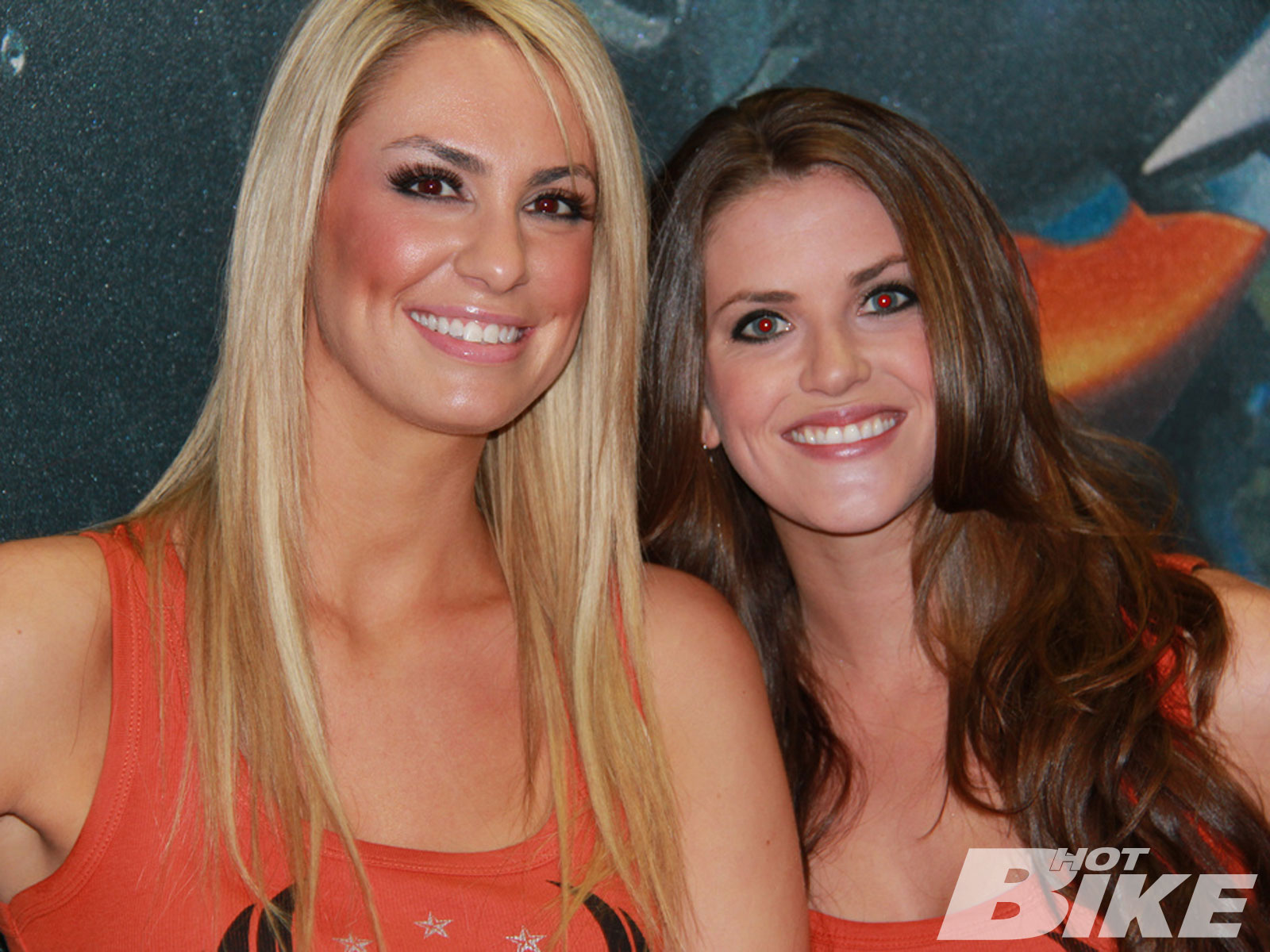 Joe Cooper of Copper Smithing Co. brought GunBaby to the Ultimate Builder Custom Bike Show. The bike he brought to Seattle came back to him from a build nearly 3 years ago. The bike was sold off as a project and Joe hadn't seen it since. Low and behold it found its way back to Copper Smithing Co. virtually unchanged from where the firm had left it. Initially Joe was excited, but he soon found that 3 additional years of fabricating experience left him unsatisfied with a few parts previously built. Some of the updates to the bike include the tail section, rear sprocket and timing cover.
Even though the tins look painted, they are actually raw. They have been etched and dipped in acid. As you walk around the bike the tanks throw off different hues, which reveal the design.
GunBaby toolk 1st place in the Mod Harley class at the 2011 edition of the Ultimate Builder Custom Bike Show. The firm's website is located at http://coopersmithingco.com.
"Motorcycles hold a unique advantage over every other vehicle in terms of simplicity of design, power and weight, and dynamic versatility. Plus, they're absolutely beautiful," said Joe Cooper. "It's with this passion I build motorcycles by hand in Buckley, WA, and when I'm not day tripping with my family or chasing the animals around our yard, I'm in the shop building bikes or out on the road riding one."
FreeStyle Class
1st- Owner: Chris Flechtner, Builder: Speed Shop Design, Name: Beezerker – 1965 BSA 650cc
2nd- Owner: Jay Taylor, Builders: Jay Taylor & Guy LaClair, Name: Machete, 2011 Taylorcraft Pro Street
3rd- Owner: Robert Schultz, Builder: The Drop Shop, Name: Burning Obsession, 2005 Yamaha 1700cc V-Twin
Mod Harley-Davidson
1st – Owner: Joe Cooper Builder: Cooper Smithing Co. Name: GunBaby, 1999 XL1200, 74ci
2nd – Owner: Ron Balich, Builder: Cyclpath, Name: Cyclpath Sickle, 1994 HD FLST
3rd – Owner: Eric Roland, Builder: Urban Customs, Name: Softail Springer, 2009 Harley-Davidson Screamin Eagle
Retro MOD Class
1st- Owner: Jay Bennett, Builder: Cyclpath, Name: Hummer, 1954 Harley-Davidson Hummer
2nd- Owner: Andrew Robinson, Builder: Devil Garage Company, Name: The Kagu Tsuchi Express, 650cc Yamaha 3rd- Owner: Scott Larson, Builder: Cyclpath, 1984Harley-Davidson FXWT
Peoples' Choice - Beezerker