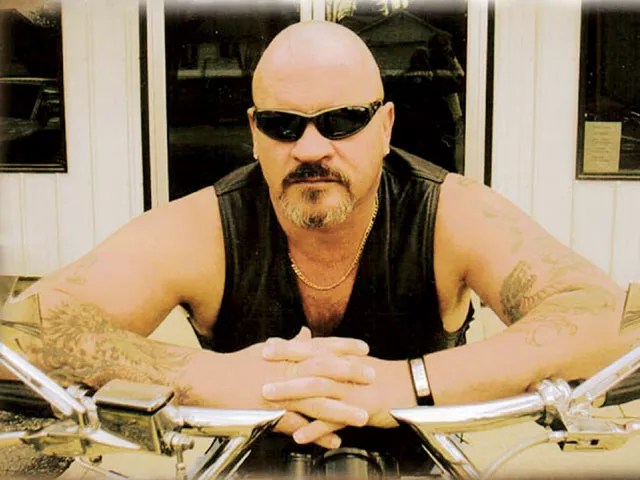 Farewell Chet
This past February, the motorcycling industry lost an unforgettable personality and motorcycle enthusiast. Chester "Chet" and "OEP" Anthony Burozki, Jr. (1963-2008) passed away February 29 in Daytona Beach. Chet, as many of us knew him, was a marketing director for several companies in the industry and a lifelong motorcycle rider, often riding thousands of miles from event to event to promote his products. If there was ever anyone who was "the life of the party," it was Chet, he knew how to make the guys laugh and women blush.
In The Future
Pristine mountain riding, custom bike show, top vendors, Vince Neil; Big Bear Choppers 6th Annual Ride the Mountain Rally, June 7-8,
50 top builders, 50 top bikes, 50 years of horsepower; S&S; 50th Anniversary, La Crosse, WI. June 26-29,
Ruckus, burnouts, small town girls, motorcycling history, big time vendors; Hollister Motorcycle Rally, Hollister, CA., July 11-13.
$Cheap parts, cheaper beer, free bad ass bike show, punk rock; Southern California Chop Meet and Bike Show, Wrightwood, CA., July 19.
Attention College Dropouts!
It's time to make your parents proud and go back to college. The '08 Allstate Mobile Garage Tour will hit major rallies across the country this riding season. The AllState Chopper will be on display and will be given away to one lucky winner at the end of the tour.
Keeping The Name Alive
Bill Gardner, President of GMA-an industry leader in brakes and other components-announced his desire to retire and get back into his passion of building custom cars and motorcycles. Steve Yetzke, President of BDL, struck a deal with Bill Gardner to purchase GMA and will keep the name alive marketing the products as GMA by BDL.
The Godfather
Congrats go out to Kenny Price, AKA the Godfather of Pipes. If you've heard of Samson Exhaust then you know who we're talking about. Kenny was recently selected to receive the '08 Founders Award from the Sturgis Motorcycle Hall of Fame, during the 68th annual Sturgis Rally. This is a very high honor, and Kenny is only the second person to receive this prestigious award, which recognizes individuals who have made a significant contribution to the history of motorcycling.
Lady Riders Unite
This past March while at Daytona Bikeweek hundreds of women riders were joined by Motor Company Founder's great-granddaughter, Karen Davidson, American Idol star Kimberly Locke, and the six Get Down to Daytona contest winners for one of the largest Harley-Davison women's ride in history. The Harley-Davidson Women's Day Ride, benefiting the Muscular Dystrophy Association (MDA), raised more than $67,000 in contributions.
Bruce and the Gecko Hit the Streets
First there was Starsky and Hutch, then Crocket and Tubbs, and now Bruce and the Gecko. While Harley-Davidson dealership magnate Bruce Rossmeyer and the GEICO Gecko aren't teaming up to fight TV crime, they are teaming up to help promote safe motorcycle riding. Owner and CEO of 15 Harley-Davidson dealerships, Rossmeyer recently partnered with GEICO Insurance on their Motorcycle Insurance program, designed specifically to meet the needs of motorcycle owners. Rossmeyer appears in several GEICO Motorcycle Insurance television advertisements and billboards promoting safe riding.