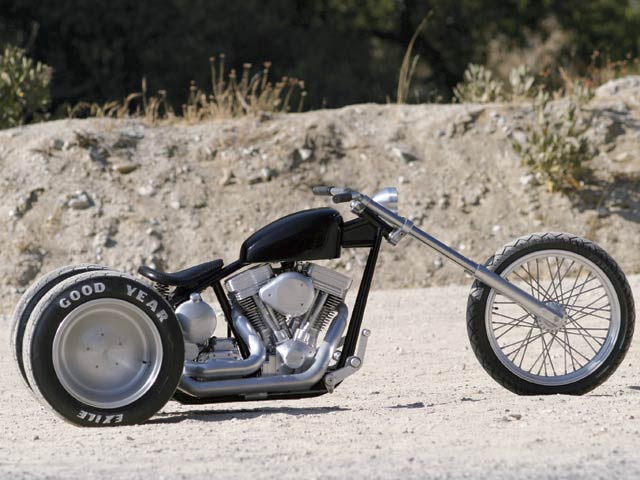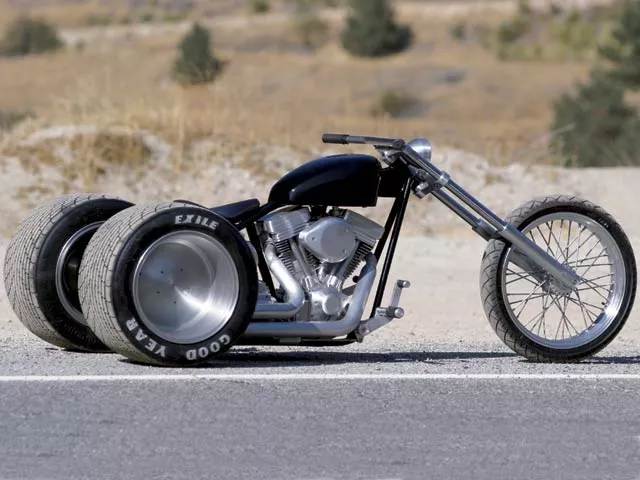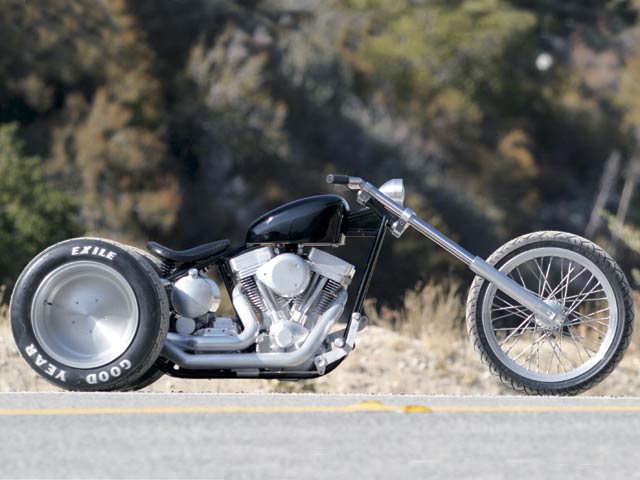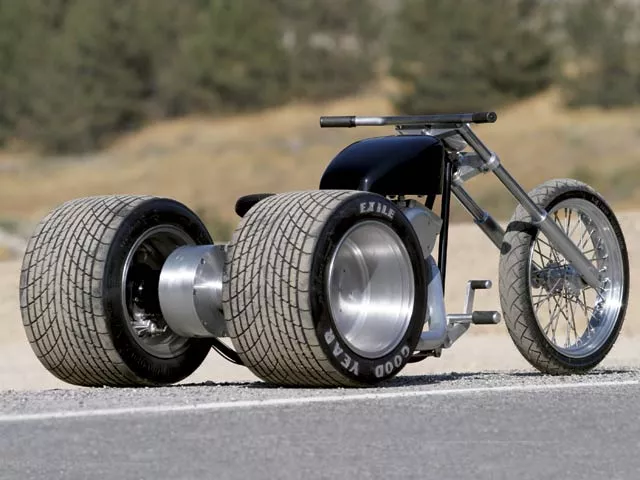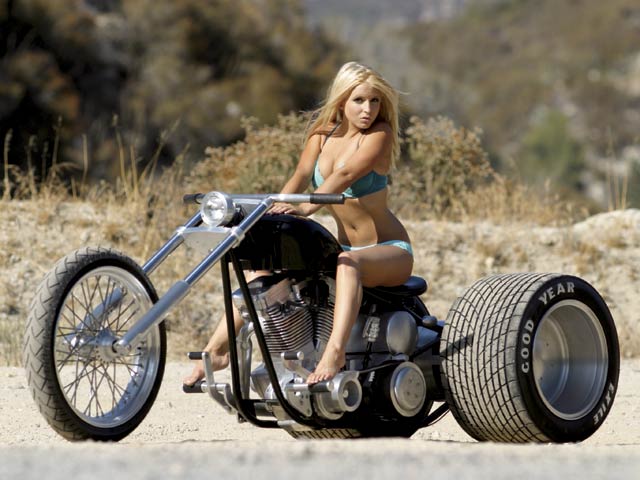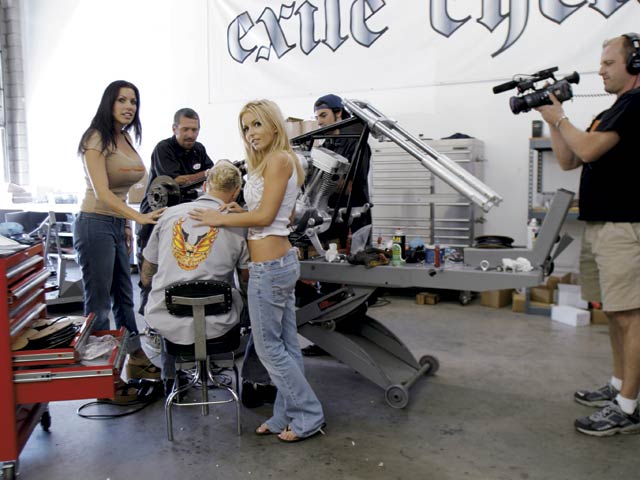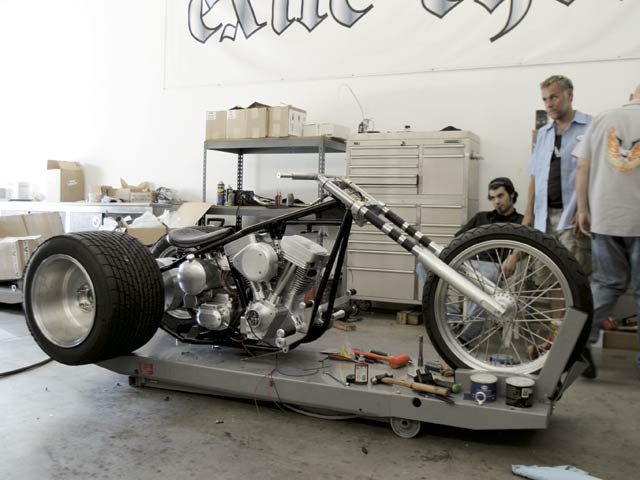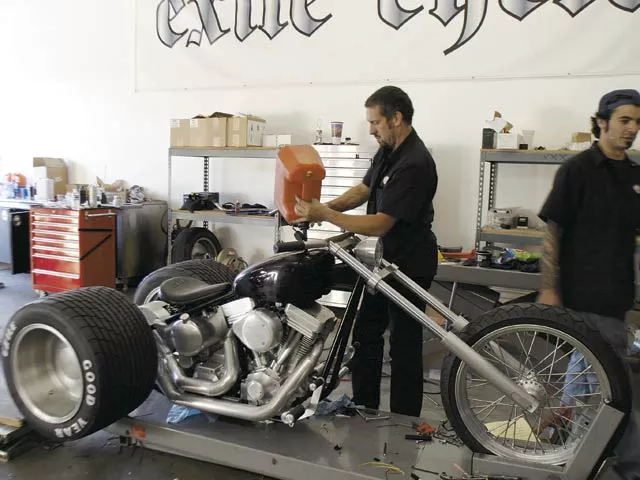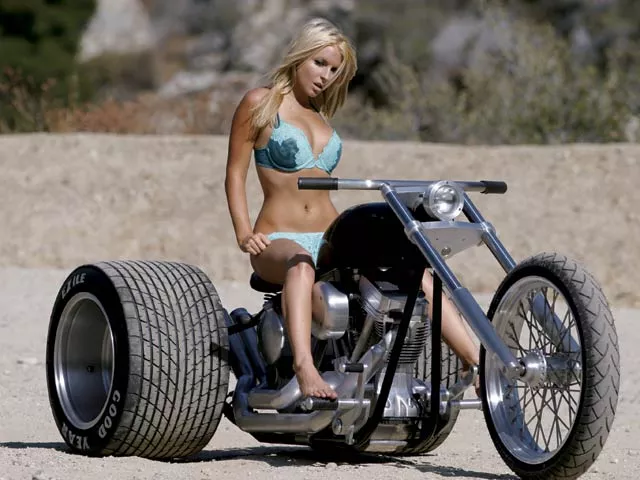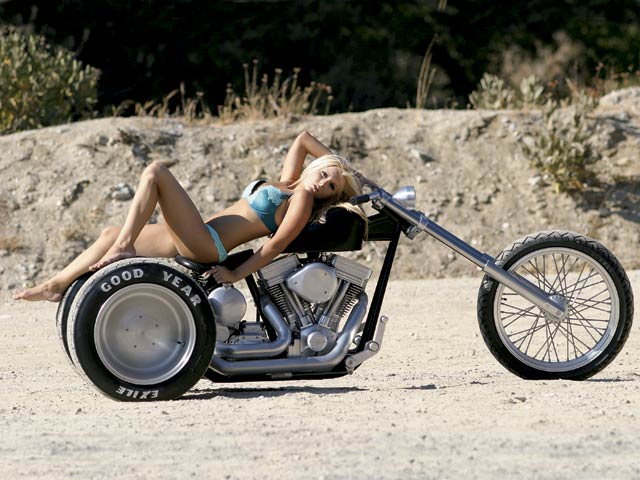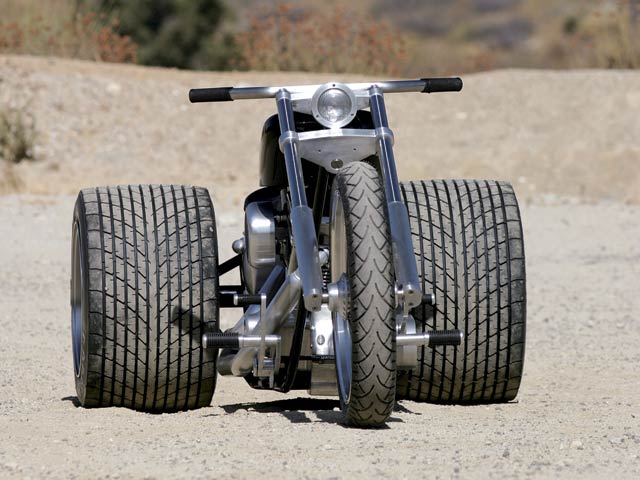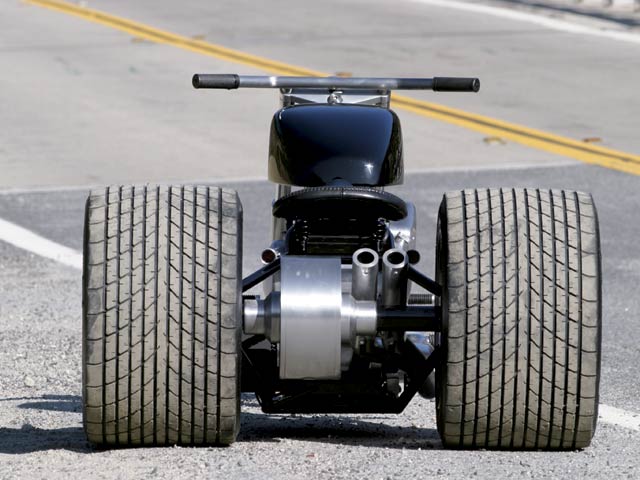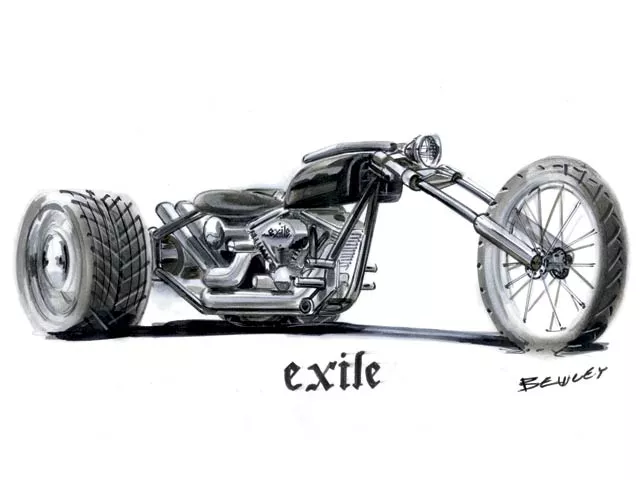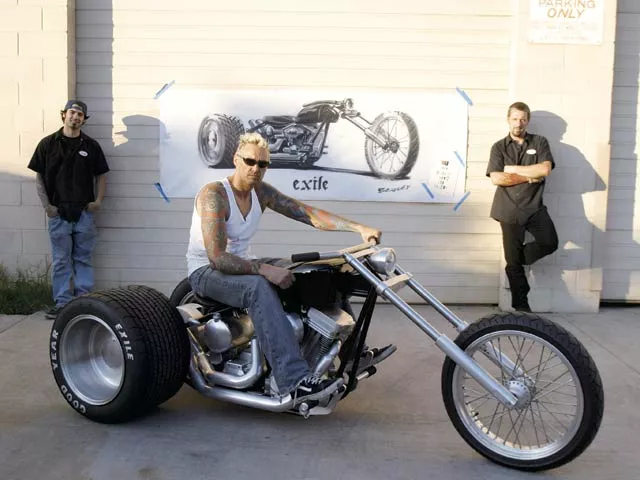 The phone rang between welds at Russell Mitchellis Exile shop on ablistering desert valley day. "Russell, whatta ya doing next week?" HughKing, the director of Biker Build-offs asked.
Nothing, except building a couple dozen righteous choppers,i Russellresponded, but he knew his answer had little to do with the question. Heexperienced Build-Off mania twice before, once in the states withOriginal Productions and once as the British Team in the World Build-offagainst the Australian and U.S. team. He suspected what was coming.
I'm pitting you against the Detroit Bros. for a build-off," Hugh said.
"Sounds terrific," Russell said. "When do we start?"
"That's the catch," said Hugh. "You've got a week to think about it and10 days to build it. Theyire cramming my schedule and I donit have muchtime to shoot it."
Russell hung up thinking, "Ten days?" He leaned his lanky frame againsthis gray shop lift along with Dylan and Dave, Exile team members, andcollectively, they scratched their heads.
"We have one distinctive style we live by. We can't just change thefrilly paint and ride to Detroit," Russell said.
"How about a trike?" Dave said. "They're cool in England."
"Yeah, but they're shit here," Russell muttered. "In England, blokesride trikes with lap belts and beat the helmet law. This is a terrificopportunity, but every square inch of chopperdomis been done to death.Letis build a trike."
They pondered the challenge. Ultimately they ate their own wordsbuilding the toughest trike ever to tear up Michigan's highways. Theplan, and the major obstacle, included installing two of the fattestFormula One tires in the world on a hand-built trike chassis with a pileof Exile stuff in between.
They had 10 short days with a weekend party tossed in the mix. Thatincluded time for paint and powder, an Exile signature.
"One missing part and youire fucked," Russell said quivering slightly.iItis teamwork 101."
"Fortunately we knew the Detroit Bros. gang," Russell said. "And we tookthe piss out of each other during the build [lots of ribbing]. We werewarned that the final voting took place in Detroit and the lucky dicewould roll in favor of the hometown boys. But hell, we didnit care if wewon or lost. We actually wanted to maintain our counter-culture rep. Tohell with mainstream."
They were extremely proud of their trike build, but let's cut to the10-day mayhem beginning in mid July, 9 oiclock Monday morning. Withcameras rolling, they clamored into the process of building a trikeframe jig, which ate two days. Wednesday, they started the actual framebuilding process using one of their own Exile rigid frames, which wassliced to match the trike rear end.
Dylan fabricated the tank, no fenders were allowed, while Russellmachined parts and brackets to connect the narrowed differential to theframe. By Friday, the tank was ready for paint, and Saturday was devotedto grinding welds and preparing for Mondayis powdercoat run. The overalltrike configuration was based on the Formula One rear wheel fitment,outlandish Exile styling, and a slammed chassis.
One fiery obstacle sent the project into hellis terminal. The Ego Trippwheels were specifically fabricated for the Formula One tires. The tiresidewalls were so stiff that the limited wheel rim relief wouldnit allowthem to pop the bead into place. Trying to winch them into submission,they heard a large bang.
"The wheel actually buckled, Russell said. Their hearts sunk. The clockticked away the hours. Both wheels needed remanufacturing. iWe had toplan and fabricate the frame without having the actual wheelmeasurements."
Sunday the crew took a break and rode to Patis Cocktail Lounge in NorthHollywood, California, to listen to the Numchucks Band, a Russellfavorite.
"We partied all day, sliced through a few hundred miles, wentskateboarding, then jammed back to my pad for a pool party," Russellsaid. "The damn poolside barbecue caught fire in the middle of the nightand we called the fire brigade who quickly demolished it. Itis still inshambles."
Monday, they collected parts from the painter and powder connection.
Tuesday, final assembly began without the wheels. Much of the Exile lookcomes from powder and a matt finish (using Scotch Brite pads) overpolished aluminum components. Russell, Dave, Dylan, and Jake assembled,wired, ran oil and hydraulic lines, tuned, and tested every aspect whilesweating the wheels.
The Ego Tripp crew worked tirelessly until the Formula wheels rolled inthe day of completion and they fit like a dream. It rolled, stopped,handled, and jammed through 600 miles surrounding Detroit to a stand-upfinish, even though they didnit win the vote.
"Who cares," Russell said. "We made it."